Scioscia saw something in Big Papi back in Minors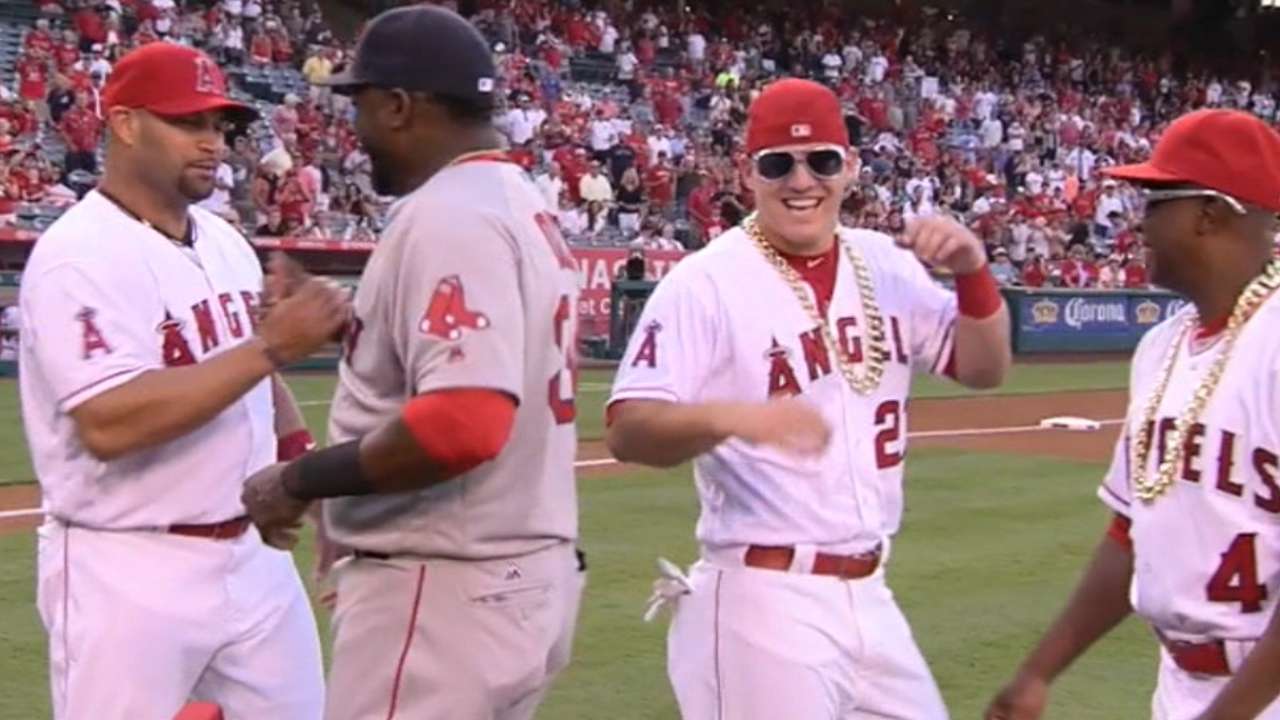 ANAHEIM -- During his time as Angels manager, Mike Scioscia has made himself quite familiar with Boston Red Sox slugger David Ortiz.
The regular-season numbers are staggering -- a .276/.371/.558 slash line with 32 homers and 90 RBIs in 124 games against the Angels entering Friday's matchup at Angel Stadium. Even more memorable are his performances in the postseason, most notably his walk-off home run to eliminate the Angels from the 2004 American League Division Series.
"We got a little revenge in '09," Scioscia said of the Red Sox, who battled the Angels in the playoffs in 2004, '07, '08 and '09. "But those guys had our number for a while and [Ortiz] played a huge part in it."
See more game action and behind-the-scenes photos on The Halo Way: https://t.co/mFnzk6SSkh pic.twitter.com/soc63su6Qc

— Angels (@Angels) July 29, 2016
Now, with Ortiz in the midst of his final trip to Anaheim, Scioscia looked back at the first time he saw Ortiz -- when "Big Papi" was just trying to find his way as a Minor Leaguer in the Minnesota Twins' organization.
Scioscia, then the manager for the Dodgers' Triple-A affiliate in Albuquerque, saw Ortiz along with fellow Salt Lake teammates and future big leaguers A.J. Pierzynski and LaTroy Hawkins. Long before Ortiz became one of the most feared designated hitters and clutch players in the Majors, Ortiz was a young first baseman trying to break through.
"He was just figuring the game out. He was more of a wild swinger, but the other tools, you could see they were all there," Scioscia said. "The power [was there], and he figured it out once he got over to Boston."
Once he got to Boston, he quickly found his way into the hearts and minds of the baseball world. Now, in the midst of his final season at 40 years old, he's still productive. Entering the series, Ortiz was hitting .325/.417/.657 with 25 homers and 84 RBIs in the midst of another MVP-caliber season.
"David Ortiz has had an incredible career, not only with the Hall of Fame numbers that he's put up, but he also has an incredible amount of respect for the game of baseball," Scioscia said. "I think that gets him the respect from players who've played against him and managers that have coached against him. He's more than just a tremendous ballplayer."
Scioscia said Ortiz is a surefire Hall of Famer despite his status as a designated hitter, something that has plagued former Seattle Mariners DH Edgar Martinez in his quest to be inducted.
"It shouldn't be an issue for Edgar Martinez, either. It's certainly not an issue for David Ortiz. I think Martinez is a Hall of Famer."
Fabian Ardaya is a reporter for MLB.com based in Anaheim. This story was not subject to the approval of Major League Baseball or its clubs.