Porcello ties AL leaders with 14th win
Righty turns in first complete game with Red Sox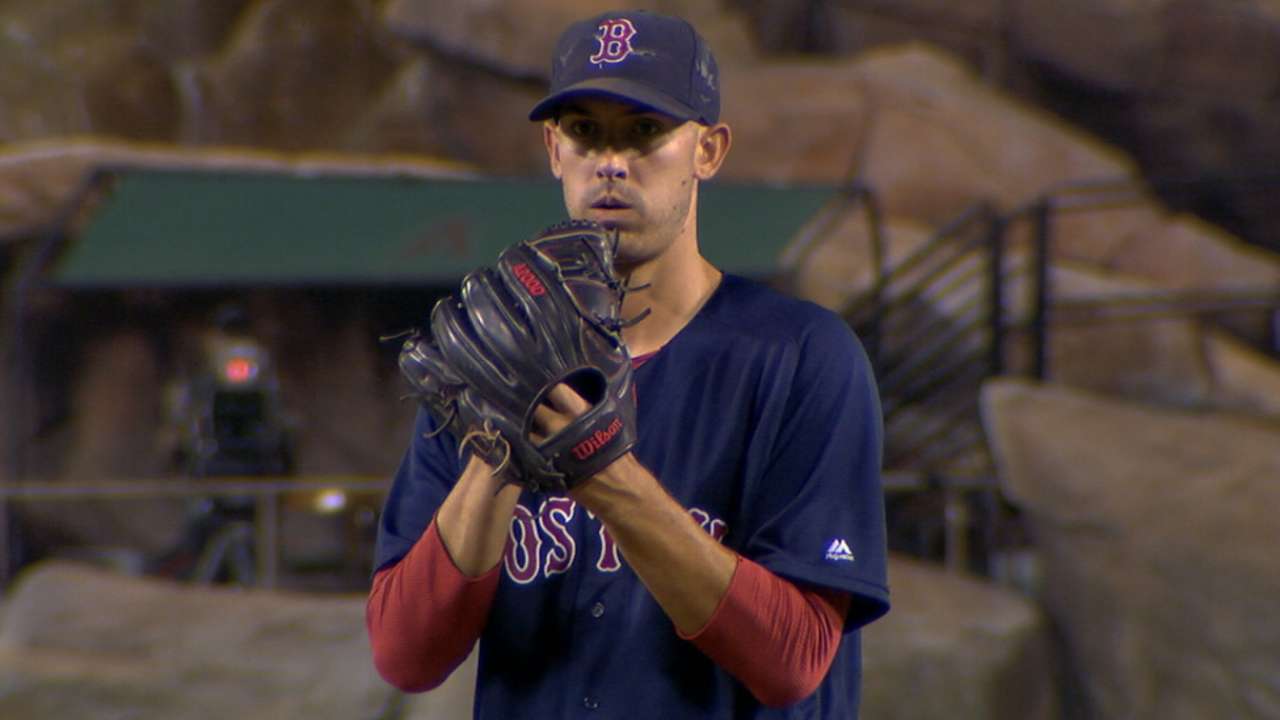 ANAHEIM -- The clutch performance Rick Porcello produced at Angel Stadium while twirling his first complete game in a Red Sox uniform brought attention to a recurring theme manager John Farrell explained perfectly following Friday night's 6-2 victory.
"He's been our stopper," said Farrell. "And he's been very consistent, probably the most dependable guy in our rotation when you go back to the opening series of the season. It's not a fluke. It's the work, the preparation, the competitiveness that he shows on the mound."
Maybe it sneaked up on you a little because Porcello has been more workmanlike than spectacular.
But he's now 14-2, tied with Chris Sale and Chris Tillman for the American League's lead in wins while notching a 3.47 ERA.
"I think about us winning a World Series and that's all I care about," said Porcello. "Obviously it's nice from a personal standpoint, but it means nothing if we don't accomplish our goals as a team."
Behind Porcello's 107-pitch effort, in which he scattered five hits and walked none while striking out three, the Red Sox snapped their first four-game losing streak of the season.
Thanks to the Orioles going on a losing streak at the same time, third-place Boston is just 1 1/2 games back in the American League East.
Porcello rose to the occasion, just like he did on June 27 at Tropicana Field when he snapped a three-game losing streak.
"I pitched deep into the game and pitched a complete game is the ultimate so that's nice," Porcello said.
The run of consistency Porcello is in the midst of actually started when he came off the disabled list last season. In 29 starts dating back to Aug. 26 of last season, Porcello is 18-6 with a 3.37 ERA.
"Last year, probably right before the DL was pretty much rock bottom for me, so I can't think about that anymore," Porcello said. "We're in a good spot now and have to continue to play good baseball and get on a run here."
This season, Porcello has walked two or fewer in 20 of his 21 starts.
As the games become more crucial, Porcello is stepping up. In his last nine starts, he is 7-0 with a 2.74 ERA.
"It's what I've been trying to do and want to continue," said Porcello.
The beauty of Porcello's performance on Friday was his pace in a game that lasted two hours and 30 minutes.
"It keeps everybody on their toes," said Red Sox center fielder Jackie Bradley Jr. "Everybody's active and engaged in the game. He's looking to fill up the zone. Pitchers who do that, it makes for quick games."
Ian Browne has covered the Red Sox for MLB.com since 2002. Follow him on Twitter @IanMBrowne and Facebook. This story was not subject to the approval of Major League Baseball or its clubs.