Rangers' prized youngsters are Major players
Odor, Profar, Mazara keep pacing the offense in win over Royals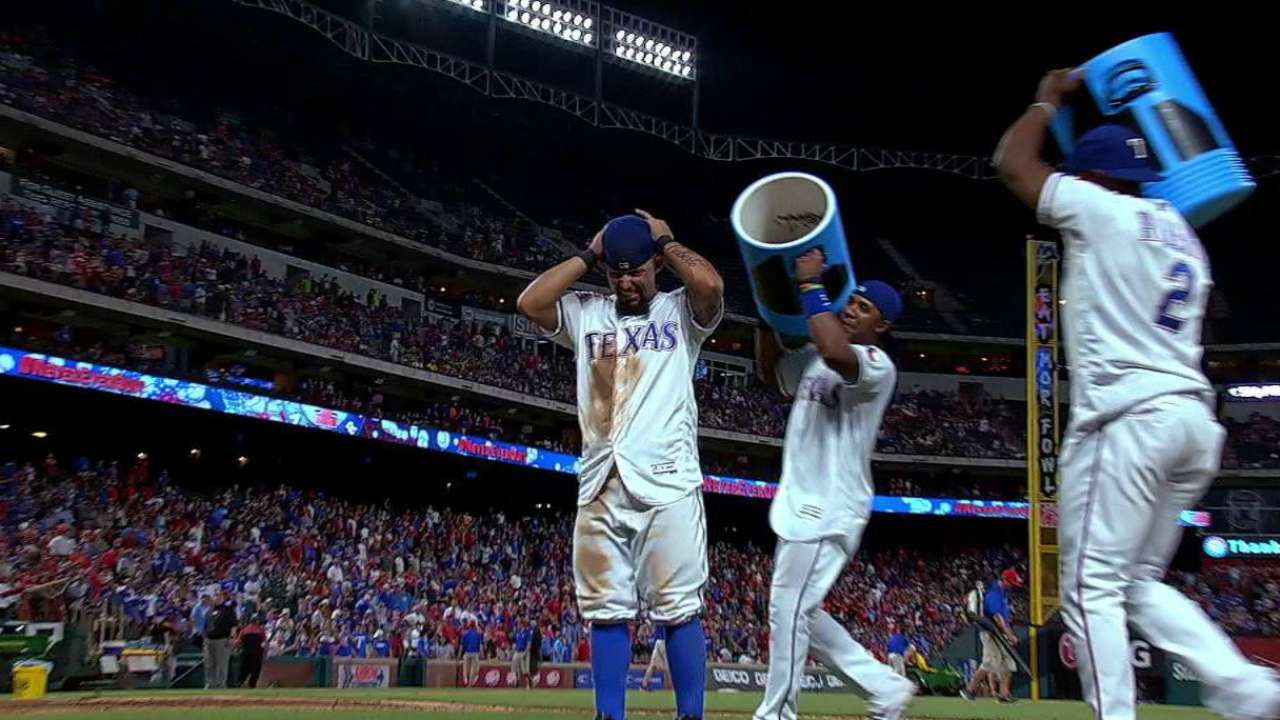 ARLINGTON -- The Rangers continue their search for pitching and the players potential trade suitors want from them continue to make major contributions to a first-place team.
Texas is now four games in front of the Astros in the American League West following an 8-3 victory over the Royals on Friday night and the combination of Jurickson Profar, Nomar Mazara and Rougned Odor were 7-for-11 with six runs scored, three home runs and four RBIs.
Those are the three young Rangers players most coveted by opposing teams in trade talks leading up to the non-waiver Trade Deadline on Monday at 3 p.m. CT. Joey Gallo is in the mix too and he was 0-for-3 with two strikeouts. But it's obvious that if the Rangers are going to fulfill their desire of adding an impact starting pitcher, they are going to be badgered about four players who are increasingly becoming an indispensable part of their lineup.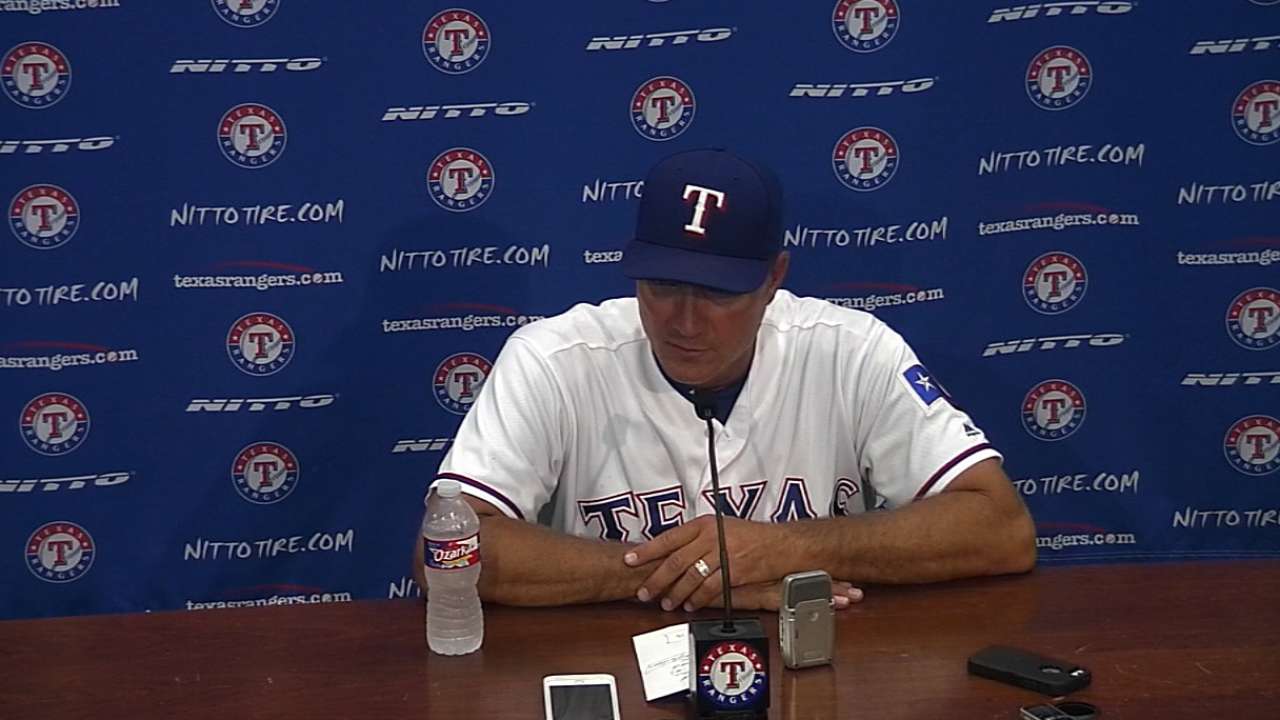 "I don't even bring that up to them," manager Jeff Banister said. "You talk about those things and it creates an environment. I'm not sure they pay attention to that."
There is so much being thrown out there it's hard to know what is worth anybody's attention. The Rangers have certainly shown a willingness to add an impact starting pitcher, and Chris Sale of the White Sox and Chris Archer of the Rays are certainly high on Texas' wish list as the clock pushes toward Monday's Deadline.
But the latest is the Rangers are serious about Phillies pitcher Vince Velasquez and had a top scout watching him in a 2-1 loss to the Braves on Friday. It would seem unlikely that the rebuilding Phillies would be willing to trade one of their top young pitchers, just as it would seem incongruous the Rangers would cut into their best young position players to reinforce the rotation. But it's that time of year.
Profar has always seemed the most expendable simply because he doesn't have a full-time position. He started in left field on Friday night and provided a spark from the leadoff position, going 2-for-3 with a walk, home run and three RBIs. He went through an 0-for-20 slump on the last road trip, but has eight hits in his last 21 at-bats as Banister continues to fit Profar at the top of the lineup.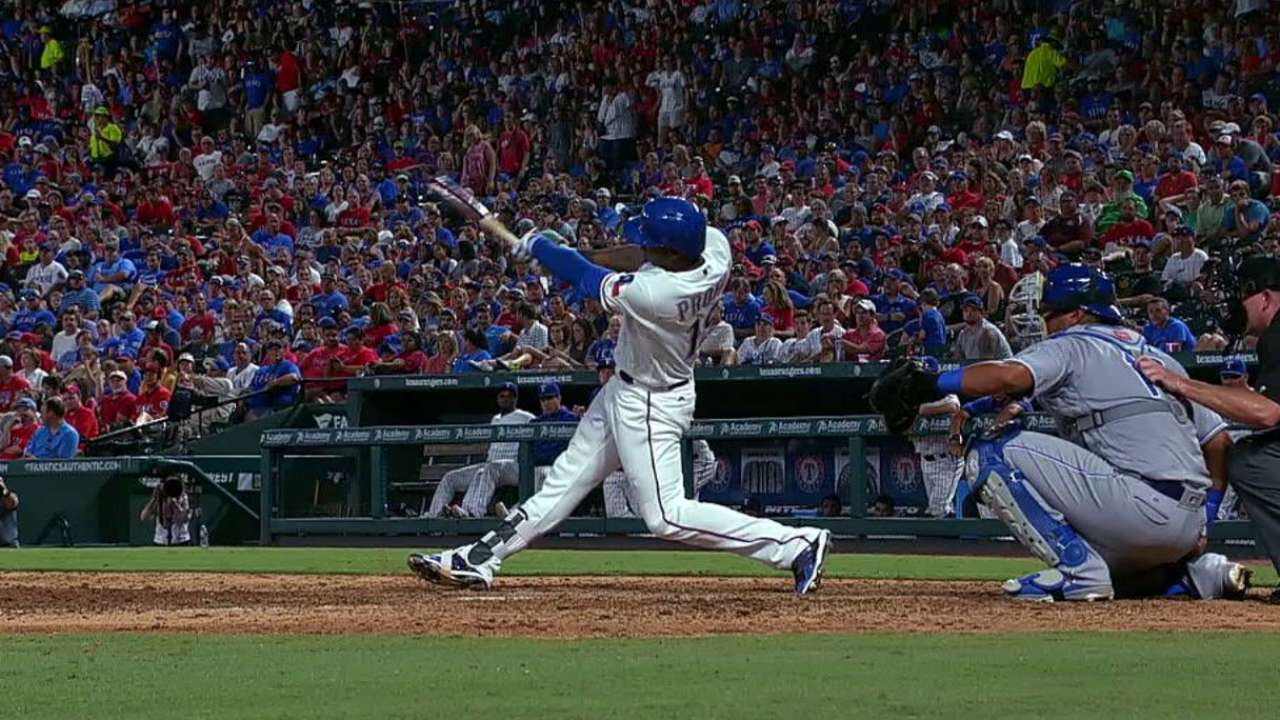 "His swing got a little long, but it's not looking as big," Banister said. "Even the home run was a product of staying in the middle of the field. These guys are getting to the point of the season, they are playing Major League Baseball, they've had some success, they get nicked up and now they are settling down."
Mazara went through a mid-season dip in late June and early July, but he is hitting .317 with a .378 on-base percentage and a .463 slugging percentage in his last 11 games. Mazara went 2-for-4 on Friday.
"At the beginning of the season, we were putting good at-bats together, not swinging at a pitcher's pitch and swinging at our pitch," Mazara said. "If they don't want to pitch [to us] they can walk, that's what we did at the beginning of the season. We're doing it right now again, so that's pretty awesome."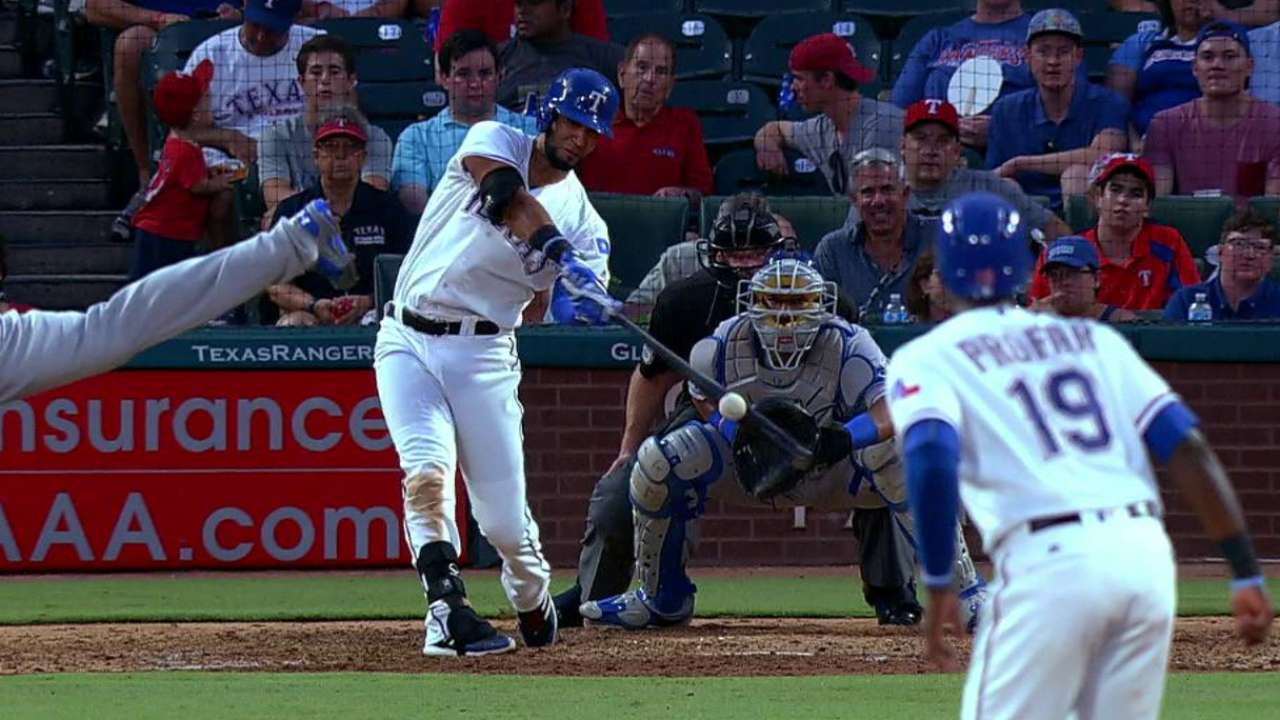 Odor seems like a veteran, but he is only 22 and in his second season. The second baseman has been a force for the Rangers all year, but in his last 11 games, he is hitting .386 (17-for-44) with five home runs and eight RBIs. He had two of their home runs on Friday.
"I feel pretty good at the plate right now," Odor said. "I'm just trying to go out there and help my team win games."
That should be everybody's focus, but it is the end of July and the Trade Deadline is three days away. There is still much to talk about despite the incongruity of a first-place team being willing to discuss those who are helping them stay there.
T.R. Sullivan has covered the Rangers since 1989, and for MLB.com since 2006. Follow him on Twitter @Sullivan_Ranger and listen to his podcast. This story was not subject to the approval of Major League Baseball or its clubs.