Heyward breaks out with HR in 3-RBI showing
Teammates rooting for outfielder, who launches 1st homer since June 11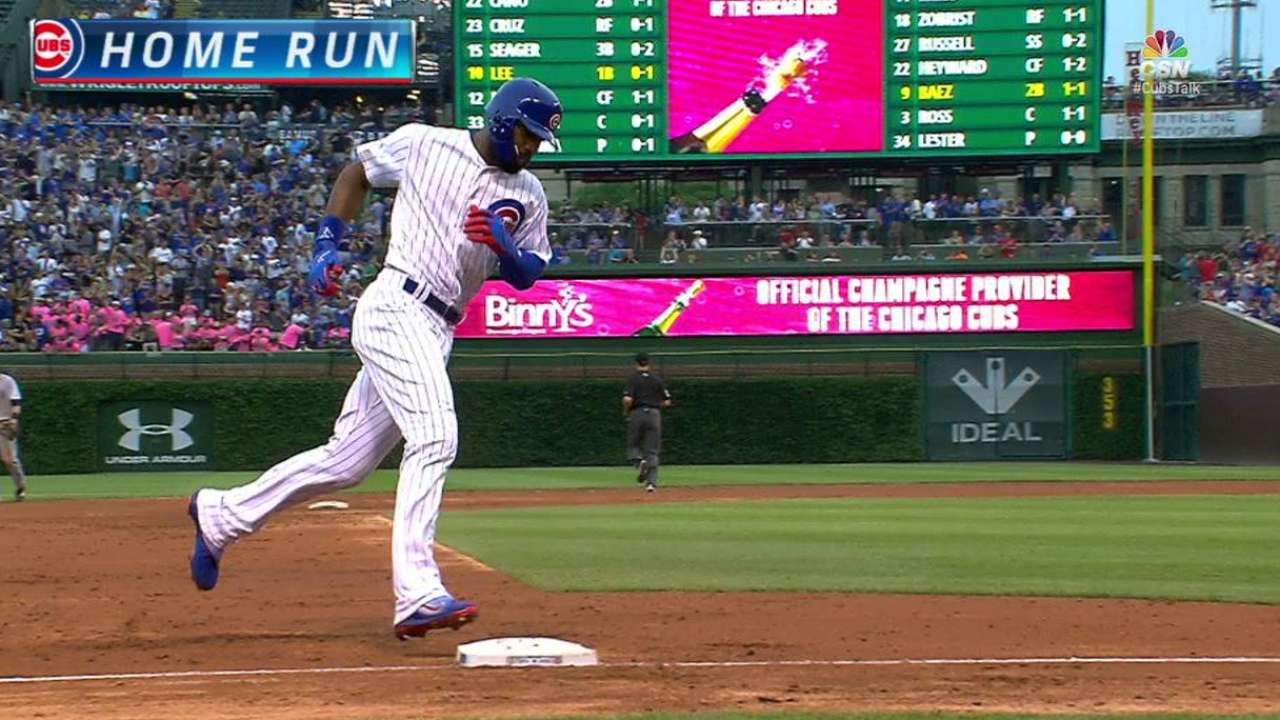 CHICAGO -- It's only one game, but Jason Heyward had to feel a sense of relief on Friday when he launched a two-run homer in the third inning of the Cubs' 12-1 romp over the Mariners at Wrigley Field. It was his first home run since June 11, but it possibly felt like his first of the season.
Heyward began the day last among qualifying National League players in slugging percentage at .315, and he had hit one homer at home. David Ross, the Cubs' 39-year-old catcher, hit his fifth at home in a six-run sixth inning.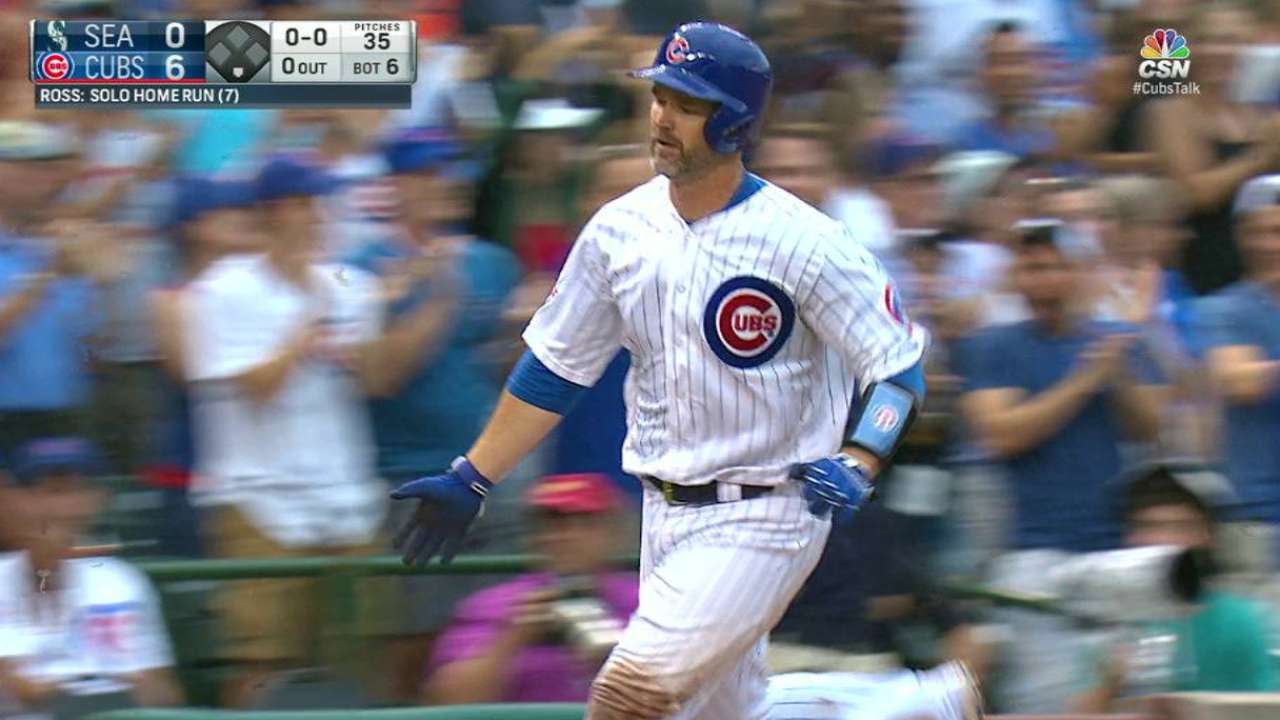 "Everybody in that dugout is rooting for each other, but especially me, I know what he's going through," said Cubs starter Jon Lester, who is in the second year of his big contract with the Cubs. This is the first year of an eight-year, $184 million deal that Heyward signed in the offseason.
"This year has been tough, I'm sure, for him," Lester said. "I'm sure people check the boxscore and they don't watch the game. He's squared a lot of balls up for us this year and hasn't had much to show for it. That's hard, because this game is built around results. He's been grinding, and that [homer] was big for him to have that big swing for us and kind of get us going a little bit.
"Everybody's in there rooting for each other and especially for him. That ball he ran down in the gap by [Robinson] Cano was a big turning point not only for me, but for us as a team. He brings so much other than what he does at the plate to this team. I think it gets overlooked at times. I'm sure it's huge for him. He probably won't admit it, but it's big for him."
Heyward had already left the Cubs' clubhouse after Friday's game and wasn't available, but his teammates spoke up for him. His struggles have not been because of lack of work. A Wrigley Field tour group saw firsthand how much effort he's making earlier this week, as he and hitting coach John Mallee were on the field for half an hour doing drills.
"It's in there -- he's well, he's healthy, he's working his butt off," Cubs manager Joe Maddon said. "He's going to show it. I'm very happy for him."
Heyward's blast was also impressive because somehow he defied the northeast wind coming off Lake Michigan. He flew out to left in the fifth and hit a sacrifice fly in the sixth. This was his second three-RBI game of the season. The only other one was April 24 at Cincinnati.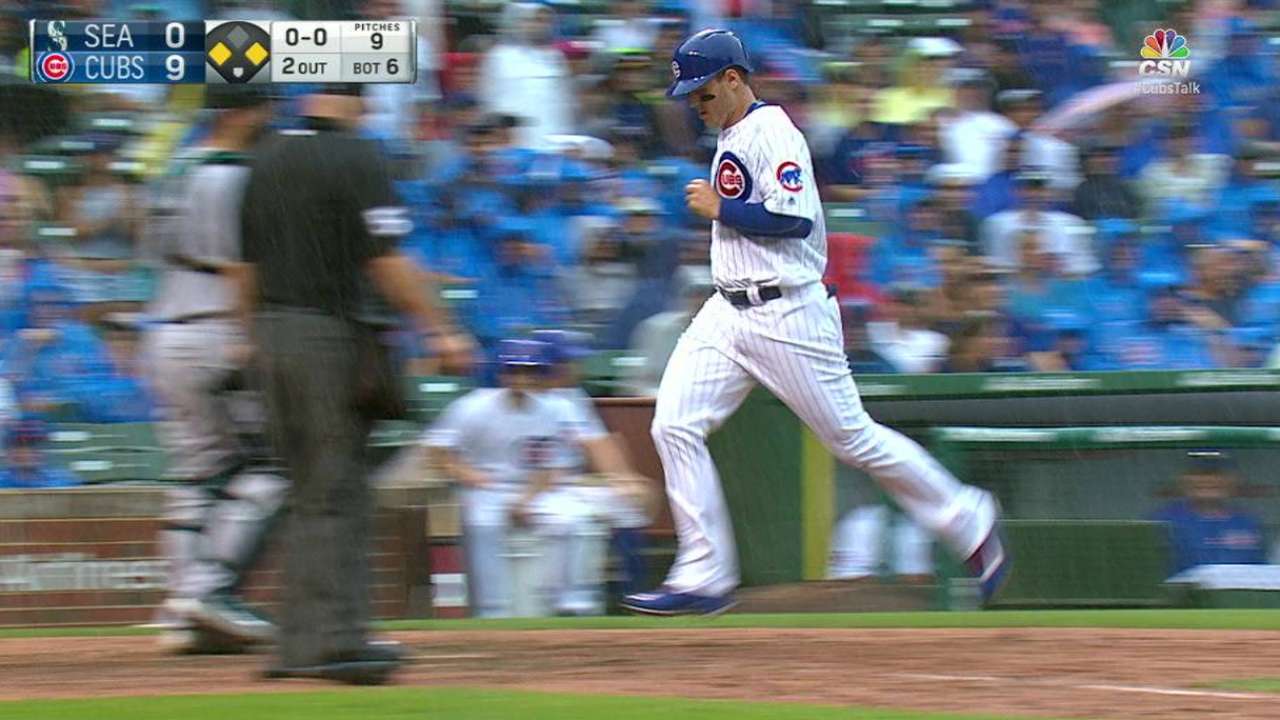 "He's had so much bad luck this year, hitting balls hard and right at people and people making great plays on him," Ben Zobrist said. "When you see him hit a ball like that into the wind and it goes out, you're so happy that finally one went over the fence. He had to really hit it hard to get it through there and cut through the wind.
"He's going to come through. We know he's one of the most talented guys in this clubhouse, and that's saying a lot. All the work he's putting in is going to pay off here."
Carrie Muskat has covered the Cubs since 1987, and for MLB.com since 2001. She writes a blog, Muskat Ramblings. You can follow her on Twitter @CarrieMuskat and listen to her podcast. This story was not subject to the approval of Major League Baseball or its clubs.