Royals admit postseason runs have taken toll
Volquez hoping to help win games for KC with Trade Deadline on tap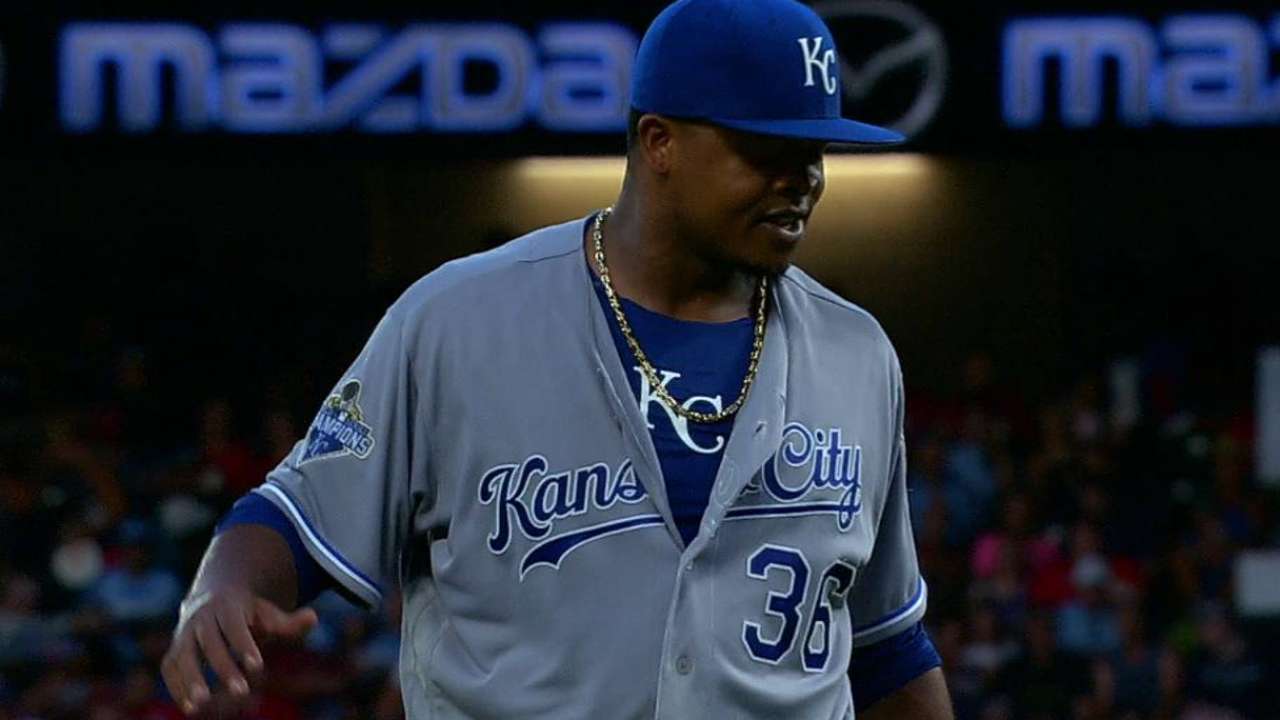 ARLINGTON -- Right-hander Edinson Volquez looked toward the sky when asked what suddenly came over the Royals in the last two months, a span in which they went from first to fourth place in the American League Central, losing 31 of 50 games.
"I have no idea," Volquez said after an 8-3 loss to the Rangers on Friday night at Globe Life Park. "I don't know. We're looking for answers. Like I said before, we've got to find a way to win on the road. We haven't done it yet.
"This is a big difference from last year. I don't know. It's crazy."
But actually, the Royals just dropped six of nine in a hugely disappointing homestand. The venue hasn't mattered lately. And with the non-waiver Trade Deadline looming on Monday at 3 p.m. CT, there could be changes coming.
One of those changes could involve Volquez, a pending free agent who may or may not have pitched his final game with the Royals.
"I'm not worried about that," Volquez said. "I can't control that. Whatever happens, it happens. So hopefully I stay here and help the team to win some games."
For the first time this season, the suggestion was voiced in the clubhouse that this group of Royals may have worn down from two straight seasons of World Series runs.
"No, I couldn't have imagined it," manager Ned Yost said. "But I just think the toll has caught up to us.
"Yeah, two deep runs [in the postseason] and the injuries have definitely [taken a toll]. Losing Hoch [Luke Hochevar] was big. Losing Moose [Mike Moustakas] was big. Losing [Lorenzo] Cain for [three weeks], it just takes a toll."
All-Star catcher Salvador Perez agreed.
"I'm not surprised because that's part of the game," Perez said. "What we did the last two years, this is not an excuse, but what we did the last two years, that's big for us, for a lot of people, too, in Kansas City.
"And we only rested four months in two years. So, I don't know, maybe we're tired. I don't know.
"I think it's part of the game. We're gonna win, we're gonna lose. That happens, you know."
But the losing has zapped a lot of fun out of the once boisterous Royals clubhouse.
"[The losses] are tough," Yost said. "They're tough for everybody. We're giving up a whole lot of home runs. The offense has been sporadic. It's just been tough. You just come to the ballpark the next day and try to find a way to win a ballgame….we've still got two months of baseball in front of us."
And just three days until the Trade Deadline.
Jeffrey Flanagan has covered the Royals since 1991, and for MLB.com since 2015. Follow him on Twitter @FlannyMLB. This story was not subject to the approval of Major League Baseball or its clubs.