Frazier day to day with flu-like symptoms
Lawrie continues recovery from left hamstring strain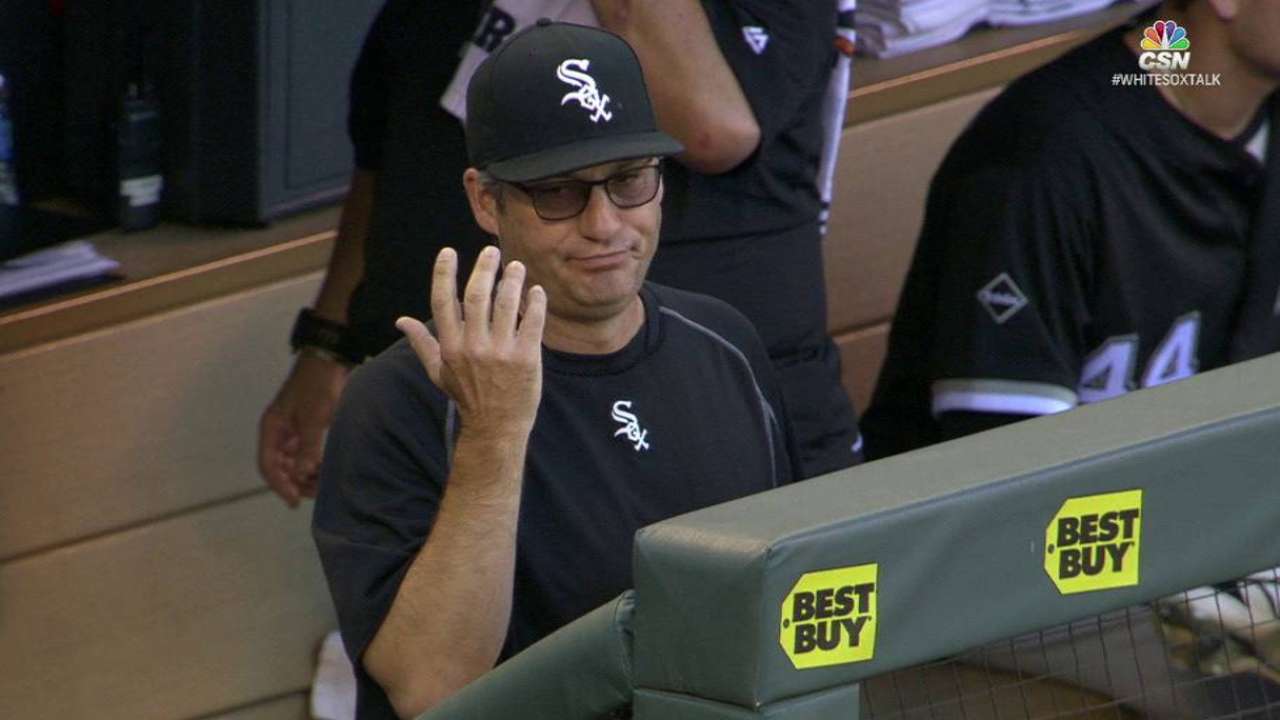 MINNEAPOLIS -- Todd Frazier was scratched from the starting lineup in Friday's 2-1, 12-inning loss to the Twins due to flu-like symptoms. Tyler Saladino moved from second base to third in Frazier's absence, while Carlos Sanchez took over at second.
The White Sox third baseman is hitting .212 with 29 homers and 67 RBIs. Frazier's 29 homers lead the White Sox and are second in the Majors behind Baltimore's Mark Trumbo (30). He looked decidedly under the weather in the postgame clubhouse.
"Before the game he felt like he had the flu and felt like he was dizzy," White Sox manager Robin Ventura said. "We scratched him before the game and just put him on the bench and put Sanchy in at second.
"We'll see [if he's available Saturday]. I don't know how long it's going to last."
Lawrie 'on the mend'
Brett Lawrie wanted to avoid the disabled list after suffering a left hamstring strain on July 21 against Detroit. But the high-energy second baseman quickly realized it was better to let it heal and work his way back instead of forcing his way through the pain.
"Once you feel something like that, if I'm not feeling my best and if I'm not feeling like I'm myself and I'm not able to go out there and be me, then I'm not doing the team any good when somebody else could make a play that I couldn't make because I'm just trying to get through an injury," Lawrie said. "I want to win ballgames and the only way to do that is be at my best. I'll be there soon.
"You want to be there for the team and you want to play. Nobody wants to sit around. Yeah, I wanted to get out there and play, but it just couldn't happen in the time I needed to when we went over to play National League games and what not. So yeah, got to get it better and it's definitely on the mend, so I'm glad it's feeling better. I'm able to go out on the field and do some stuff, so it's all positive."
Lawrie was working on the field pregame Friday as Justin Morneau met with the media in his return to Target Field. Lawrie described the injury as a couple of others things going on with the hamstring, adding it's hard to pinpoint what it is.
"There are a couple of things leaning on each other so it's not necessarily anything crazy," Lawrie said. "It's just kind of calming everything down and being able to move from there.
"I'm on the mend right now. Every day I wake up it feels better. Just continue with that."
A Minor League rehab assignment stands in Lawrie's future before he returns to the big leagues.
Sale, Ventura talk baseball
White Sox manager Robin Ventura has talked to staff ace Chris Sale since his return. But the focus was on baseball Thursday and not the actions leading up to Sale's five-game suspension.
"He's going around doing what he needs to do and we'll talk at some point. It'll happen," Ventura said. "We were just going over the stuff that was in the game, things that were happening. He's going around. There's a lot of guys to talk to. We'll get to it."
Rodon on track for Sunday
Carlos Rodon appears in line for Sunday's start at Target Field, coming off the disabled list after suffering a left wrist sprain.
"I think he has a really good chance of being the guy on Sunday," Ventura said. "[White Sox head athletic trainer] Herm [Schneider] is going to have the last call as far as health-wise, but it's looking pretty good for him."
Ventura said the usage of Rodon Sunday has nothing to do with potential trade interest in James Shields, who would be in line to start after beating the Cubs Tuesday.
Rowand to manage in the Arizona Fall League
Aaron Rowand was named manager of the Glendale Desert Dogs Friday as part of the 2016 Arizona Fall League. The center fielder on the 2005 White Sox World Series champions, who currently is serving as the organization's outfield/baserunning coordinator, will be managing for the first time.
Scott Merkin has covered the White Sox for MLB.com since 2003. Read his blog, Merk's Works, follow him on Twitter @scottmerkin, on Facebook and listen to his podcast. This story was not subject to the approval of Major League Baseball or its clubs.