Normally dependable Iwakuma hits bump in road
Righty had been Mariners' most consistent starter before 3-inning start vs. Cubs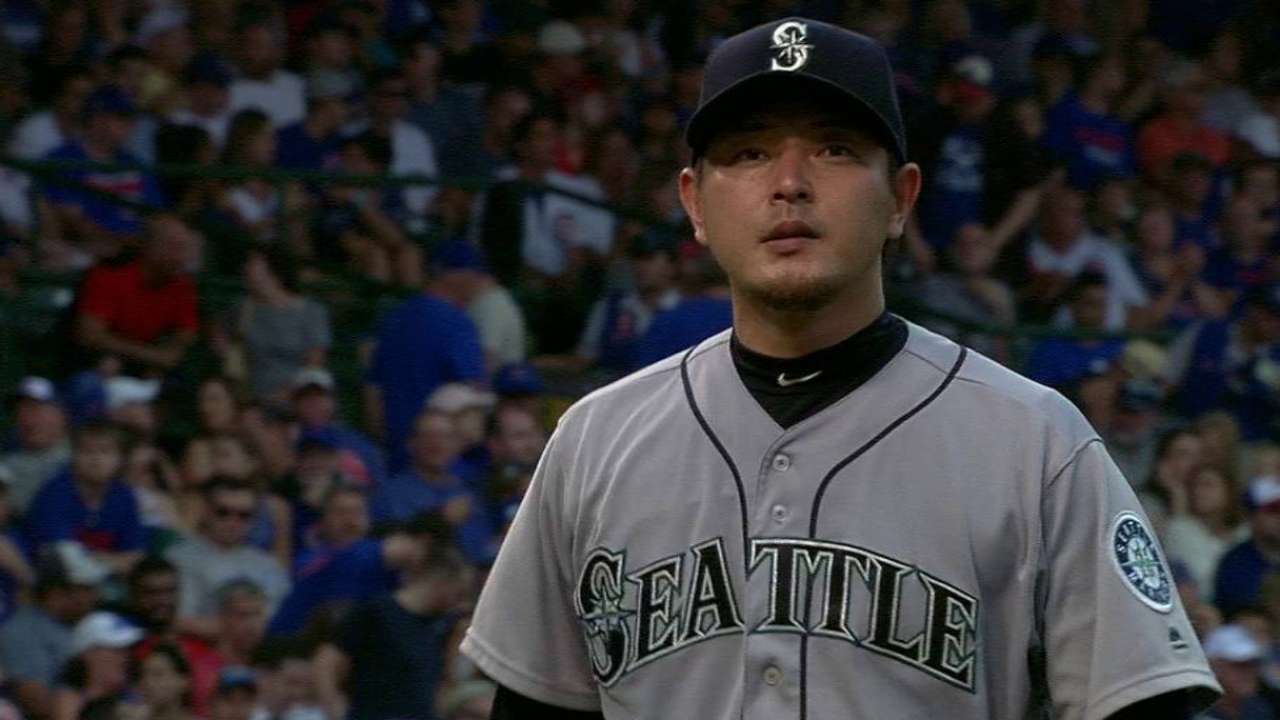 CHICAGO -- With Felix Hernandez and Taijuan Walker dealing with injuries for much of the past two months, Hisashi Iwakuma emerged as Mr. Dependable for the Mariners and had easily been the club's most consistent starter -- until running into the Cubs on Friday at Wrigley Field.
Hampered by some tightness in his throwing shoulder, the right-hander lasted a season-low three innings in Seattle's 12-1 loss. After waiting nine years to return to Wrigley for just the second time in franchise history, the Mariners never got anything going on a muggy midsummer afternoon as they fell to 51-50. The lopsided loss was interrupted by a 1-hour, 14-minute rain delay.
Iwakuma allowed eight hits and five runs with one walk and two strikeouts before manager Scott Servais pulled the plug after 60 pitches, well before the rain arrived. The loss leaves Iwakuma at 11-7 with a 4.21 ERA on the season.
"Kuma wasn't on," Servais said. "He had a little tightness going on, and it was tough to get loose. Then he got loose and wasn't sharp. He missed in the middle of the plate a lot, obviously, against a good offensive club, and it was a rough day."
Both Servais and Iwakuma insisted there was no concern with the shoulder and that it's a minor issue he's dealt with before, but it did impact his command.
"I didn't feel tightness or soreness during the game," Iwakuma said through translator Antony Suzuki. "It was there when I started throwing in the bullpen, but I was able to get loose. Then at the end, it kind of cost me, keeping the balls up, I think it was because of tightness. It's not like I was feeling any pain or soreness, I just wasn't able to execute when I wanted to and giving up those runs."
Iwakuma gave up a double and walk in the first, but he got out of that unscathed. Things didn't go as smoothly in the second, when four singles led to a trio of runs, with Chris Coghlan's two-run blooper followed by an RBI hit to left by Kris Bryant.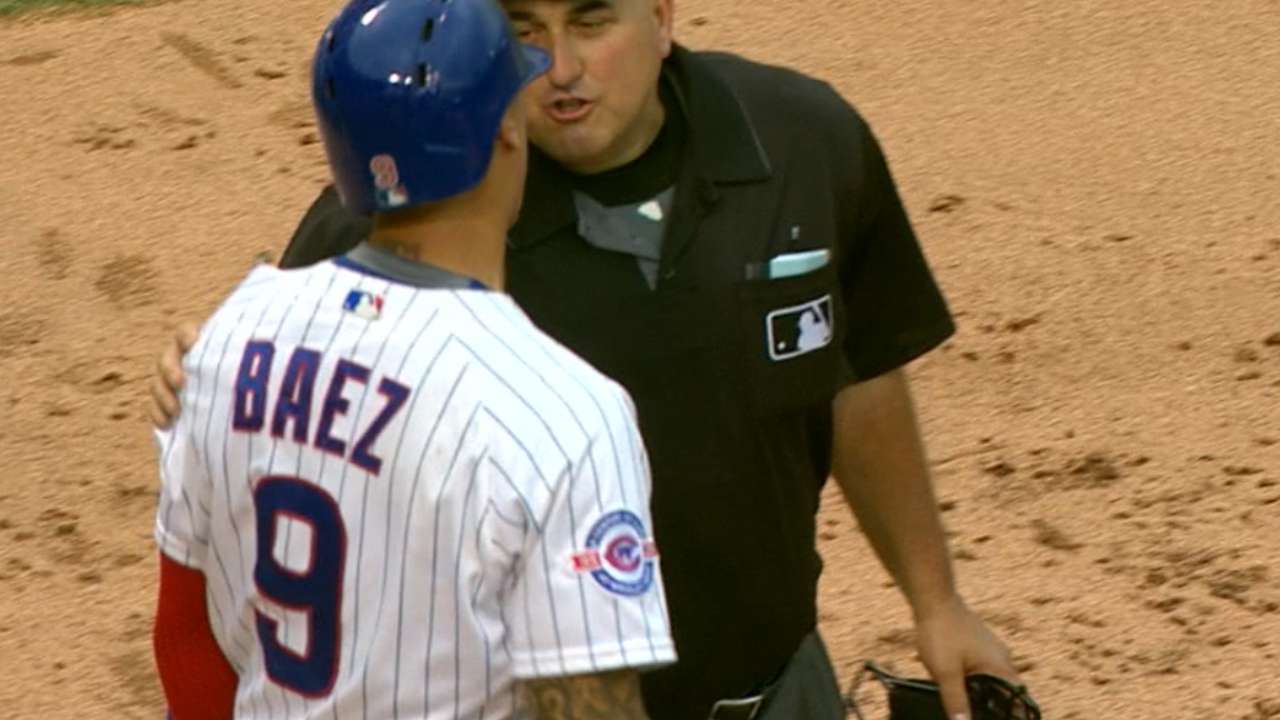 A double by Ben Zobrist and two-run blast by Jason Heyward upped the Cubs' lead to 5-0 in the third, and Iwakuma's day was done shortly thereafter.
The 35-year-old has had only one shorter start in his five-year Major League career, having been pulled after 2 1/3 innings in a 2014 contest at Fenway, when he allowed six hits and five runs in a game Seattle came back to win, 8-6. He also went just three innings in another game against the Red Sox in '13 at Safeco, when he allowed eight hits and six runs in an 11-8 loss.
But Iwakuma had been the model of consistency this season, going six or more innings in 12 of his previous 13 starts. The right-hander was 10-2 with a 3.69 ERA over his past 12 outings and had won five straight until running into the National League Central-leading Cubs.
"It is what it is," Iwakuma said of hitting a bump in the road. "Obviously, you want to give your team a chance to win, and I wasn't able to do that. You have to switch your mind and get ready for your next start, do your routines and go forward."
Greg Johns has covered the Mariners since 1997, and for MLB.com since 2011. Follow him on Twitter @GregJohnsMLB and listen to his podcast. This story was not subject to the approval of Major League Baseball or its clubs.