Bruce wants conclusion to trade speculation
Reds right fielder feels a deal could be made in short order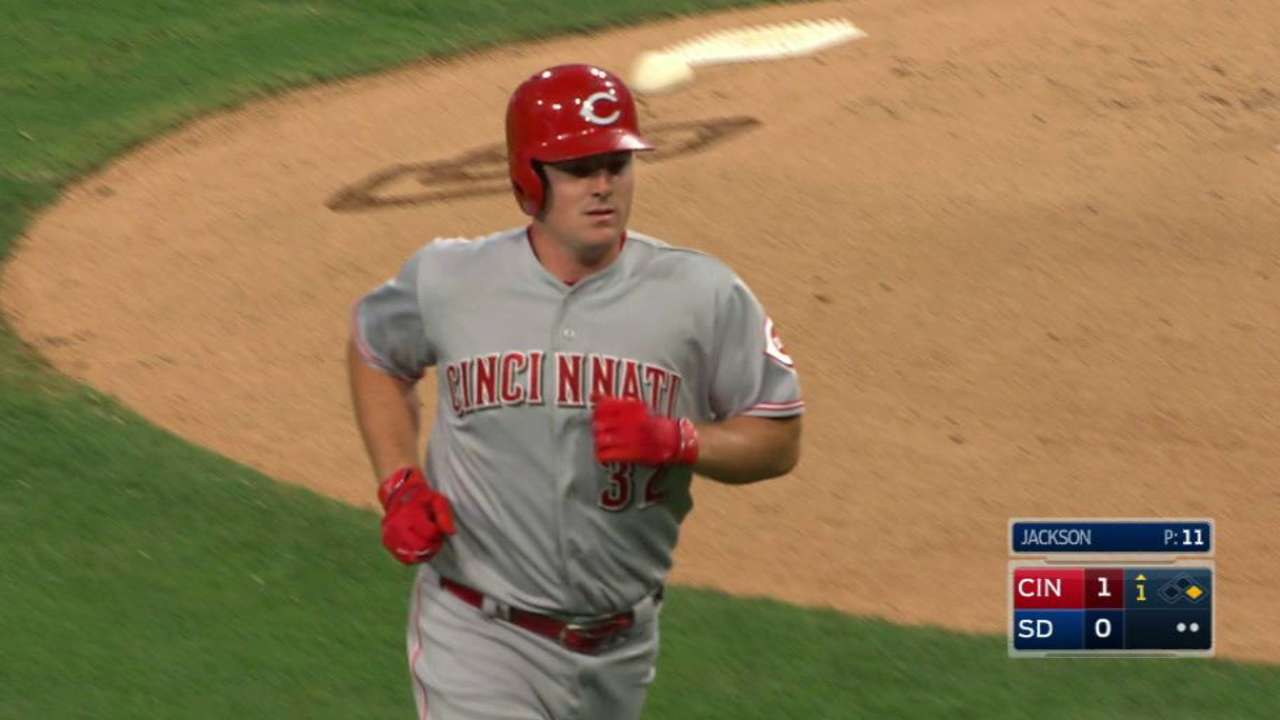 SAN DIEGO -- This is "hugwatch" No. 3 for Jay Bruce. The Reds right fielder went through the ringer before last year's Trade Deadline and was nearly moved. He was almost traded before Spring Training in February. Now it's happening all over again as the final weekend before Monday's 4 p.m. non-waiver Trade Deadline.
On Friday, Bruce was expecting to be moved at any moment but remained with the Reds for at least one more game as the Reds handed the Padres a 6-0 loss on Friday.
He is resigned to move on, and is ready to get it over with.
"I think the writing is on the wall," Bruce told MLB.com before the game. "This has been a long time now of speculation. I'm not the type of guy to cause a stir or anything like that, but the writing is on the wall here. It's tough. It's a deal where I've been here my whole career, but obviously the Reds are in a rebuild mode right now. Everyone is aware of that. I'm ready for the story to be written, for it to conclude and get on with being able to play ball, and hopefully, winning baseball."
Although Reds president of baseball operations Walt Jocketty noted recently that teams had not gotten serious with interest in Bruce, rumors heated up strongly on Friday. Sources told MLB.com that the Dodgers were one of multiple clubs making a push to get Bruce.
ESPN reported that it might be a three-team trade with a third unspecified club involved to get Bruce to Los Angeles. As of late Friday night, that rumor did not materialize any further. Other teams reportedly interested in Bruce are the Mets, Mariners, Giants, Blue Jays and Orioles. Seattle also might have interest in Reds shortstop Zack Cozart, ESPN also reported.
Bruce is making $12.5 million this season and has a $13 million club option for 2017 that has a $1 million buyout. One year ago, he was apparently close to being sent to the Mets for pitcher Zack Wheeler, but remained with Cincinnati. At the start of Spring Training, a deal to send him to Toronto was in place before a medical red flag on a returning Minor League scuttled the transaction.
Bruce, 29, went 0-for-4 with a first-inning sacrifice fly on Friday that scored the game's first run. It ended his five-game streak with at least one home run, which left him tied with six others for a club record. He is batting .268/.319/.566 with 25 home runs and a National League leading 80 RBIs.
As the recent rumors started swirling, Bruce said he's been given no indication from management what might happen before the Deadline.
Inadvertently, Bruce caused brief alarm when he was seen hugging teammate Billy Hamilton in the visitor's dugout several hours before game time. It was in fact, just a hug and not a hug goodbye.
"I'm ready for what's next," Bruce said. "I'm ready for this to not be a distraction. This consumes the clubhouse at this point. It's not what I come to the field for."
Mark Sheldon has covered the Reds for MLB.com since 2006, and previously covered the Twins from 2001-05. Follow him on Twitter @m_sheldon and Facebook and listen to his podcast. This story was not subject to the approval of Major League Baseball or its clubs.