White Sox listening to offers ahead of Deadline
Interest remains high for All-Stars Sale, Quintana
CHICAGO -- It's the final days before Major League Baseball's non-waiver Trade Deadline on Monday, and as of Friday night, the roster remained the same for the White Sox.
Some expected the White Sox to make significant changes with the team "mired in mediocrity," per general manager Rick Hahn, and open to anything in terms of a potential change of direction. But even if the team moves from this contending while revamping mode into closer to a rebuild, it doesn't mean that rebuild has to take place before 3 p.m. CT on Monday.
The White Sox don't have to trade anybody, and that fact especially applies to Chris Sale and Jose Quintana. They are in listening mode in this instance more than definite moving mode, meaning if their demands aren't met, then Sale and Quintana take their next turn in Detroit.
Texas reportedly has strong interest in Sale, and the White Sox in turn have asked for Joey Gallo and Nomar Mazara as part of the talent return. Mazara has been a key contributor to the American League West leaders, so the Rangers are understandably hesitant to move him. But the White Sox aren't moving Sale at 50 cents on the dollar.
Although the move of Sale or Quintana seems remote at this point, manager Robin Ventura has given thought to life without either one of them.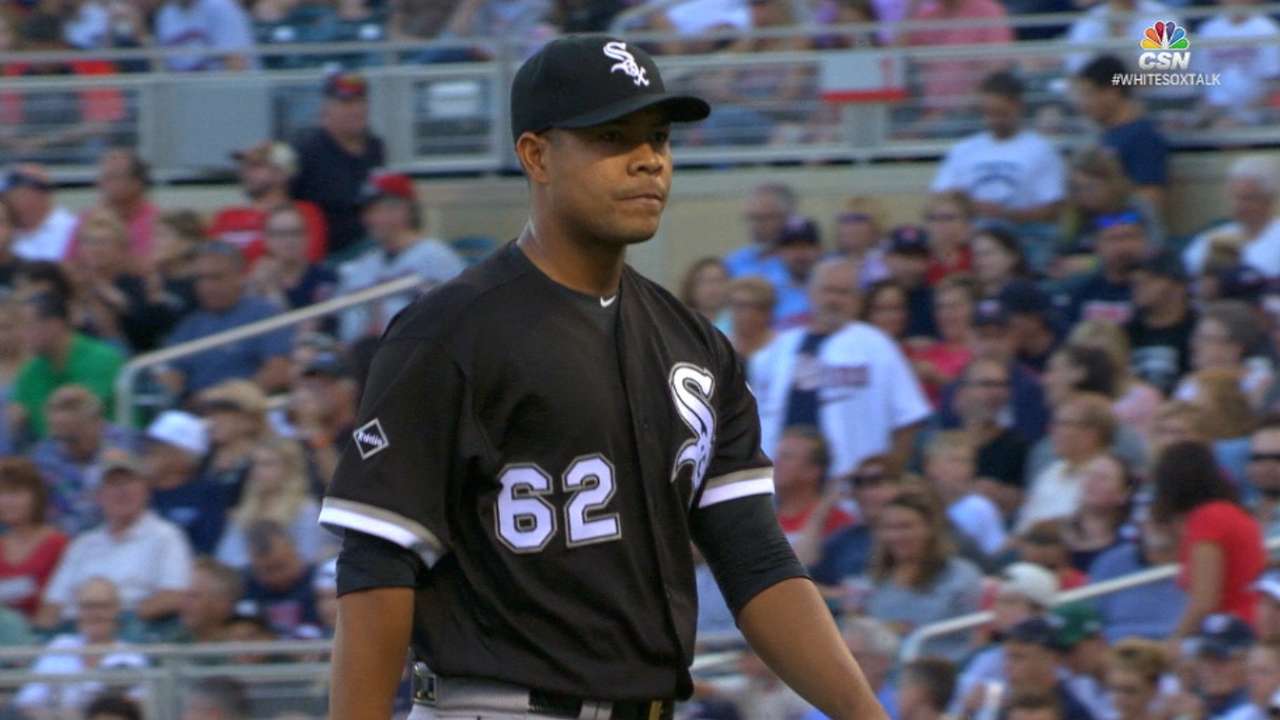 "You do a little a bit and realize, all you have to do is think about it for a second and realize it wouldn't be as good if you don't have those guys," Ventura said. "That stuff, I think the time of year, it's rampant, everybody talking about people, and a lot of it can just be fans or people saying, 'Trade this guy for that guy.'
"But it's not that easy. People have fun doing that and sometimes it gets the best of guys inside because they'll get their feelings hurt because they think that's actually going on, and sometimes it is and sometimes it isn't. Guys, it does distract them."
Sale's five-game team-issued suspension, which ended when he returned to the mound Thursday, has no bearing on whether the White Sox make a move with him before the Deadline. They can't be wrong on this sort of franchise-changing decision, potentially dealing one of the game's best pitchers, so they certainly won't force the issue.
There's a desire from Sale to stay with the White Sox and win with the White Sox, a desire he expressed Monday to MLB.com and after his six-inning performance at Wrigley Field. He stands with Quintana as two of the best values in all of baseball, with Sale under control through 2019, and Quintana through 2020.
While the White Sox might not make a plethora of moves until the offseason, they still figure to do something before Monday. Closer David Robertson, who has two years left on his four-year, $46 million deal, left-handed reliever Zach Duke and resurgent starter James Shields all could be on the market for a team sitting on the fringe of the 2016 postseason contention picture.
Scott Merkin has covered the White Sox for MLB.com since 2003. Read his blog, Merk's Works, follow him on Twitter @scottmerkin, on Facebook and listen to his podcast. This story was not subject to the approval of Major League Baseball or its clubs.