Former Padre Rodney, Marlins excited about trade
Veteran raves about Cashner from time together in SD; Jose & Co. welcome rotation upgrade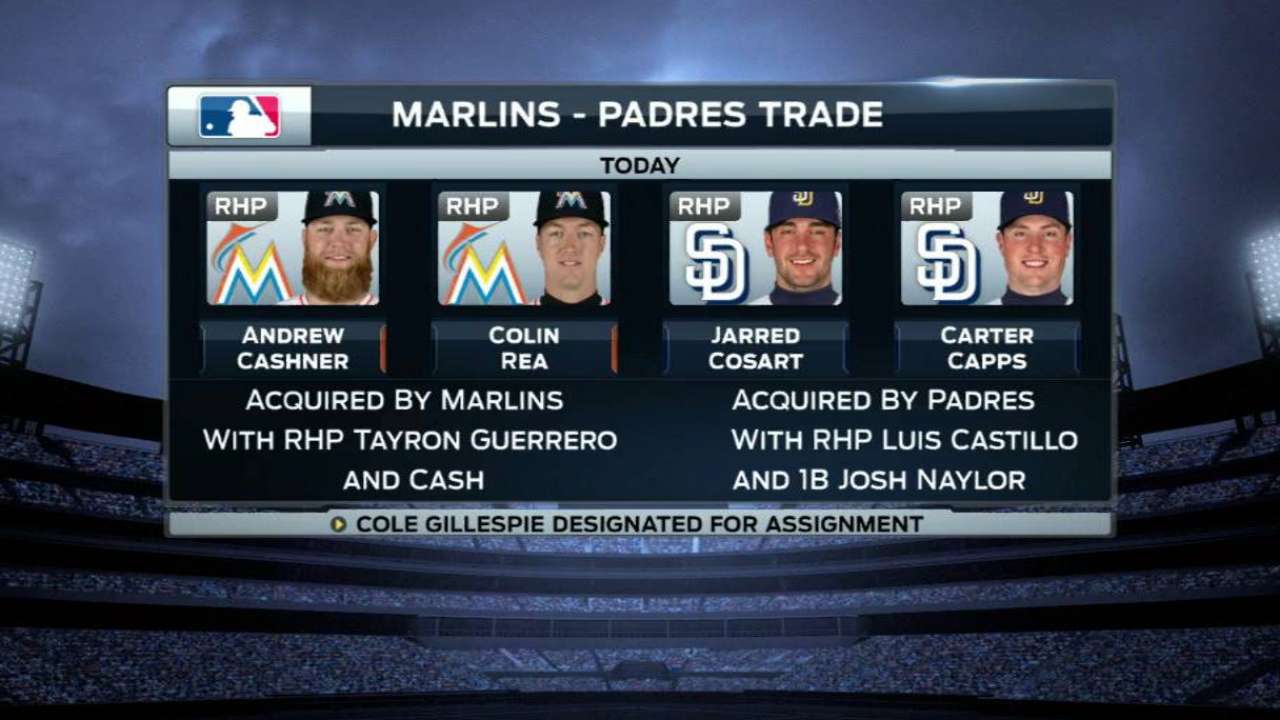 MIAMI -- With the acquisition of Andrew Cashner and Colin Rea on Friday, it's no secret the Marlins are all in this year. The players have taken notice, too, and are happy to see the club's commitment to winning.
Fernando Rodney, who will be rejoined by his former teammates from San Diego, was all smiles when speaking to reporters on Friday afternoon.
"I know this guy pretty well. He's good, to me," Rodney said of Cashner. "I'm very happy, as you can see."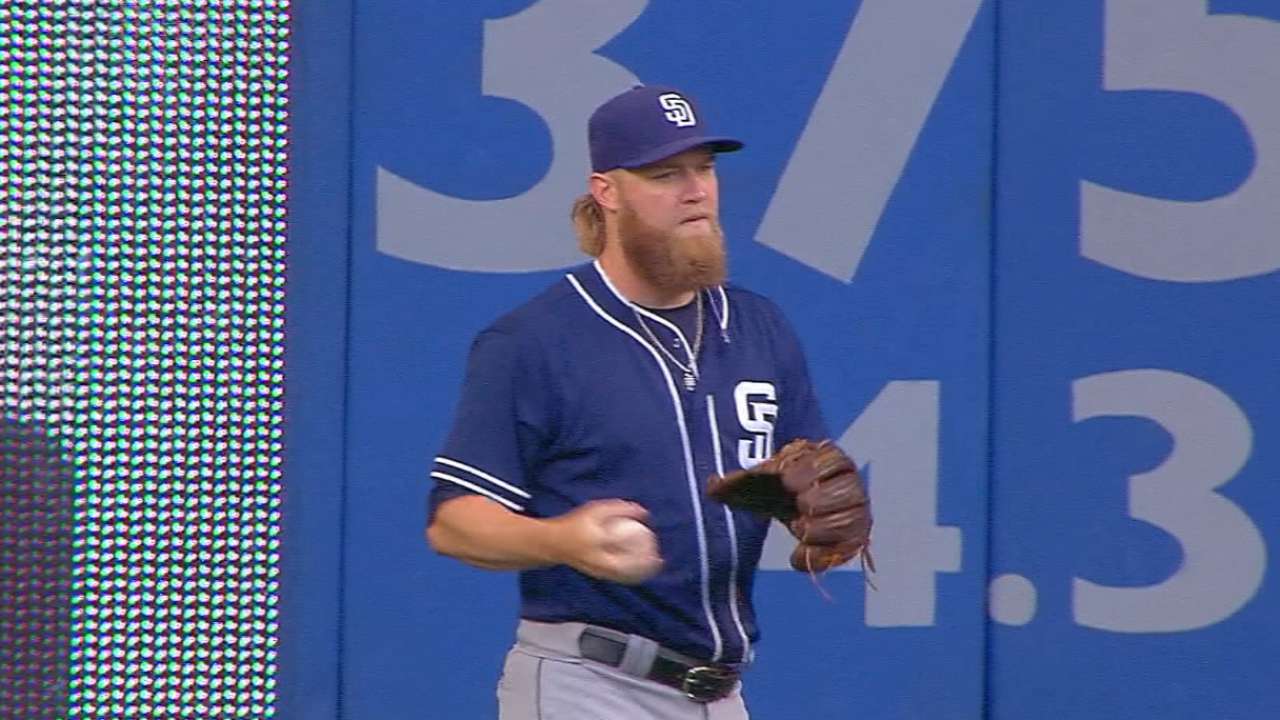 Rodney's sentiment was a shared one around the clubhouse. At 55-47, the Marlins entered Friday tied with the Cardinals for the second National League Wild Card spot. Players feel 2016 could mark the Marlins' first postseason berth since the 2003 World Series-championship run, and they're happy their hard work has caught the attention of the front office.
"He's going to help us to go wherever we need to go," ace Jose Fernandez said of Cashner. "I'm glad he's here. I'm glad he's going to be a part of us. He's going to come into this clubhouse and see the love and the passion that we have as a team."
Cashner, who will start on Sunday versus St. Louis, figures to slide in as the No. 2 starting pitcher behind Fernandez. The 29-year-old is 4-7 with a 4.76 ERA this year, but the hope is that he pitches more like the pitcher who posted a 2.87 ERA from 2013-14.
Cashner's been better of late, however, going 1-0 with a 2.55 ERA in his last three starts. Marlins closer A.J. Ramos said pitching for a contending team may help Cashner's numbers.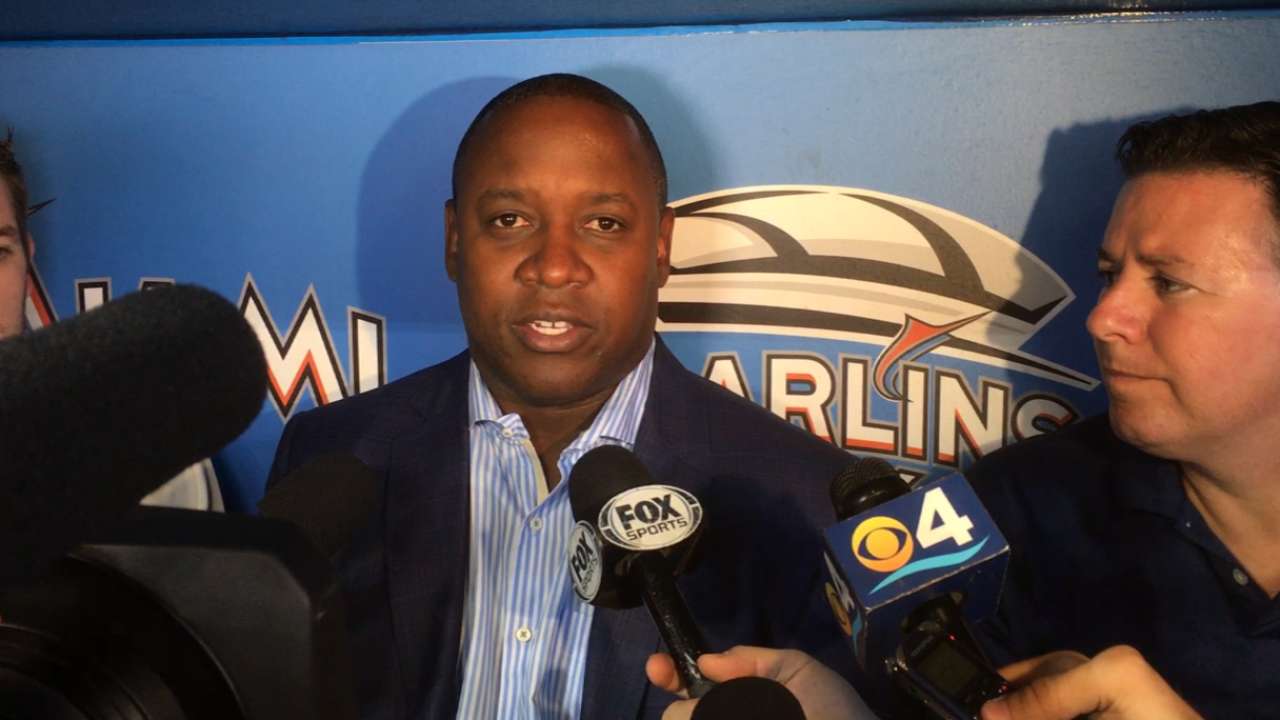 "You're going from pitching just for yourself to actually pitching to win to go to the playoffs," Ramos said. "I think when you add that aspect in there, it kind of brings the competition out in any guy and makes them perform just a little bit better. I've seen his stuff. He has great stuff. I think he'll be helping us out a lot."
Nearly every player raved about Cashner's stuff. The hard-throwing right-hander has a mid-90s fastball that has averaged 94.09 mph this year, well above the MLB average of 92.36 mph.
"Impressive stuff," said Fernandez. "I actually faced him hitting, and I didn't like it. I don't like to hit against him."
Rodney echoed his teammates' thoughts, saying Cashner will help the rotation and the club as a whole. The 39-year-old reliever said he's glad to see the organization is making moves to help improve the club.
"They're trying to put everything together and see if we can play well like we've been doing," Rodney said. "I hope we try to win the division, because I don't like Wild Cards. It's good sometimes, but it's one game."
Patrick Pinak is a reporter for MLB.com based in Miami. This story was not subject to the approval of Major League Baseball or its clubs.