Hochevar faced with thoracic outlet syndrome
Royals reliever is likely heading for season-ending surgery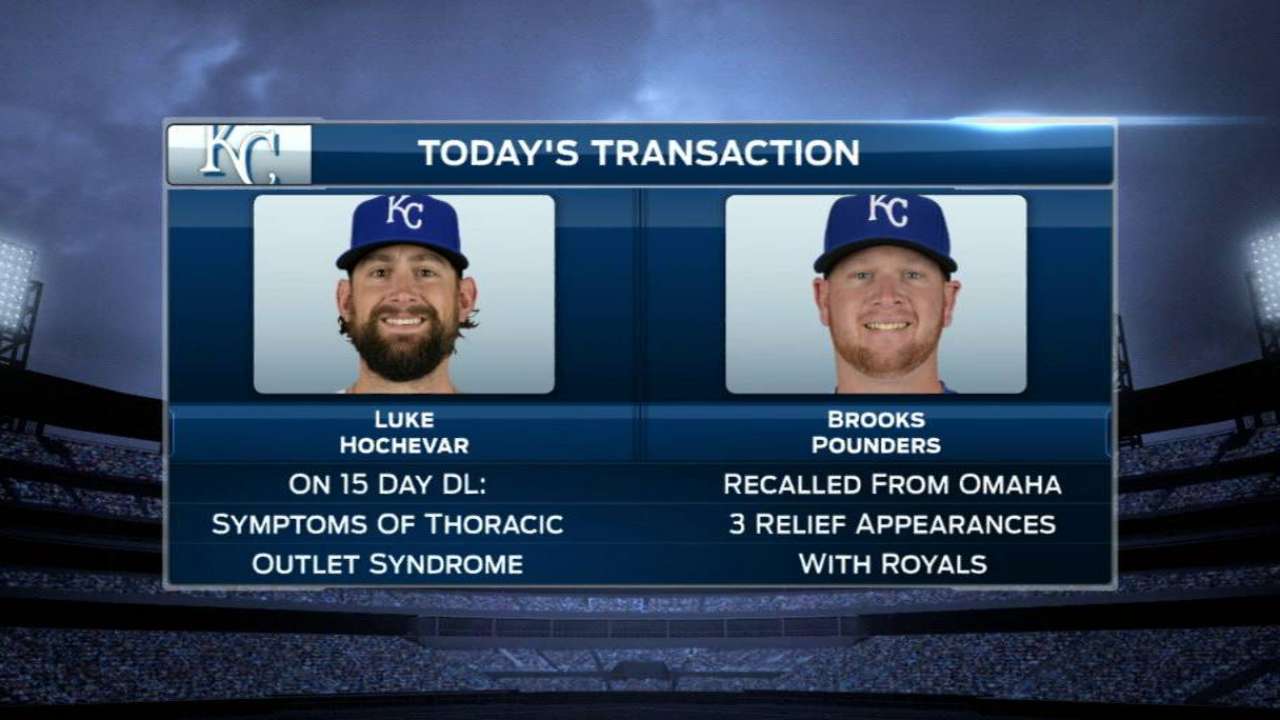 ARLINGTON -- Right-hander Luke Hochevar, an important piece to the Royals' bullpen, likely has thrown his final pitch of the season.
Hochevar was diagnosed on Friday with thoracic outlet syndrome, a condition that compresses blood flow in the upper body, by Dallas specialist Dr. Gregory Pearl.
Dr. Pearl recommended surgery, which would end Hochevar's season. Hochevar is scheduled to fly back to Kansas City on Saturday and get a second opinion from another specialist, Dr. Robert Thompson, in St. Louis on Monday.
If Hochevar has surgery, which seems likely, it would be performed by Dr. Thompson, Hochevar said.
"This is the worst-case scenario," Hochevar said. "It's definitely tough. The timing isn't good. It's nothing you ever want to find out or go through. But in the same sense, you've just got to get it taken care of."
The news is another setback for the defending World Series champions, who have been ravaged by injuries and are fading from postseason contention.
The timing also wasn't good for Hochevar, who likely will be a free agent after this season. Hochevar, 32, has a mutual option with the Royals for $7 million in 2017, with a buyout of $500,000. The club has never exercised a mutual option under the present regime.
"I think the biggest pill to swallow is not being available to the team," Hochevar said. "As for free agency, that stuff works itself out.
If Hochevar has the surgery, he was told the recovery time would be 4-6 months, making him available for Spring Training. Royals prospect Kyle Zimmer also recently was diagnosed with TOS, as was right-hander Chris Young a few years ago. Recently, Twins right-hander Phil Hughes and Mets righty Matt Harvey were diagnosed as well.
Hochevar said he began to feel some numbness in his hand and arm as early as April.
"There's a lot of things you pitch through," Hochevar said. "And I thought I just needed to pitch through it."
In 40 outings this year, Hochevar is 2-3 with a 3.86 ERA, his highest since moving to the bullpen three years ago.
Hochevar, the first overall pick of the 2006 Draft by the Royals, said he is at least relieved he has a diagnosis for what has been ailing him.
"I think information gives you that piece of mind that you need," he said. "When you're going through stuff there is a lot of unknowns. So when you can put a face to something, it's more of a peace of mind.
"You start to lose up command or lose a pitch and you chalk it up to making a mechanical adjustment or focus more. But once it started presenting itself as swelling or hand changing color or temperature, loss of sensation, you know it was not good."
Jeffrey Flanagan has covered the Royals since 1991, and for MLB.com since 2015. Follow him on Twitter @FlannyMLB. This story was not subject to the approval of Major League Baseball or its clubs.