Padres go for NL home run record
San Diego has homered in 25 straight games, two shy of Major League mark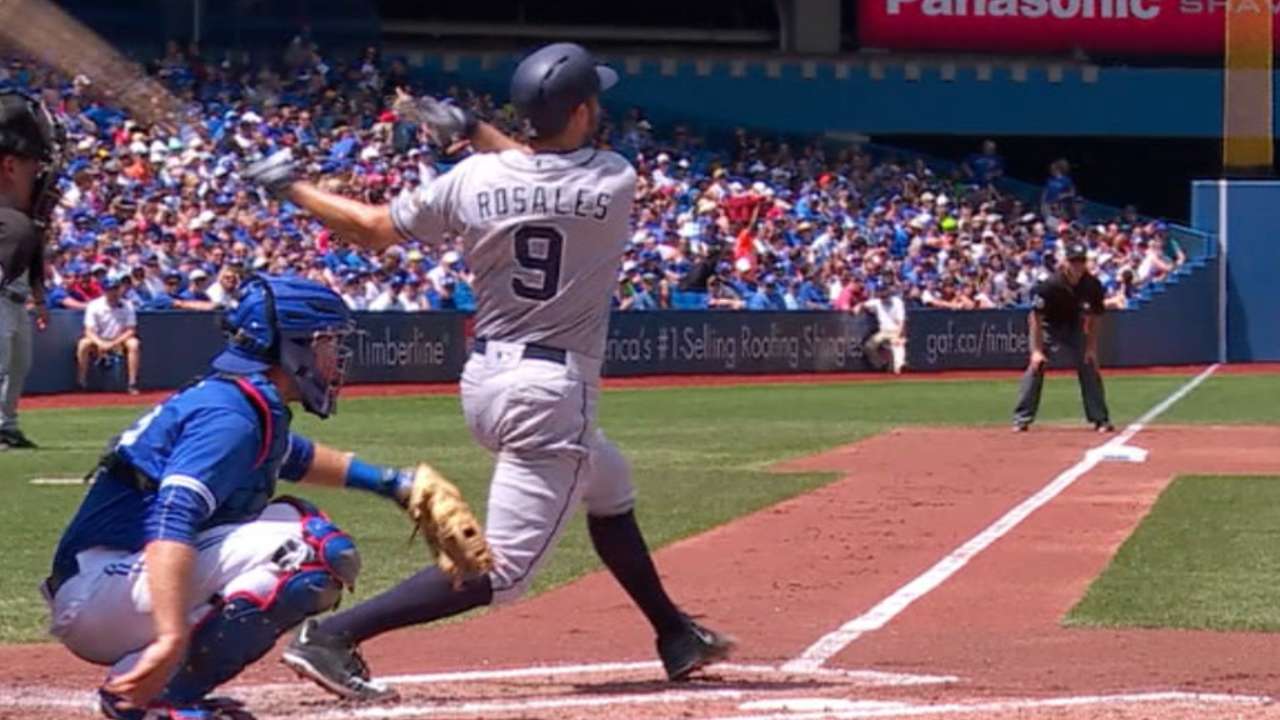 Bill Center, longtime sportswriter for U-T San Diego, is an employee of the Padres.
The win-loss record is what it is. The Padres are far shy of even being a .500 team, much less a contender. But there is something to have some fun with at the moment.
If a Padres player homers in each game of the three-game series against the Cincinnati Reds starting Friday night at Petco Park, San Diego will hold a Major League record for consecutive games with at least one home run.
Imagine the Padres holding a Major League record, and for hitting home runs no less.
San Diego's streak stands at 25 straight games with a home run. It is tied for the longest such streak in National League history with the 1998 Atlanta Braves.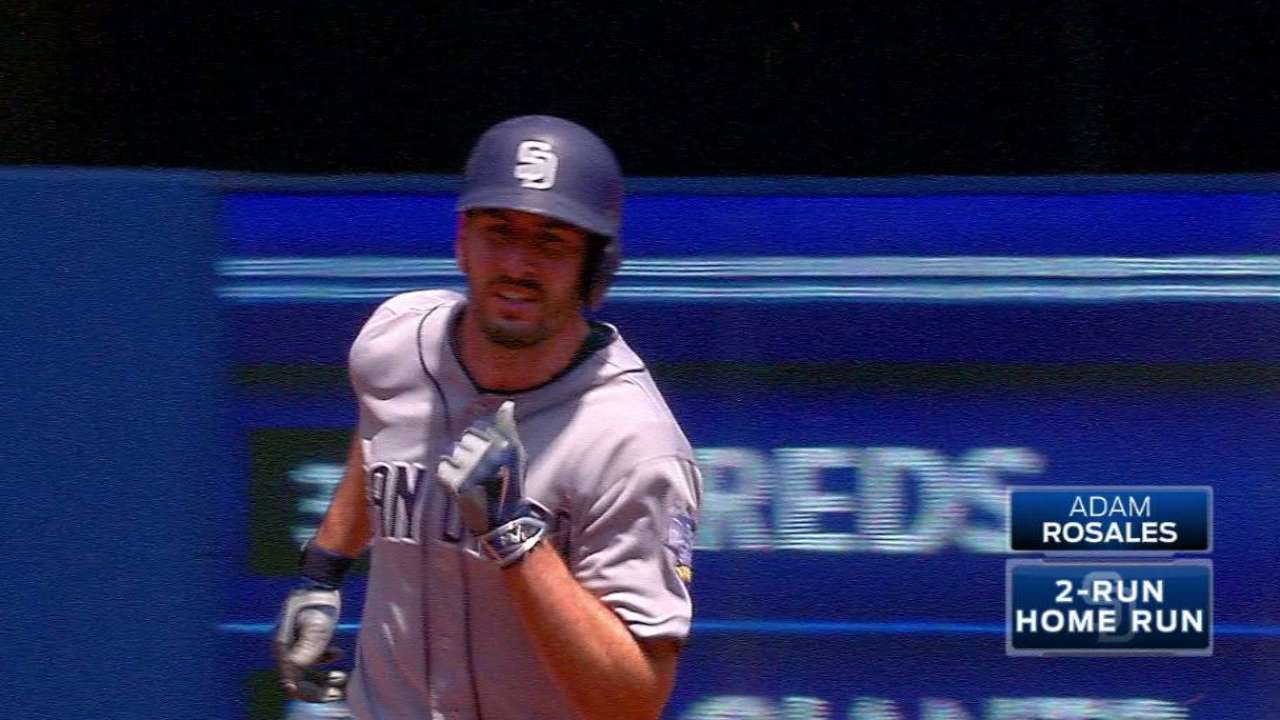 Only the 2002 Texas Rangers top 25 consecutive games with a home run. The Rangers homered in 27 straight games. The 1994 Detroit Tigers and the 1949 New York Yankees also homered in 25 straight games. The Padres' streak is also the longest since the Rangers set the record 13 years ago.
As it stands now, San Diego is in elite company as one of four Major League teams -- since the statistic started being tracked in 1913 -- with home runs in 25 straight games.
The Padres reached the 25-game mark Wednesday afternoon in Toronto when Adam Rosales, Brett Wallace and Alex Dickerson homered against the Blue Jays.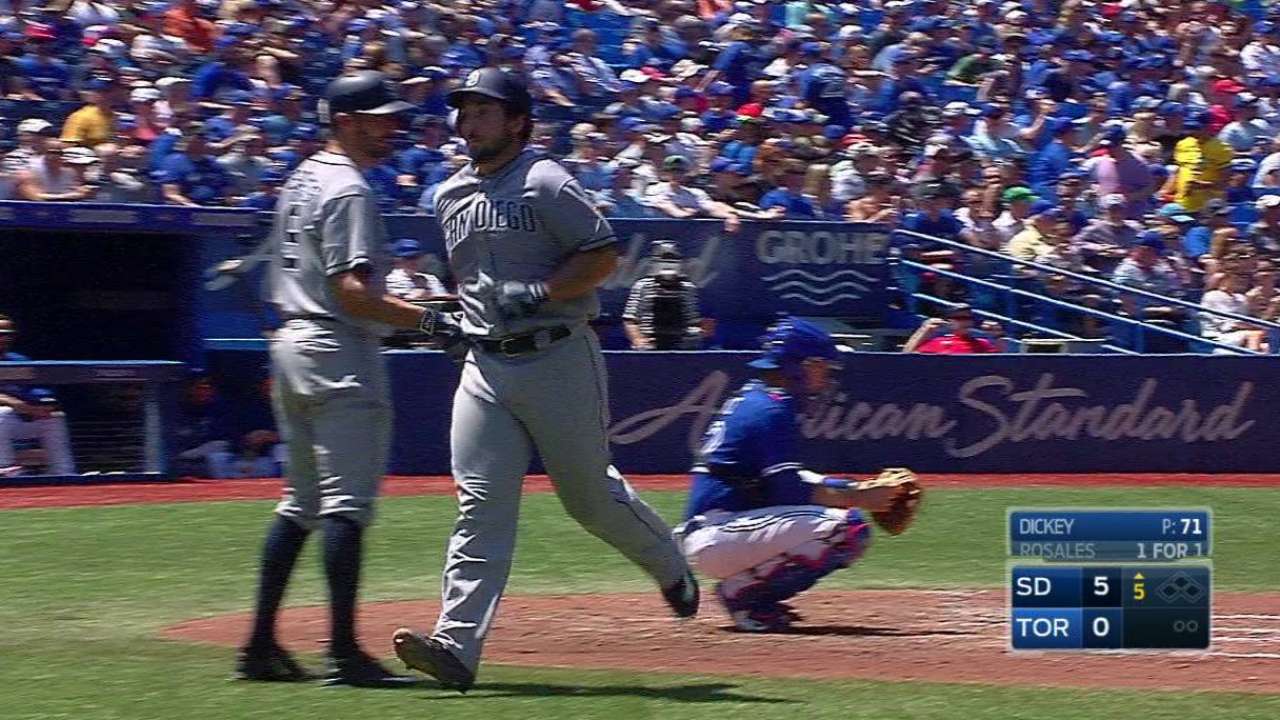 After having a day off Thursday, we'll see if the Padres can break the NL record against the Reds on Friday night.
San Diego's streak started June 28, one game after Reds starter Anthony DeSclafani and Tony Cingrani shut out the Padres at Great American Ball Park in Cincinnati. DeSclafani is scheduled to start Saturday evening's game at Petco Park, when they could be trying to tie the Major League record.
Several more notes from the streak
• Dickerson has homered in each of the past four games in the streak. Matt Kemp earlier homered in four straight games during the streak (July 16-20).
• The Padres' old record for consecutive games with a home run was 14 set in 1998.
• San Diego has hit a total of 42 homers during its record streak dating back to June 28.
• Second baseman Ryan Schimpf is the individual leader during the streak with nine. Right fielder Kemp is second with seven homers. Third baseman Yangervis Solarte is third with six homers, while Dickerson and Melvin Upton Jr. have each hit five. First baseman Wil Myers has three, catcher Derek Norris has two, Rosales and Wallace each have two. Christian Bethancourt has one homer during the run.
• The Padres have 123 homers on the season, a franchise record for 101 games. Seventy-three of those homers have come since June 1, which is the most in the NL since that date, and is tied for the third-highest total in the Major Leagues.
• San Diego is on pace to hit 192 homers this season. The franchise single-season record is 172 in 1970.
Notes from the scorebook
• Right-hander Brandon Maurer has four saves in as many attempts and a 0.87 ERA since becoming the Padres' closer on July 1. He has allowed one run on five hits and a walk with 10 strikeouts in 11 1/3 innings. In 17 outings since June 13, Maurer has allowed one run on nine hits and one walk with 18 strikeouts in 18 innings for a 0.50 ERA.
• Dickerson is 9-for-18 during his four-game home run streak with two doubles, three homers, seven RBIs and six runs scored. He also stole his second base of the season Tuesday night. The four-game binge raised Dickerson's batting average 59 points to .286.
• Kemp had his hitting streak stopped at 11 straight games Wednesday. He was 15-for-47 during the streak, with three doubles, seven homers, 11 RBIs and 10 runs scored.
• Right-hander Luis Perdomo is 4-2 with a 4.86 ERA in eight starts since moving permanently into the Padres' rotation on June 15. The Padres are 6-2 over those 10 starts and 7-3 in the 10 games started by Perdomo this season.