MLB.com Columnist
Tracy Ringolsby
Q&A: Hunsicker discusses trading for Johnson
Hall of Fame lefty was acquired by Astros from Mariners in 1998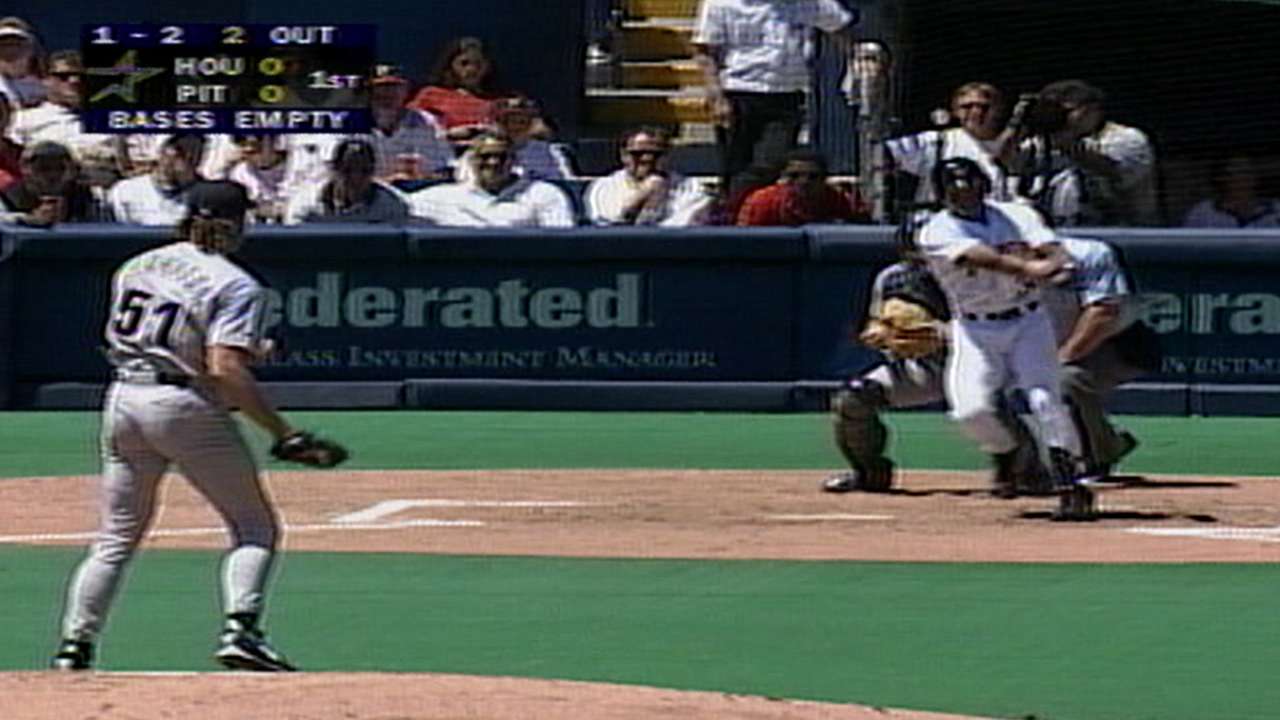 Former Astros general manager Gerry Hunsicker knows how unforgiving the non-waiver Trade Deadline can be. It was July 1998, and the Astros knew they were good enough to win their division, but they wanted to be better.
The Astros wanted to win a World Series. They wanted what they felt like was a missing piece -- left-hander Randy Johnson. Houston acquired Johnson, but it didn't win the championship, despite the fact that Johnson went 10-1 with a 1.28 ERA and 116 strikeouts in 84 1/3 innings over the final two months of the regular season.
In the postseason, Johnson made two starts against the Padres in the National League Division Series, allowing three earned runs in 14 innings. He also suffered two losses, including the elimination game. Hunsicker's memories of that trade is the subject of this week's Q&A:
MLB.com: What's the thought process that goes into that time when you're a buyer?
Hunsicker: We weren't typically in the market to make a big trade like this. It took a lot of soul-searching and convincing ownership to pursue a trade of this magnitude. I always felt like the Trade Deadline was a dangerous time of year to make a big trade, because you start pressuring yourself into thinking you have to make this trade. I also feel like you have to pick your spots.
I also felt the time to pull off a trade like this was when you had an exceptional team that, maybe without a trade, you felt confident you'd make the playoffs, but a trade of this magnitude really could be a difference-maker once you got to the playoffs as opposed to feeling the pressure to make a trade because you're on the cusp of making the playoffs. Then you're trying to put yourself over the top to get there, because in this business, we find out very quickly that the overwhelming majority of times you make a trade, it doesn't really get you where you need to.
MLB.com: And with Johnson, you felt he could be that postseason difference-maker?
Hunsicker: We had an exceptional team. I really believed that we had the pieces to get to the postseason. When a guy like Randy Johnson became available, it's kind of a once-in-a-lifetime opportunity. We didn't have a dominant ace. On top of that, being left-handed, looking ahead, if we were to get to the World Series, the Yankees were the team of the year in the American League and had a significant number of left-handed hitters.
MLB.com: How did you keep the trade talks between the Astros and Mariners so quiet?
Hunsicker: Nobody was really focused on the Astros' back. People knew we didn't have much money to spend. People knew we were relying on the farm system. When Randy Johnson discussions emerged, it never included the Astros. As I recall, the Yankees and Cleveland were two of the top teams in the hunt there.
MLB.com: So you were late getting into the talks?
Hunsicker: This was an internal thought until about a week before the Trade Deadline. I really hadn't discussed this with anyone in the organization other than ownership. I quietly put in a call to Woody Woodward, who was the general manager of Seattle at that time, and expressed some interest and let him know that it was probably a long shot of us getting involved, but I at least wanted him to put us down on his list of teams that were interested. I just let it sit for the next two or three days, and I don't really think Woody felt like we were going to be serious players. That's kind of the way I wanted it to play out, us laying in the weeds and trying to pull off a surprise attack, if you will.
MLB.com: So as the Deadline nears, what happens?
Hunsicker: We had a few conversations, exchanged some names. About 9 p.m. that night, we had had several conversations that really became discouraging to me and led me to believe that this wasn't really going to work. I actually went home and sent everybody else home around thinking this thing was dead.
About an hour or so before the Deadline, I called Woody again. I knew in my heart that we were overpaying for [Randy], but it was a very unique time in the history of the Houston franchise. It had never been to a World Series. We just captured the heart of the city with baseball with the success that we were enjoying. There were so many dynamics working that indicated if you were ever going to have that "go for it" attitude, take a chance, this was it.
MLB.com: So you finally get an agreement?
Hunsicker: Yes. I called Nancy Cross at the National League office and Woody had to do the same to the American League office. When I called Nancy, it literally was a minute before midnight. She actually said, "I'm looking at my clock right now and the second hand's at about 55 seconds left to midnight. We'd have had a big problem if you'd called a minute later. I couldn't have OKd the deal."
It turned out to be a pretty agonizing and intense night, but it was also the most exhilarating night that I've ever had in this business.
MLB.com: Randy did everything you could have expected except help you win a World Series?
Hunsicker: This might be the poster child trade to reinforce how dangerous making trades are with regard to maybe overpaying or risking your future for the moment, because no player could have ever been acquired that matched what Randy did. He goes 10-1 in 11 regular-season starts, and he dominates: A 1.28 ERA and 116 strikeouts in 84 1/3 innings. He truly pitched like a Hall of Famer for us, and yet we crapped out in the first round of the playoffs. He suffered two losses, but only gave up three earned runs in 14 innings.
MLB.com: So do you second-guess the decision when it's over?
Hunsicker: You always wonder, but I never gave that deal a second thought. We did everything we could to put ourselves in the position to get to the playoffs and win the World Series. It didn't work. In our situation, if you didn't try to make a trade like that, then you shouldn't even consider making any kind of trade in any scenario, because the cards were aligned for us. We had a great team. Just the excitement that it created, not only in the clubhouse but in the city, was worth making that trade. I've never seen the city so electric, so excited as it was after that trade. It was truly one of the most exciting times in my career, and ironically, it was also one of the biggest heartbreak years for me having so much going for us and then not even getting past the first round of playoffs.
Tracy Ringolsby is a columnist for MLB.com. This story was not subject to the approval of Major League Baseball or its clubs.