Bullpen's new look lightens load for Lackey
Strop-Rondon-Chapman combo follows starter's 6 innings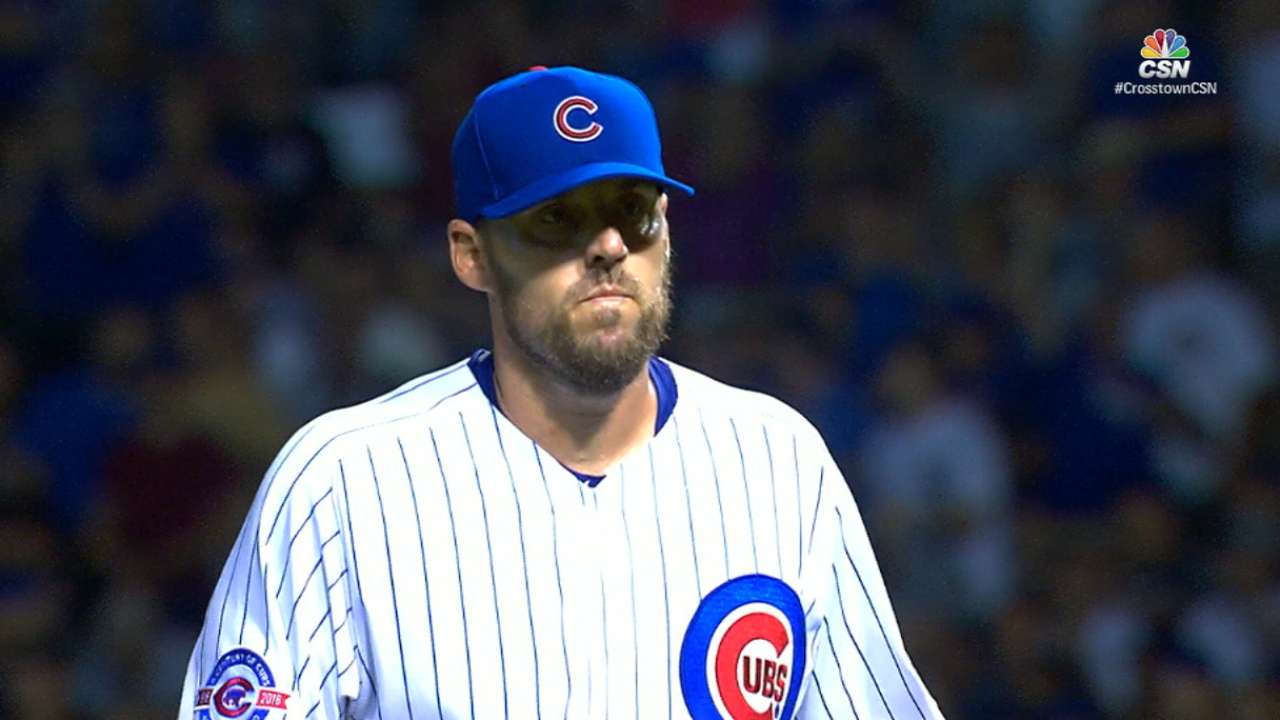 CHICAGO -- Cubs starter John Lackey could've gone longer in the 3-1 win over the White Sox on Thursday night, but manager Joe Maddon took advantage of a National League moment in the sixth inning knowing his bullpen has changed with the addition of Aroldis Chapman.
"We've got what they call a three-headed monster now," Chicago's Dexter Fowler said. "Those guys cut the game down."
The Cubs led, 2-1, and had two on and two outs in the sixth. It was Lackey's turn to bat, but Maddon called on David Ross to pinch-hit. Ross struck out, and Maddon turned to relievers Pedro Strop and Hector Rondon to pitch the seventh and eighth, respectively.
Trouble is, Rondon gave up a leadoff double to Tyler Saladino in the eighth, and he advanced to third on Tim Anderson's groundout. Maddon then called on Chapman, who struck out Melky Cabrera to end the eighth, then retired the side in the ninth for his first save with the Cubs and first four-out save of the season.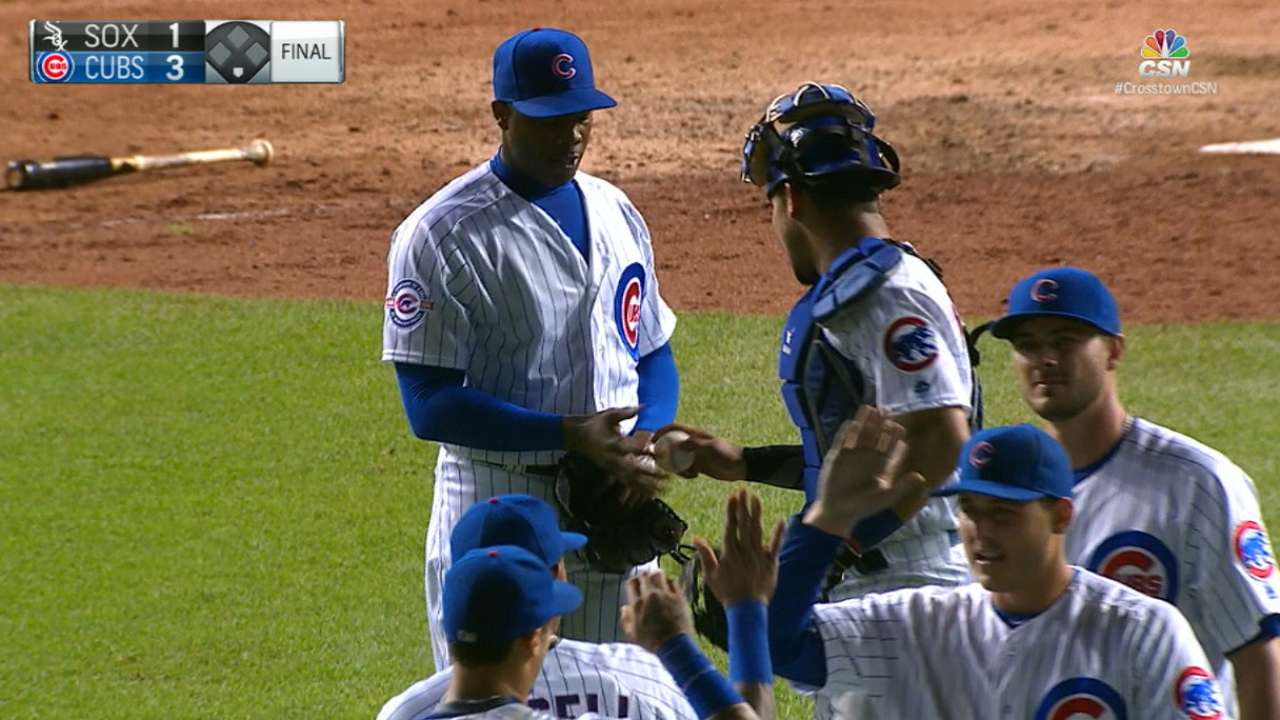 "It was a National League moment getting John out of the game," Maddon said. "You look down and you have Strop, Ronny and Chapman ready to go tonight. It makes it somewhat easier. Even though Rossy punches out, it's still the right thing to do at that moment. In the National League, you should be able to not overextend starters."
Lackey had thrown 84 pitches. Is he OK having his outing shortened?
"We'll see," Lackey said. "It's definitely lengthened the bullpen for sure with [Chapman] at the back end. You feel good about [Strop] in the seventh, and [Rondon] in the eighth is pretty special. I can see that happening some."
"None of them like it," Maddon said of the starters. "I don't want them to like it. It's the game. It's the game you're playing at that moment."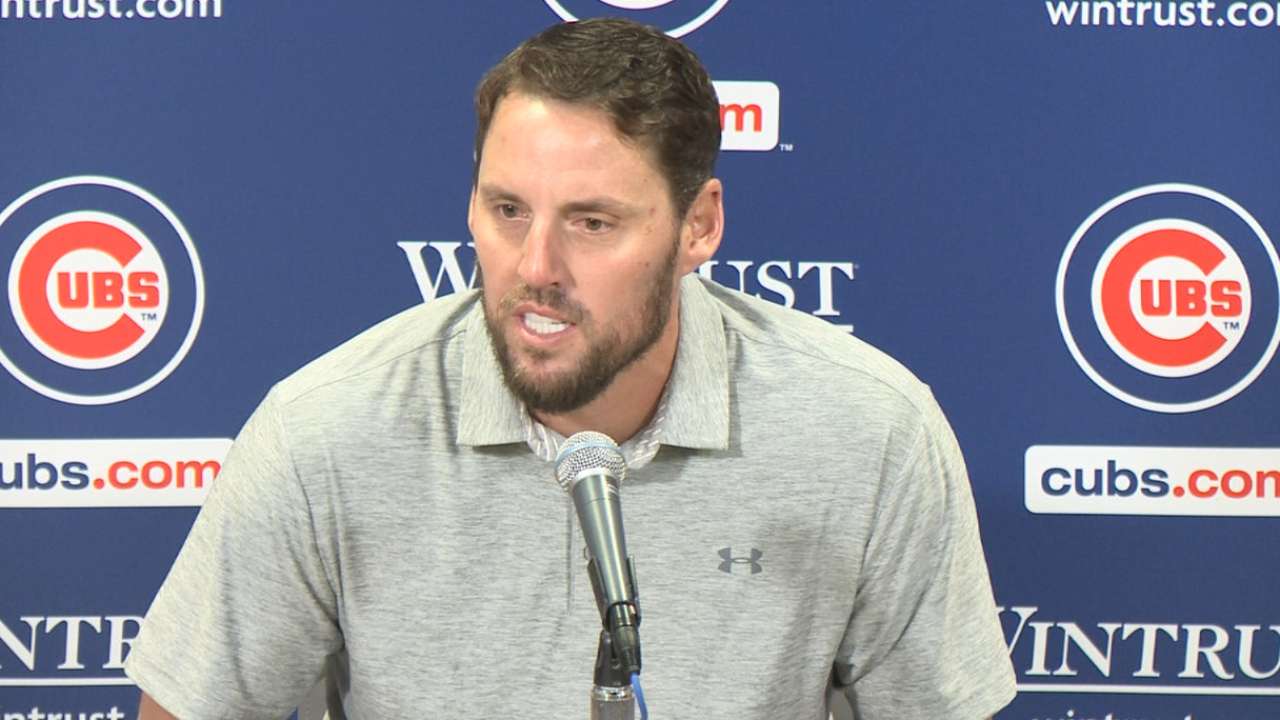 Maddon may need to bribe Lackey.
"Maybe a six-pack or a 12-pack might sell it," Maddon said. "His favorite whatever -- that's all I've got. Maybe some new boots."
The move wasn't a reflection on Rondon, who was the closer before Chapman arrived on Tuesday from the Yankees in a five-player swap.
"I have total faith that Rondon could get [Cabrera] out, absolutely," Maddon said. "In that particular moment, you're really trying to avoid contact at all costs. Two outs, runner at third, tying run -- if you can, you always want to get the strikeout fellow in there with the guy who could get him out with contact."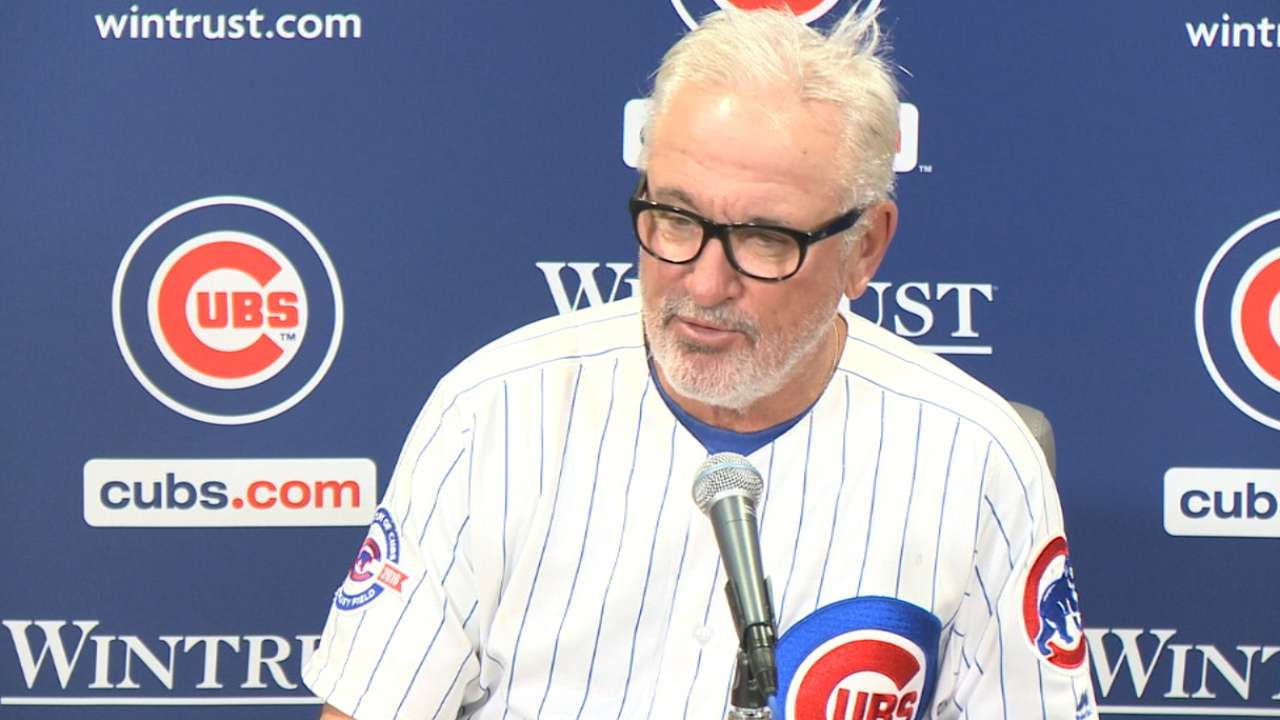 Cubs pitching coach Chris Bosio had alerted Chapman to the possibility of a four-out save, and the lefty had plenty of time to warm up.
"He's your guy, and if you let that save moment get away -- if Ronny gives up that run and you go into the next inning tied, it's a different moment for [Chapman]," Maddon said. "You want to give him the opportunity to convert the save."
"I was ready," Chapman said. "They called to the bullpen and said, 'Get ready for the fourth hitter,' and I was ready."
As he went to the bullpen along the left-field line, Chapman exchanged fist bumps with fans.
"I feel really comfortable with them, and they make me feel part of them when I go out there and the fans are cheering for me," Chapman said. "That's something I didn't have in the past when I came here."
The Cubs hope to give Chapman plenty of opportunities.
"It's exciting," Anthony Rizzo said. "When he's pitching, you stay to see what he does because he's that type of player. What he does for our bullpen is incredible to add a guy like that.'
Carrie Muskat has covered the Cubs since 1987, and for MLB.com since 2001. She writes a blog, Muskat Ramblings. You can follow her on Twitter @CarrieMuskat and listen to her podcast. This story was not subject to the approval of Major League Baseball or its clubs.