Opponents Odor, Ventura enjoy friendly rivalry
Rangers second baseman went yard off Royals starter on Thursday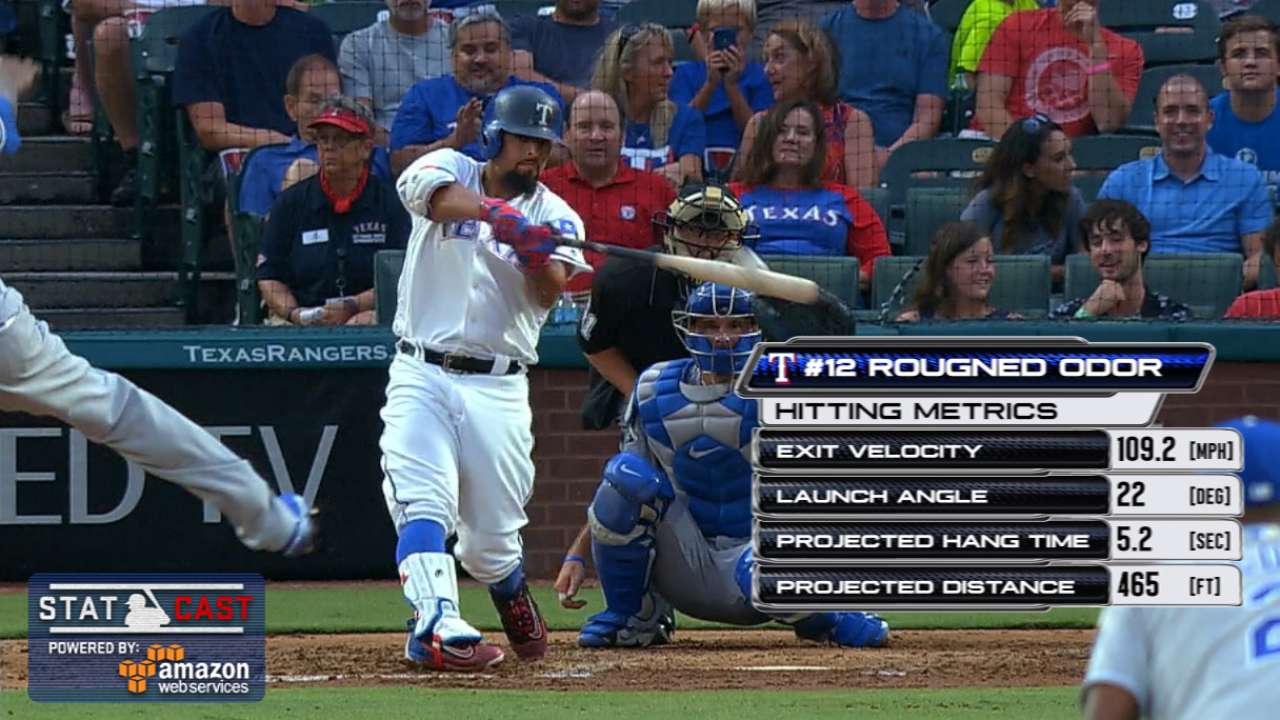 ARLINGTON -- Rangers second baseman Rougned Odor and Royals right-hander Yordano Ventura have displayed their fiery personalities this season as the centerpieces of infamous brawls.
It appeared they almost found themselves in one of their own in the Rangers' 3-2 win against the Royals Thursday night. Odor stood in the batter's box a few extra seconds after he sent a Ventura fastball into the upper deck in right field for a solo home run in the second.
Ventura intently watched Odor round the bases, and stared him down again after he struck him out to end the fourth. But the back-and-forth battle was all in good nature between two longtime friends.
"We played a lot of times in the Minor Leagues. I've faced him a lot of times. But we are good friends," Odor said. "We're always playing around."
"Even though we're not on the same team, we have a good friendship," Ventura said through interpreter Pedro GrifolI. "I was just having a good time with him."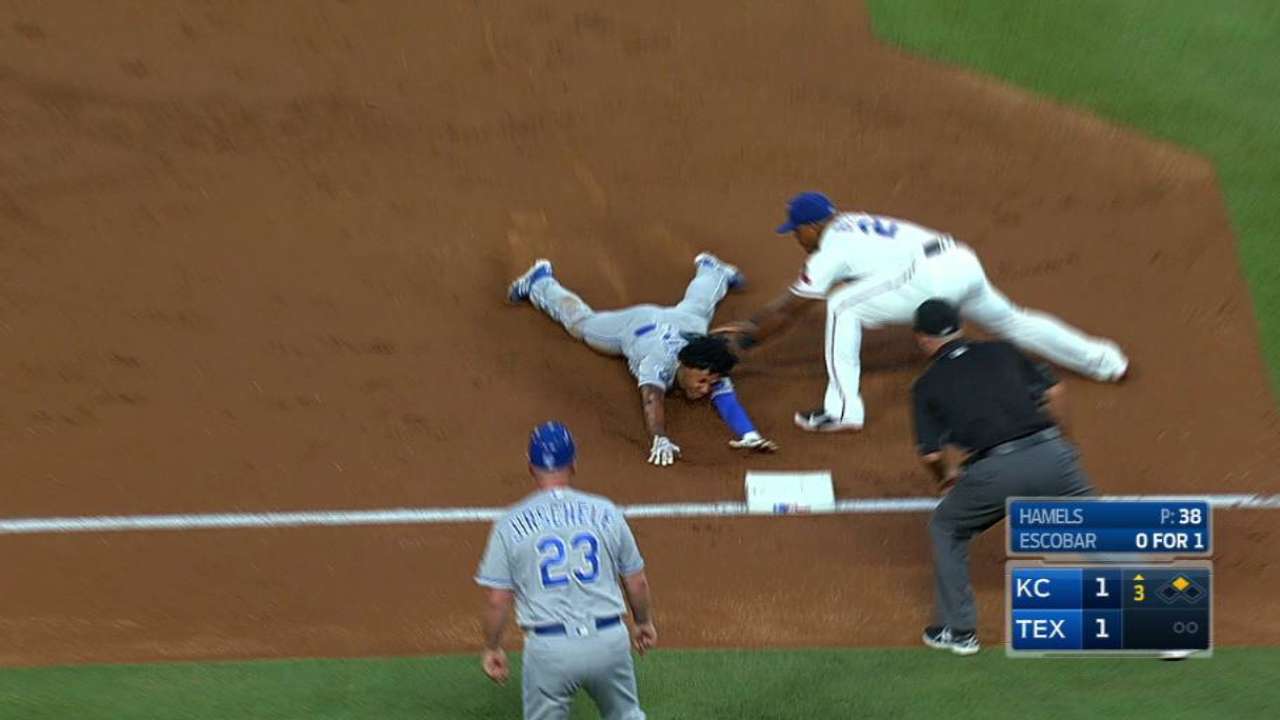 Ventura struck out Odor twice when they faced each other last Saturday in Kansas City. Odor wanted to make sure he knew he got the best of him for at least one at-bat on Thursday.
"He struck me out the other day. two times. So he was looking and me and I was like, 'All right, I'll get you next time,' Odor said. "I just hit a home run and I looked at him like he looked at me. It was nothing much, we're good friends."
Odor's 465-foot homer was the longest he's hit in the Statcast™ era, and was the 13th-longest home run in the Majors this season. The ball left his bat at an estimated 109 mph.
"I was looking for the fastball, and he threw me the fastball maybe [a little] up and away," he said. "But I was looking for that pitch, and I made good contact."
Later in the game, Odor found himself in the middle of big plays on the bases and in the field. With one out in the bottom of the seventh and the game tied at 2, Odor tried to beat out a grounder to shortstop with a headfirst slide and was originally called safe. After the Royals challenged the play, though, he was ruled out.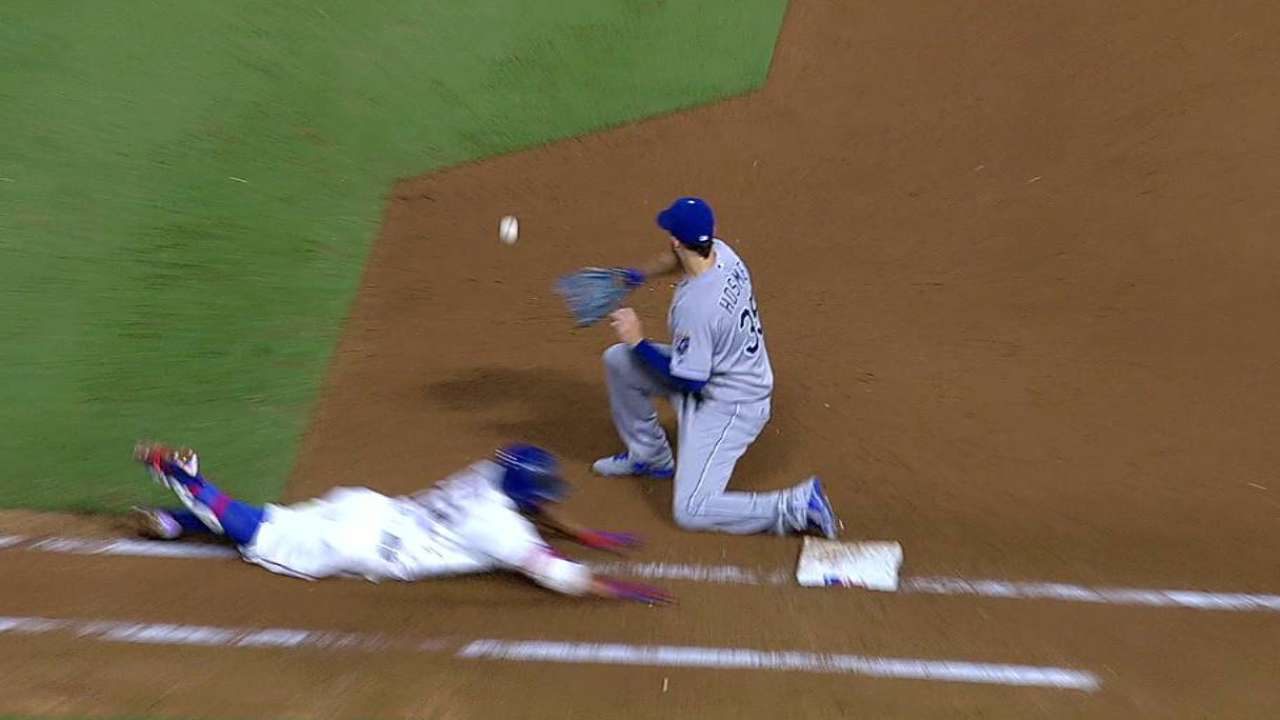 It appeared he may have been safe by just running through the base without attempting the fundamentally questionable slide. Odor made up for the move by turning in two heads-up plays in the ninth as the Rangers locked down the one-run win.
Jarrod Dyson pinch-ran for Kendrys Morales after he walked to lead off the inning, and stole second as the ball sailed over shortstop Elvis Andrus' head. Odor backed up the play and caught the errant throw, keeping Dyson from advancing to third.
After Paulo Orlando grounded out, Dyson was on the move again as Alex Gordon hit a grounder to Odor. The Rangers second baseman looked over to Dyson, who was rounding third when he fielded it, to make sure he wasn't heading for home before firing to first for the second out.
"You can say and opine all you want about that kid but he comes to play every single night. He pays attention to everything in the ballgame and plays aggressively," Rangers manager Jeff Banister said. "Sometimes it may not look right to you, but I'll take the way he plays every single night. I'll take the aggressiveness and attentiveness every single night. I'll take everything about him."
Ryan Posner is a reporter for MLB.com based in Texas. This story was not subject to the approval of Major League Baseball or its clubs.