Choosing the 2016 All-Rumor team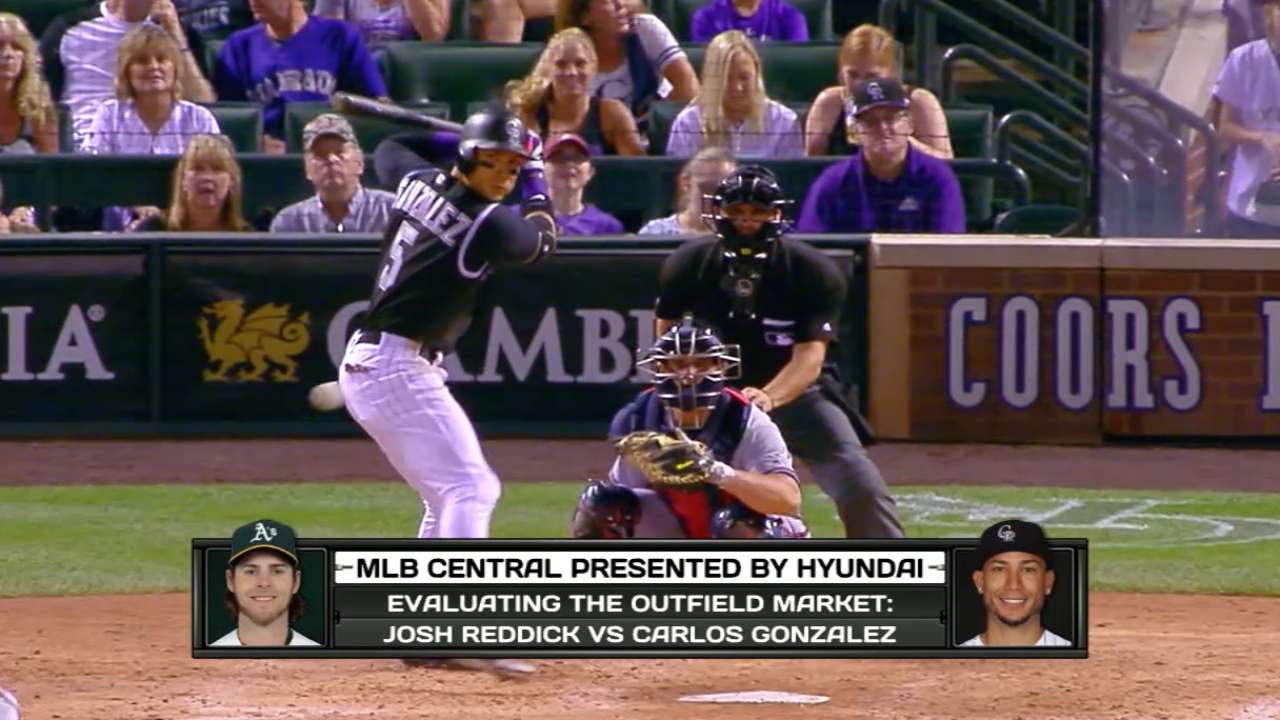 In the final shopping days before Monday's 4 p.m. ET non-waiver Trade Deadline, contenders can find a piece to address just about any need, as long as they are willing to pay the price.
Infielders and outfielders, starters and relievers, all of them have been the subject of speculation. Here, then, is the "All-Rumor" team, made up of still-available players at each position whose names have come up in recent trade rumors.
Catcher: Jonathan Lucroy, Brewers
Lucroy invoked his no-trade clause Sunday morning to turn down a trade to the Brewers that would've netted Milwaukee four prospects. Just like what happened last year with outfielder Carlos Gomez, however, that doesn't mean Lucroy will remain a Brewer and could still be traded. He's a hot commodity because of his two-way game and modest contract that includes a $5.25 million club option for 2017.
Honorable mention: Colorado's Nick Hundley has shown pop at and away from Coors Field and could help a number of teams in a part-time role if the Rockies decide to sell.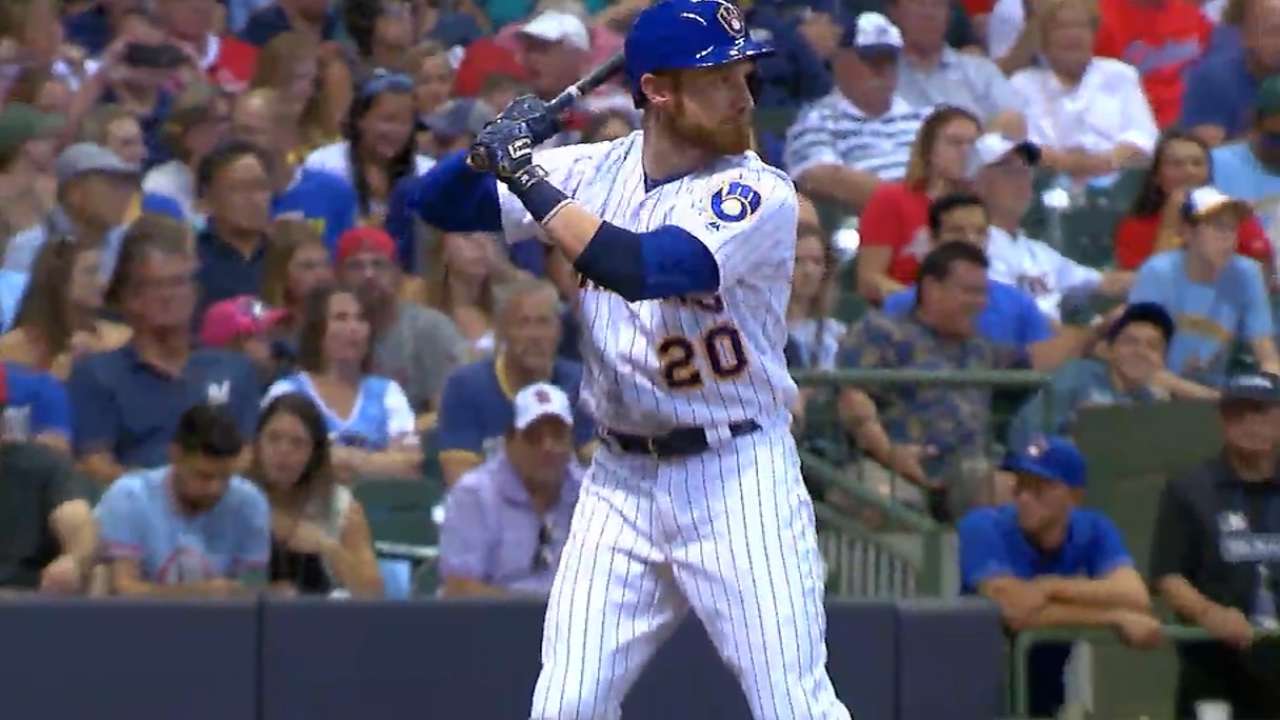 First base: Steve Pearce, Rays
Pearce would be a low-cost rental after signing a one-year, $4.75 million contract with Tampa Bay last offseason. Although first base has been his primary position this year, the 33-year-old offers some versatility, having spent time at second, third and both corner-outfield spots over the past two seasons. Pearce's biggest selling point is his bat, especially against lefties.
Honorable mention: Milwaukee's Chris Carter has game-changing power and two more years of arbitration eligibility after this one, so he'd be more than just a rental. He probably fits better in the American League where he can DH.
Second base: Jurickson Profar, Rangers
Profar, a former top prospect, is an exception here, as a 23-year-old playing for a contender. But Profar's name has come up frequently in reports as a target for clubs in negotiations with the Rangers. A natural shortstop blocked in Texas by Elvis Andrus, Profar has been a solid utilityman this year, splitting time mostly between first, second and third. Following two seasons wrecked by shoulder injuries, the switch-hitter is showing offensive potential. With three more seasons of club control remaining, Profar is an enticing piece.
Honorable mention: The Twins don't seem inclined to move Brian Dozier, who is signed through 2018 at a reasonable rate, but he could fetch a fair amount if put on the market.
Third base: Danny Valencia, A's
Valencia isn't known for his defense at the hot corner, but the 31-year-old has been a force with the bat the past two years. A right-handed hitter, Valencia might enjoy facing lefties even more than Pearce. After 2016, he will have one more year of arbitration eligibility before reaching free agency.
Honorable mention: Evan Longoria has been linked to the Dodgers, but that one seems like a long shot, as he is the face of the Rays' franchise and signed through 2021.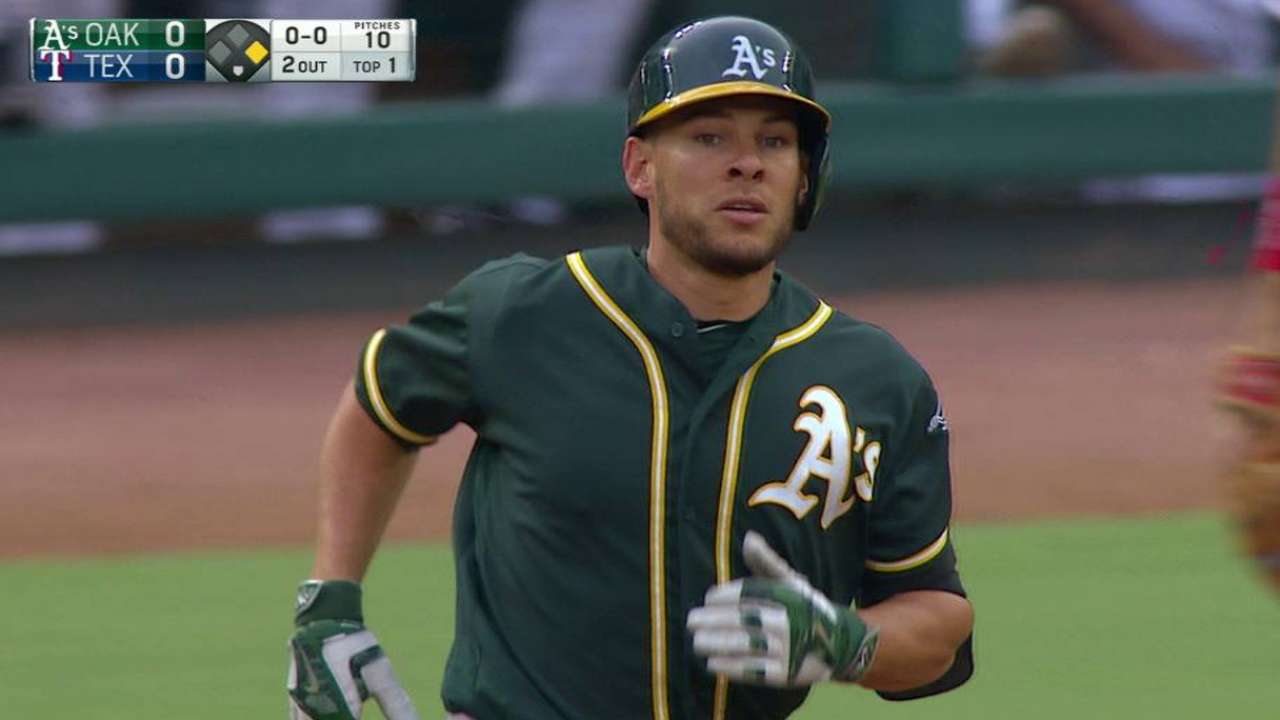 Shortstop: Zack Cozart, Reds
Cozart always has been a slick fielder, but he also has improved quite a bit with the bat and now rates as an above-average offensive shortstop. The 30-year-old, who is making $2.925 million this year, can't become a free agent until after the 2017 season.
Honorable mention: The A's Jed Lowrie has already been traded three times in his career, and his positional versatility could make him useful in a utility role.
Outfield: Jay Bruce, Reds; Carlos Beltran, Yankees; Josh Reddick, A's
Bruce has been putting on a show for interested contenders following a pair of subpar seasons, and the 29-year-old is enjoying a resurgence as he ranks among the National League leaders in most offensive categories. Bruce isn't a straight rental, either, thanks to a $13 million club option for 2017.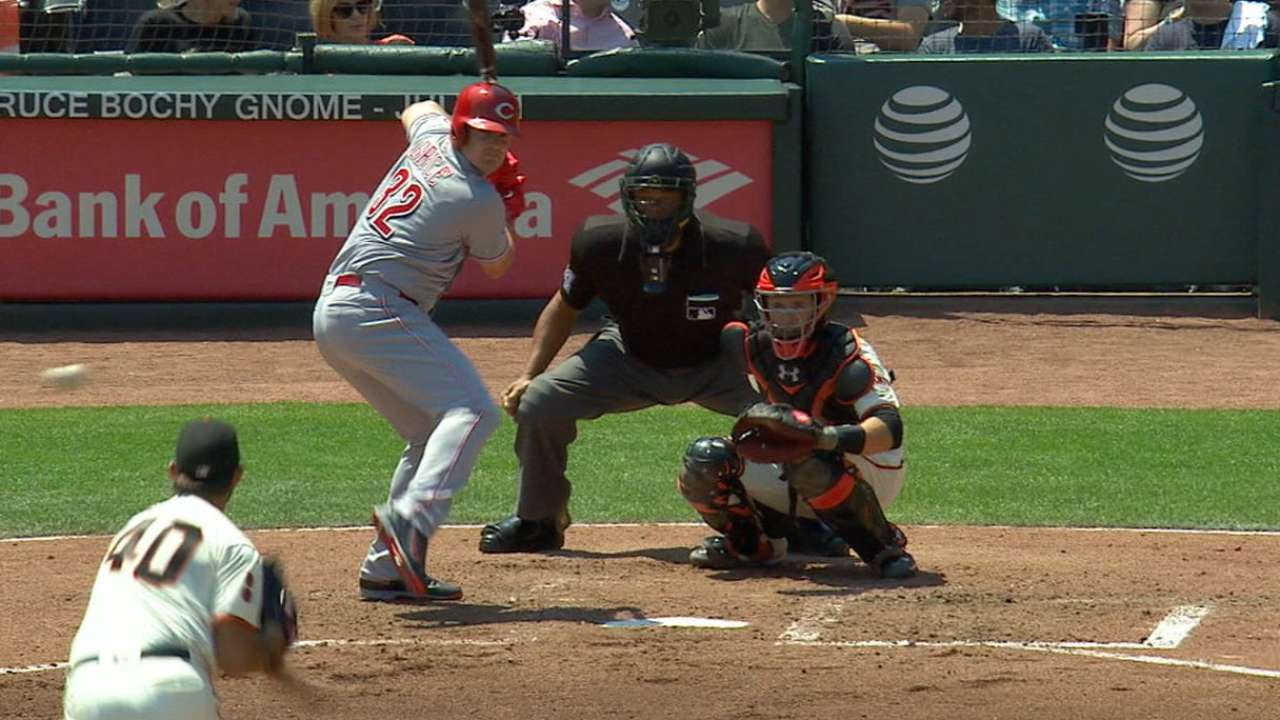 Beltran is 39 years old, but he still can rake. A potential future Hall of Famer, Beltran is in the final year of his contract and is limited defensively but could provide a lineup with a nice boost over the last couple of months. With the Yankees acting as both buyers and sellers, he's not a sure thing to be dealt, but could help a number of clubs.
There have been extension talks between Reddick and the A's, but the sides appear far apart. Reddick hasn't shown as much power this season, but is producing his best season batting-average-wise and is renowned as a defender.
Honorable mentions: Both Kole Calhoun and Brett Gardner have had their names come up, though neither the Angels or Yankees seem inclined to trade them.
Left-handed starting pitcher: Chris Sale, White Sox
Recent suspension aside, it's been another strong year for Sale, who surely would command a huge haul if Chicago decides to move him. That's due in part to Sale's talent and success and in part to his contract. He also is just 27, and if two team options are exercised would make $38 million over the next three seasons, a relative pittance for an ace.
Honorable mention: Oakland's Rich Hill has been extremely effective this year, but blister problems have kept him off the mound. A big X-factor on this trade market.
Right-handed starting pitcher: Chris Archer, Rays
Like Sale, Archer is 27 and under long-term club control, as he is set to make less than $40 million from 2017-21, including a pair of options. Unlike Sale, this season has been a bit of a struggle for Archer, with his walk and home run rates both spiking. On the other hand, he has a 3.26 ERA over the past three seasons and has looked strong his last two times out.
Honorable mention: The Phillies are rebuilding and Jeremy Hellickson seems like he will get traded before Monday's deadline. Hellickson's teammate, Vince Velasquez, also has been mentioned, but would require a haul. Tampa Bay's Jake Odorizzi is another intriguing but cheaper option.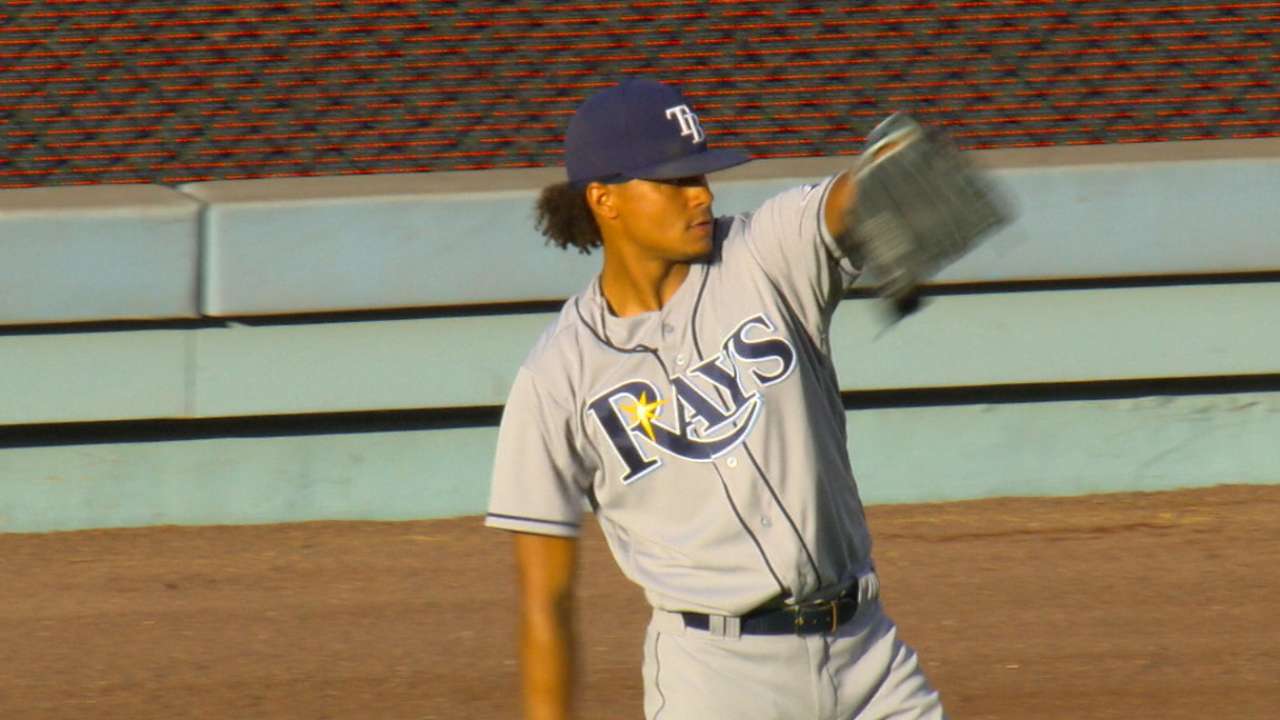 Left-handed reliever: Boone Logan, Rockies
The big boys are gone with Aroldis Chapman off to the Cubs and Andrew Miller dealt to the Indians. Logan is a cheaper option and has been tremendous for the Rockies this season. Although the Rockies might not sell, Logan can be a free agent at season's end and doesn't fit into the club's long-term plans.
Honorable mention: Will Smith has been a workhorse for the Brewers, who are rebuilding. He is under club control through 2019.
• Questions loom in DC after Papelbon's early hook
Right-handed reliever: David Robertson, White Sox
The South Siders already dealt one bullpen piece (Zach Duke to St. Louis) and Robertson would be a good fit for clubs looking to improve in the late innings. He has the experience of pitching in New York, but he isn't cheap, as he is due $12 million next season and $13 million in 2018.
Honorable mention: Milwaukee's Jeremy Jeffress is a former first-round pick who has posted three straight solid seasons in the bullpen and is under club control through 2019.
Andrew Simon is a reporter for MLB.com. Follow him on Twitter @AndrewSimonMLB. This story was not subject to the approval of Major League Baseball or its clubs.