2-9-9-8, Ichiro 3k on this date: 2-night?
Veteran notches No. 2,998 with pinch-hit double Thursday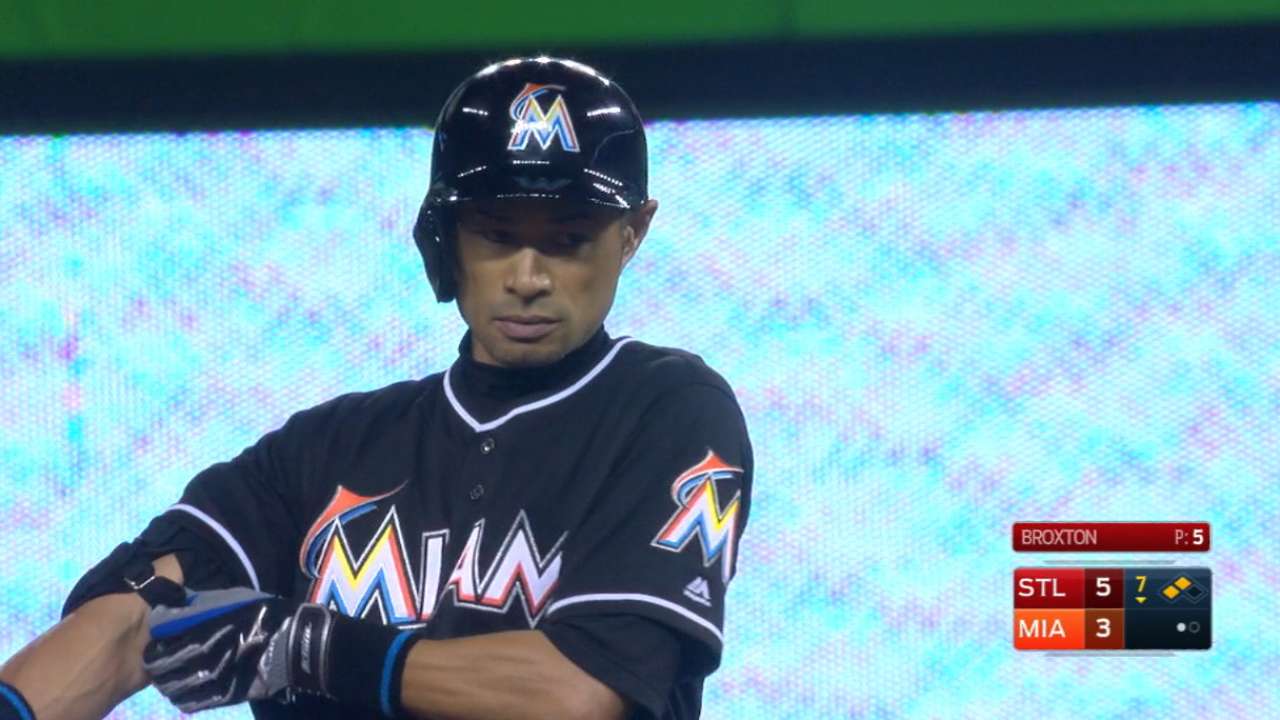 MIAMI -- Ichiro Suzuki crept into the batter's box and extended his bat-wielding right arm in his signature move Thursday night. The 25,060 fans at Marlins Park went to their feet chanting his name, hoping to witness a piece of history.
The pinch-hitting Ichiro delivered, notching his 2,998th career hit -- a one-out double down the right-field line off Jonathan Broxton in the seventh inning of Miami's 5-4 loss to the Cardinals. Ichiro is now just two away from the 3,000-hit milestone.
The Marlins announced after the game that Ichiro would be in Friday's starting lineup, giving him a good shot to make history at home. Fans can watch live look-ins at his plate appearances on MLB.com and with the At Bat app.
OFFICIAL: Ichiro is scheduled to start tomorrow night, just two hits from 3,000.

Join us: https://t.co/rUY271PYs4 pic.twitter.com/wsek0NcM5d

— Miami Marlins (@Marlins) July 29, 2016
"I think everyone's excited to see this happen," Marlins manager Don Mattingly said. "That's one of the things that's been fun to watch. It's been fun to watch him."
Even Jose Fernandez, who was icing his arm in the clubhouse after a five-inning start, joined in on the fun like the rest of the crowd.
"We were rooting," he said. "I was with [Wei-Yin] Chen inside here. We were yelling. We were jumping and yelling inside the clubhouse."
Ichiro is also just two hits shy from becoming the 30th player in Major League history to reach 3,000 hits and tying Roberto Clemente on the all-time hit list.
Ichiro's teammates, including Fernandez, have enjoyed being a part of his historic chase.
"It's just an honor," Fernandez said. "It's just a privilege to be a part of the history that he's making. To me, he's amazing. I have no words to put how I feel about him and how much I admire him as a baseball player."
The double was Ichiro's 350th of his career and just another late-and-close hit for him. The 42-year-old is hitting .335 this season but 15-for-31 (.484) in late-and-close situations.
"He's been the guy we can rely on all season long," Marlins catcher J.T. Realmuto said. "Late in the game when we need a big hit, he's seemed to come through eight out of 10 times. That's almost what it feels like."
Patrick Pinak is a reporter for MLB.com based in Miami. This story was not subject to the approval of Major League Baseball or its clubs.