Angels rally, walk off on Hanley error in 9th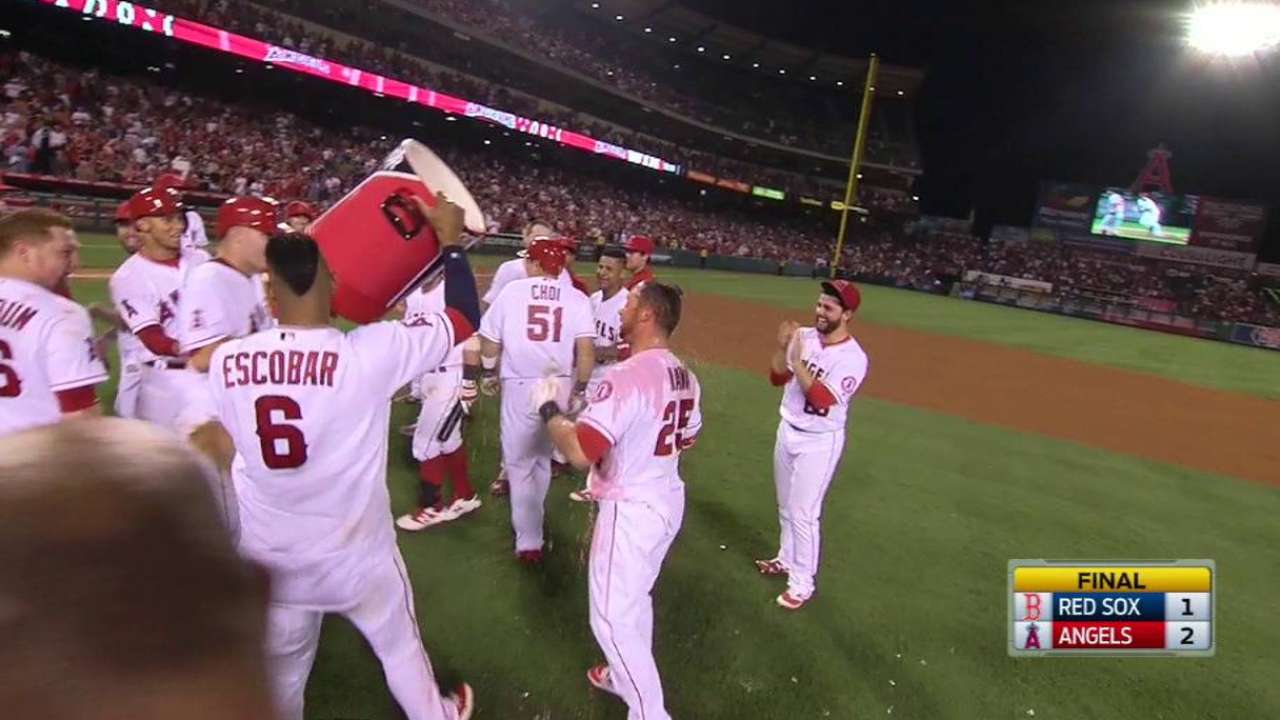 ANAHEIM -- Daniel Nava was called upon in a key spot against his former team, and in the end, the Angels walked off winners.
Facing a bases-loaded situation in the ninth and one out, Nava's chopper to first base resulted in Red Sox first baseman Hanley Ramirez making a wild throw home, allowing the tying and winning run to score as the Angels rallied for a 2-1 victory.
Red Sox closer Brad Ziegler, seeking his second save since being acquired from Arizona, loaded the bases after back-to-back singles from Mike Trout and Albert Pujols and a one-out single from Andrelton Simmons. That set up pinch-hitter Nava, and he became the hero when Ramirez's throw sailed past catcher Sandy Leon and all the way to the backstop.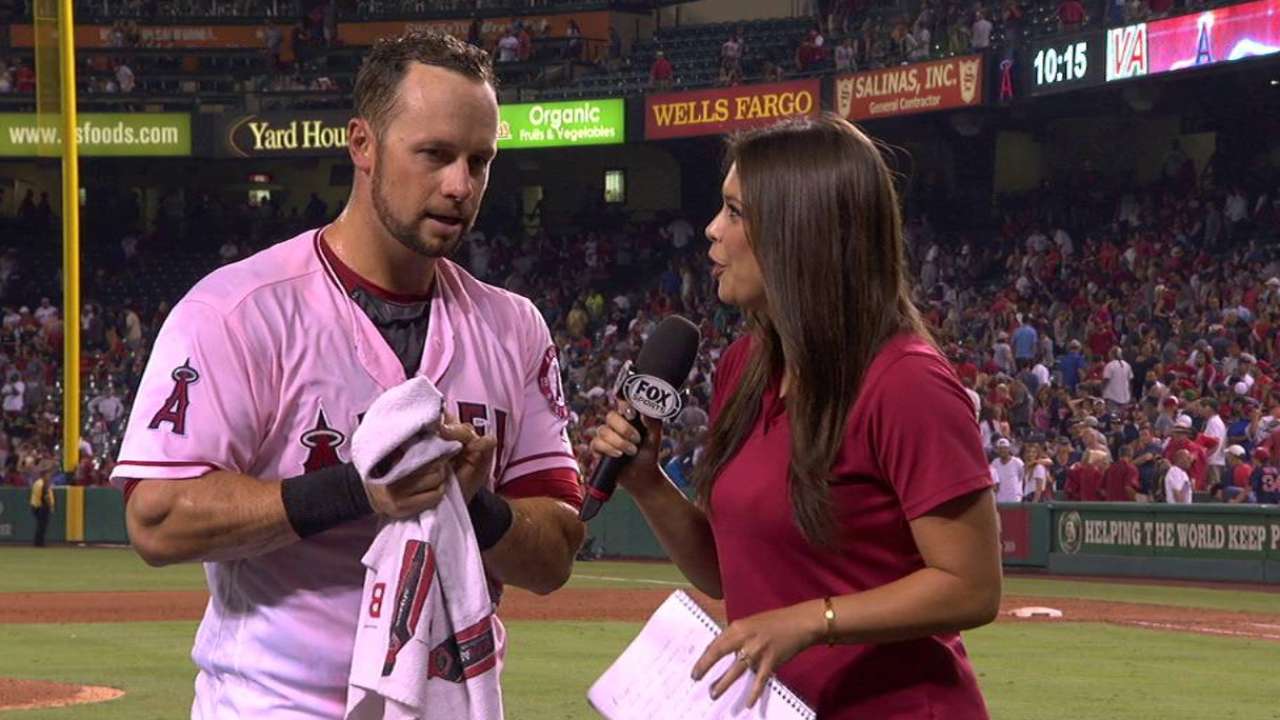 "Yeah, I tried to get two before I got one," said Ramirez. "That can't happen. I know better than that. I know that I've got Trout on third and it was a tough groundball but I've got to make sure of one. I kind of started running before I threw it."
Trout, who was at third representing the tying run, said he was gunning for home on contact.
"I took a peek and was looking at [Leon] to see what he was doing. I knew that [Ramirez] was going to come home there. I just saw the throw go high and I told myself to get down, and it went over his head."
Before Thursday's collapse, the Red Sox were 50-0 when leading after eight innings.
Red Sox left-hander David Price, who was in line for the win entering the ninth, faced little trouble outside of a bases-loaded fifth inning, keeping the ball down in the zone and scattering seven Angels hits.
The Red Sox worked back-to-back singles and a sacrifice fly in the third inning to score their lone run off Angels starter Jered Weaver, who battled a high pitch count to go 5 2/3 innings. He held his opponent to only one earned run for the third time in his last four starts.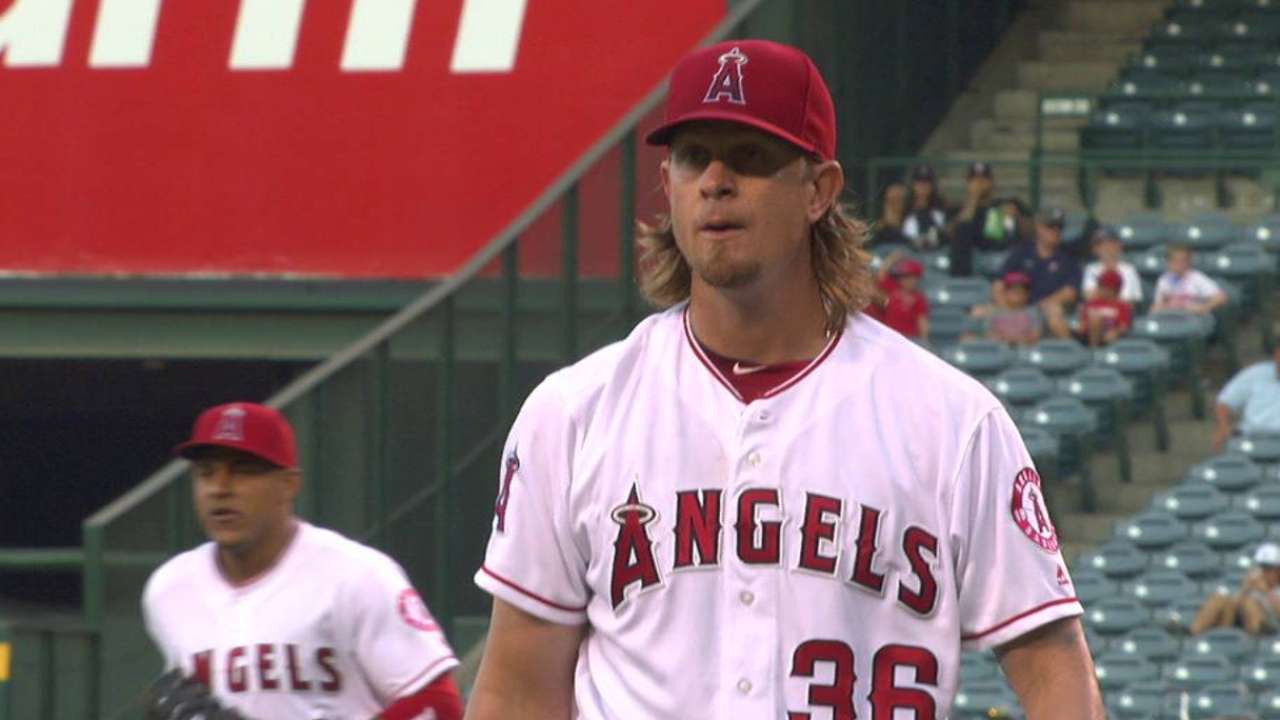 "[Weaver] threw everything but the kitchen sink at them," Angels manager Mike Scioscia said. "He changed speeds. He did what he does best, and I think early on he showed some signs of a good fastball. There was no doubt he was getting a little tired as it went along. He was grinding."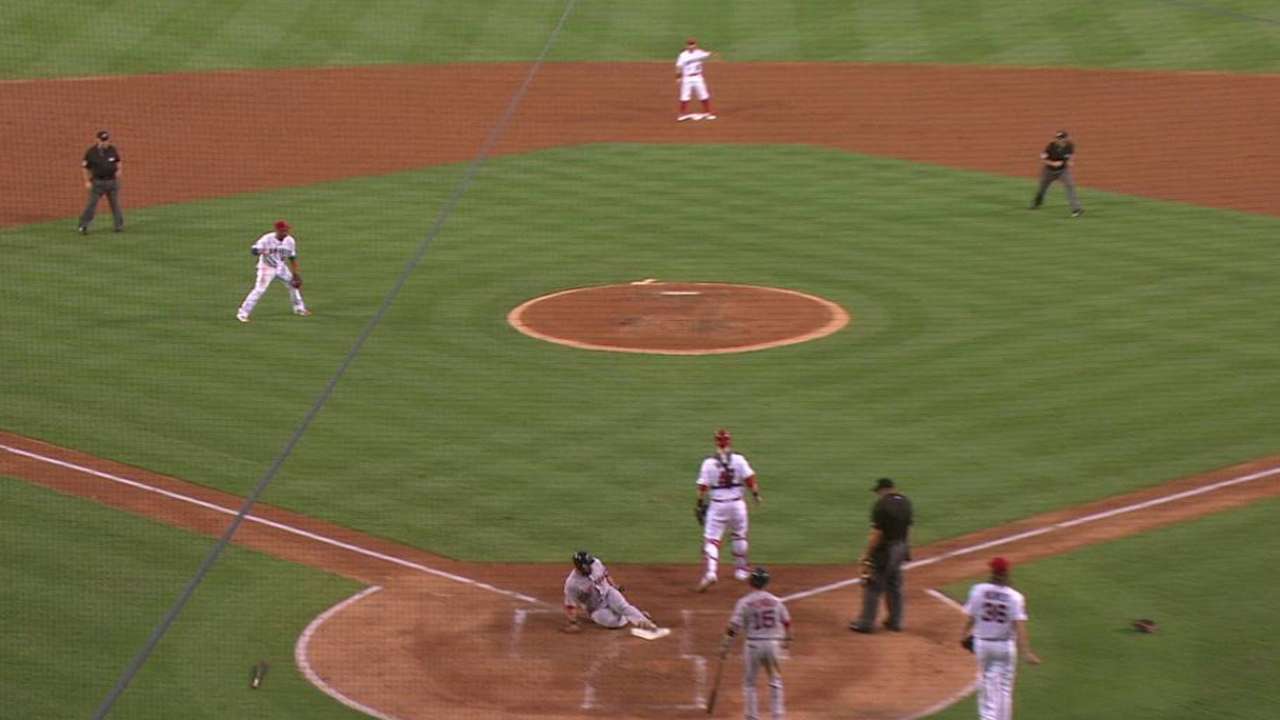 The Red Sox have now lost four in a row, their longest losing streak this season.
MOMENTS THAT MATTERED
Price keeps 'em grounded: A clear theme in Price's first two starts after the All-Star break was that he wasn't able to keep the ball on the ground enough. The lefty rectified that issue in this one, getting 14 of his 24 outs via the ground.
"Just kind of doing what feels good out there, what feels normal, what makes me me," said Price. "I know what I need to do. I painted a lot more pitches. It was better."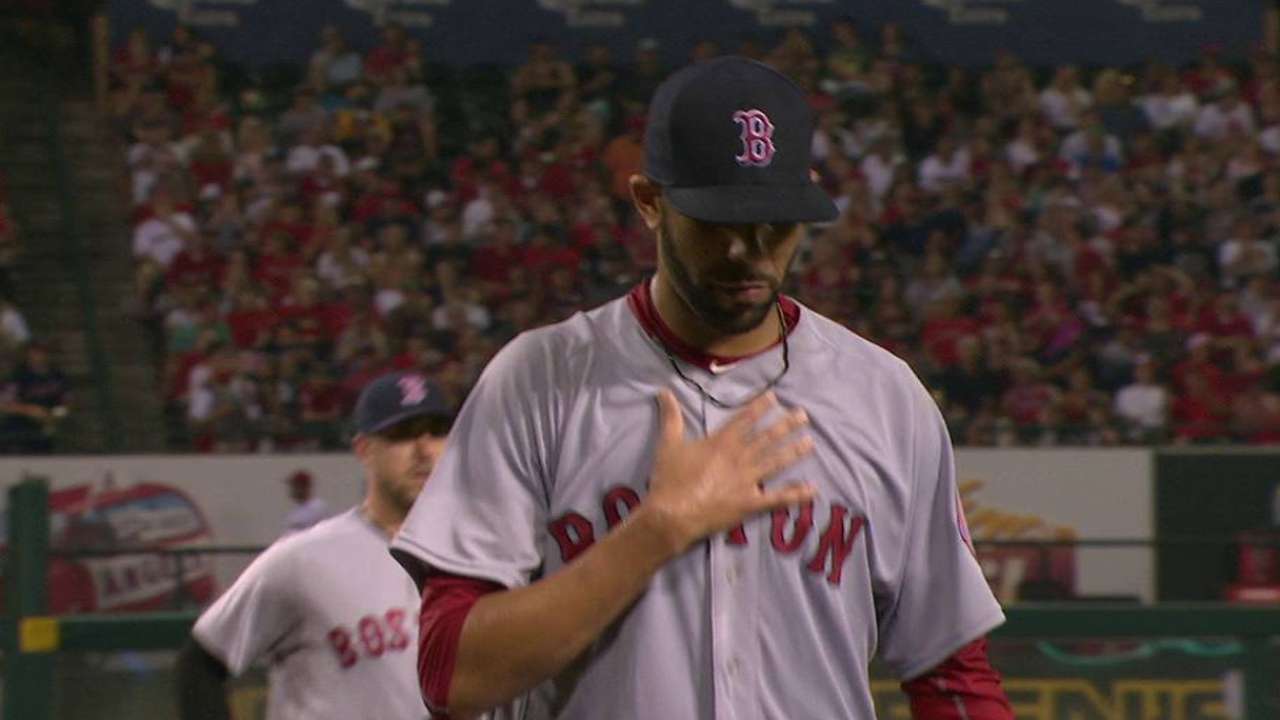 Missed opportunities: The Angels looked like they were going to strike against Price in the fifth inning with runners on first and second and one out. First baseman Jefry Marte was caught trying to steal third, and the very next pitch turned into a Gregorio Petit single. The Angels wound up loading the bases anyway, only to have Yunel Escobar -- whose .432 batting average with runners in scoring position was second-best in the Majors -- ground out to end the threat. Scioscia said after the game that Marte was not supposed to run in that situation, killing the lone rally the team had against Price.
"[Marte] misread, and missed the sign," Scioscia said. "He thought he saw something that he didn't. Went on his own."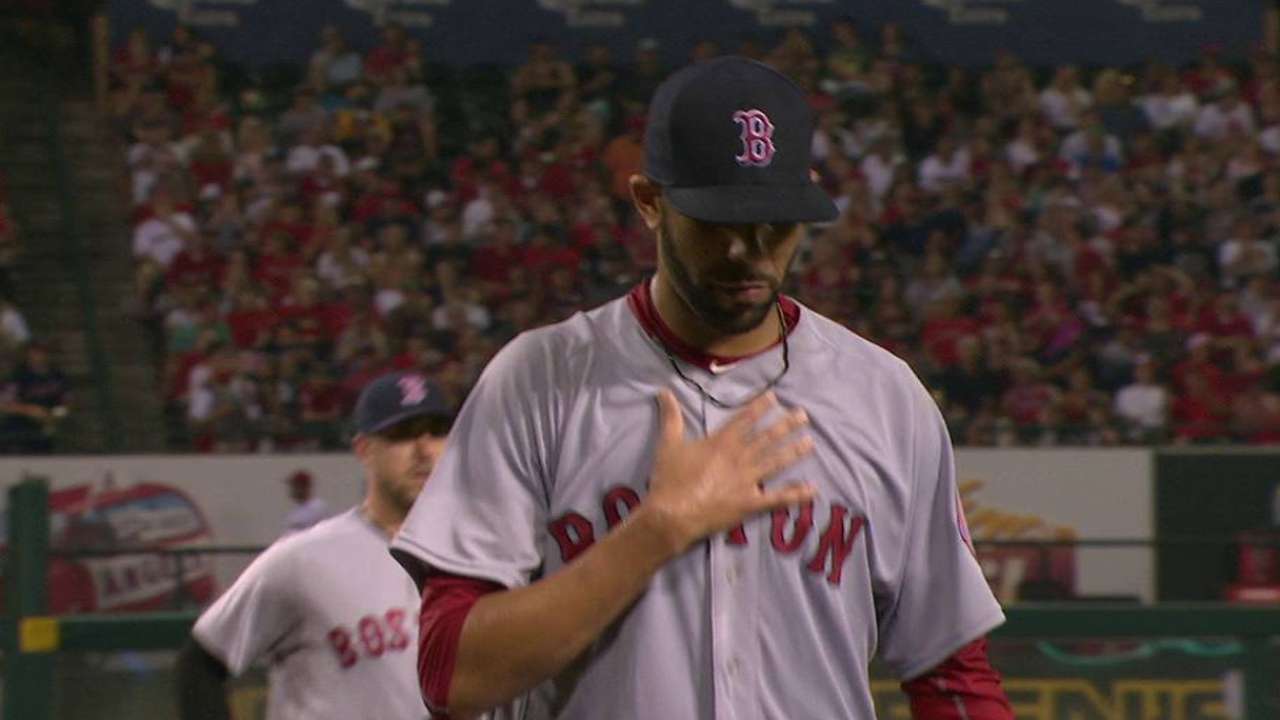 Shaw caught in between: Ramirez wasn't the only one who had a tough play on defense in the ninth. Trout hit a slow roller to third, and Travis Shaw knew exactly who was running. The problem is that he had to wait until the second hop to field the ball, and he didn't have time to plant and throw. The throw one-hopped Ramirez, and Trout was safe with an infield single to open the inning.
"You see the original hop," said Shaw. "Couldn't get it on the original hop, so you have to wait for that second bounce. You try and make the transfer as quick as you can. And even in that spot right there, I think a perfect transfer he still beats that out. He gets down the line pretty good. Just try and get it out of my hand as quick as I can."
For the last time: Weaver faced off against Red Sox designated hitter David Ortiz for the final time on Thursday. Ortiz went 1-for-1 with two walks (one intentional) against the right-hander, as he was the final batter Weaver faced before exiting. Ortiz finished his career 13-for-38 (.342) with three home runs, 10 RBIs and six walks off the Angels' righty.
SOUND SMART WITH YOUR FRIENDS
The Angels recorded their league-leading 19th pickoff of the season in the eighth inning, as reliever Joe Smith caught Betts napping for a 1-3-6-3 putout. The two teams tied for second in the American League in pickoffs -- the Royals and the Rays -- have combined for 18.
Though this has hardly been Price's best season to date, he leads the American League by pitching at least eight innings in eight of his starts.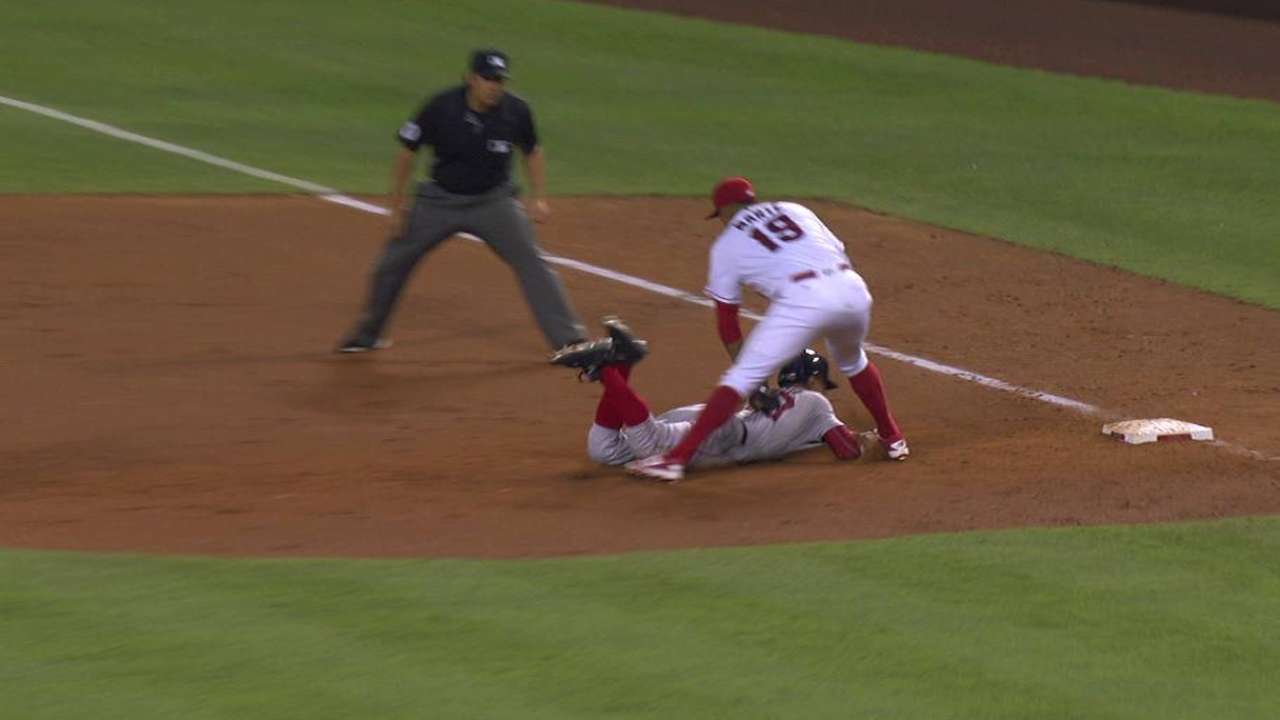 CELEBRATING PAPI
The Angels continued in the tradition of opposing teams and paid tribute to Ortiz during his last trip to Anaheim. And they brought humor to the mix in Thursday's pregame ceremony, as Mike Trout came on to the field with his Big Papi costume, which included flashy sunglasses and a gold chain that was, to say the least, thick. Trout also pointed the sky as Ortiz always does after he hits home runs. Ortiz seemed to love the moment, particularly as Albert Pujols wrapped him up in a bear hug and lifted him off the ground. The Angels presented Ortiz with a custom portrait.
"It was good," Trout said. "[Ortiz] is still doing it at 40 years old, so it was pretty cool to see."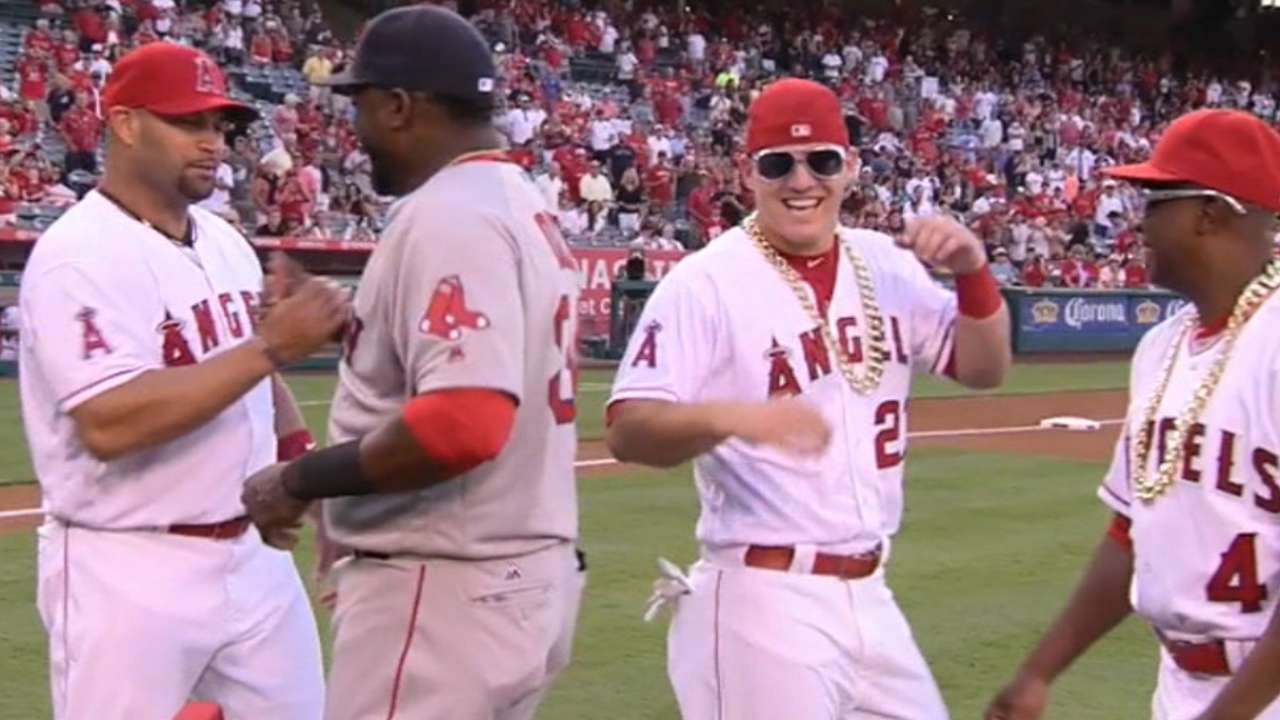 UNDER REVIEW
The Red Sox looked like they had a chance to get something going in the first inning after Dustin Pedroia's one-out single and steal of second base. The Angels challenged the steal, and won the review after the replay showed that Johnny Giavotella tagged Pedroia before he touched second.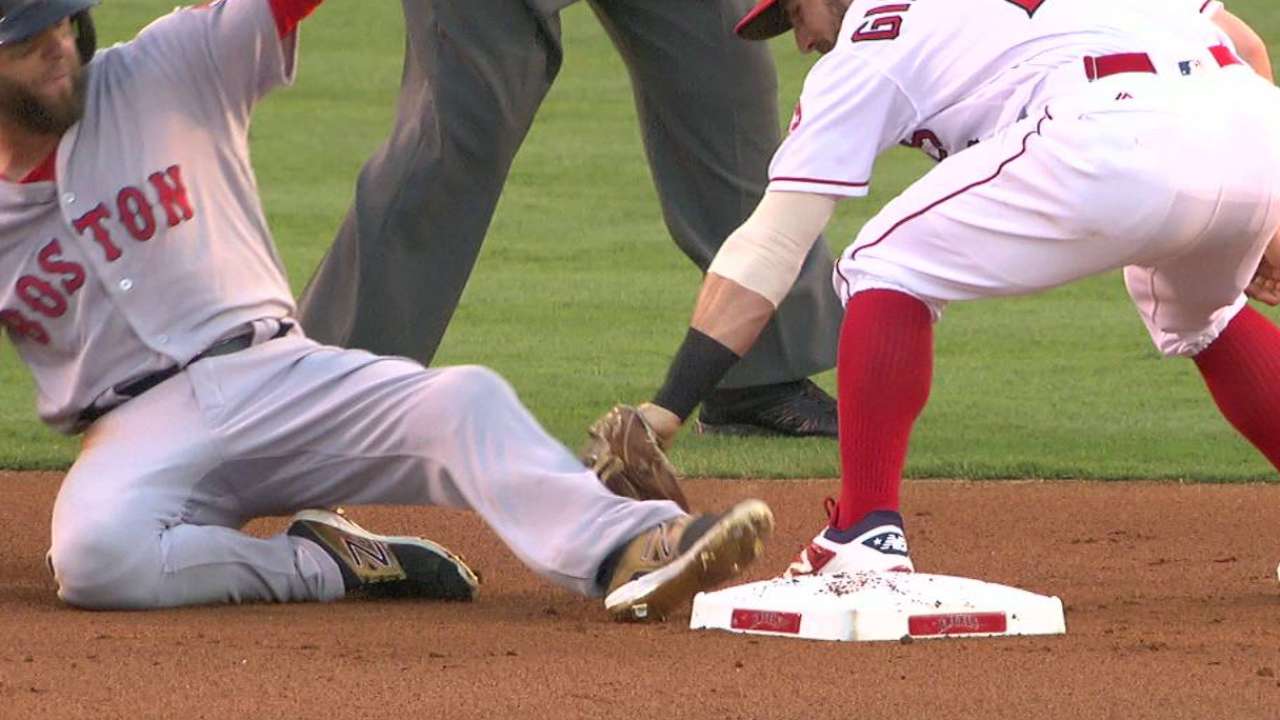 WHAT'S NEXT
Red Sox: Sinkerballer Rick Porcello, Mr. Consistency for the Red Sox this season, takes the ball for Friday's 10:05 p.m. ET game against the Angels. Porcello has gone at least six innings in 10 of his last 11 starts.
Angels: Tim Lincecum takes the ball on Friday looking to rebound after the worst performance of his career, a 1 1/3-inning, eight-run outing in Houston that ballooned his ERA to 8.70. He has yet to finish six innings since his stellar debut in Oakland on June 18. First pitch is scheduled for 7:05 p.m. PT.
Watch every out-of-market regular-season game live on MLB.TV.
Fabian Ardaya is a reporter for MLB.com based in Anaheim.

Ian Browne has covered the Red Sox for MLB.com since 2002. Follow him on Twitter @IanMBrowne and Facebook.

This story was not subject to the approval of Major League Baseball or its clubs.