Cards to start Garcia on short rest Saturday
Club changes course after indicating consideration for Lyons, Williams or Reyes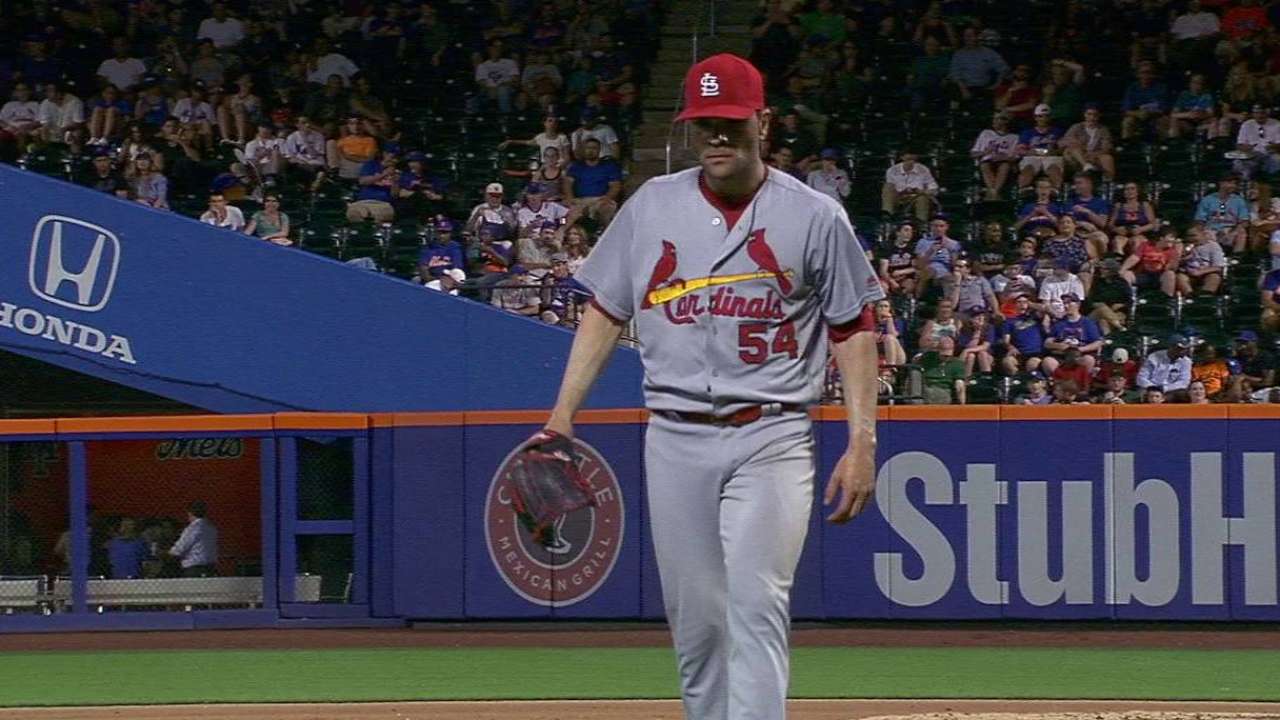 MIAMI -- After indicating that they had three candidates -- Tyler Lyons, Jerome Williams and Alex Reyes -- being considered for the start on Saturday, the Cardinals unexpectedly pivoted to a fourth.
Manager Mike Matheny announced on Thursday that instead of plucking someone from the bullpen or Triple-A rotation for a spot start against the Marlins, the club will send left-hander Jaime Garcia back to the mound on short rest. Garcia threw 77 pitches in the nightcap of Tuesday's doubleheader. He has never pitched on three days' rest before.
"Any time you can use one of your five starters, we're going to go in that direction," Matheny said. "Otherwise, we're going to be sitting here in limbo again. I'm just liking the idea that one of the five can take the ball there. And Jaime only throwing [77] pitches the other day, he was eager to get back out there and wants to pitch. It's a good fit for us."
In preparing Garcia for the start, the Cardinals can deploy Lyons and Williams out of the 'pen without any concern about needing to hold one back for a fill-in start. It's the same situation the club navigated through a week ago, only to watch Lyons be summoned for extended relief in a 16-inning game. That left the Cardinals having to call up Mike Mayers for a last-minute spot start.
As for consideration given to having top prospect Reyes come up for his Major League debut, Matheny said on Thursday "that hasn't even been part of the conversation." Two days ago, however, the organization indicated that the decision to pull Reyes 57 pitches into his start on Tuesday was done so that he could be ready, if needed, for Saturday's spot start.
Now, until further notice, Reyes will remain in that Triple-A rotation.
WORTH NOTING
• Jeremy Hefner makes his return to the Triple-A rotation on Thursday after missing two months due to a right shoulder injury. Hefner, who last started for Memphis on May 29, made two rehab starts with the Gulf Coast League club before being placed back on the Triple-A roster.
• The Cardinals announced the addition of five more theme nights to their 2016 schedule. Those include Y98 Night (Aug. 24), Nurses Night II (Aug. 24), College Night (Aug. 25 and Sept. 13) and Zumba Fitness Party at the Park (Aug. 28). To purchase tickets for a theme night, visit cardinals.com/theme.
Jenifer Langosch has covered the Cardinals for MLB.com since 2012, and previously covered the Pirates from 2007-11. Read her blog, follow her on Twitter, like her Facebook page and listen to her podcast. This story was not subject to the approval of Major League Baseball or its clubs.