Inbox: What's next for Padres before Deadline?
Beat reporter AJ Cassavell fields fans' questions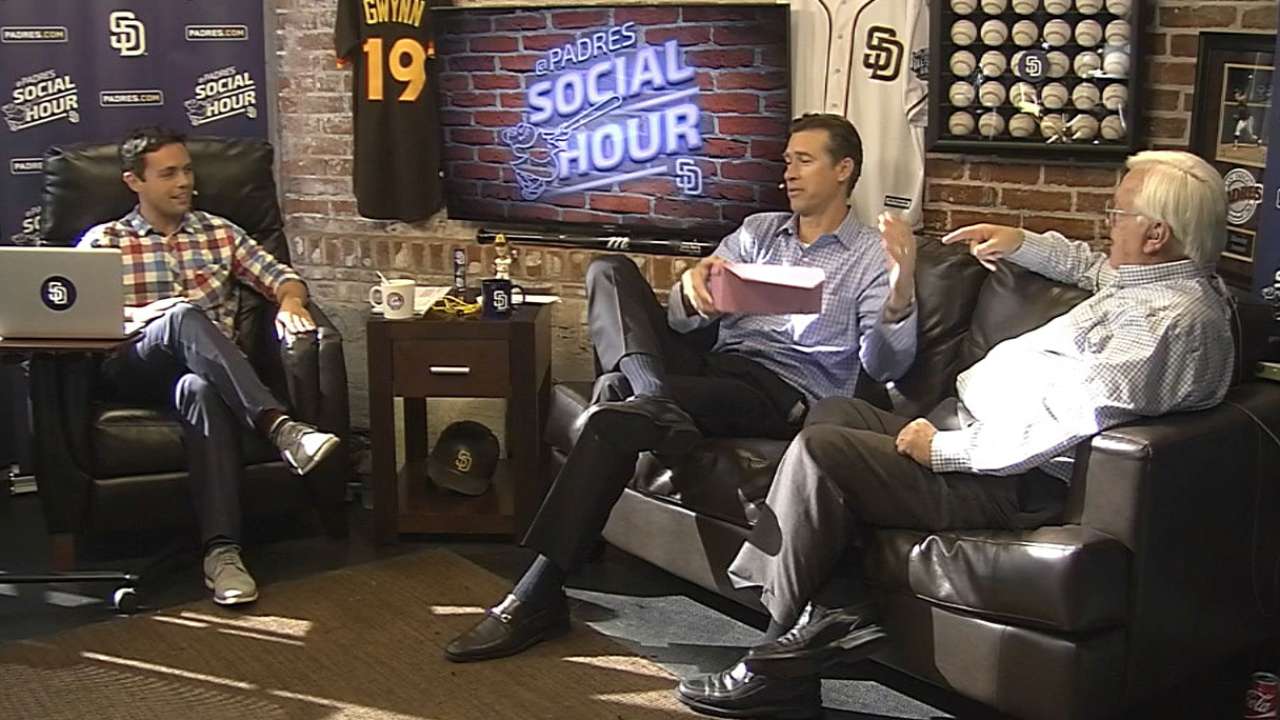 The non-waiver Trade Deadline is fast approaching, but for A.J. Preller, it's been trade season for the better part of the past two months.
Already, the Padres' general manager has flipped James Shields, Fernando Rodney, Drew Pomeranz and Melvin Upton Jr. for a flurry of talented prospects. The Padres' system has seen a major influx of talent as a result.
But there are still moveable pieces on the Padres' roster -- which means a chance to further bolster the system.
With that in mind, here are answers to a few of your most pressing Trade Deadline questions.
@AJCassavell What Is the main goal of AJ Preller going into the trade deadline?

— Evan Rivelli (@mlbpadrefan33) July 27, 2016
Sell high. That's the biggest reason the Padres were early players in this year's market. They bought low on Rodney and Pomeranz in the offseason. Both became All-Stars, and the Padres sold when their stocks were highest.
Now, they are looking to do the same thing with Andrew Cashner, who is coming off his best three-start stretch of the season. They've been hoping to do that with Derek Norris, as well. And while his offensive numbers haven't been great, he's been solid behind the plate. There are also a number of options in the bullpen who look very appealing right now, lefty Ryan Buchter among them.
@AJCassavell any chance in such a depleted FA for pitching they hold onto Cash & make him a qualifying offer if they can't get decent value?

— sdlocal619 (@DustinKaplan) July 28, 2016
The free-agent market for pitching this winter is remarkably barren. If Cashner were to maintain his recent form -- 5 ER, 11 hits, 23 K's in 17 2/3 innings -- he'd almost certainly turn down a qualifying offer.
That said, the pitching options available on the trade front aren't great right now either. Despite his 4.76 ERA, Cashner is one of the biggest arms available. If the Padres receive an offer that they view as worth more than a compensation pick, they'll take it. And given the market, it's a safe bet they'd get such an offer.
@AJCassavell If Norris is traded, does Hedges immediately get the job, or does Sanchez? How does Hedge's playing-time TC clock work now?

— Chad (@TheChamner) July 27, 2016
Austin Hedges is the Padres' catcher of the future. He's paired four months (five, if you include his torrid Spring Training) of elite offense with his already-elite defense. Hedges is hitting an absurd .353/.396/.695 with Triple-A El Paso.
The Padres aren't going to recall Hedges unless they can give him an opportunity to play every day. He would almost get that chance sooner or later if Norris is dealt. Service time could potentially be an issue, however, as Hedges has accrued 154 days -- 18 shy of a full season. If he were to spend 17 days or fewer in the big leagues this year, it would push his free agency back by a year.
@AJCassavell what do you think about Upton trade? Seems very lopsided. Was that the best deal they could make or do they just love Hansel?

— Jose Rubio (@rebelrubio) July 28, 2016
Lopsided how? Despite Upton's solid first-half performance, his contract was undoubtedly burdensome, and that's why the Padres were forced to eat so much of it in a deal. Sure, Upton was arguably the Padres' most exciting player to watch, but he didn't factor into their future. For me, this is a classic Deadline swap. A contender gets a piece that could boost its playoff run. A non-contender gets a piece that could help it reach contention in the future.
As for pitching prospect Hansel Rodriguez, the Padres obviously viewed him as the best return or they would've taken another offer. He might pan out, he might not; that's the nature of trading for prospects. But right now, the Padres are playing a numbers game. Stockpile enough talented young arms, and a few of them will develop into big league weapons.
@ajcassavell #Padres are hauling in SPs through trade, fantastic! But are we putting too much stock in the J2 kids/farm for future infield?

— jgaepi (@jgaepi) July 27, 2016
The Padres are, indeed, hauling in young starting pitchers left and right on the trade market. They've acquired all of their top five pitching prospects over the past month and a half: Anderson Espinoza, who is their No. 1-ranked prospect (Pomeranz trade), Cal Quantrill (Draft), Adrian Morejon (international signing), Chris Paddack (Rodney trade) and Eric Lauer (Draft). Their outfield and catching situations also look secure for the future.
As for the infield, San Diego made a nice splash in the international market for a number of shortstops who are probably half a decade away from making a big league impact. That said, I'm of the belief that you stockpile as much talent as possible -- regardless of position. Eventually, that talent can always be flipped for similar talent at a different position.
@AJCassavell would the Padres be open to trading Renfroe in a package if it brings back the right talent?

— adam.sullinger (@adamsullinger) July 27, 2016
If you've spent the past two years watching Preller, you know the Padres are open to trading anyone, "if it brings back the right talent." That said, San Diego is very eager to see what Hunter Renfroe has to offer at the Major League level.
No one questions Renfroe's immense power and his cannon for an arm. But he's going to need to improve his walk rate and prove he can hit a Major League curveball. The Padres want to find out those answers for themselves, and there's almost no chance Renfroe is going anywhere until they do.
@AJCassavell do you prefer seafood or meat tacos? What is your go to spot?

— Sports (@mynewhate) July 27, 2016
Why does it have to be one or the other? If I wanted to skirt the question here, I'd answer by pointing to the surf and turf taco at Oscar's (one of my all-time favorites). Honestly, it depends entirely on the city. San Diego? Give me seafood tacos at South Beach Bar and Grille any day. That taco menu is deeper than the '27 Yankees. But as far as individual plates go, I might lean toward Fish Shop's TKO taco.
Mmmm. Gotta go. Now I'm hungry.
AJ Cassavell covers the Padres for MLB.com. Follow him on Twitter @ajcassavell. This story was not subject to the approval of Major League Baseball or its clubs.