Hochevar shows signs of neurological disorder
Right-hander placed on DL; Pounders recalled to Royals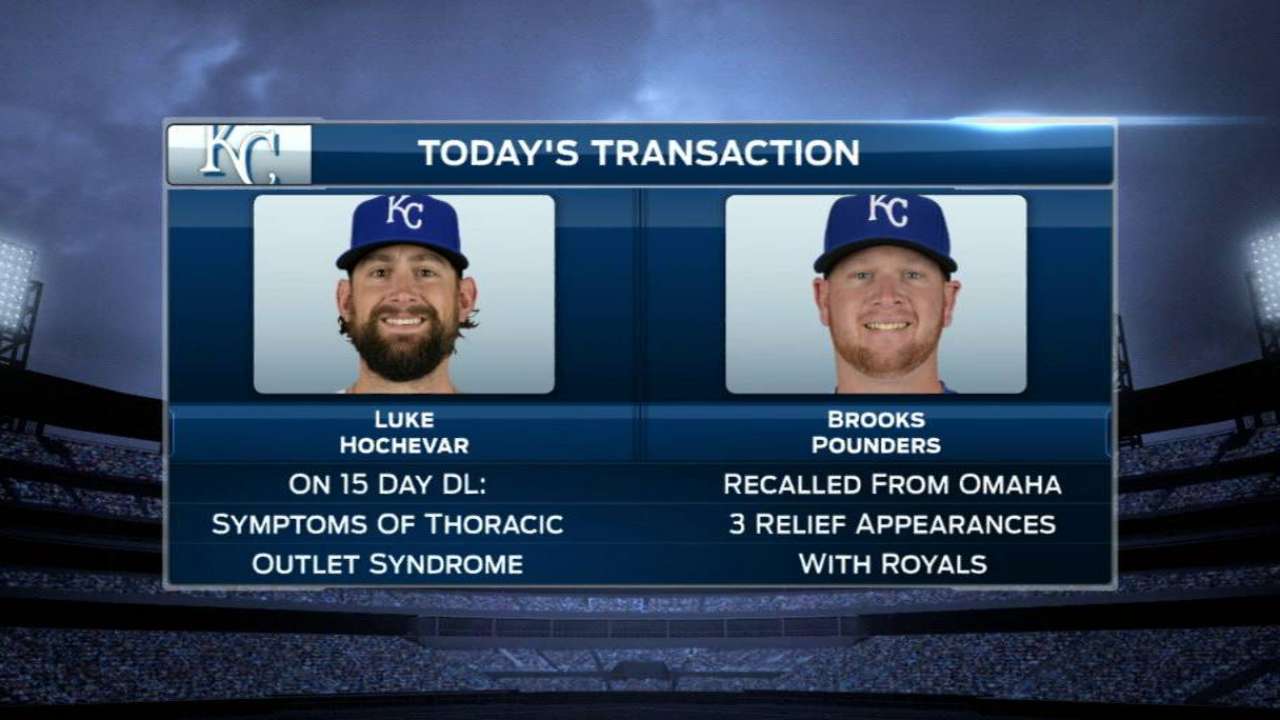 ARLINGTON -- Royals reliever Luke Hochevar was placed on the 15-day disabled list on Thursday, and right-hander Brooks Pounders was recalled from Triple-A Omaha.
Royals manager Ned Yost said the team believes Hochevar has shown signs of Thoracic Outlet Syndrome, a condition that compresses nerves and blood flow in the upper body that causes pain and numbness.
Hochevar was expected to see neurological specialist Dr. Gregory Pearl on Thursday. Pearl also examined Royals right-handed prospect Kyle Zimmer, who recently was diagnosed with TOS and was scheduled to have surgery, thus ending his season.
Yost said Hochevar began showing signs of TOS in the past 10 days.
"His fingers and hands got real heavy," Yost said. "Swelling, numbing. We gave him a test a few days ago, and it showed blood flow restriction."
Hochevar threw on the side prior to the Royals' opener on the road against the Rangers on Thursday.
"It felt the same, he said," Yost said. "He can work through it with his fastball, but he has no feel on his curveball."
The symptoms may have had something to do with Hochevar's recent struggles. Hochevar has a 7.84 ERA in his last 12 games and opponents have hit .310 off him during that time.
The timing of the injury certainly is not good for either the Royals or Hochevar. The Royals are trying to crawl back into contention, and Hochevar, a key setup man to closer Wade Davis, is in what essentially is a free-agent year.
Hochevar, the overall No. 1 draft pick in 2006, and the Royals have a mutual option for 2017, but the Royals and have never exercised a mutual option with a player. Hochevar is scheduled to make $5.5 million this season and has a $.5 million buyout for next year.
Hochevar had been mentioned in some trade rumors, because of his pending free agency. That now appears to be off the table.
Late scratch
Royals catcher Salvador Perez was a late scratch from the lineup Thursday because of a head cold. Drew Butera started in his place.
Oliver Macklin is a reporter for MLB.com. This story was not subject to the approval of Major League Baseball or its clubs.