Astros place Valbuena on DL; Gomez resting
Hamstring strain not as severe for outfielder as it is for infielder; White recalled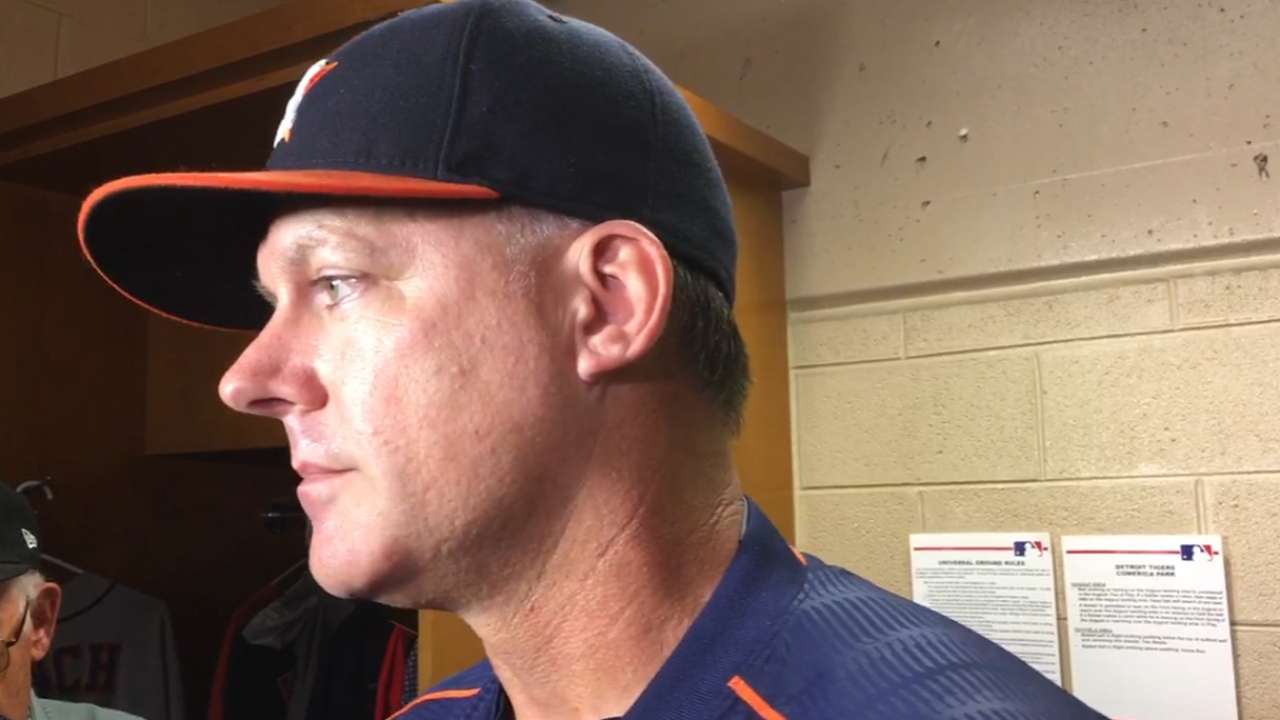 DETROIT -- The Astros were able to avoid the disabled list with outfielder Carlos Gomez's right hamstring strain, but infielder Luis Valbuena wasn't as lucky with his. Valbuena was placed on the 15-day disabled list Friday after straining his right hamstring running to first base Tuesday.
As reported on Thursday, infielder Tyler White was recalled from Triple-A Fresno and joined the club in advance of Friday's 14-6 loss to the Tigers at Comerica Park.
• White returns to Astros with stronger mindset
Valbuena, who was hitting .260 with 13 homers and 14 RBIs and was fourth on the team in OPS (.816), was initially optimistic his injury wouldn't be serious, but he's in enough pain that he can't run.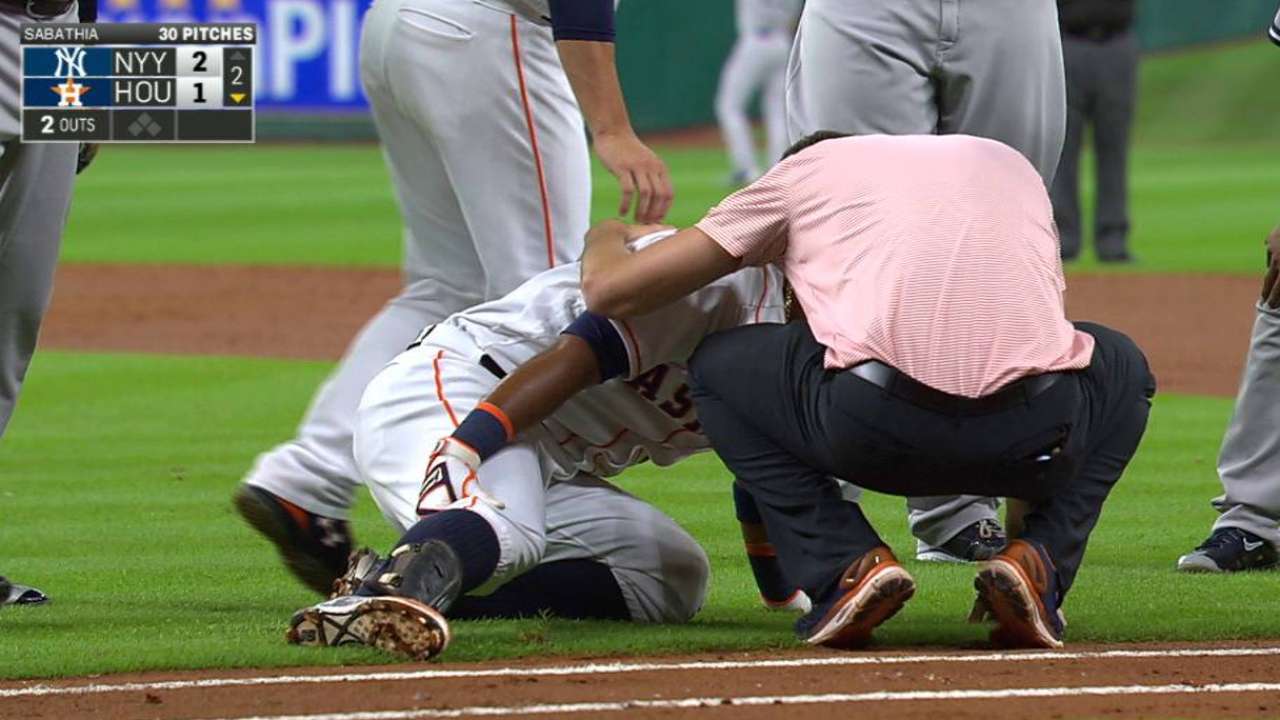 "I feel bad because I've never been in this situation," he said. "I like to be on the field every day. I want to help the team win the game, but I feel so bad right now because I can't do anything."
The Astros will be without Gomez likely through the end of the Tigers series, leaving them short-handed on the bench.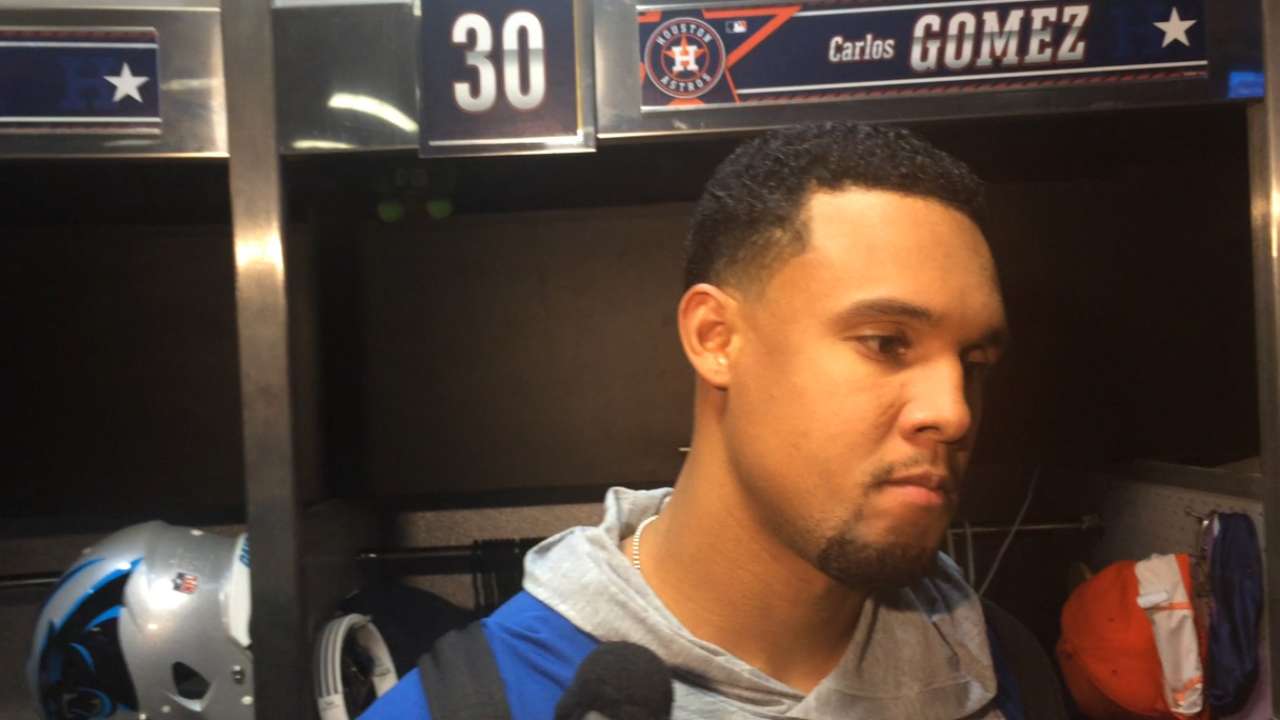 "We're pretty banged up, but most importantly, it was about Valbuena's diagnosis once we got more testing," Astros manager A.J. Hinch said. "It's a little bit worse than we initially thought based on where the injury is [close to the back of the knee], and after the tests, we determined it was going to be a little bit tougher for him to make it back even early into next week.
"So we don't know exactly how long it's going to take given that we could project it more than seven to 10 days. And Gomez coming out of the game, we had to make a move. And Valbuena's not as close to playing as we hope Gomez is."
Gomez said he hopes to be able to play Sunday, which might be a bit aggressive. Regardless, his strain is not as severe as Valbuena's.
"You know, last year when I had my oblique [strain], I didn't know how [long the recovery time would be], because I never had experience with the oblique. With the hammy, it's the third time in my career it's happened, mild strain, and I know," he said. "This one is a little bit different, because the next day after the injury, I'm able to walk and I don't feel, like, soreness, only in some exercises. It made us more comfortable. …
"Today I'm going to walk and jog a little bit on the treadmill, so it's a good sign. Tomorrow maybe, depends, how it goes today. I'm going to be available to hit. You see the third day if I'm available to play. I think the way I feel is a good sign."
With Valbuena on the shelf, Astros top prospect Alex Bregman is expected to get most of the starts at third base, while White will probably split time at first base with switch-hitter Marwin Gonzalez. Bregman has started three games since being called up by the Astros -- one at designated hitter, two at third base -- and is 0-for-9 with two walks.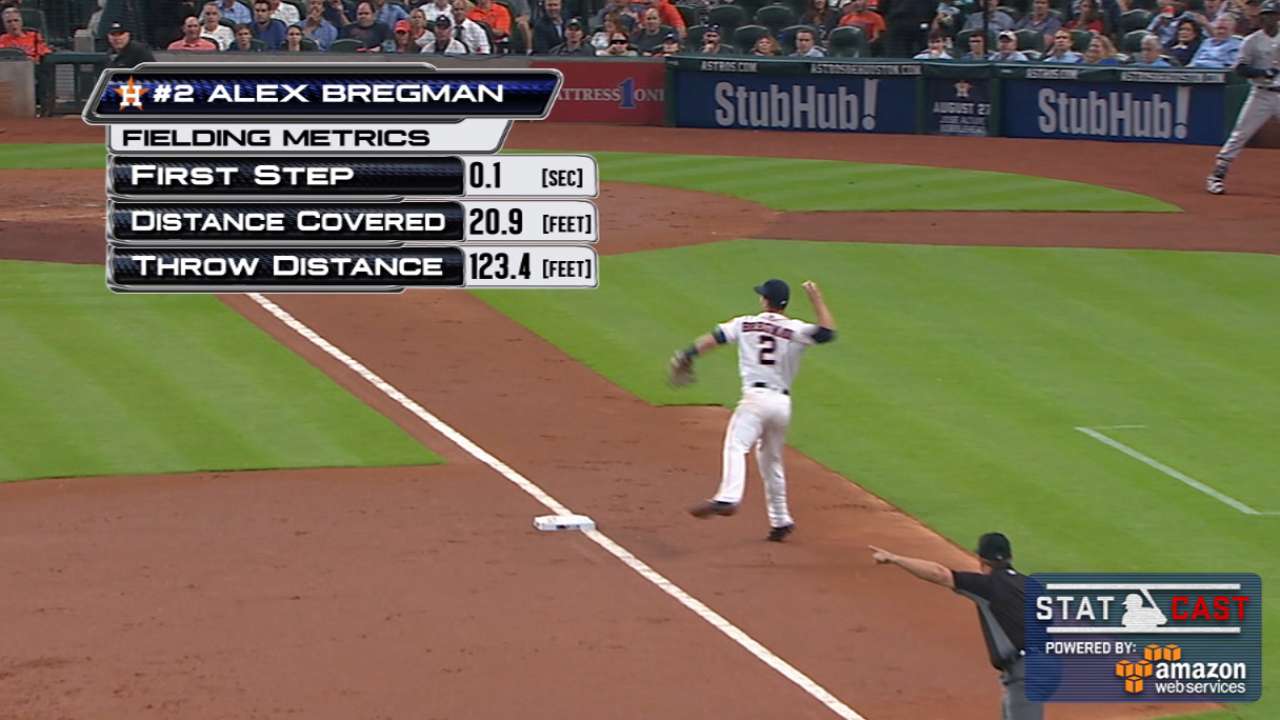 The Astros are expected to place right-handed starter Doug Fister on the paternity list at some point soon. He's not with the team this weekend in Detroit, because his wife is expected to deliver the couple's first child.
Brian McTaggart has covered the Astros since 2004, and for MLB.com since 2009. Follow @brianmctaggart on Twitter and listen to his podcast. This story was not subject to the approval of Major League Baseball or its clubs.