Healthy Altherr getting his time to shine
Outfielder homers as part of 3-hit night in 2016 season debut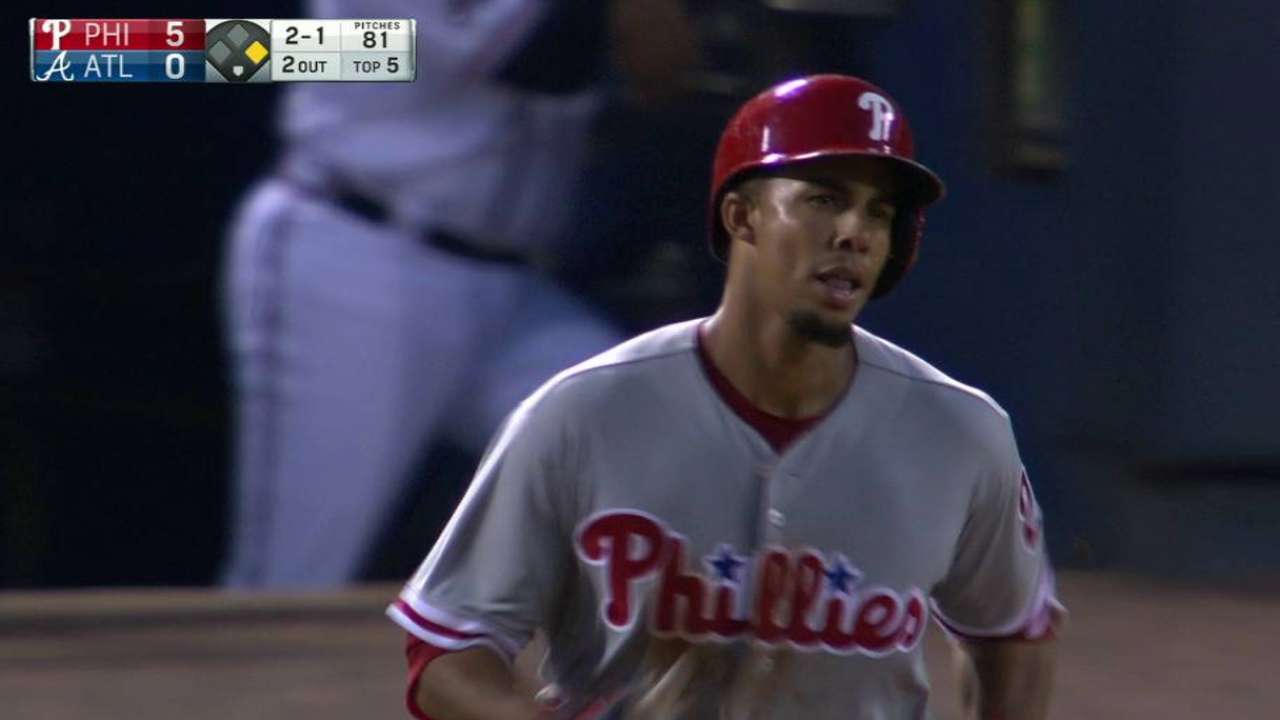 ATLANTA -- Phillies outfielder Aaron Altherr finally has his shot.
The team activated him from the 60-day disabled list before Thursday's 7-5 victory over the Braves at Turner Field. He hit fifth and went 3-for-4 with a two-run home run, giving him a nice start in what is expected to be an important audition over the Phillies' final 58 games.
"Definitely," said Altherr, asked if it was the perfect season debut. "Especially sitting around thinking about how that first game's going to be being back. For it to be like that, it was definitely special."
Altherr opened Spring Training as a projected everyday outfielder, but he tore a tendon in his left wrist in March, which required surgery. After a lengthy recovery spent mostly in Clearwater, Fla., Altherr rejoined the Phillies ready to prove he should be part of the Phillies' future plans in the outfield.
"I just want to see him play," Phillies manager Pete Mackanin said before the game. "We want to see him play as much as possible. So if he stays healthy, I'm going to keep running him out there. That's what this year is all about. We're finding out about the guys that are here. He is potentially an important part, so we want to see what he does. I'm anxious to see what he does."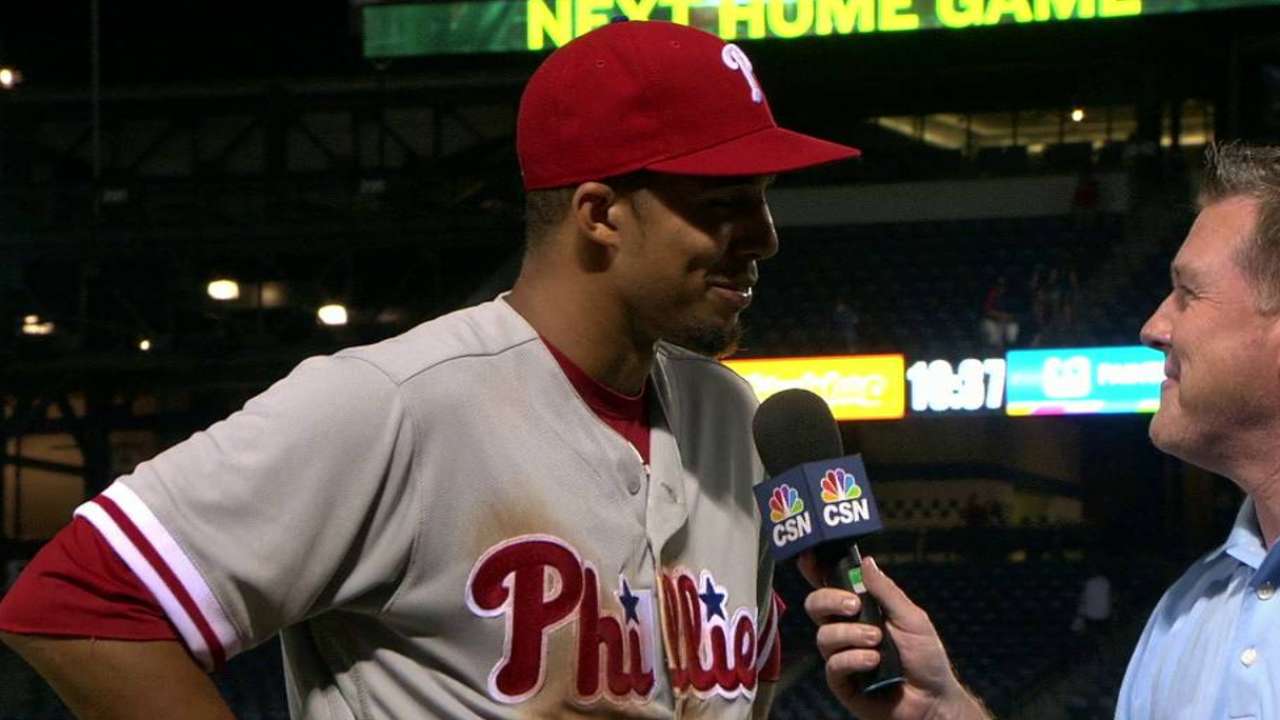 Cody Asche and Rule 5 Draft pick Tyler Goeddel will continue to play in left field, although Asche continues to receive the bulk of the playing time. He has started 42 of the last 51 games in left field, but he has hit .094 (5-for-53) in his last 17 games.
"As I said earlier in the season, this is a very big year for Cody to prove that he can be part of the future and he needs to step it up," Mackanin said. "Goeddel needs to play. I need to play Goeddel. I have to come to a conclusion so I can speak intelligently at the end of the year about what I think, if Cody fits in, if Goeddel fits in, if [Jimmy] Paredes fits in. But Asche and Goeddel, we have to know. I don't want to go into Spring Training next year wondering.
"After two or three years of opportunities that should give you a pretty good indication whether a guy fits or not. However, there's two months left in the season and anything can happen. So I'm not discounting anybody."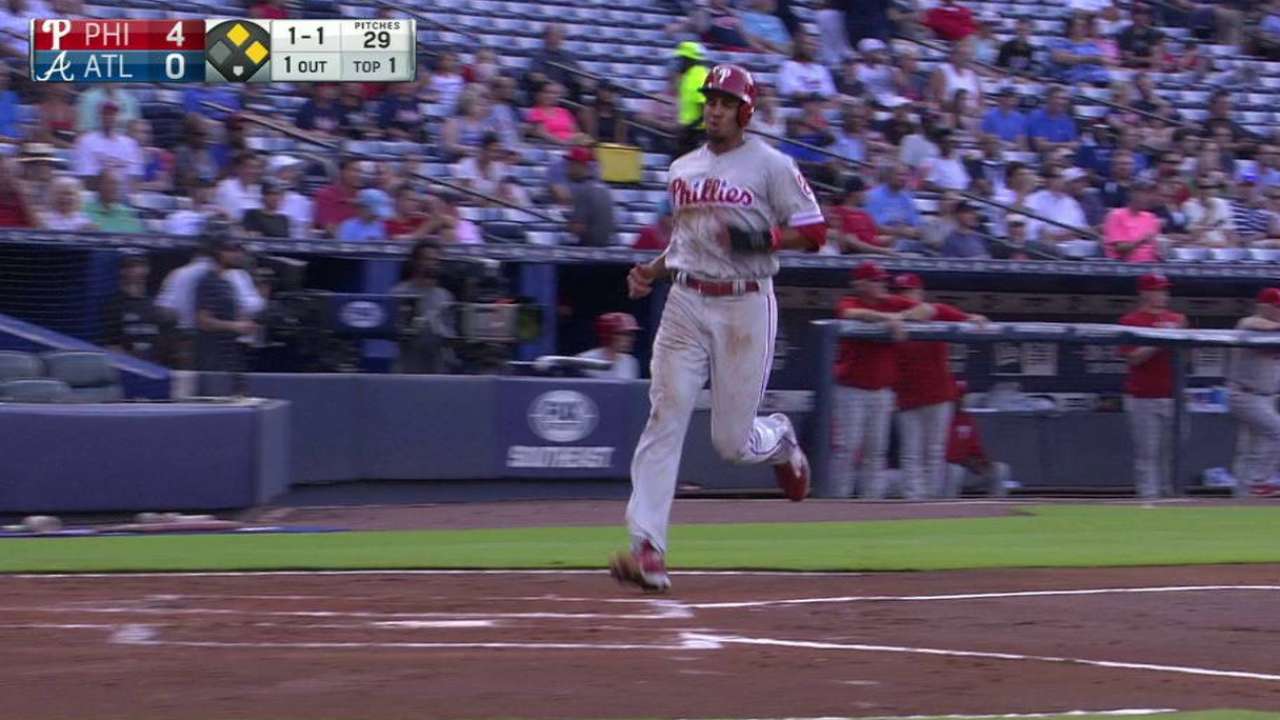 And things could become even more complicated in terms of playing time, both in the outfield and infield, if Triple-A shortstop J.P. Crawford and outfielder Nick Williams are promoted at some point. Mackanin said the two prospects are "on the radar, but nothing has been determined on whether they're coming or not. They don't want to send up a guy that might not be ready."
About the only thing certain is that Altherr will play a lot. He missed too much time not to play.
The Phillies placed Peter Bourjos on the 15-day disabled list with a strained right shoulder to make room for Altherr on the 25-man roster.
Todd Zolecki has covered the Phillies since 2003, and for MLB.com since 2009. Read his Phillies blog The Zo Zone, follow him on Twitter and listen to his podcast. This story was not subject to the approval of Major League Baseball or its clubs.