MLB.com Columnist
Mike Petriello
Trade rumors swirl around evolving Davis
Royals closer's 1.09 ERA since '14 best in Majors, though strikeouts are down and walks are up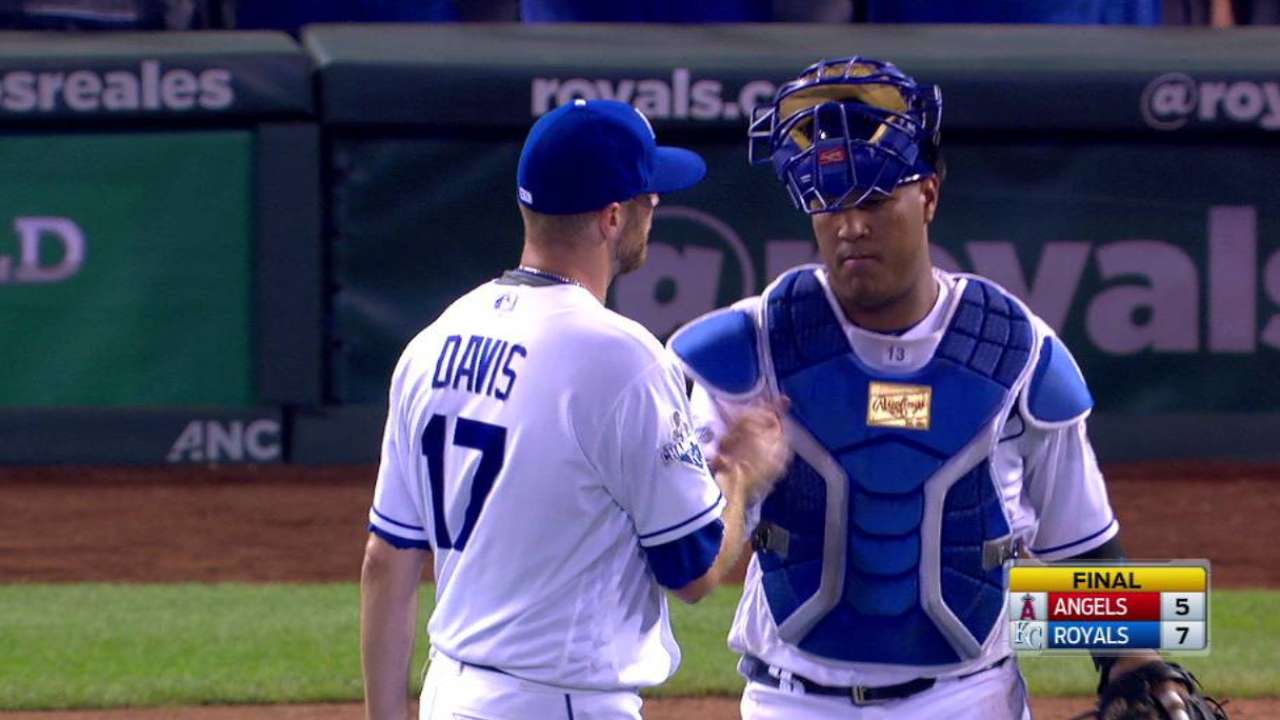 If the latest rumors are to be believed -- and you should always believe everything you hear in the final days before the non-waiver Trade Deadline, which is 4 p.m. ET on Monday -- the Royals are at least taking calls on All-Star closer Wade Davis.
That's not the same thing as saying they'll actually end up moving him, of course. But listening makes sense, because the 49-51 Royals are behind seven teams in the American League Wild Card race, and because recent trades involving Aroldis Chapman, Craig Kimbrel and Ken Giles proved that teams willing to deal top-end relievers can really cash in, big time. If that also means the Royals can move the remaining $62.5 million due Ian Kennedy, who has allowed the most home runs in baseball, in addition to acquiring young talent, all the better.
Obviously, any team looking to make a big splash by going after Davis is going to do their due diligence, so we should as well. What kind of pitcher is he right now? Here are three things you need to know about the 2016 version of Davis.
1. He's still elite at run prevention
If all you care about is keeping runs off the board, then yes, Davis is still one of the game's best. This is his third season in Kansas City's bullpen, and he's allowed 21 earned runs in 173 innings, good for a 1.09 ERA. That's the best of the 262 pitchers with 150 or more innings in that span, and it's not particularly close -- the runner-up is the Orioles' Zach Britton at 1.51. Even this year, Davis' 1.61 ERA is the 11th best of 340 pitchers with 30 or more innings pitched.
There are lots of reasons why -- strikeouts, great Royals defense, etc. -- but perhaps chief among them is that in those three years, Davis has allowed three home runs. All came last season, which means that none have been surrendered this season. From a pure run-prevention sense, it's difficult to argue that Davis isn't still among baseball's top bullpen arms, to the point that the controversial 2012 deal that brought him from Tampa Bay is no longer "The James Shields Trade" or "The Wil Myers Trade." It's "The Wade Davis Trade."
2. The underlying stats show some cause for concern
Despite the success, that doesn't mean that everything is the same. When a hard-throwing reliever misses time with an arm injury, as Davis did earlier this month when he was out for two weeks with a right forearm strain, that's going to cause some worry. (He was unscored upon in four games after his return before allowing five baserunners in Wednesday's 7-5 win over the Angels.)
At his best, Davis is all about blowing hitters away. In 2014, he struck out 39.1 percent of the hitters he faced, which was the fifth-best of any qualified reliever. Last year, that was 31.1 percent, which was still quite good, though down somewhat to 16th-best. This year, it's 23.7 percent, which is 78th-best. So while batters are striking out more often, Davis is striking out fewer of them.
Meanwhile, the opposite is happening with Davis' walk rate. In 2014-15, he walked 8.1 percent of hitters, which was tied for 48th of 98 qualified relievers, making it essentially average. This year, it's up to 11.1 percent, which is tied for 131st of 157. Part of that, obviously, is that because Davis had been so good, almost historically so, there was almost nowhere to go but down.
Still, if you look at the strikeout and walk numbers in 2014, his closest comparables were Dellin Betances and Kenley Jansen. Last year, it was Shawn Kelley (who is very good) and Fernando Salas. This year, it's more like Blake Treinen and John Axford. Though the runs aren't coming across, it's a changed Davis.
3. His fastball is "different."
You're probably immediately thinking velocity issues, but that's not as big a deal as you'd think. Davis averaged 96.7 mph in 2014, 96.5 mph last year and 95.6 mph this year. Yes, that's a slight decline; no, it's not really worth worrying about, particularly since it's 96 mph since May 1.
What's different is the usage, and what's different is the spin. As a reliever, Davis usually offers his four-seam fastball a little more than half the time, mixing in his cutter and changeup 20-25 percent of the time, each. But something has changed recently: since his return from the disabled list, Davis has largely abandoned the cutter:
Instead, Davis is using the four-seamer more than ever. In 2014, batters hit .145 against the four-seamer, and last year, it was .127, so that's a nice weapon to have. That it's up to .220 this year is both "really, really good" and "much higher than before," so you see why there's a lot of ways to look at this. But what's also worth noting is that Davis' spin rate seems to be down.
We know that high fastball spin correlates positively with swinging strikes as the ball defies gravity for longer, while lower fastball spin, which allows the ball to sink more, is better correlated with grounders. And wouldn't you know it, as Davis' whiff rate is falling, his ground-ball rate of 49.4 percent is a career high, and more than 10 percentage points higher than last year. We're still learning about what spin decreases mean, so take this for what it is. When we noted Greg Holland's declining spin before his injury last year, it also came with declining velocity, which this hasn't. File this under "something's up."
* * * * *
So what does all this mean? Any team that would be going after Davis would be getting a bullpen upgrade, certainly, because even if he's not as dominant as he was, he's still really, really good. There's enough that's different and still changing, though, that teams will have to wonder what Davis is now and will be going forward -- in addition to questioning what Kansas City knows, if they're willing to move Davis in advance of 2017, which might be their last chance with impending free agents Eric Hosmer, Lorenzo Cain, Kendrys Morales, Danny Duffy, Alcides Escobar and Mike Moustakas.
Still, with the way the reliever market is going, talking about Davis with interested teams makes all the sense in the world. Now we just need to see if anyone's willing to pay the rightfully sky-high price that Davis will surely cost.
Mike Petriello is an analyst for MLB.com and the host of the Statcast podcast. He has previously written for ESPN Insider and FanGraphs. This story was not subject to the approval of Major League Baseball or its clubs.