Inbox: Should Bucs buy or sell at Trade Deadline?
Beat reporter Adam Berry answers questions from Pirates fans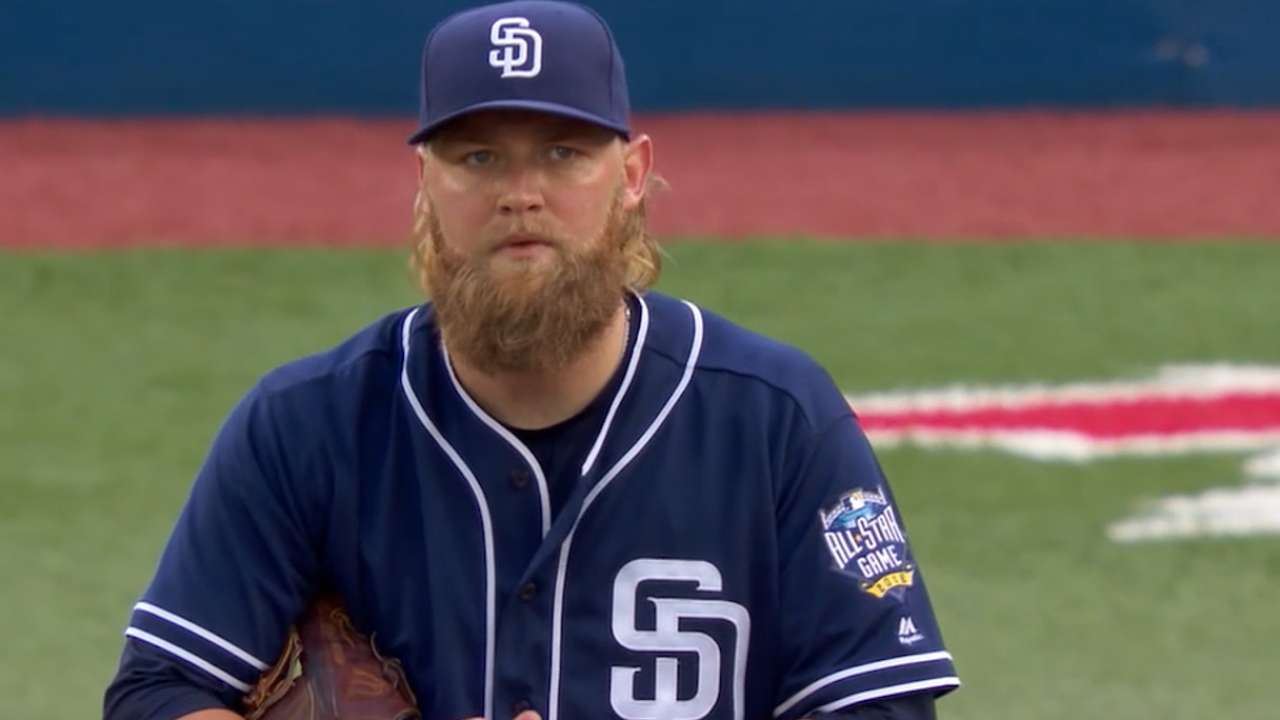 PITTSBURGH -- Welcome to a special Trade Deadline edition of the Inbox.
While Pirates officials consider their options inside their PNC Park offices, let's talk about what Pittsburgh should, could and might do before Monday's 4 p.m. ET non-waiver Trade Deadline.
@adamdberry Is it even worth it? Pirates should stand pat.

— Randy Slack (@Slackamania) July 27, 2016
Interesting place to start this discussion. On one hand, maybe not.
Why hurt the depth of the farm system to add a piece when the best-case scenario might still be a spot in the National League Wild Card Game? Why change the current roster when you're playing well and pushing for the postseason?
On the other hand: This year's Deadline is not strictly about the final two months of the season. In that sense, it should either yield an impactful move or nothing at all.
General manager Neal Huntington has said that the Pirates plan to be buyers, and that's the sense throughout the industry. Pittsburgh is looking for pitching, specifically starters, as the current rotation continues to struggle.
Yes, the Pirates have prospects on the way. But a proven big league pitcher would bolster a rotation that features Gerrit Cole, Jameson Taillon and a bunch of question marks -- and won't hurt down the road, either.
@adamdberry if the Pirates decide to go after a pitcher at the deadline, what low cost pitcher would they target?

— Chris Smith (@Smitters6789) July 27, 2016
The operative adjective here might not be low-cost, but cost-controlled.
Why bother getting a back-end rental starter when you have Jonathon Niese and Jeff Locke in the bullpen and Ryan Vogelsong coming back? Not to mention the prospects in the Minors: Chad Kuhl, Steven Brault and Trevor Williams. As Huntington has said, those pitchers allow the Pirates to set a higher bar.
Who might Pittsburgh target? You can dream big -- the Bucs had two officials at a recent Chris Archer start -- but let's be more realistic. Pittsburgh has scouted Tampa Bay's Matt Moore and Jake Odorizzi, though it's unclear if the Rays are willing to trade either.
Who else fits the bill? Perhaps Angels starters Matt Shoemaker and Hector Santiago and Yankees starter Nathan Eovaldi, to name a few. The Pirates could even try to buy low on D-backs righty Shelby Miller.
But in a sellers' market, are any of those pitchers -- none of them are having a particularly good season -- worth the high price?
@adamdberry IF there was a trade that was Melancon for a good starter maybe a #2 would we gain or lose this year

— Alan GIfford (@algiff) July 27, 2016
You won't get a No. 2 starter for two months of a closer, but in a vacuum, there's some merit to the idea of trading Mark Melancon. Did you see the Yankees' return for two months of Aroldis Chapman? It's hard to argue with that.
Maybe the clubs that couldn't reel in Chapman would bite on the Shark, Melancon. The Giants would be interested if Melancon becomes available, and the Nationals seem like a logical fit given their pursuit of Chapman.
Tony Watson or Neftali Feliz could close out games. However, moving Melancon would damage Pittsburgh's bullpen depth -- and the Bucs need all of it, considering the innings they've had to pick up.
The negative effect on the clubhouse would be harder to calculate, especially if the Pirates were to maintain that they're competing for a postseason spot.
With Austin Meadows already in Triple-A, and blocked from a starting role for the next few years (at least), could you see the Pirates dealing him for an arm this year?
-- Sam C., Anchorage, Alaska
Good question, especially after Ken Rosenthal reported the Rays listed Tyler Glasnow and Meadows as the asking price for Archer.
Simply put, I don't see it unless the return is someone like Chris Sale, a bona-fide ace under an affordable long-term contract. Meadows could become a fixture in the Pirates' outfield within the next few years, the long-term replacement for Andrew McCutchen.
And no, I wouldn't trade McCutchen to make room for Meadows, either.
Do you think the Pirates will trade John Jaso to make room for Josh Bell?
--Tera W., Butler, Pa.
This represents a flaw in the binary "buyers or sellers?" debate. What do you call trading a Major League regular to address a Major League weakness?
If Jaso would help the Pirates bring in a quality starter or another reliever, they'd have to at least consider moving him and moving on to Bell as the full-time first baseman -- defensive shortcomings and all.
Jaso is slumping at the plate, so why might teams be interested? He's highly regarded for his patient approach. He's turned out to be a solid first baseman, and he's under an affordable two-year, $8 million contract.
Adam Berry has covered the Pirates for MLB.com since 2015. Follow him on Twitter at @adamdberry. This story was not subject to the approval of Major League Baseball or its clubs.