Aroldis leaves Cubs in awe with perfect debut
New closer strikes out two of three White Sox in non-save situation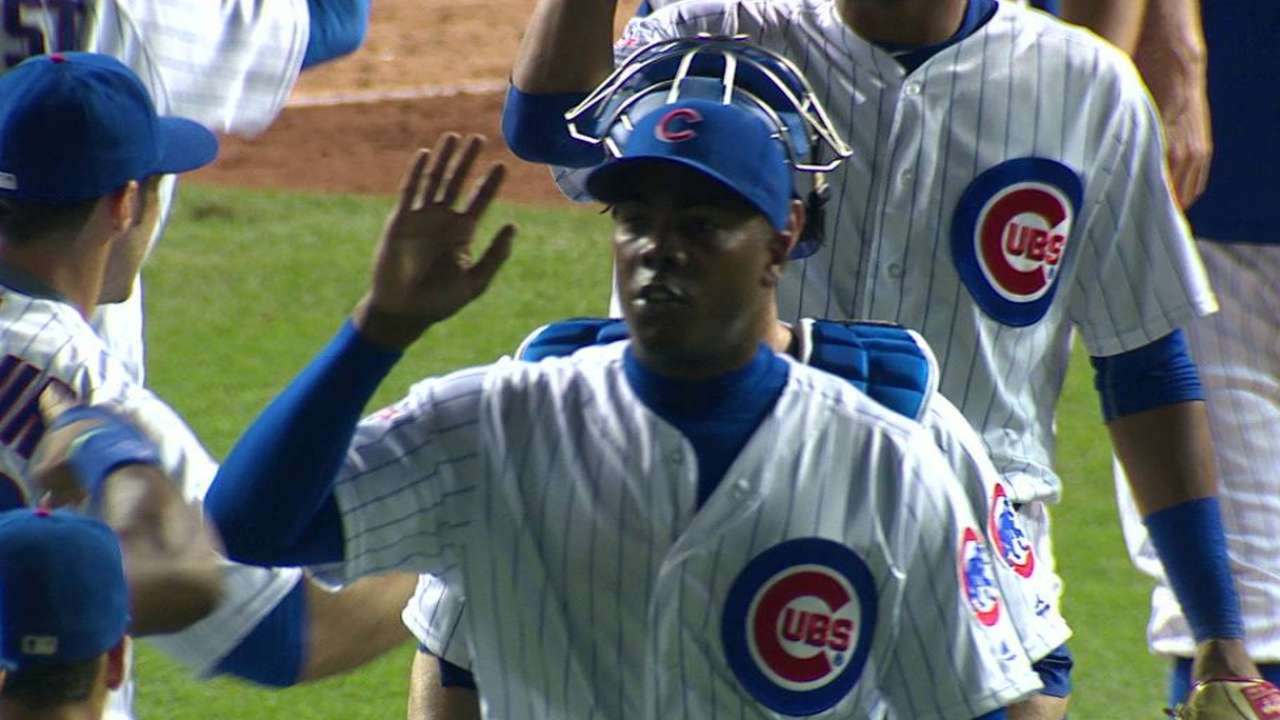 CHICAGO -- The 41,166 fans at Wrigley Field weren't the only ones eager to see the radar-gun readings from Aroldis Chapman in his Cubs debut. The Cubs' players and manager Joe Maddon were peeking, too.
Chapman didn't disappoint, striking out two of the three batters he faced in the ninth to preserve the Cubs' 8-1 Interleague win over the White Sox on Wednesday night. It may not have been a save situation, but everyone in the lower seating bowl of the ballpark was on their feet as soon as the left-hander entered.
"I'm not impressed," Cubs starting pitcher Jason Hammel deadpanned. "I thought we were getting a guy who threw 105 [mph]. He only hit 103."
Hammel then grinned.
"It's a sight to see," he said. "It's jaw-dropping. To see that type of velocity and that command, it's almost unfair to have a slider and offspeed pitches after that, too. He's a nice addition."
Said Addison Russell: "It was awesome. Standing behind him throwing is a whole different story."
Chapman was happy with the outing, if not with what has transpired the last 24 hours in Chicago.
"The adrenaline was pretty good even though it wasn't a save situation," he said. "It was fun to hear the crowd cheering for me."
The left-hander had a difficult introductory news conference on Tuesday and was so upset that he did not want to talk to the media on Wednesday. Catcher Miguel Montero acted as arbitrator and also interpreter.
"It's over with, I have to move on," Chapman said. "I don't want to go further than that."
Chapman's presence in the Cubs' bullpen definitely is a game-changer. Maddon used Hector Rondon, the former closer, in the eighth, and he needed seven pitches to retire the side. Montero then greeted Chapman on the mound for the ninth, and the pitcher put his arm around the catcher's shoulders as they talked. Montero caught Chapman in the 2014 All-Star Game, and they have a good relationship.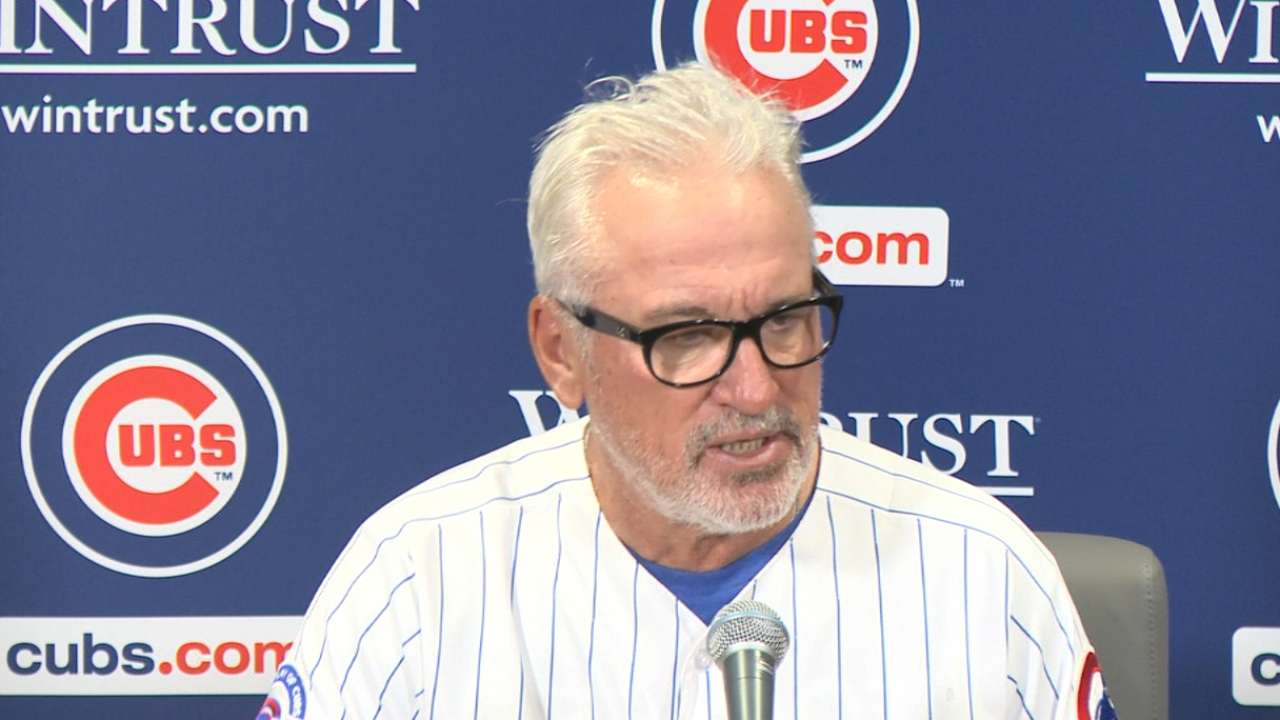 "I know what he's got," Montero said. "We didn't talk about signs. ... I said, 'Hey, how do you like this crowd? It's a little louder than where you were, right?' He was laughing."
Other teams aren't smiling at how the Cubs have improved their postseason chances.
"Any time you can trim the game to six innings, five innings is good, and we have a strong-enough bullpen to shut down," Hammel said. "That's a confidence-booster for us. For the other side, it has to be black clouds -- 'Oh man, we can't let the bullpen get in there.'"
Russell, who hit his first career grand slam, one of three Cubs homers, said the acquisition of Chapman sends a strong message from the front office to the players.
"They want to win," Russell said.
"He's a different kind of pitcher," Maddon said. "You see that every 100 years or so. Everyone talks about the fastball, but his slider is devastating. He was very calm in the moment and he was able to get through the last couple days."
Carrie Muskat has covered the Cubs since 1987, and for MLB.com since 2001. She writes a blog, Muskat Ramblings. You can follow her on Twitter @CarrieMuskat and listen to her podcast. This story was not subject to the approval of Major League Baseball or its clubs.