Cole finishes what he started for 1st CG
After 131 professional starts, righty notches accomplishment with 93-pitch gem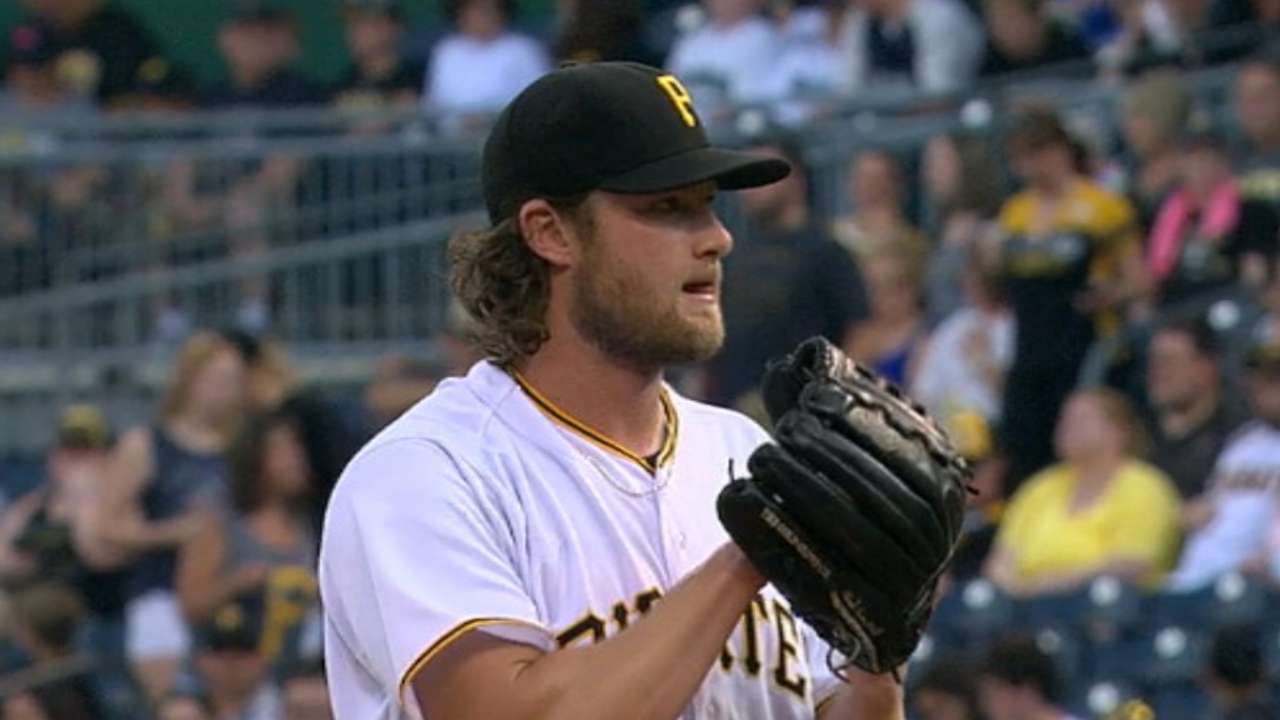 PITTSBURGH -- Gerrit Cole didn't think he had a chance after one inning, then he didn't bother to check his pitch count again until the eighth Wednesday night. Positioned behind Cole at second base, Josh Harrison didn't peek at the PNC Park scoreboard until the ninth.
"I looked up, and I think I saw 82," Harrison said. "I'm like, 'Aw, we're good!'"
For manager Clint Hurdle, there was no question. Cole was going to pitch a complete game. And the Pirates' ace delivered a 93-pitch gem, allowing one run on three hits without a walk while striking out six in the Bucs' 10-1 win over the Mariners.
Cole crossed another accomplishment off his to-do list, efficiently breezing through a Seattle lineup loaded with seven left-handed hitters.
It was Cole's first career complete game and the Pirates' second of the season. The 25-year-old right-hander had made 131 starts in the Majors and Minors. None of them ended like Wednesday night, with the last out of the ninth inning.
"I think you try to do it every time you go out, ideally," Cole said. "But no, it's not something I've been dwelling on."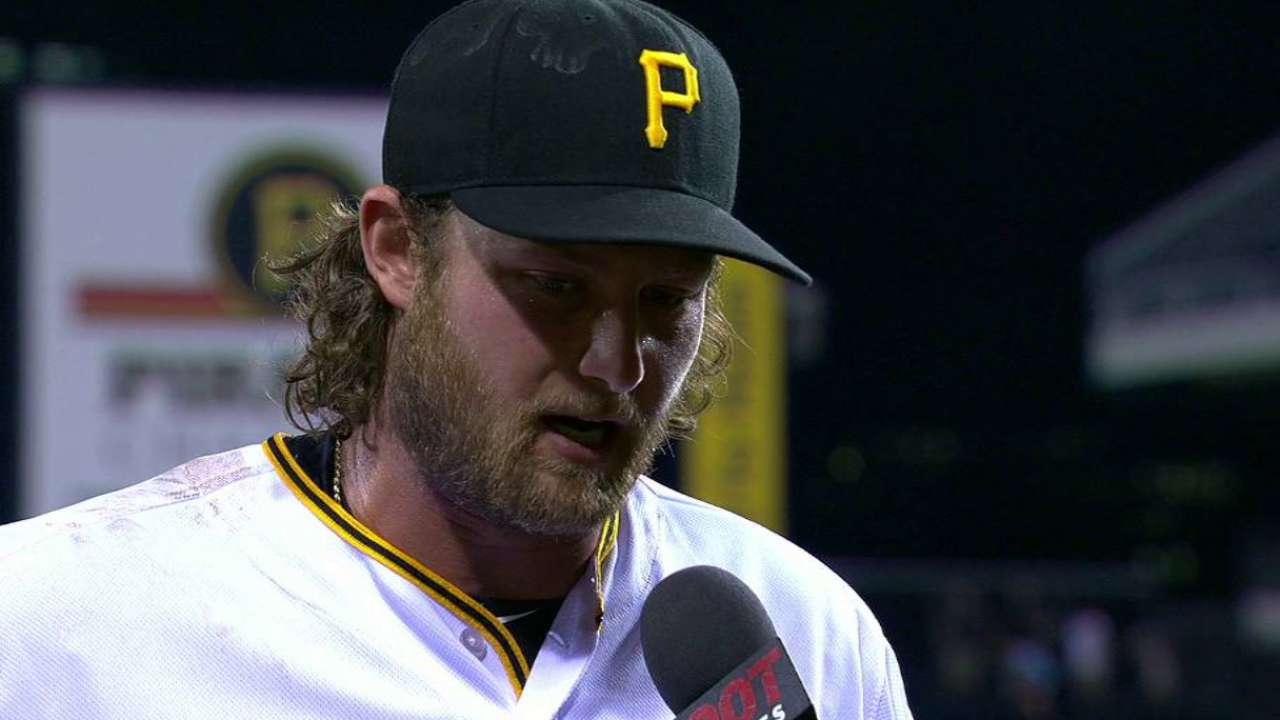 And it wasn't something that crossed his mind after a 20-pitch first inning, when the Mariners fouled off pitches they'd spend most of the night rolling over or hitting into the Pirates' gloves.
Cole's pitch count per inning after the first? Six, seven, 15, nine, eight, six, nine, 13. How did he manage his pitch count so well?
"I had a good two-seam [fastball]," Cole said. "I was getting guys on the ground when I wanted them to. Good fastball command.
"Once we got the lead and we expanded on it, with the kind of contact we were getting early, there was just no sense in fooling around. We were locked in on defense all night. ... Don't try to do too much here. We've got a good ballgame going."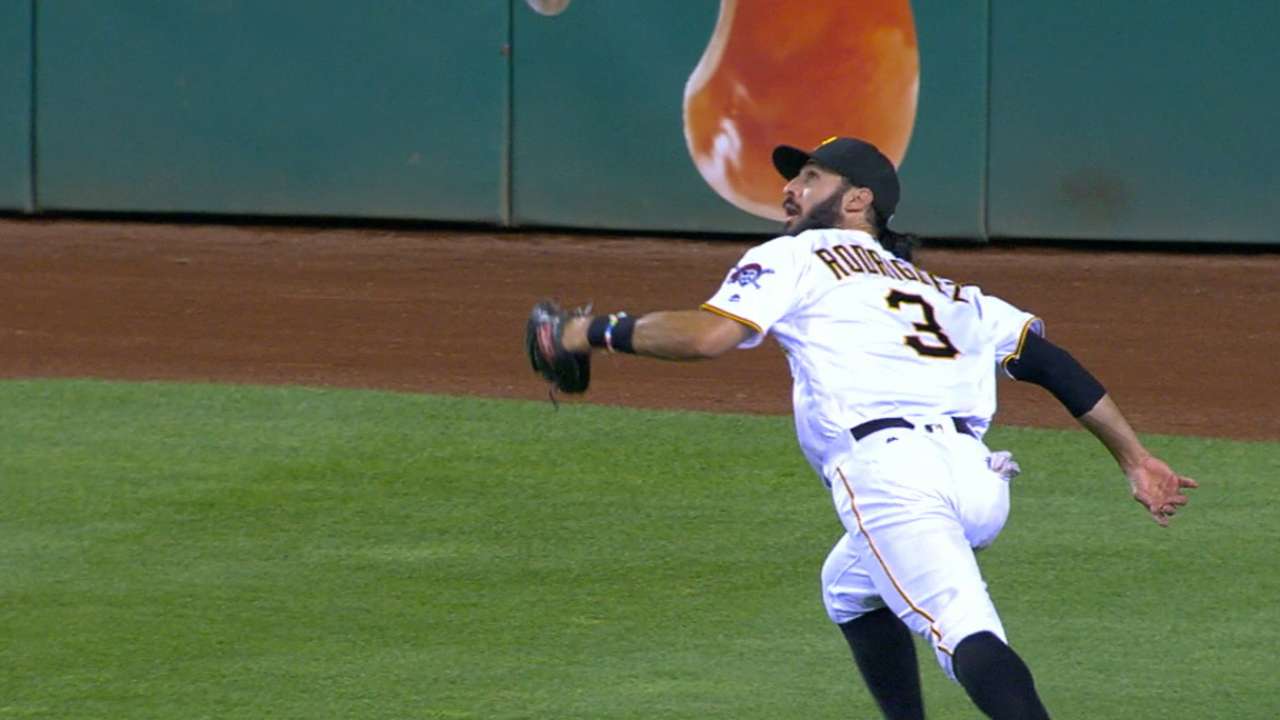 Cole's curveball worked early, and his slider helped later. His delivery was in place and on time, a continuation of his last start, when he held the Phillies to one run and struck out seven over six innings.
After that outing, a 4-0 Pittsburgh loss, Cole asked Andrew McCutchen how he looked on the mound.
"'Bro, you looked dirty,'" McCutchen said. "We just weren't able to score runs for him that game.
"I think we were able to get some for him tonight."
And for the first time in his professional career, Cole finished what he started.
"He earned the opportunity. There's no flat-out way I'm taking him out of that game," Hurdle said. "There's no way he's coming out of that game without getting an opportunity. You've got to give him a chance to paint his own picture.
"I think it's part of the ownership of working your way to be a staff ace or an ace in the league. He's got work to do. He's still cutting teeth in some areas. That type of performance is the type of performance you need to put yourself in that position, though. It's got to help the confidence."
Adam Berry has covered the Pirates for MLB.com since 2015. Follow him on Twitter at @adamdberry. This story was not subject to the approval of Major League Baseball or its clubs.