Braves thrilled to reel in power prospect
Infielder/outfielder Demeritte acquired from Texas for Harrell, Alvarez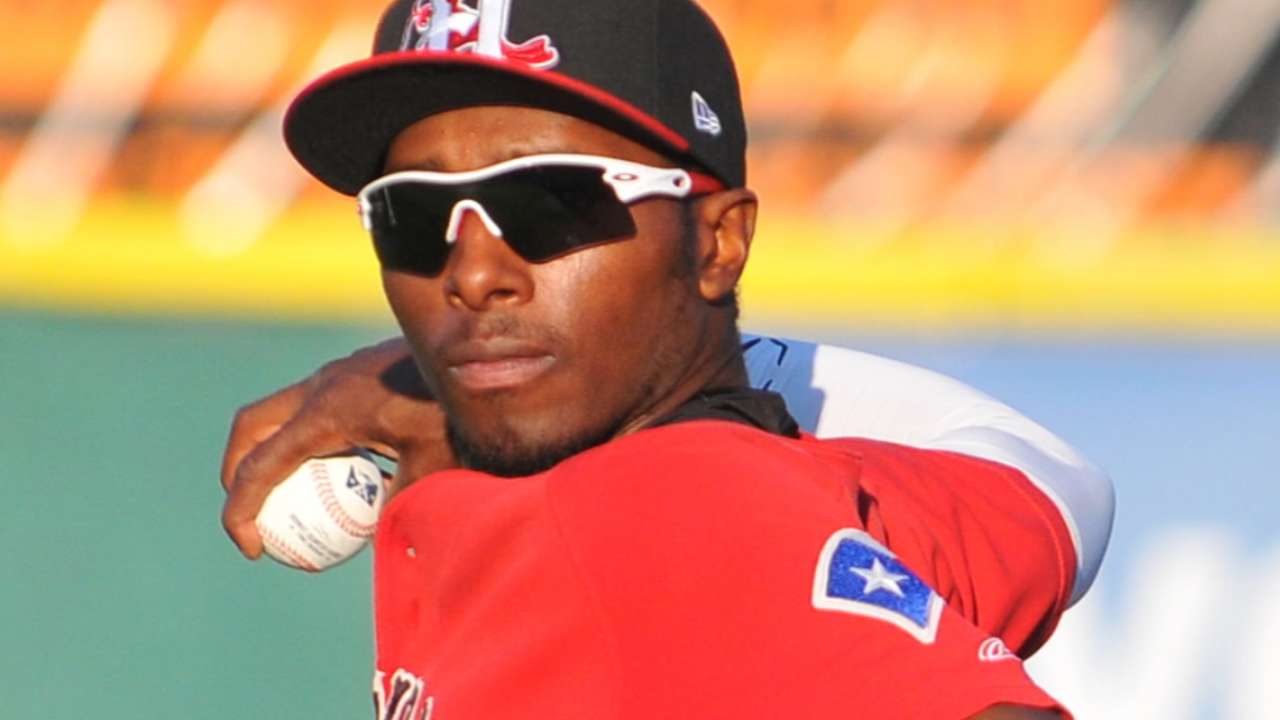 MINNEAPOLIS -- Braves general manager John Coppolella has long shown a willingness to quickly flip players who have exceeded expectations and gained unexpected trade value. But none of the previous quick flips rivaled the one realized Wednesday, when the Braves traded starting pitcher Lucas Harrell and left-handed reliever Dario Alvarez to the Rangers for Travis Demeritte, who has quickly developed into one of the game's top power-hitting prospects.
"It's a great credit to our pro scouting staff and a great credit to our coaching staff that we were able to get these players who weren't with the Braves nine weeks ago and then put them in spots where they had a lot of success," Coppolella said. "For us to be able to get back somebody we think can become one of our best hitting prospects, that's very satisfying."
When Harrell and Alvarez joined the Braves organization by signing Minor League contracts in late May, they were envisioned as pitchers who might provide organizational depth. Both had been recently released while pitching at the Minor League level.
In other words, there was no reason to believe they would ultimately enough value to be spun off for a prospect as talented as Demeritte, who was ranked No. 9 among the Braves' top prospects in MLBPipeline.com's updated rankings, released on Thursday. He has batted .272 with 25 homers and a .935 OPS for Class A Advanced High Desert this season.
Fortunately for the Braves, the Rangers were willing to make this deal to address their recent pitching woes, which have been highlighted as their once-comfortable lead over the Astros in the American League West has dwindled. Harrell was effective in four of the five starts he made for Atlanta, and Alvarez was one of the Braves' most reliable relievers during the four weeks leading up to the All-Star break.
"We're trying to find right-handed power everywhere that we can, and [Demeritte] obviously fits that," Coppolella said. "He's a great kid and we've known him well for a long time. We're very excited to add him to the Braves organization."
Courtesy of his power potential and ability to play each of the infield positions and left field, Demeritte has drawn comparisons to former Braves player Ron Gant and the Cubs' Javier Baez. The young prospect from Winder, Ga., hit 25 homers for Class A Hickory in 2014 and then missed most of 2015 while serving a performance-enhancing drug suspension. He will likely begin his Braves career with Class A Advanced Carolina.
"His talent is not a mirage," Rangers general manager Jon Daniels said. "He is a real player."
This trade quickly materialized after Harrell completed six scoreless innings in Tuesday's 2-0 win over the Twins. The 32-year-old veteran surrendered runs in just five of the 30 innings he completed after he was promoted from Triple-A Gwinnett to join Atlanta's depleted rotation in early July. He began this season with the Tigers at the Double-A level.
Alvarez was released by the Mets after he produced a 9.98 ERA in 17 appearances with Triple-A Las Vegas. He posted a 0.93 ERA and struck out 22 of the 40 batters faced before the All-Star break. But he has allowed four earned runs over 5 1/3 innings and struck out just six of the 21 batters faced since the break.
"I want to win now more than anybody," Coppolella said. "But when you have a chance to make your organization so much better at a need area with a player where you love the tools and the makeup, you've got to look at those deals right now with the spot we're in. It would be foolish not to. So, we're pretty excited."
Mark Bowman has covered the Braves for MLB.com since 2001. This story was not subject to the approval of Major League Baseball or its clubs.