McCarthy's 4-inning start continues trend for LA staff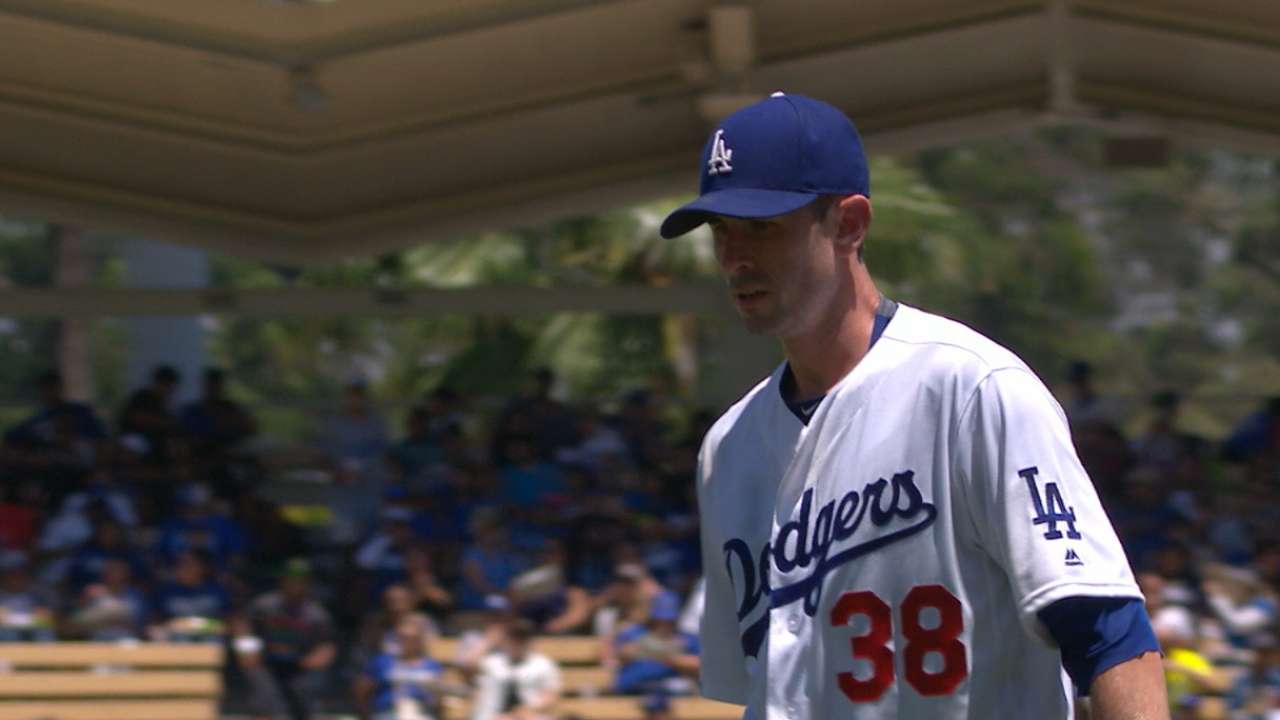 LOS ANGELES -- As if the Dodgers didn't already know that their starting rotation needs improvement, the Rays made it clear.
With Brandon McCarthy able to go only four innings Wednesday in his fifth start after Tommy John surgery, Tampa Bay's Matt Moore pitched into the seventh inning for a 3-1 win, only hours after teammate Chris Archer went a solid seven innings against the Dodgers in a tough-luck loss.
By contrast, it's been five weeks since the Dodgers had back-to-back starters get into the seventh inning, and Clayton Kershaw was one of them. No telling when -- or if -- Kershaw will pitch again for the Dodgers this year.
So the trade rumors swirl around the Dodgers, because these starts of four or five innings are not the exception but the rule, and the ripple effect felt in the bullpen can't be good.
"Archer is an elite pitcher, in our opinion, and Matt Moore has real good stuff," Dave Roberts said, stopping short of any tampering but clearly sounding like a Dodgers manager who wouldn't object to a deal for either of those arms by Monday's non-waiver Trade Deadline.
While winning 16 of the previous 24 games and slicing San Francisco's lead from eight games to 2 1/2 in the National League West, the Dodgers have enjoyed better-than-expected results from McCarthy. But pitching without any extra rest for the first time, and dealing with summer heat and travel, McCarthy seemed to hit the wall in the fourth inning after striking out four consecutive batters.
Brad Miller led off the fourth with a double, followed by Evan Longoria's home run, both on hittable curveballs. The Rays scored a third run in the inning on Luke Maile's RBI double.
"Just not executing pitches," said McCarthy. "It's been kind of a weird, tough week. Fatigue was accumulating, and I just wasn't able to execute. Body fatigue. I think [the weekend series in the heat and humidity of] St. Louis took it out of a lot of us. Even with the [Monday] day off, there's a hangover. You don't want to make excuses, and they [the Rays] had to do it too, but it was a little tougher to recover. My arm felt all right, just a body letdown."
Whatever the reason, the Dodgers have had 12 starts of five innings or fewer this month alone. Meanwhile, the Rays have pitchers they are believed willing to move, although with supply and demand on Tampa Bay's side, the Dodgers would be forced to overpay.
"Moore was good. He kept us off balance and made pitches when he needed to and we couldn't stress him," said Roberts.
"Moore was effectively using all his pitches and kept us off balance," said A.J. Ellis. "We got runners on, he wiggled out of it every time. We've been playing good baseball and we're doing it the right way the last few weeks, so we're headed in the right direction."
Ken Gurnick has covered the Dodgers for MLB.com since 2001. This story was not subject to the approval of Major League Baseball or its clubs.