LoMo, Dickerson leave feet for ovation-worthy grabs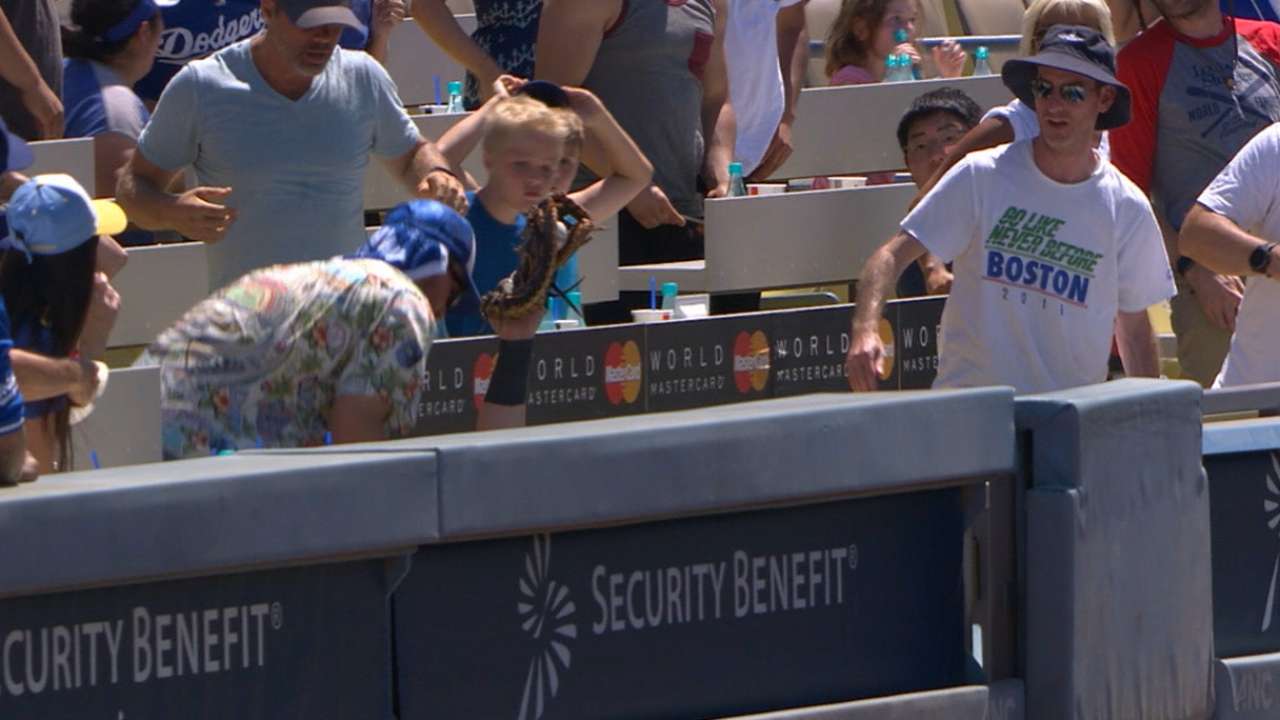 LOS ANGELES -- The outcome of Wednesday afternoon's Rays-Dodgers game could have gone either way in the seventh inning. What happened in that crucial frame went a long way toward breaking the Rays' four-game losing streak.
Corey Dickerson and Logan Morrison came away the heroes for flashing the leather in the pivotal inning of the Rays' 3-1 win over the Dodgers at Dodger Stadium.
Rays starter Matt Moore had allowed just one run through six innings when he walked Joc Pederson to start the seventh. The next batter, A.J. Ellis, followed with a deep fly ball to right that initially appeared headed for the stands. But Dickerson, who is known more for his bat than his glove, gave chase and managed to make the catch while slamming into wall to save extra bases.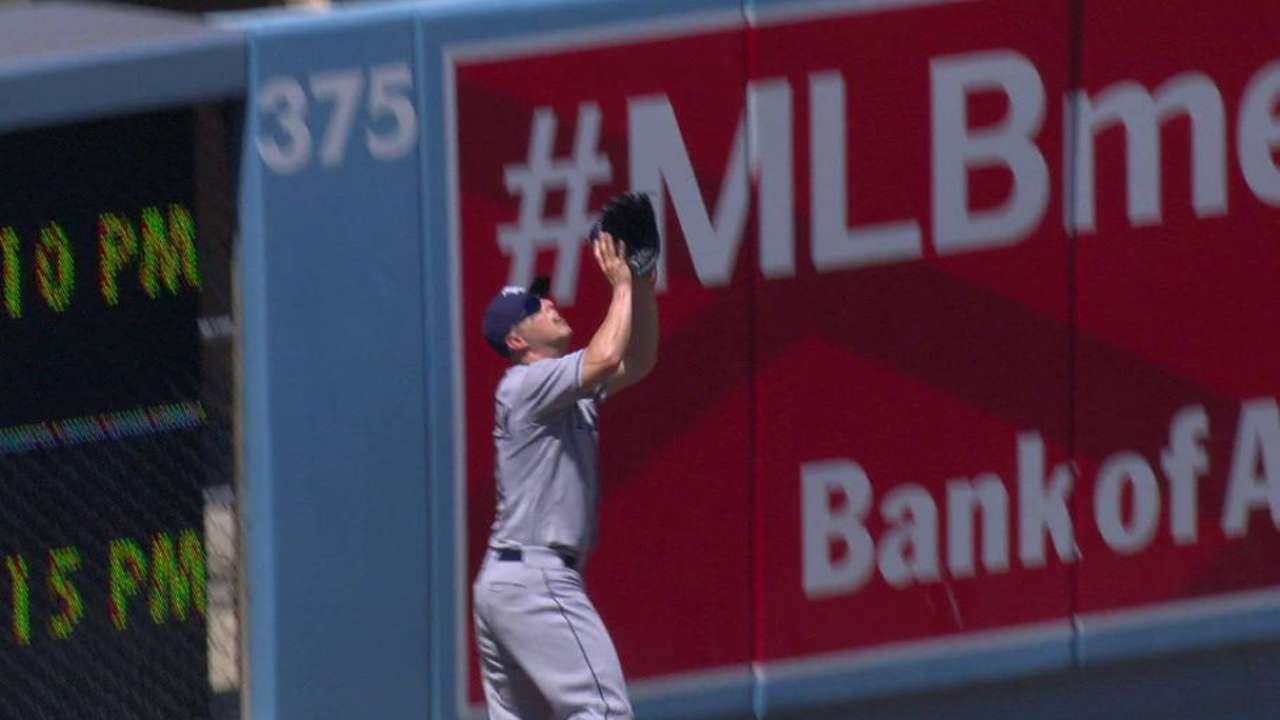 "I was just kind of backpedaling and started feeling the track under my feet," Dickerson said. "So I knew how many feet there were to the wall, I knew it was going to be pretty close. I kind of half-jumped ... I wanted to make sure I had room to catch the ball."
One out later, after a pitching change, Kevin Jepsen got Howie Kendrick to pop up into foul territory. Morrison gave chase from his first-base position, and when the ball drifted away from the field, he went all out into the stands to make the catch for the third out.
"I went from seeing it to losing it, to seeing him pick it up," Jepsen said. "It was unbelievable."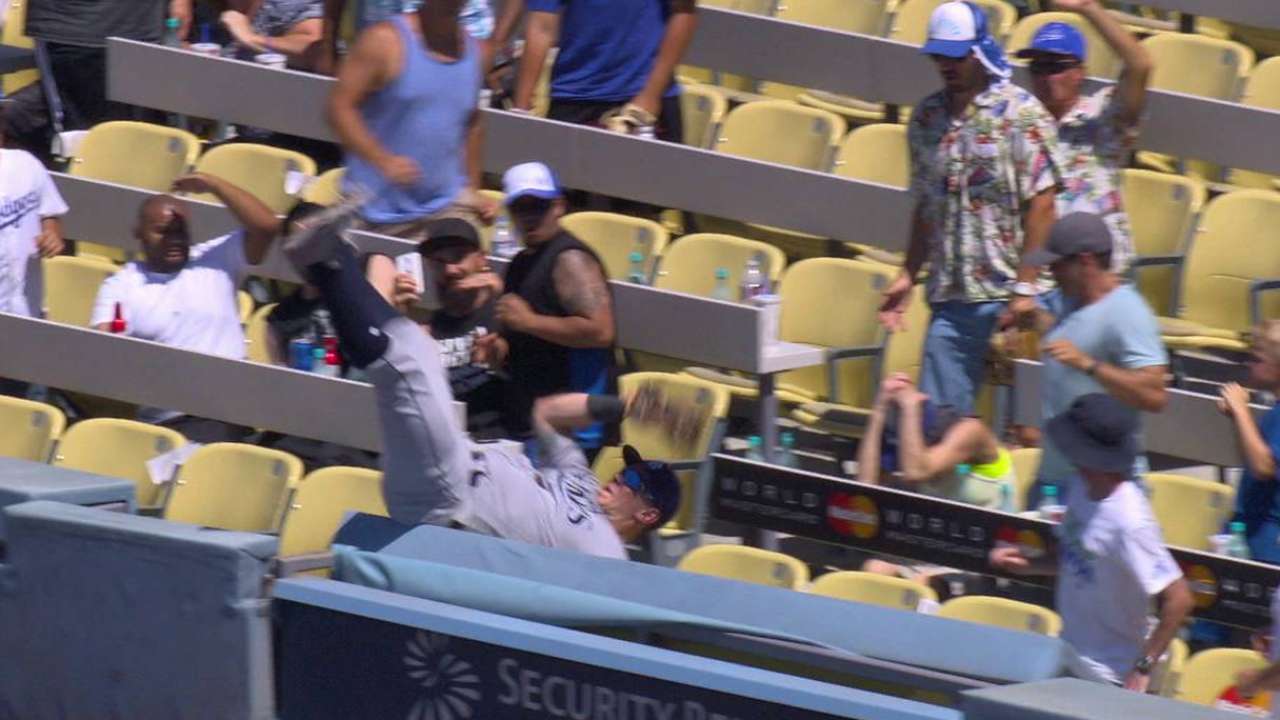 Jepsen then teased: "It was a play that had to be made."
Morrison came away from the play slowly, accompanied by grateful teammates. Right fielder Steven Souza Jr. added perspective to the play.
• Cut4: LoMo stopped, dropped, rolled into stands
"Because it was 3-2, [Morrison] broke with the runner to get off [the bag]," Souza said. "Incredible."
Morrison said he's made plays reaching into the stands before, but he's never actually dived into the stands. He allowed that he was "just trying to make a play."
"High sky, that and a combination of the sun over there, I was just trying to keep my eye on it the whole time, so I didn't know where the wall was," Morrison said. "It was just one of those where it happened to hit my glove as I hit the wall and I happened to hold on to it."
After making the play, Morrison had the awareness to keep his glove in the air.
"I knew it hit my glove, so I was just hoping it stayed in there, so I didn't want to bring it down and have it hit the concrete and bounce out or something," he said.
Morrison smiled, then added: "Like Jep says, it's a play that needs to be made."
Bill Chastain has covered the Rays for MLB.com since 2005. This story was not subject to the approval of Major League Baseball or its clubs.