Bucs 'cautiously optimistic' about Glasnow's recovery
Stewart, Vogelsong, Kuhl also taking steps in rehab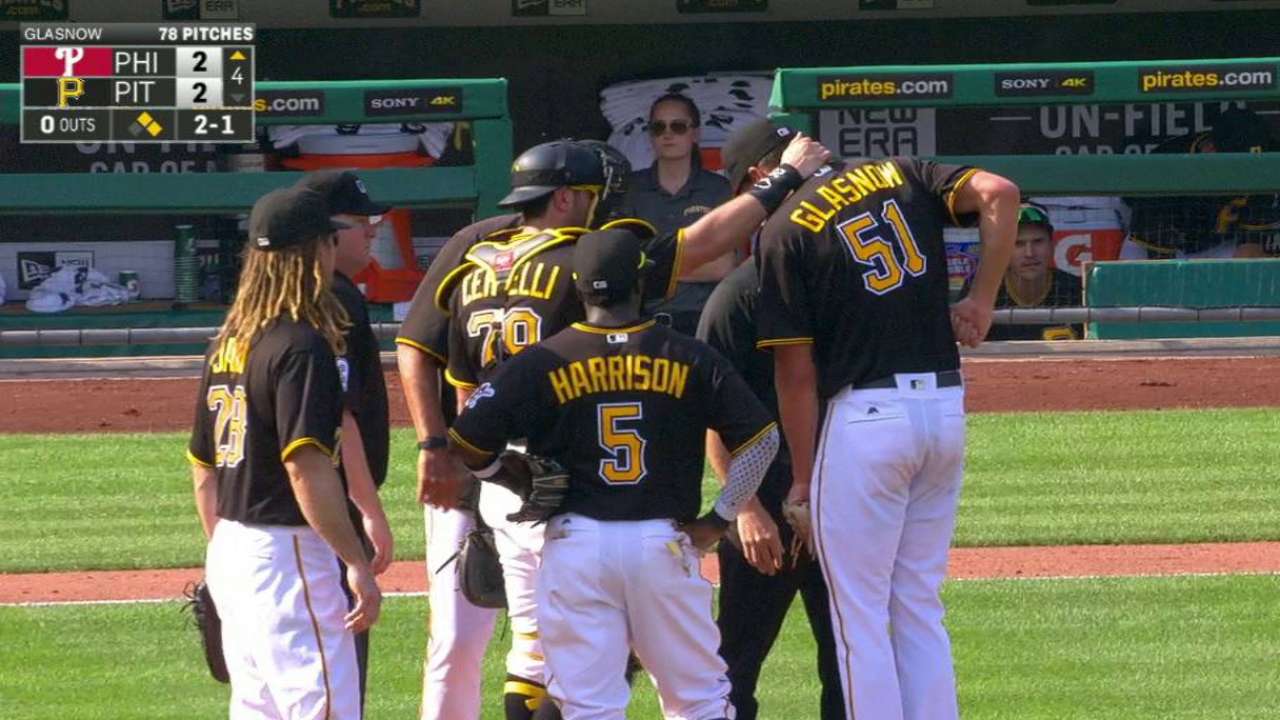 PITTSBURGH -- Four days after Pirates top prospect Tyler Glasnow exited his second Major League start with discomfort in his throwing arm, head athletic trainer Todd Tomczyk said he envisions the right-hander being able to pick up a baseball in the coming days.
Glasnow did not undergo an MRI or any kind of scan, but he did experience inflammation in the shoulder. He was placed on the 15-day disabled list Sunday, which means he would be eligible to be activated on Aug. 8.
Tomczyk said the injury occurred during Glasnow's second start on Saturday and was not pre-existing. In the Bucs' 7-4 win against the Phillies, Glasnow gave up one earned run, walked three and allowed five stolen bases in three-plus innings.
It's unclear if Glasnow will be ready to go on the first day he's eligible to come off the DL, but Tomczyk remains "cautiously optimistic." Depending on how many days Glasnow needs to rest, he may be throwing on flat ground in the next few days.
"That's the goal with any rehab, but the most important thing with him is he's moving forward," Tomczyk said. "He's a day closer to picking up a baseball."
Around the Horn
• Catcher Chris Stewart has recovered from a banged-up left knee to run the bases and resume some baseball activities. Stewart was placed on the DL on July 4 with left knee discomfort.
If Stewart's knee holds up once baseball activities are further ramped up over the weekend, he may be ready for a rehab start mid to late next week, according to Tomczyk.
• In his last rehab start with Triple-A Indianapolis, Ryan Vogelsong left due to a stiff neck. The injury didn't linger, though, as the stiffness left his neck and he made another start with Indianapolis on Wednesday.
Vogelsong was limited to seven innings or 90-95 pitches. He sustained multiple facial fractures after taking a pitch to the face in May, and he was placed on the DL on May 24. His recovery continues to be one of the more impressive ones Tomczyk has seen.
"I think the mental fortitude, whether he was born with or the way he was raised, strong faith, it's probably a combination of all of them -- he's an unbelievable man of character," Tomczyk said. "And he was not going to let this little hiccup get him down."
• Chad Kuhl left after the first inning of his Triple-A start on Saturday with right triceps discomfort. He has resumed playing catch on flat ground.
Sarah K. Spencer is a reporter for MLB.com based in Pittsburgh. This story was not subject to the approval of Major League Baseball or its clubs.