Yost calls team meeting to ease anxiety
Royals' recent struggles, trade rumors cause frustration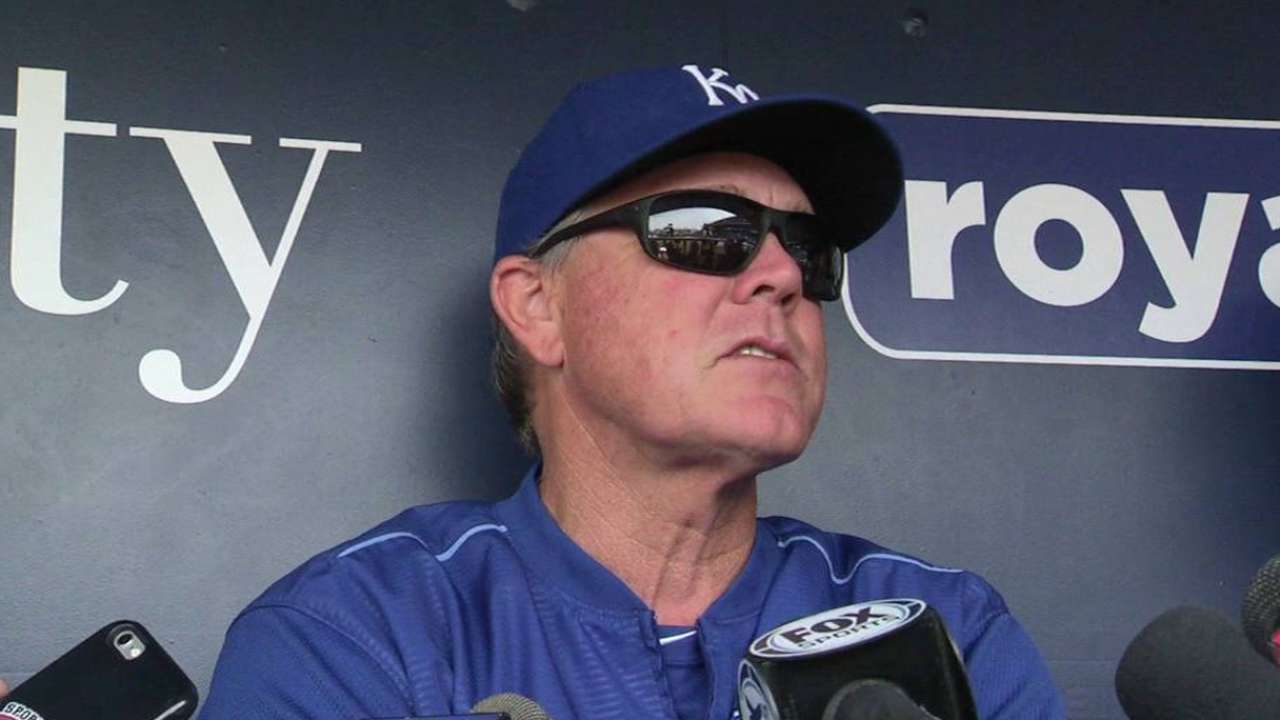 KANSAS CITY -- With the defending World Series champion Royals fading fast from playoff contention, manager Ned Yost held a team meeting prior to Wednesday's series finale with the Angels.
Yost would not reveal what was discussed in the meeting.
"It was quick," Yost said. "[Maybe] two minutes."
But Yost did concede that his Royals, losers in 14 of their last 19, probably are getting frustrated, and perhaps are concerned about Monday's non-waiver Trade Deadline and whether or not the front office will buy or sell.
"At times you kind of get caught up in situations because the media makes such a big deal about the Trade Deadline, and are you buying or are you selling?" Yost said. "More than three quarters of the things that are said on TV, they're just made up. They're not even close ... when guys' names get mentioned, that not only adds some anxiety for the player, [but] for his teammates, too, because everybody is really, really happy here.
"Nobody wants to leave here. So teammates feel like they have to pick up the slack and then they have to make sure [a trade] doesn't happen. And then you just find yourself in a mud hole spinning your tires. The harder you try to get out of it the deeper you go."
Yost said his team simply needs to relax and play its game.
"We know what we have ahead of us, we've known the trials that we've been through in the past and we've known that we've had our backs against the wall before," he said. "You know that you always come out of it. Just go out, enjoy your teammates and play the game like you did when you were 12 years old. That's what we do so well when we're successful is we just go out and play hard and have fun doing it. So sometimes you just take a step back and relax a little bit and inch your way out."
Yost also said he hasn't been looking at the standings during the slump -- the Royals were 9 games behind the American League Central-leading Indians entering Wednesday's game.
"Nope. I don't even look at the standings right now," Yost said. "We got to win some games. That's the whole focus. Just winning each game. You're not going to make it up in one day. You're not going to make it up in a week. But you put together a good week you'll get closer. You just start with today."
Royals fans certainly haven't quit -- the Royals are averaging close to 33,000 fans through the first eight games on this homestand.
"Nobody is conceding anything," Yost said. "[The fans] know what this team is capable of doing. We've talked about it so many times -- it's just one big hit and all of sudden, boom, here we go."
Jeffrey Flanagan has covered the Royals since 1991, and for MLB.com since 2015. Follow him on Twitter @FlannyMLB. This story was not subject to the approval of Major League Baseball or its clubs.