Mondesi's first career hit helps KC halt Halos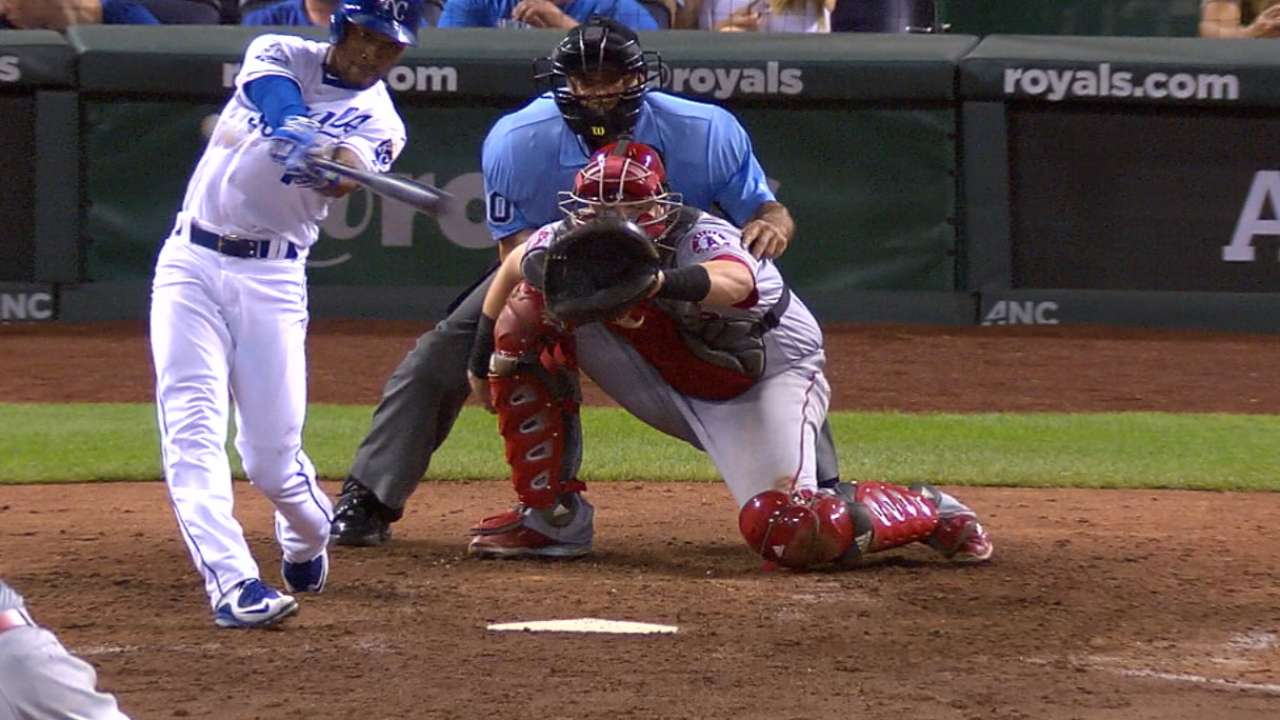 KANSAS CITY -- Royals rookie Raul Mondesi has another reason to remember his first Major League hit -- it helped win a game on his 21st birthday.
Mondesi's bunt single helped trigger a four-run seventh that rallied the Royals to a 7-5 win over the Angels on Wednesday night, snapping their four-game losing streak. The Angels played the game under protest because of what manager Mike Scioscia believed was a misinterpretation of the rules on Mondesi's eventual hit.
Mondesi, just called up from Triple-A on Tuesday, was attempting a sacrifice with none out and runners on first and second. His bunt was fielded by Angels starter Matt Shoemaker, who threw late and wild to first base. The ball rolled into the right-field corner as both baserunners scored, tying the game at 3, and Mondesi reached third base. Mondesi then scored on a Jarrod Dyson triple, and the Royals had the lead for good.
Scioscia believed Mondesi was out of the baseline and should've been called out, with the runners remaining on first and second.
"I had an angle; I just made a bad throw," Shoemaker said. "The worst part is that he was probably going to be safe anyway. I just kind of dropped my back shoulder and threw it."
The Angels dropped their first game in six tries against the Royals this season. Left-hander Danny Duffy started for the Royals and gave up three runs over six innings. He walked two and struck out five. Shoemaker also went six innings, giving up eight hits and five runs.
The Angels trailed by four heading into the ninth, but they made it interesting against normally lights-out closer Wade Davis, loading the bases with only one out. Albert Pujols then drew a walk, Jefry Marte hit a line drive directly into Mondesi's glove at second base and Andrelton Simmons ripped a single to center field, making it a two-run game. But Jett Bandy struck out swinging on a full-count, low-and-inside cutter, giving the Angels their first loss in six games against the Royals this season.
"The problem we've had lately is that we haven't had enough innings to keep Wade sharp," Royals manager Ned Yost said. "He's been pitching every three or four or five days and it is tough to stay sharp."
MOMENTS THAT MATTERED
Clutch hits: Yost has been craving for his offense to come up with some clutch hitting and he got that after the Mondesi hit and error. With Mondesi on third, Dyson smashed a triple into the right-field corner to put the Royals up, 4-3. Then Alcides Escobar drove a sacrifice fly to left-center field and the Royals were up, 5-3.
"We needed that," Dyson said. "I needed that. I've been scuffling. I thought I hit a couple balls really hard today. I thought I could have had at least two triples."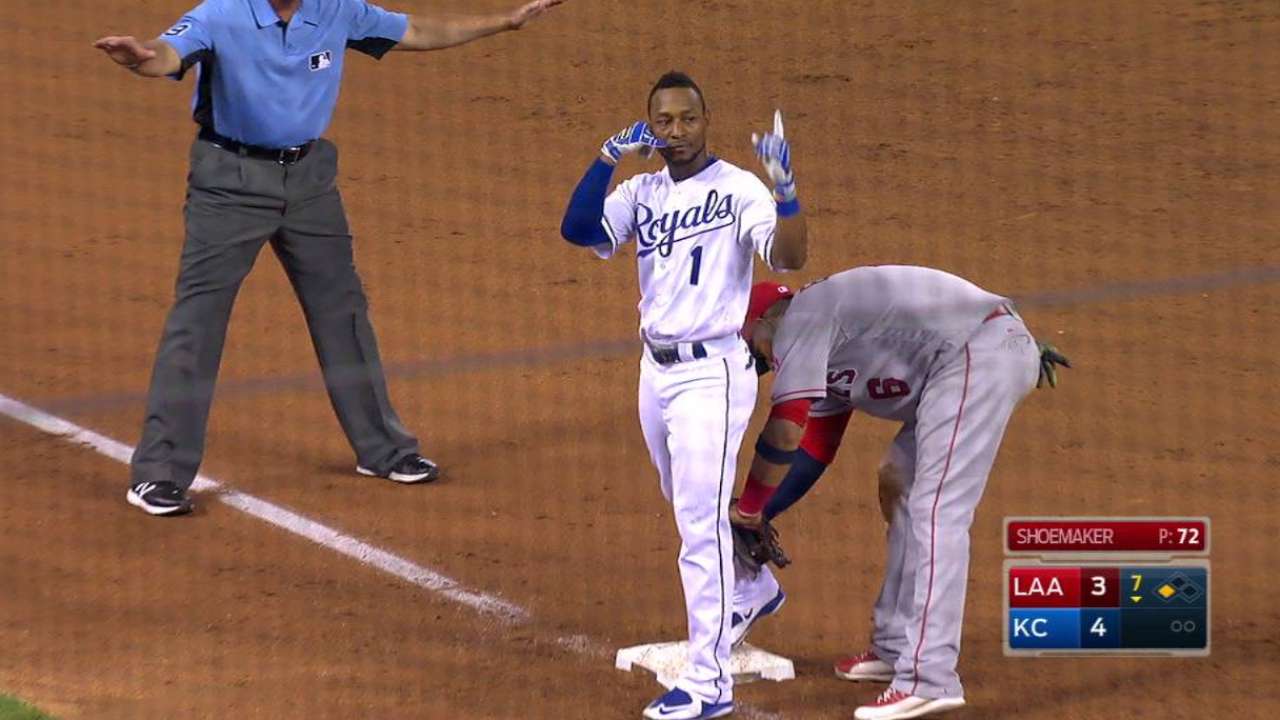 Another E1: Mondesi had two infield hits, and they resulted in four runs. The second came with two outs in the eighth, when the speedy second baseman swung and hit a dribbler to the left side. Angels reliever Jose Alvarez jumped off the mound to field it, but made an errant throw to first, increasing the Royals' lead from two to four entering the ninth inning.
"[Mondesi's] speed was game-changing for sure," Yost said. "On the bunt and the infield hit, he helped us score four runs." More >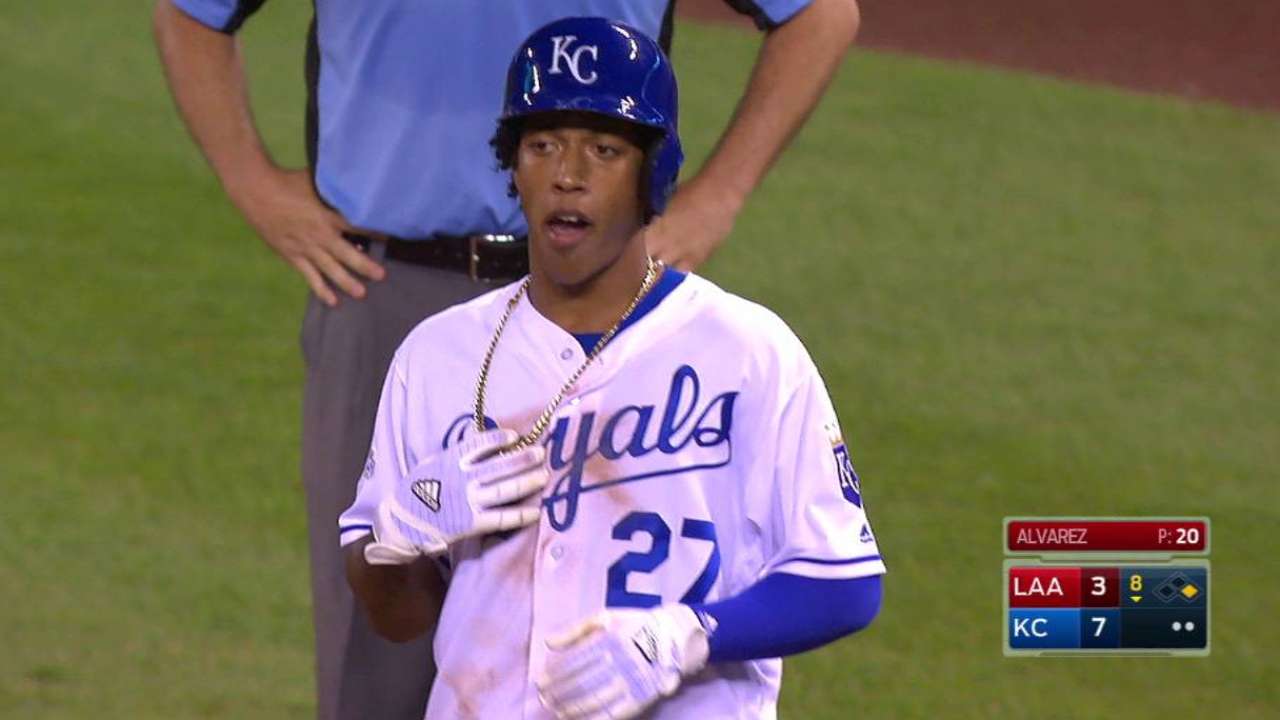 It's a hit and a run!: Before Salvador Perez's one-out double in the fifth, the Royals had not had a baserunner for 27 straight batters going back to Tuesday night. Alex Gordon followed with a single, pushing Perez to third. Then Paulo Orlando snapped an 18-inning scoreless streak for the Royals with a ground-rule double to left-center field. That tied the score at 1, though Gordon would have scored easily had Orlando's double not bounced over the wall. The Royals then stranded both runners with two groundouts.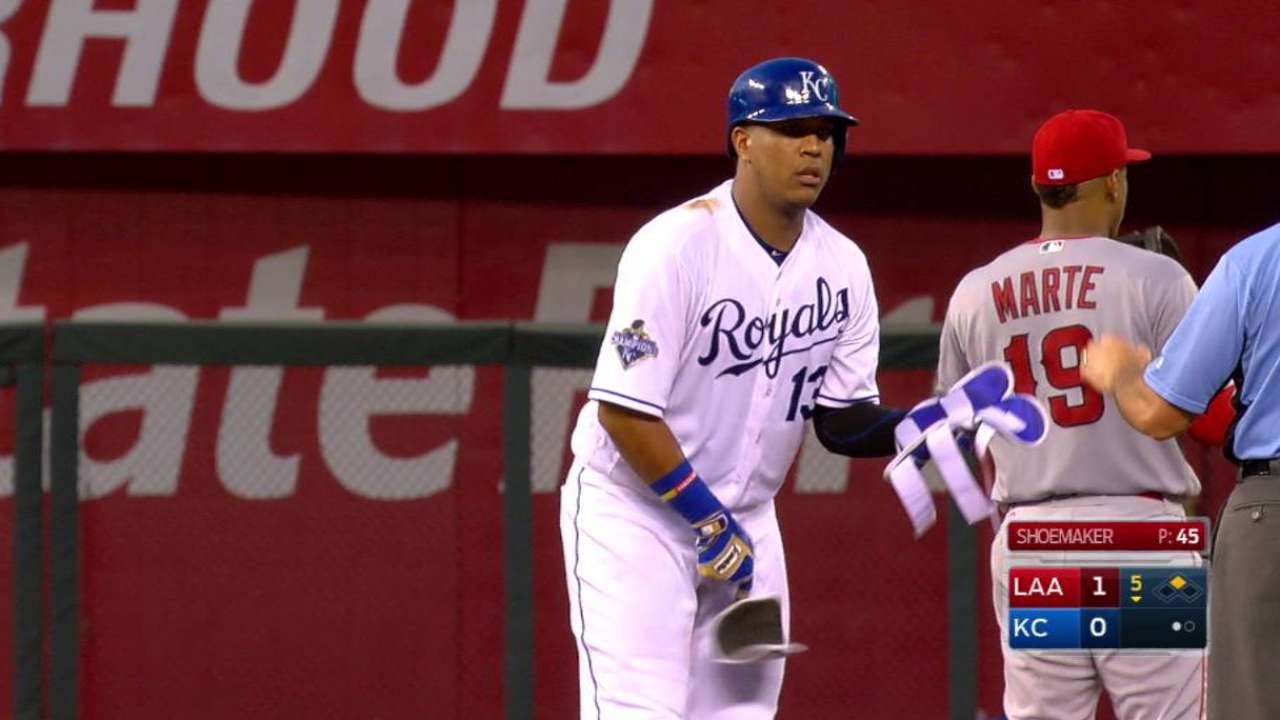 Coming up big: Marte and Gregorio Petit, two bench players who only see action sparingly, had nice games, combining to go 4-for-7 with three doubles. Marte, who played first base, was making only his second start since July 10, but Scioscia wanted to keep him on the team so that he can start against lefties. Petit, a veteran utility infielder, made his first professional appearance in left field and handled it well, which could allow him to stay on the roster even when Cliff Pennington makes his expected return Sunday.
QUOTABLE
"Every win from here on out is going to be huge for us. We definitely got to get back on the right track and hopefully tonight was a good start." -- Duffy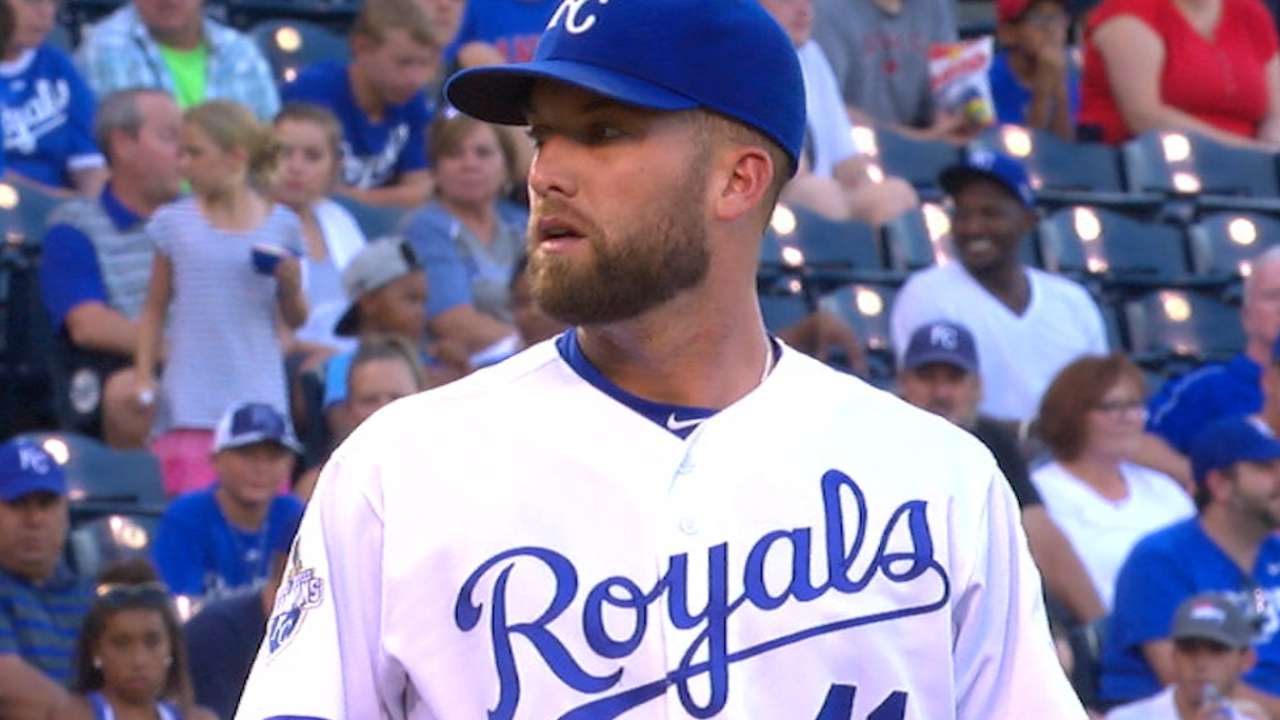 REPLAY REVIEW
The Angels played this game under protest over what Scioscia believed was a misinterpretation of the rules with regards to the critical play in the seventh. Protests are not allowed on judgment calls, but Scioscia believed umpire Phil Cuzzi misinterpreted the rules in saying Mondesi was allowed to be outside the baseline in order to touch first base. Yost was asked if the Angels had any chance at winning the protest and said, flatly: "No."
Scioscia believed he was "100 percent" right, saying: "The question wasn't if the throw impeded him, or if he impeded the throw. The question wasn't if he was running inside. It's, what I believe, is [Cuzzi's] misinterpretation of the rule, given the guidelines that he gave me." More >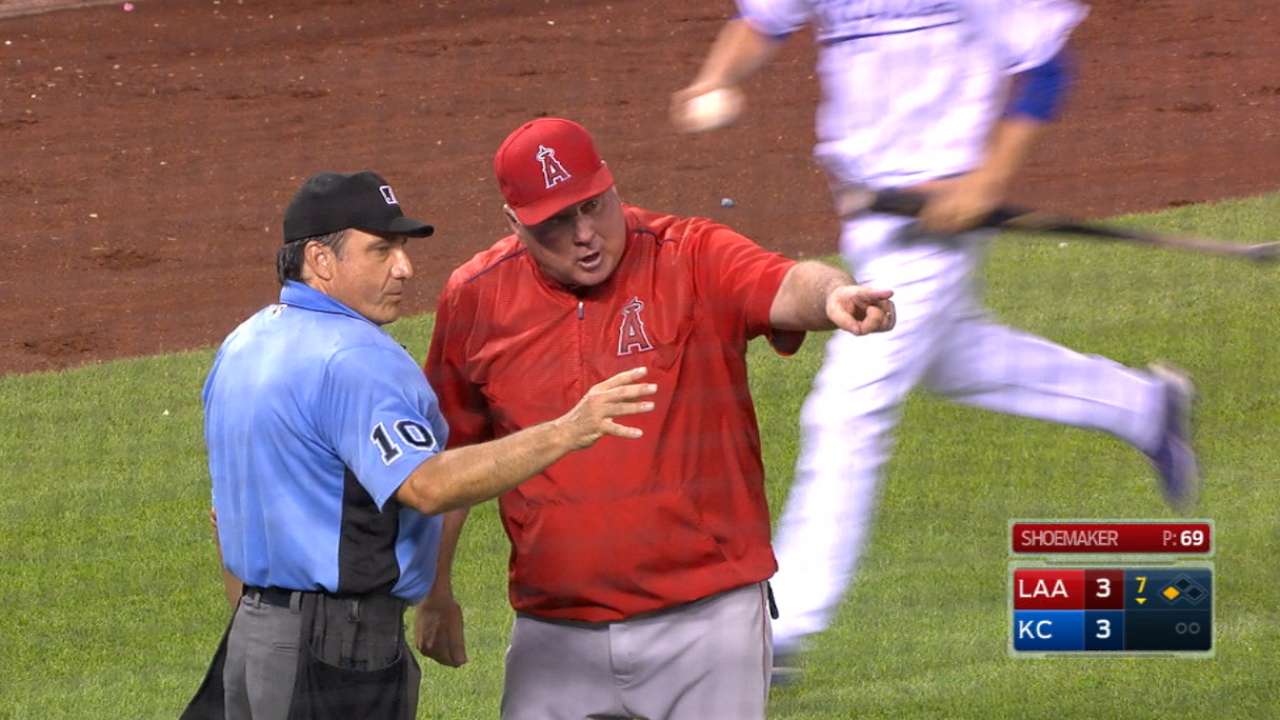 WHAT'S NEXT
Angels: Jered Weaver takes the ball when the Angels return to Southern California to begin a four-game series against the Red Sox, with Thursday's first pitch scheduled for 7:05 p.m. PT. Weaver will face off against lefty ace David Price and will take the mound with a 3.23 ERA when pitching at Angel Stadium this season.
Royals: The Royals will head south for a four-game set against the Rangers. Right-hander Yordano Ventura will take the mound for the series opener at 7:05 CT at Globe Life Park. His last outing, coincidentally against the Rangers, was cut short after he took a ground ball to the ribs in the fifth inning.
Watch every out-of-market regular-season game live on MLB.TV.
Jeffrey Flanagan has covered the Royals since 1991, and for MLB.com since 2015. Follow him on Twitter @FlannyMLB.

Alden Gonzalez has covered the Angels for MLB.com since 2012. Follow him on Twitter and Facebook, and listen to his podcast.

This story was not subject to the approval of Major League Baseball or its clubs.