Fulmer's strong effort lays base for Tigers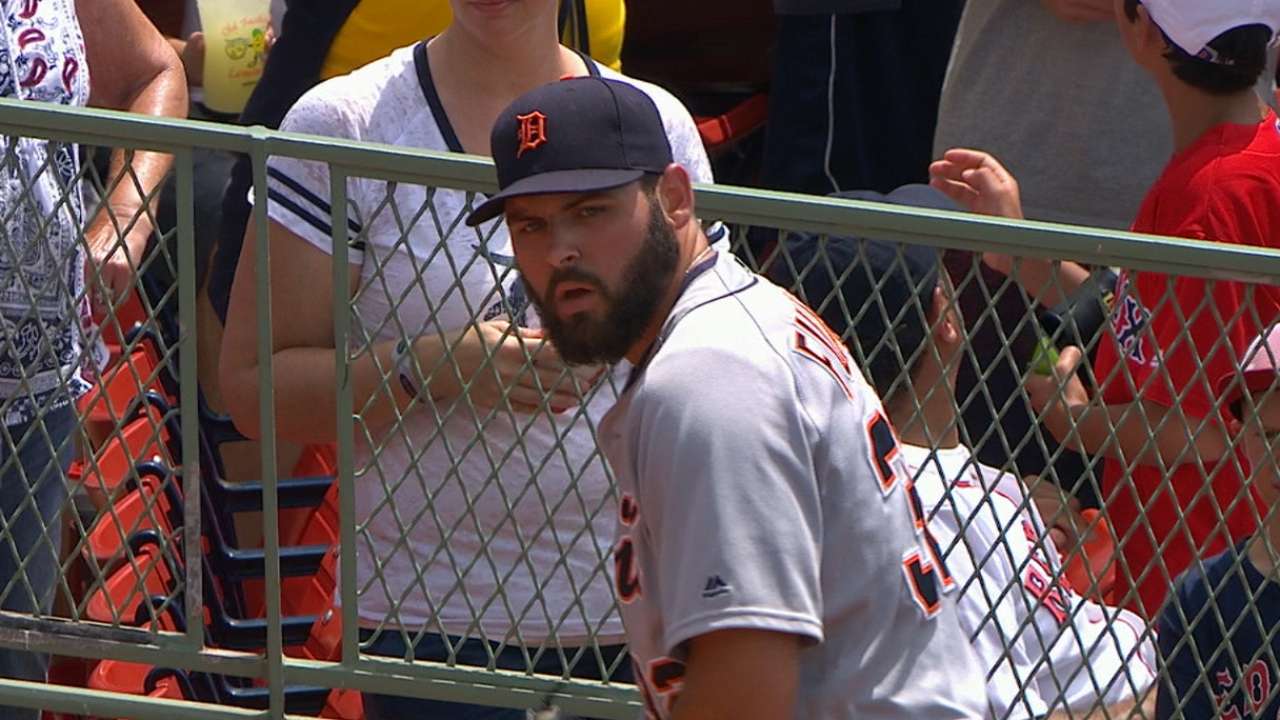 BOSTON -- The insatiable Red Sox offense made sure Michael Fulmer wouldn't breeze in and out of Fenway Park on Wednesday afternoon. But the rookie starter avoided the big inning en route to 7 2/3 strong frames while helping the Tigers beat the Red Sox, 4-3, for their ninth series sweep of the season.
Fulmer limited Boston to a Dustin Pedroia solo homer over the first six innings before allowing a Xander Bogaerts home run in the seventh and an RBI triple to Mookie Betts in the eighth that spelled the end of Fulmer's day and cost him a shot at the win. But Miguel Cabrera picked up his starter with a go-ahead shot in the ninth.
"They're a fastball hitting team. I left a couple mistakes over the middle of the plate and they made us pay for it. But they were both solo shots. That's the biggest thing for me is keeping guys off base for when that big hit does come. It'll limit the damage," Fulmer said.
Fulmer held the Red Sox to three runs on seven hits while walking none and striking out three.
"He was throwing a lot of strikes with all of his pitches and really keeping us off balance," Betts said of Fulmer. "He worked both sides of the plate and had a really good changeup. He was tough. You have to grind through it. With him, we knew it would be a pretty low-scoring game. We had some chances, but just didn't come through. He did a great job, though."
Fulmer's ninth quality start of the season is the most by a Detroit pitcher in his first 16 career games since Justin Verlander (11).
Tigers manager Brad Ausmus said Fulmer's strong effort came when the team needed it most. With trusty closer Francisco Rodriguez unavailable for personal issues, the Tigers' setup options were scarce. Detroit's taxed bullpen was limited to Bruce Rondon and Justin Wilson, who pitched a perfect ninth for his first career save.
"Fulmer was the big story for me from a pitching standpoint. We needed a deep outing, a good outing. And he was able to give that to us," Ausmus said.
The righty said pitching in the Fenway Park atmosphere was tough, and he may have been too amped up when he gave up the solo shot to Pedroia. But as the game went on, Fulmer focused and executed his pitches a little better. He said he's just happy to help the team in any way.
"I'm just enjoying the big leagues right now. Obviously, when the season started I didn't expect to be in this position, but thank God that I am. I'm just trying to help the team in any way I can. Whether I get a decision at the end of the day or not, if we win at the end of the day then my goal is achieved."
Deesha Thosar is a reporter for MLB.com and covered the Tigers on Wednesday. This story was not subject to the approval of Major League Baseball or its clubs.