Returning to form, Stras plays role of stopper
Nats ace blanks Tribe for seven, gives 'pen a break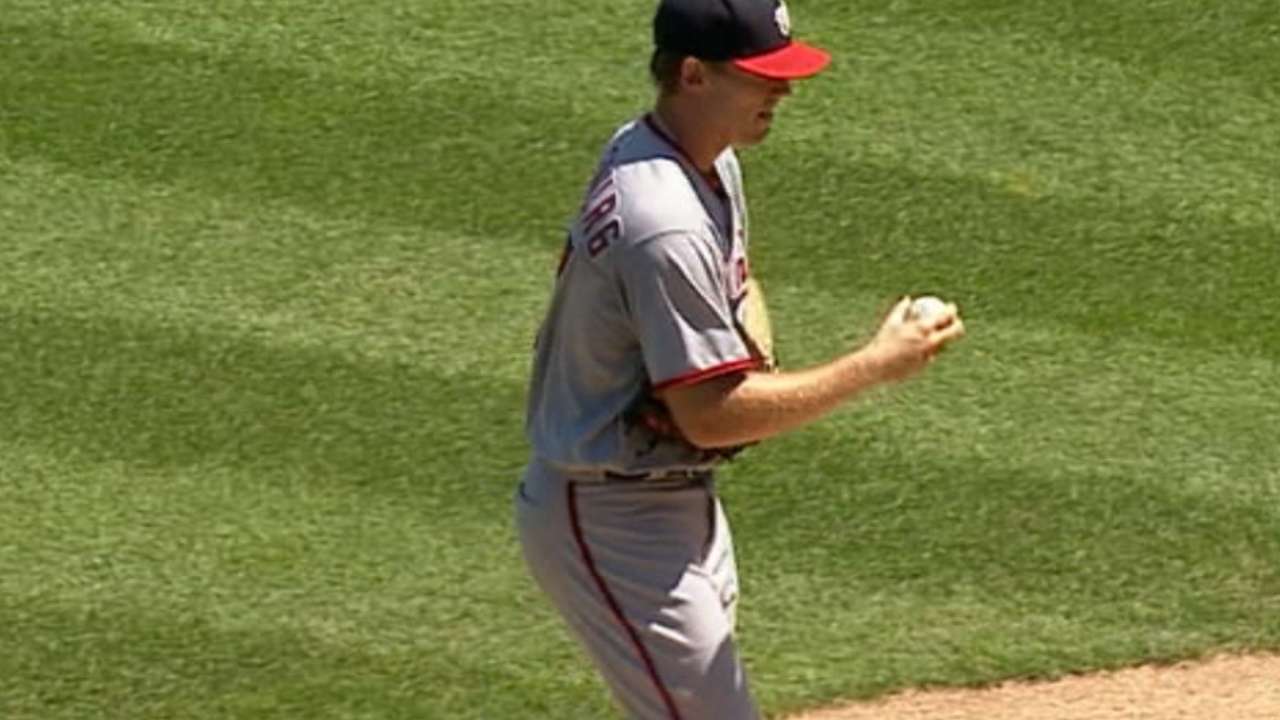 CLEVELAND -- Part of the unofficial job description of being an ace is to serve as a stopper when a team endures any sort of skid. So the Nationals, having dropped six of their past eight games, needed a strong outing from Stephen Strasburg.
"That's his job," manager Dusty Baker said before the game. "They didn't give him all that cash to just be so-so, and he has been earning his money. I don't see why it will be any different today."
It wasn't at all. Strasburg responded with another dominant performance that has become commonplace, by holding the Indians to three hits in seven shutout innings and seven strikeouts to lead Washington to a 4-1 victory.
It was the kind of performance that saved the Nationals' shorthanded bullpen, considering Shawn Kelley and Jonathan Papelbon were unavailable due to recent heavy workloads, and allowed Washington to notch a series split against the Indians. And it's the kind of performance that has become expected of him as he improved to 14-1 and lowered his ERA to 2.68.
"I try to do that every time," Strasburg said. "If we're winning, if we're losing, all I can do is what I can on the day that I pitch. It's a long season, so we're just going to keep grinding."
It was a bounce-back outing for Strasburg, who had opened the season with 13 consecutive victories, before he was handed his first loss in his last outing against the Dodgers. Now he's the first pitcher to start 14-1 since his teammate Max Scherzer did so for the Tigers in 2013. Then, Scherzer did not suffer his second loss until he reached 19-1.
"I'll take 13 more in a row," Baker said with a laugh.
Jamal Collier covers the Nationals for MLB.com. Follow him on Twitter at @jamalcollier. This story was not subject to the approval of Major League Baseball or its clubs.