MLB.com Columnist
Mike Petriello
Versatile slugger Pearce is a valuable trade chip
.564 slugging percentage against lefties since 2014 is among game's best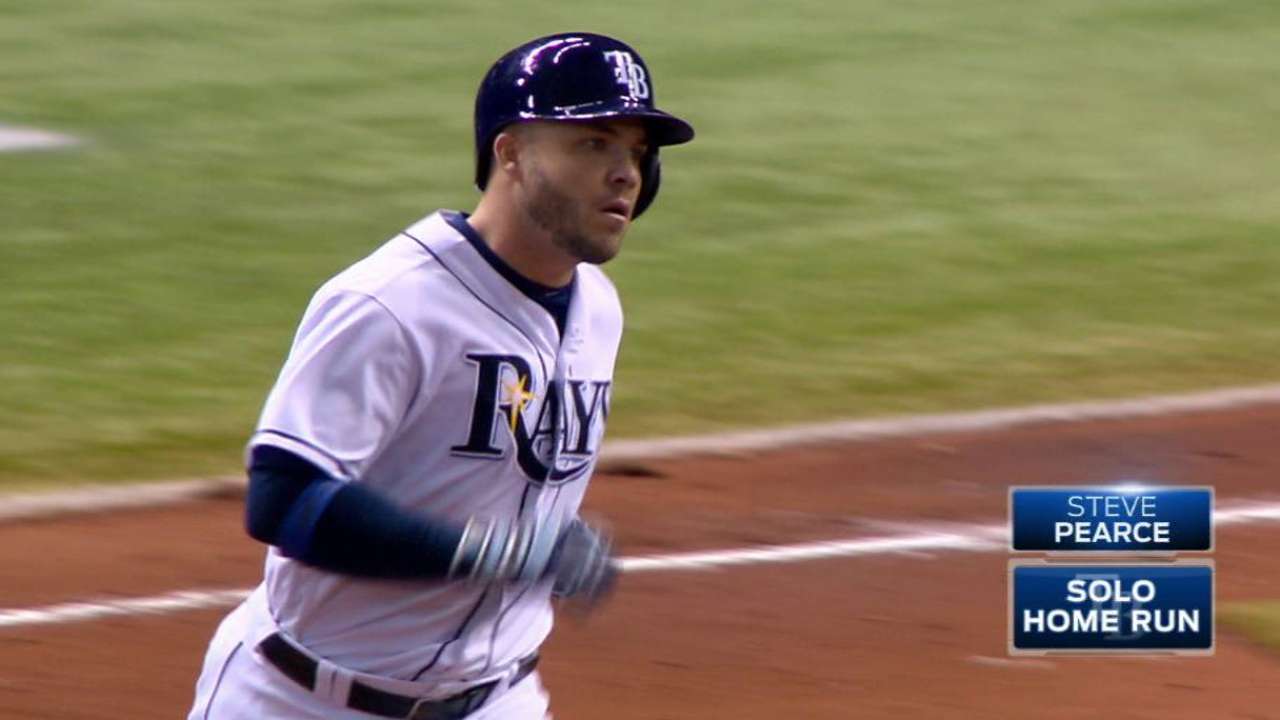 At 39-61 after a 3-1 win over the Dodgers on Wednesday, the Rays could do everything at the Aug. 1 non-waiver Trade Deadline, or nearly nothing. They could move Chris Archer, Matt Moore, Jake Odorizzi, Alex Colome or even Evan Longoria and explode the industry. Or with only three impending free agents, two of whom are unlikely trade targets, they could simply sit tight and hope for better luck with the same core in 2017.
The one thing we know for nearly certain: Steve Pearce is going somewhere, since his one-year contract is nearly up. And since he's a fit for just about every single contender in baseball, the Rays might actually get a nice return for the relatively small $4.75 million they gave Pearce in January.
After all, Pearce is hitting a very impressive .312/.384/.528, which is 46 percentage points above average and nearly identical to Nelson Cruz's .283/.376/.544, although in many fewer plate appearances. Or if you look at the past three seasons, he's hit .271/.347/.502 in 931 plate appearances, basically the same as Carlos Correa's .273/.356/.492 in 855 times up. Pearce is no shortstop, of course, but he's played first and second this year, and he made 71 starts in the outfield for Baltimore in 2014-15. In the age of long bullpens and short benches, versatility is key.
Plus, Pearce is a lefty-masher. His career on-base percentage against lefties is .357, and his slugging against southpaws is .505, which comes out to 33 percentage points above average. As we said, every contending team could find a spot on its bench for a hitter like that. These four, however, are the best possible fits.
Mets
With lefties at first (Lucas Duda), left (Michael Conforto) and right (Curtis Granderson) entering the season, the Mets seemed like a perfect spot for Pearce last offseason, and they still do now. That hasn't much changed now that James Loney has taken over first base, since he's another lefty who can't hit lefties, and at second base, Neil Walker hasn't hit a lick (.210/.297/.322) since the end of April.
Remember, for all the talk about injuries in the rotation, the Mets are far more in need of offense, as they're 28th in runs per game -- and they're tied for 20th in production against lefties. Pearce could take the spot of the increasingly extraneous Alejandro De Aza and join with righty Wilmer Flores and lefty Kelly Johnson to make for a pretty useful multipositional bench trio. If the Mets aren't making a big splash, they need to upgrade around the edges.
Indians
Speaking of contenders who could use help against lefties, we have Cleveland, as its .384 slugging against southpaws is better than only five other teams. With Mike Napoli and Carlos Santana capably handling first base and designated hitter, perhaps the fit here doesn't seem obvious. But then you realize that it sounds less and less likely that the team can rely on Michael Brantley at all this year, and that 37-year-old Juan Uribe (.209/.262/.336) has been one of the least effective hitters in baseball, and you see that moves need to be made.
So it would take some minor shuffling, but it'd be worth it overall. Pearce would take time in left field, pushing Jose Ramirez to third, and Uribe to the bench. The Indians have arguably baseball's best rotation, after all, and they've received an extremely unexpected performance from Tyler Naquin. They can't let all that go to waste without some help.
Red Sox
Why would baseball's highest-scoring team be in the market for another bat? Because they may have one of baseball's weakest benches, which is why we've seen them make minor deals for infielders Aaron Hill and Michael Martinez in recent weeks. That pair, along with rookie Bryce Brentz and backup catcher Ryan Hanigan, makes up Boston's current bench, and they've all combined to hit just .257/.317/.365 this year.
With Chris Young and Blake Swihart still likely weeks away, Pearce could immediately take some of the pressure off of Brock Holt in left field, pushing him back into the utility role he's better suited for. (Pearce could also offer valuable insurance for Hanley Ramirez at first, either himself or by pushing Holt to third and Travis Shaw across the diamond.) By the time both Young and Swihart are healthy, it'd be near enough to expanded September rosters that finding room for everyone wouldn't be a problem, and it could actually lead to a good October bench.
Or, maybe, the thought of seeing Pearce's pull tendencies put to use in Fenway is too tempting to resist:
Here's where Steve Pearce's career extra base hits have gone. You might say he likes to pull the ball. pic.twitter.com/DuDvTYwTsO

— Mike Petriello (@mike_petriello) July 27, 2016
Nationals
In the midst of repeated bullpen issues, you can bet Washington's focus will be on relievers. That said, there's an obvious fit for Pearce here, too. First baseman Ryan Zimmerman hasn't hit much (.218/.280/.394) and has dealt with his usual health concerns, making him risky to rely upon. While the Nationals have dealt with that by putting rookie Trea Turner at second and pushing baseball demi-god Daniel Murphy to first, a lefty/lefty set of first basemen in Murphy and Clint Robinson isn't ideal.
Besides, it's not as though 37-year-old Jayson Werth (hitting .234/.321/.403 since the start of last year) should be considered irreplaceable at this point, anyway. Pearce would offer valuable insurance at first and support in left, likely displacing rookie Wilmer Difo (who himself replaced the injured Stephen Drew) on the Nats' bench. Remember the role Michael Morse once filled? That, but with better defense.
Mike Petriello is an analyst for MLB.com and the host of the Statcast podcast. He has previously written for ESPN Insider and FanGraphs. This story was not subject to the approval of Major League Baseball or its clubs.