Friars tie NL HRs record with true team effort
Rosales, Wallace, Dickerson go deep in Padres' 25th straight game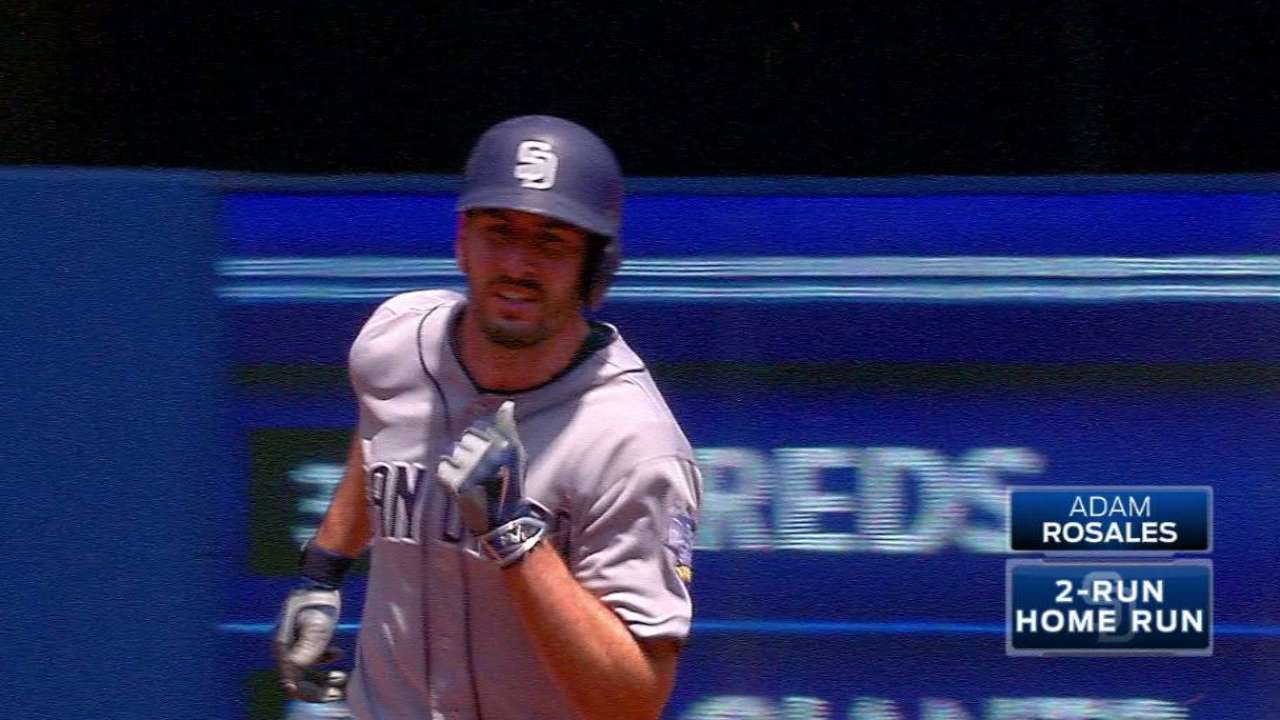 TORONTO -- It's been over a month since the Padres played a baseball game in which they didn't leave the yard.
And as they've approached baseball's all-time record home run streak, the Padres have found power sources throughout their entire roster. That was never more evident than Wednesday in their 8-4 win over the Blue Jays at Rogers Centre.
Utility infielder Adam Rosales launched a third-inning dinger off Toronto's R.A. Dickey, marking the 25th consecutive game in which the Padres have gone deep. Brett Wallace and Alex Dickerson also homered, and the Padres tied a National League record set by Atlanta in 1998.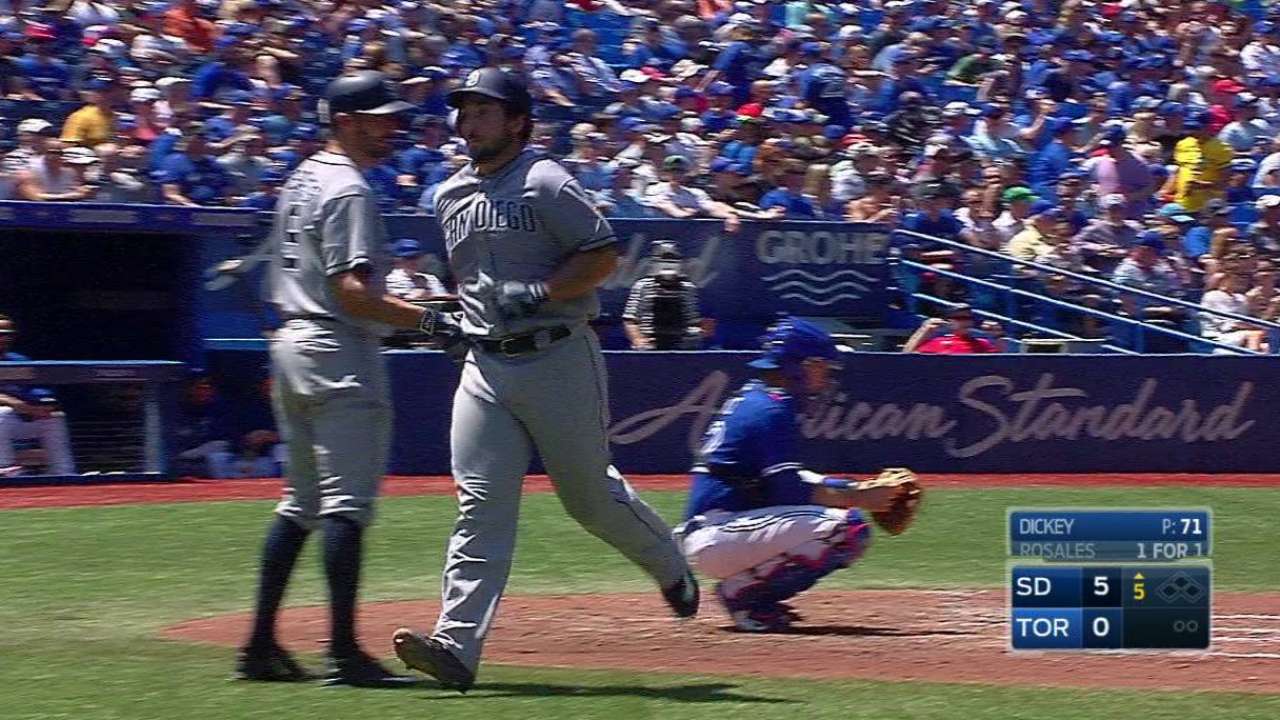 The Padres are only the fifth team in Major League history to do so, and they are two games shy of tying the all-time record set by Texas in 2002. During the run, 10 Friars have left the yard.
"It's nice to see everybody contribute," said Padres manager Andy Green. "It's nice to get Adam Rosales in the game and see him swing the bat like that. It's nice to see Brett Wallace get into the mix. He's been through a rough stretch, and now he's coming back. It's great to see."
Rosales made sure there was very little drama Wednesday afternoon, homering in his first at-bat and giving the Padres an early 2-0 lead. In each of the past three games, the Padres waited until the latter frames, before Dickerson extended the streak on Tuesday.
To one man, the Padres don't seem too concerned with their place in history.
Said Rosales: "I'd like to win 25 games in a row; 25 homers, it's cool. But we're all about winning."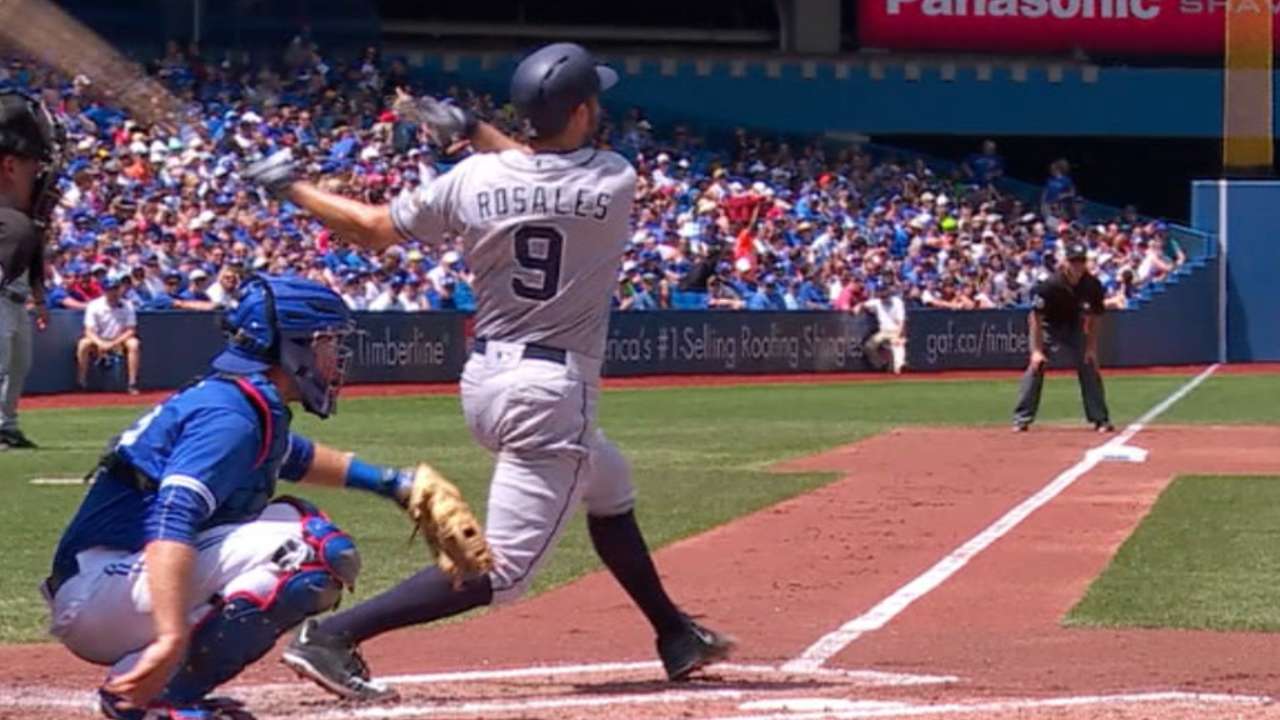 Green has been more impressed with the club's patience than its power.
"Our chase percentages are down outside the strike zone," he said. "We're forcing guys into the zone more often. We're walking more than we were early in the season, kind of making our offense turn over more.
"Those things, you can control. Hitting the ball out of the ballpark 25 straight days -- it's a borderline fluke. It's just one of those things that happens. We don't think too much about it."
Of course, the patience and the power aren't mutually exclusive. San Diego's recent selectivity at the plate has undoubtely led to its surge in home runs. Put simply, it's swinging at better pitches -- and it's hitting them out.
San Diego has shattered its own franchise record of 14 games, set in 1998. Along with the Padres, Rangers and Braves, the '94 Tigers and '41 Yankees also reached 25 straight.
"We have a lot of offensive talent," said Dickerson. "Every single guy is a threat to take you deep, for the most part. There's a lot of depth here -- including Triple-A and here -- that there's a lot on the horizon, offensively."
While the Padres chase home run history as a team, Dickerson is eyeing some of his own. He's homered in four straight games and is one shy of tying MLB's rookie record, set most recently by the Dodgers' Joc Pederson last season. He went to Rogers Centre's fifth deck in right field on Monday -- a place only previously visited by Shawn Green and Carlos Delgado. Then, on Tuesday, he launched a mammoth go-ahead three-run shot.
But from a pure hitting perspective, Dickerson's home run Wednesday was almost as impressive. He somehow managed to golf a very good low-and-away changeup from Franklin Morales into the Blue Jays' bullpen. For Dickerson, it was his first big league homer against a fellow lefty -- though he always hit southpaws hard in the Minors.
"I guess in today's game, with the amount of platooning there is, it's a positive note that I'm a guy that does not need to be taken out of the lineup, just because a lefty is in the game," Dickerson said. "I always feel just as confident against lefties as righties. ... I take pride in it. You don't want to ever be a guy that has to be rotated out of the lineup, just because the guy throws left-handed."
For a month now -- no matter who is in the lineup and who is on the mound -- the Padres have gone deep in every game they've played. Friday, they'll get a chance to set the NL record when the Reds come to town.
"It's contagious, hitting's contagious," Rosales said. "I think we're all just keeping it simple at the plate and getting our pitch to hit."
AJ Cassavell covers the Padres for MLB.com. Follow him on Twitter @ajcassavell. This story was not subject to the approval of Major League Baseball or its clubs.