Patience paying off in Kemp's second-half surge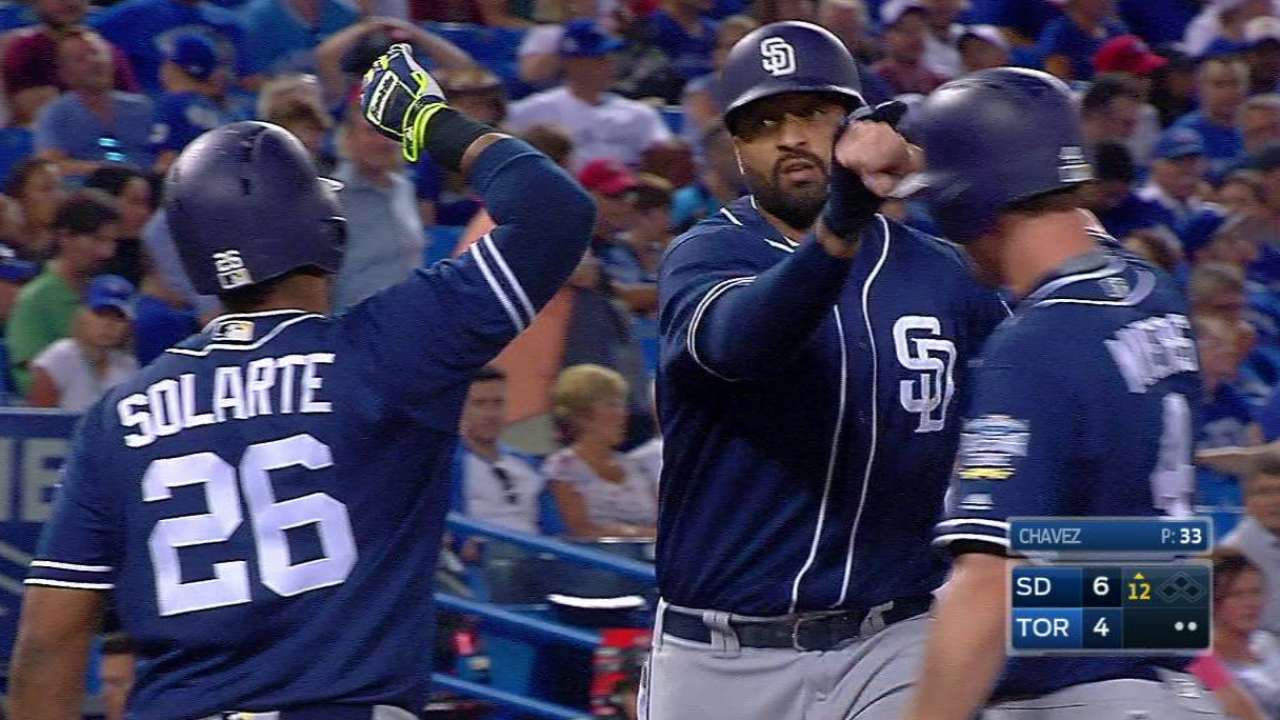 TORONTO -- It took Matt Kemp only 98 games this season to accomplish what he needed the entirety of 2015 to accomplish.
Kemp's go-ahead 12th-inning dinger Tuesday night marked his 23rd of the season, tying his total from last year and serving as further proof that he's bounced back from his woeful start.
Entering play Wednesday, Kemp was hitting .319/.333/.830 with a team-leading seven home runs in the second half.
"I'm just trying to have good at-bats, and whatever happens, happens," Kemp said. "I'm definitely not trying to go up there and hit home runs. I'm just trying to put good swings on the ball and hit the ball hard."
Kemp's turnaround actually began in June. Not coincidentally, that's also around the time Kemp started getting more selective at the plate. After just two unintentional walks over the first two months, he's been afforded 10 free passes since.
But his patience is showing in more than just his walk rate, which remains very low, even if it's increased a bit recently. He's been swinging at pitches out of the zone at a rate in the mid-30s after hovering in the mid-40s during the early part of the season.
"He took swings at good pitches yesterday," said Padres manager Andy Green. "I think that's always a big part of it with him. If he stays in the strike zone, if he stays with his swing, he stays with his strengths, he's as dominant as anybody in the game. That was a big part of his renaissance at the beginning of June."
In the process, Kemp has played a major role in the Padres' 25-game homer streak, which was extended on Wednesday on Adam Rosales' two-run homer off R.A. Dickey.
"I don't think anybody's really paying attention to it," Kemp said of the franchise-record stretch. "We're all just trying to put good swings on balls and trying to hit the ball hard."
Of course, Melvin Upton Jr., who was traded to Toronto on Tuesday, played a major role in extending that streak on several occasions. Kemp said it wasn't easy to see one of his closest friends dealt.
"For sure, it is," Kemp said. "We've been together for the last two years. He's a good friend of mine. It's always hard to see a friend go, but it's a business, and it is what it is."
AJ Cassavell covers the Padres for MLB.com. Follow him on Twitter @ajcassavell. This story was not subject to the approval of Major League Baseball or its clubs.