On short rest, Dickey struggles to curb homers
Knuckleballer switched with Estrada in rotation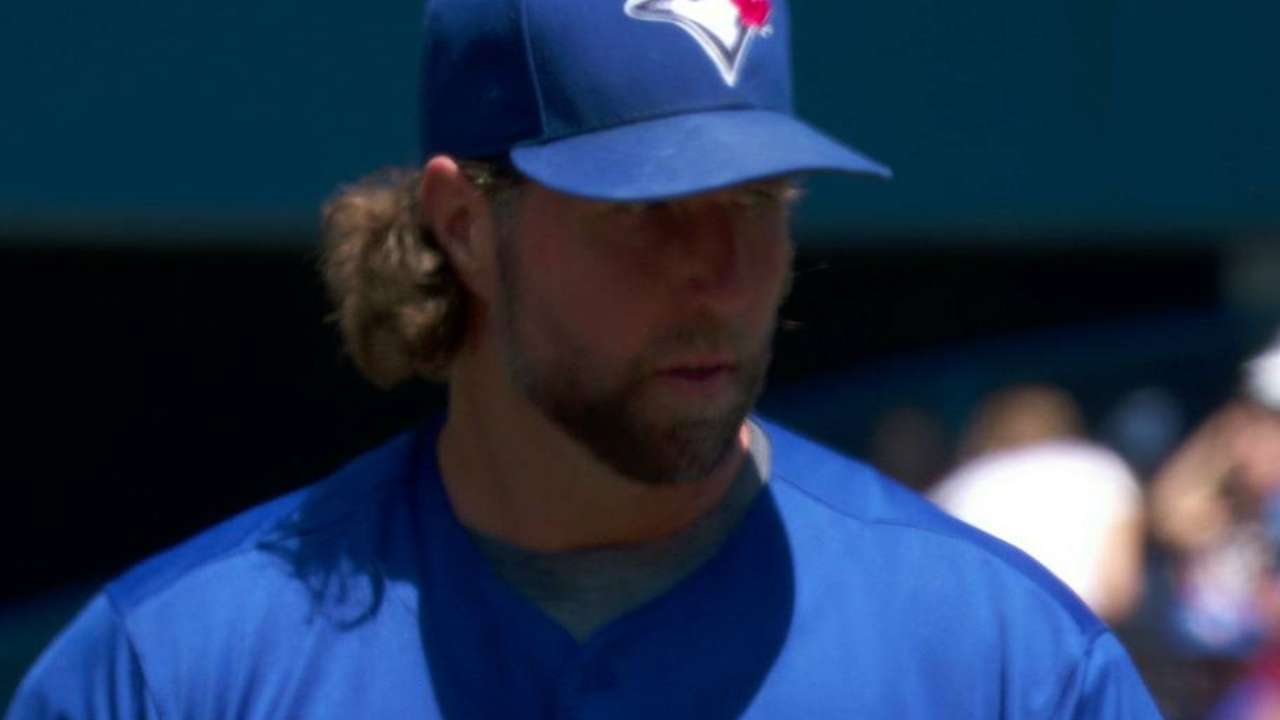 TORONTO -- R.A. Dickey has hit another bump in the road, and once again, it's because of his tendency to give up a lot of home runs.
Dickey has allowed more home runs than anyone else in baseball since the start of 2013, and he surrendered two more in Wednesday's 8-4 loss to the Padres. He has surrendered 26 home runs in 22 starts this season, which is tied for most in the Major Leagues.
There are times when Dickey can get away with the home runs, but those outings never seem to come when he also issues a lot of walks. He was guilty of both in the series finale vs. San Diego, as he walked four and allowed four hits over 5 2/3 innings.
"It's been a little bit of a rut," said Dickey, who has allowed 17 earned runs over his last 14 2/3 innings. "I was going pretty good before the All-Star break, and I've run into a little bit of adversity here the last three outings.
"But there are some good things to try to take out of it to try to apply to the next outing. You have to be kind of like a robot in these situations and just keep going forward. It's not the first time I've had a little bit of adversity."
Dickey originally was not expected to start until Friday vs. Baltimore, but the Blue Jays decided to have him pitch against San Diego instead. The decision to switch the order of the rotation was because of several factors, including the upcoming opponent and the status of catcher Russell Martin.
Martin missed a couple of games earlier this week because of a sore knee. Toronto wanted to give him a day off on Wednesday, and because Josh Thole is the personal catcher for Dickey, it made sense to switch the order instead of having Martin miss the next two games.
That meant Dickey had to take the mound on three days' rest, but during his previous outing, he lasted just three-plus innings and tossed 72 pitches. Dickey did not believe the short notice or lack of rest had anything to do with his poor outing, but he has now allowed 17 earned runs, six home runs, nine walks and 16 hits over his last three starts.
"We didn't get the results we wanted, but I have no doubts about that," Blue Jays manager John Gibbons said of the decision to go with Dickey on short rest. "I actually thought he had a pretty good knuckleball today. They got some big hits -- a couple of homers and then the double. So yeah, there's lots of reasons we did it. It didn't work out, but I don't regret that at all. I tip my hat, I appreciate doing that for us."
Bautista at first
The Blue Jays don't expect to use Jose Bautista at first base very often, but it could happen on occasion. Gibbons opted to switch Edwin Encarnacion from designated hitter to first base during the eighth inning of Tuesday night's 7-6 victory over the Padres.
The move was made because starting first baseman Justin Smoak was lifted for pinch-hitter Melvin Upton Jr. in the bottom of the seventh. Encarnacion's move meant Toronto had to play the rest of the game without a DH, and while that's less than ideal, the Blue Jays did not want to use Bautista at first so quickly after returning from a right foot injury.
"You might see Bautista [at first] occasionally, but that's not something I don't think we want to get into regularly," Gibbons said. "If we [switch] Upton for Smoak or something."
32nd Annual Lady Jays Food Drive
The Lady Jays will be hosting their 32nd annual food drive during the upcoming seres against Baltimore. Fans are encouraged to donate non-perishable food items, provide monetary donations or purchase mystery bags, which contain an autographed baseball cap and other Blue Jays memorabilia.
The Sprott Foundation also announced on Wednesday that it will be matching all monetary donations collected throughout the weekend up to a grand total of $50,000. The food will support a local food bank in Toronto and cash donations will be directed to Food Banks Canada. Last year, the Lady Jays Food Drive collected more than 2,300 pounds of food and raised over $34,000 in support of the cause.
"It's always important to get involved in the community, and being Canada's only baseball team, we are incredibly lucky to host an event that has an impact across the entire country," says Kristin Smoak, wife of first baseman Smoak. "The Food Drive is the Blue Jays' longest-standing community initiative, and we are honoured to once again be assisting Food Banks Canada in raising awareness about hunger and food bank use in Canada."
Gregor Chisholm has covered the Blue Jays for MLB.com since 2011. Follow him on Twitter @gregorMLB and Facebook, and listen to his podcast. This story was not subject to the approval of Major League Baseball or its clubs.