Marlins unveil 2017 All-Star Game logo
Next year's Midsummer Classic to be played at Marlins Park in Miami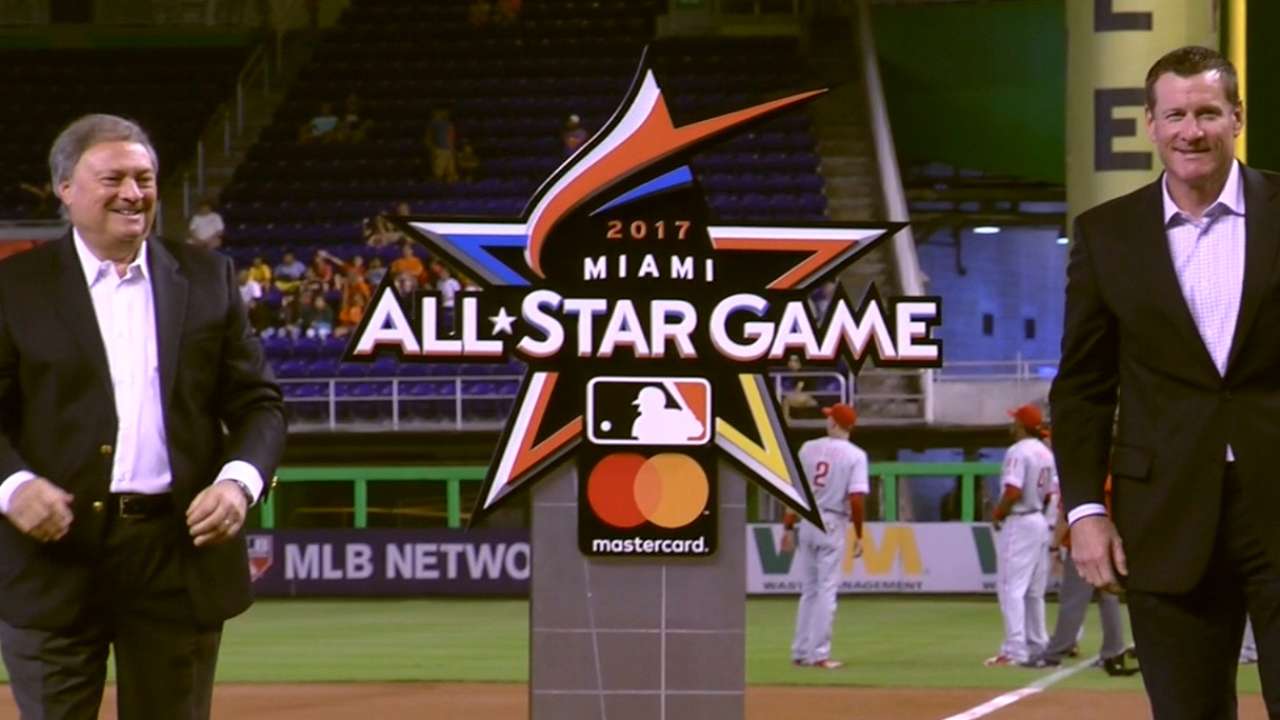 MIAMI -- It's sleek and stylish and befitting the venue that it now is prominently displayed.
Major League Baseball and the Miami Marlins on Wednesday morning unveiled the logo for the 2017 All-Star Game, and with its bright colors it matches perfectly with the rest of the décor at Marlins Park.
"I think the logo, it says Miami," team president David Samson said. "If you look at logos of years past, you try to incorporate what the community is, and Miami is all about flair, it's all about color, it's all about great entertainment."
The on-field presentation lasted about eight minutes prior to the Marlins' 11-1 win over the Phillies.
• All-Star Week ticket deposits and registration
Commissioner Rob Manfred joined Samson, Marlins owner Jeffrey Loria, elected Miami officials and Marlins special assistant Jeff Conine, the MVP of the 1995 All-Star Game, for the on-field ceremony.
"I think Miami is a town that has a reputation for enjoying a good celebration," Manfred said. "We're going to have a great celebration of the game of baseball."
The 88th All-Star Game will take place on July 11, 2017, at Marlins Park, which opened in 2012. The logo for the game features a star blended with the Marlins' marlin logo and the team's colors.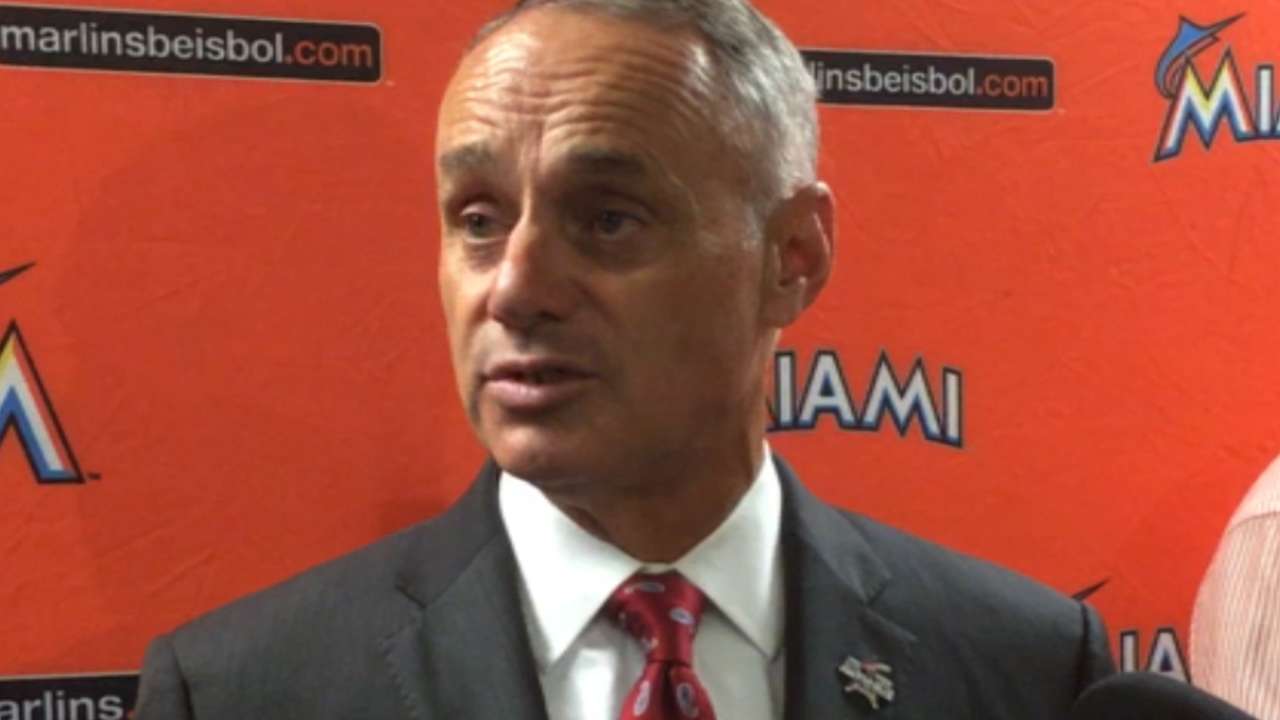 Miami has never hosted an All-Star Game, and the 2017 season will have additional meaning in South Florida because it will be the Marlins' 25th as a Major League franchise.
"Today begins the official countdown to July 11, 2017," Manfred said. "The All-Star Game is not just a game. It's a weeklong celebration of the great game of baseball, filled with fun community activities that everyone in Miami can be involved with.
"I know Miami is going to be a great All-Star host, and all of us in Major League Baseball can't wait to get there next summer."
The All-Star Game has become much more than a one-day spectacle between the National and American Leagues. The Futures Game and Home Run Derby are part of the festivities.
In San Diego, various events spanned over a full week.
"I think it's a great opportunity for a celebration and community engagement," Manfred said. "We saw it in San Diego. We began community activities, I think, on Tuesday, a full week before the game.
"We had a Play Ball field up and running for six days. Great chance for kids to interact. Fanfest goes on for five days, just wonderful events. Even if you're not going to the game or the Home Run Derby, it gives you a great chance to engage with the game."
Manfred added that Major League Baseball has not finalized the format for 2017.
"I think, in general, we have continued to expand the number and scope of events," the Commissioner said. "I think you can expect a continuation of that trend for the events we have in Miami."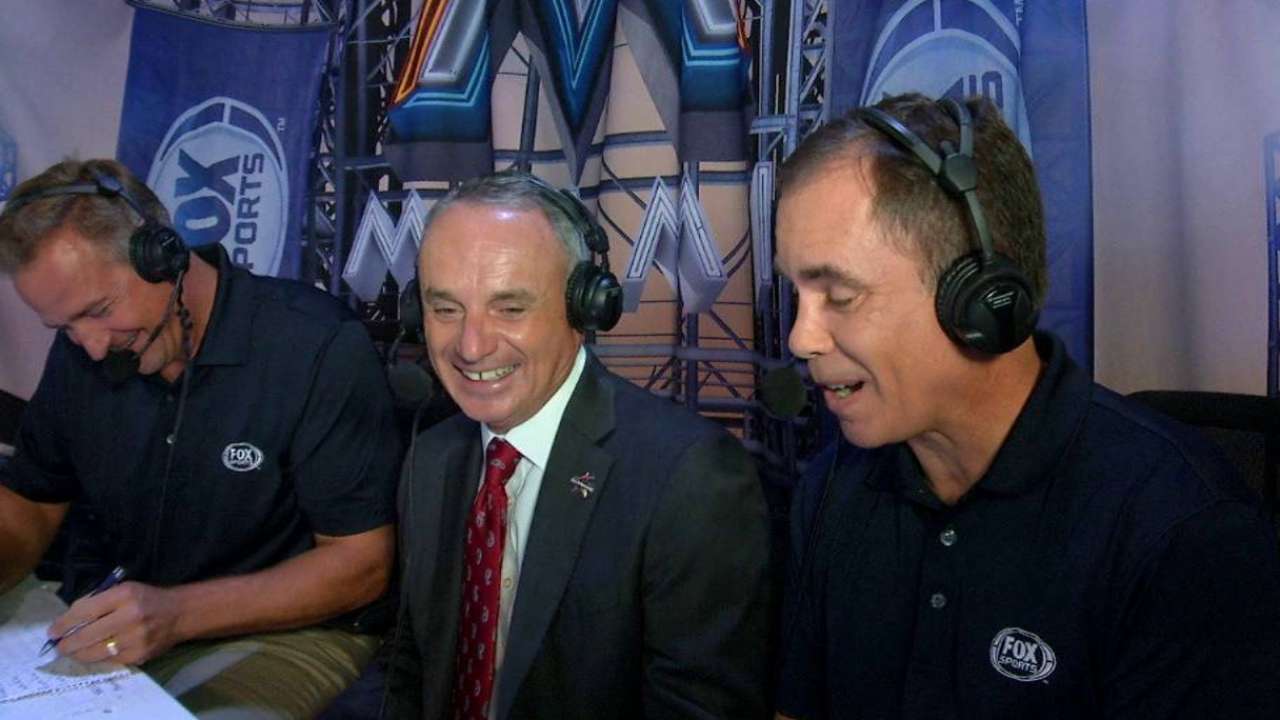 To the Marlins, the preparation for 2017 actually started a few weeks ago, when roughly 70 team representatives were in San Diego for the Midsummer Classic at Petco Park.
For now, the logo is displayed at Marlins Park next to the center-field scoreboard. It's also on merchandise that is already on sale at MLB.com.
In the upcoming weeks, and months, the logo will start to appear around South Florida, on street signs and street decals.
"You'll see, sort of an unveiling of the logo, in various places, over various months," Samson said. "There is a complete month in place. MLB officials are here actually right now, and we're going through things from ticketing, to logo placement, to banners, to transportation, to logistics, a laundry list. But you'll start seeing it. This is the official logo, our primary logo."
Joe Frisaro has covered the Marlins for MLB.com since 2002. He writes a blog, called The Fish Pond. Follow him on Twitter @JoeFrisaro and listen to his podcast. This story was not subject to the approval of Major League Baseball or its clubs.