Naquin heeds advice, delivers pinch-hit RBI
Indians outfielder talks with Brantley, Chisenhall before coming off bench
CLEVELAND -- Through eight frames, Indians outfielder Tyler Naquin merely watched Tuesday night's tilt with the Nationals. But with the game on the line in the home half of the ninth, Tribe manager Terry Francona called upon the rookie in a big spot.
Trailing by two runs, Naquin was called to pinch-hit following a leadoff walk. The young left-handed hitter promptly grabbed a bat and stepped in to face veteran Washington closer Jonathan Papelbon, in Cleveland's 7-6 walk-off win at Progressive Field.
Before entering the batter's box, Naquin spoke with outfielder Michael Brantley -- who has been on the disabled list since May -- about the impending matchup.
"He's always watching pitches," Naquin said. "He's always watching everything. It might look like he's staring off into space, but really he's not. He's got his eye on something at all times."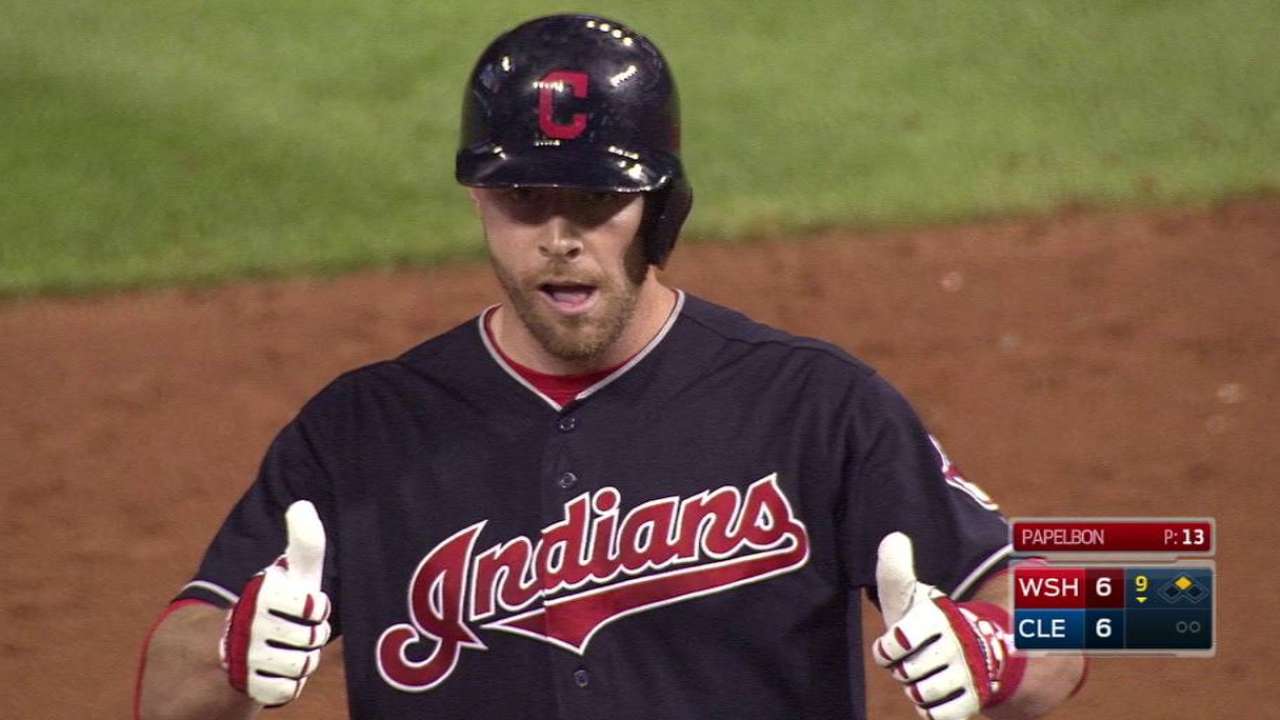 Naquin watched a fastball go by for a strike to start the at-bat and swung through a fastball on the next pitch to fall behind. Then Naquin smacked a 1-2 offering from Papelbon into center for an RBI double to cut the deficit to one.
The Tribe would go on to complete a three-run ninth-inning rally capped by Francisco Lindor's first career walk-off hit. But it was Naquin's pinch-hit double that set the stage for Lindor's heroics.
"Naquin is doing an unbelievable job day in and day out," Lindor said. "He's working as hard as he can. One of the reasons we won is because of him."
Naquin's latest performance is just a testament to how mature the rookie has been.
"Sometimes, with youth comes enthusiasm, which is good," Francona said, "but also can come somebody sitting down at the end of the bench eating seeds, kind of like a Spring Training game. And then you surprise them during the game. [He's] always ready."
It was another teammate who gave him the advice on how to handle coming off the bench. Outfielder Lonnie Chisenhall encouraged Naquin to stay ready by taking swings throughout the game in the cage and remaining locked in.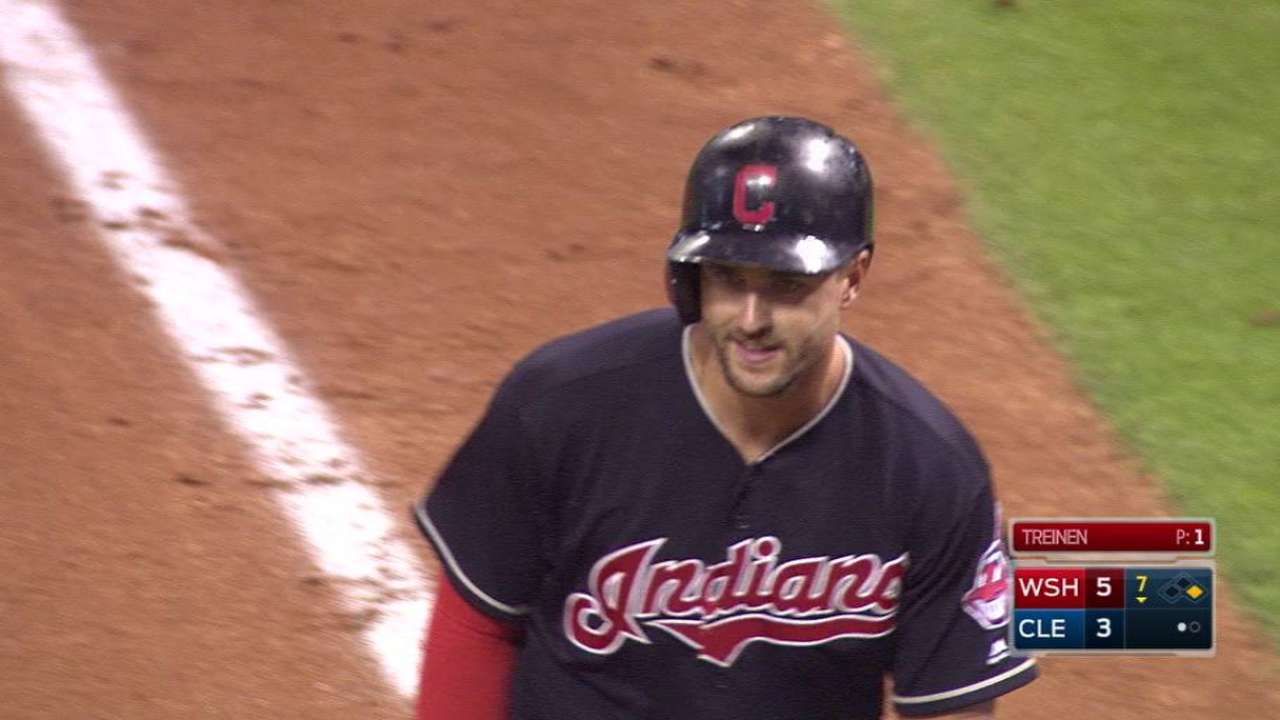 Chisenhall has had his fair share of mileage as a pinch-hitter, including Tuesday night. The veteran drove in a run with a one-out single in the seventh. He sports a career mark of .292 (14-for-48) with eight RBIs as a pinch-hitter.
"From the very get-go, Lonnie told me just kind of a time frame," Naquin said. "During that game, go down there and get your swings in. Always be ready though. He does an unbelievable job and tonight it showed for him."
Now with Naquin adopting the same philosophy, the Indians may have multiple names to call upon with the game on the line. A nice luxury for a team wanting to play in October.
"It's always been important to us here," Francona said. "We've always tried to have a 25-man roster that complements each other."
Shane Jackson is a reporter for MLB.com based in Cleveland. This story was not subject to the approval of Major League Baseball or its clubs.