Travis' 14-pitch at-bat sparks 12th-inning win
2nd baseman walks, later scores decisive run on wild pitch for walk-off victory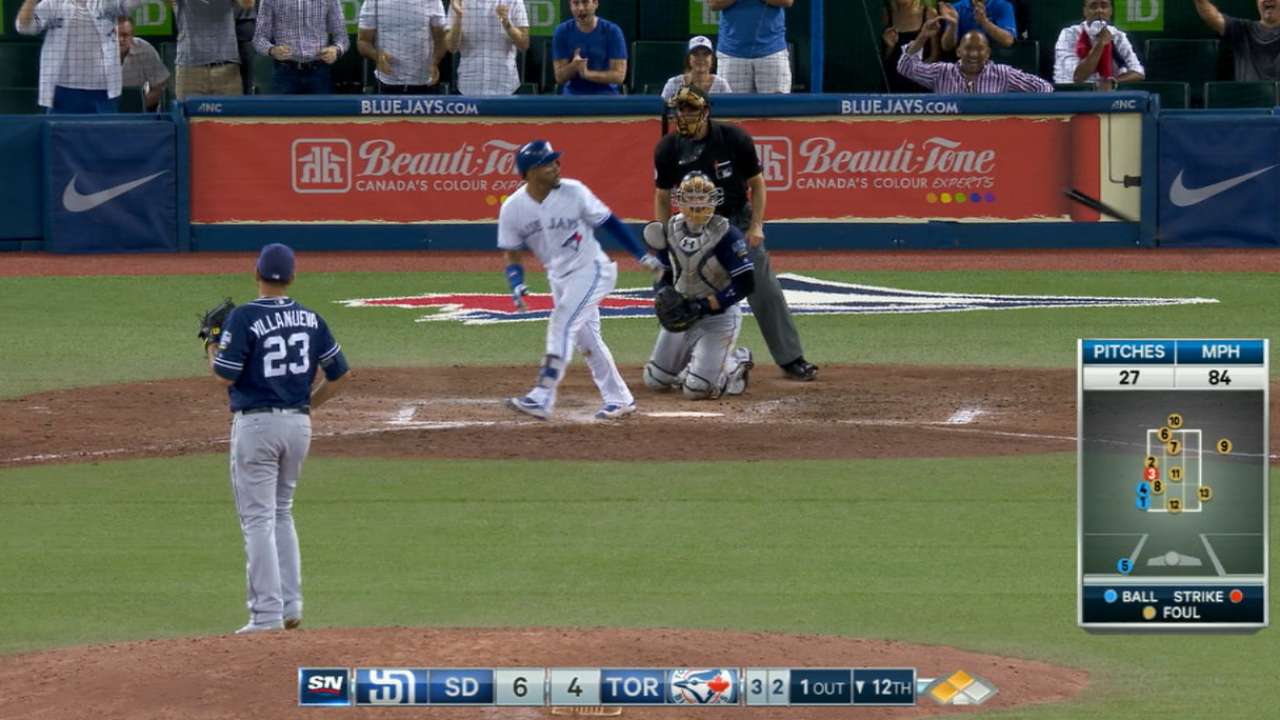 TORONTO -- The Blue Jays' come-from-behind victory on Tuesday evening was fueled by an unlikely hero in a game that looked out of reach when the bottom of the 12th inning rolled around.
With runners on second and third with one out in the inning and Toronto trailing by two runs, Devon Travis' at-bat was the game-defining moment, lifting the Blue Jays to an improbable 7-6 victory in the late hours of the evening.
Toronto's No. 9 hitter faced reliever Carlos Villanueva with the game on the line, and what happened next kept the remaining Toronto faithful on the edge of their seats. Travis refused to give in to Villanueva, forcing an at-bat that lasted 14 pitches and featured eight consecutive foul balls -- including a near three-run, walk-off home run.
"I can't even imagine I've had an at-bat longer than that," Travis said about fouling off eight straight pitches. "I'm just thinking, 'Fight, keep fighting, or walk me, one or the other.' I just did my best to battle, foul off some tough pitches. Hopefully he makes a mistake and it works out.
"By the time you get that deep into the at-bat, you've seen all his pitches. It's not a certain pitch you're looking for anymore. It's just get down there and battle."
The 25-year-old second baseman got a glimpse of Villanueva's four-seam fastball, curveball and slider before eventually winning the battle by drawing a walk on a changeup.
"It's unbelievable," Blue Jays starter Marcus Stroman said about Travis' at-bat. "Especially to come from one of the younger guys. To go in that atmosphere and to be able to grind out an at-bat like that, to hit a [near] home run and then take the next pitch shows you the composure Devon has. It's incredible, and he's been huge for us all year."
While only going down as a walk in the box score, Travis' at-bat created a domino effect on the rest of the inning. Padres' manager Andy Green lifted Villanueva in favor of reliever Paul Clemens, who issued a bases-loaded walk to Jose Bautista and an RBI fielder's choice to Josh Donaldson, tying the game, 6-6. With Edwin Encarnacion up to bat, Travis took advantage of a wild Clemens curveball in the dirt and scampered home, reaching a top speed of 19.1 mph according to Statcast™, before being mobbed by his teammates.
"I knew the guy had a real good curveball, a real sharp one," Travis said. "I was praying for one in the dirt, and I'm thankful it took a bad bounce [for them] and a good bounce for us."
With the Blue Jays firmly entrenched in a pennant race -- Toronto's victory moved them ahead of Boston for the first Wild Card spot in the American League by a half-game -- Travis feels the win will provide an extra ounce of momentum.
"That's a big one," Travis said. "Any time you play extra innings and it's a long night, it's always good to get the victory and send the guys home on a good note."
Alykhan Ravjiani is a reporter for MLB.com based in Toronto. This story was not subject to the approval of Major League Baseball or its clubs.