Locke making most of bullpen stint
While lefty would rather be starting, he's learning from his time as a reliever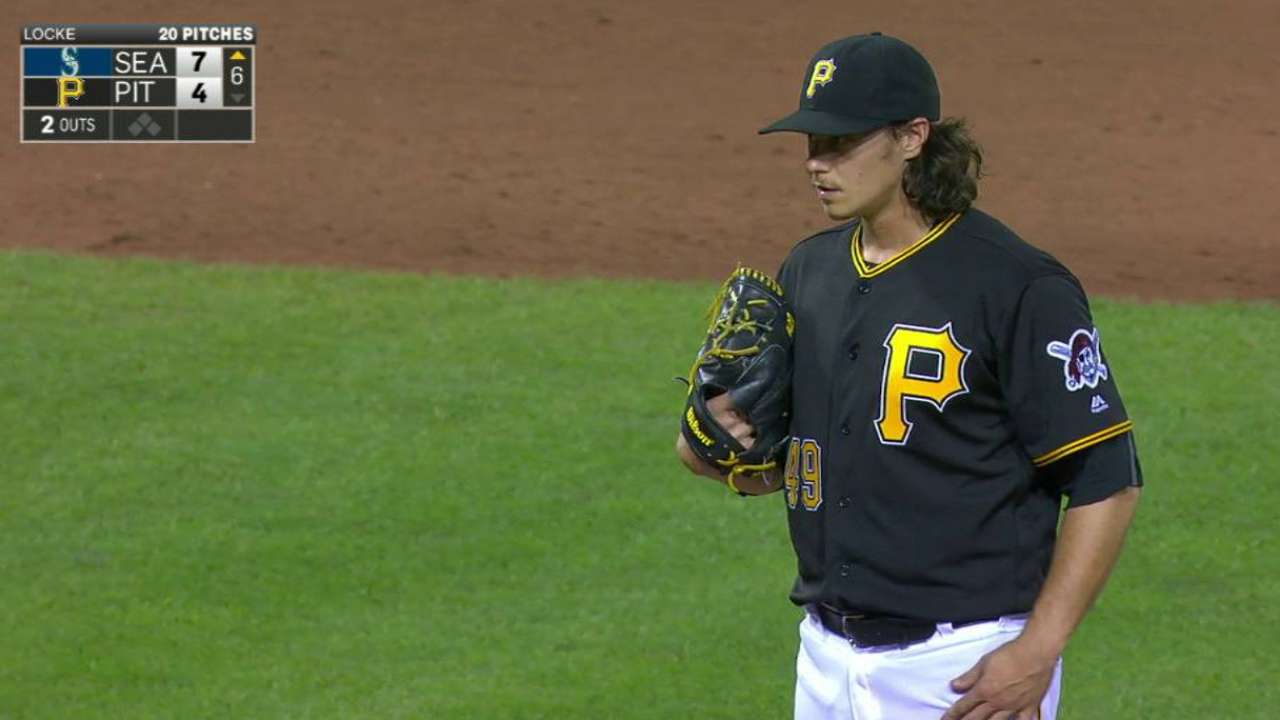 PITTSBURGH -- Jeff Locke didn't exactly envision himself pitching from the bullpen for the Pirates at this point in the season.
"I didn't think there'd ever be a day this season where [Francisco Liriano], [Jonathon] Niese and I would all throw in the same game, unless we played 100 innings," Locke said.
Yet that's where a 5.43 ERA, some struggles by the rotation and a wonky schedule have placed him -- at least for now. Locke has had to mentally adjust in a hurry, as manager Clint Hurdle said he will be available to pitch from the bullpen through the weekend.
In Tuesday's 7-4 loss to the Mariners, Locke pitched two scoreless innings, and he pitched a scoreless 2 1/3 innings of relief against the Cubs on July 10. In between those outings came a five-run, five-walk start in a 9-5 loss to the Brewers after he hadn't pitched in a game in 10 days. His bullpen stint largely depends on off-days throwing off starters' schedules and Tyler Glasnow and Chad Kuhl both recently experiencing discomfort in their throwing arms.
However long Locke's stint in the bullpen may be, pitching there has opened his eyes to the mental strain relievers experience. When a pitcher in the rotation isn't starting a game, he's in the dugout, watching the action, hanging out with teammates. But the bullpen is a box of uncertainty.
"Down there, everybody's calm, cool and collected, and then the phone rings," Locke said. "And everybody's eyes get big."
Despite the bullpen contributing 5 2/3 scoreless innings, Tuesday's loss was not the picture of pitching success. Liriano surrendered seven earned runs, four walks and two homers, and the Pirates are still searching for some consistency in the rotation.
"We're having those conversations to get some stability," Hurdle said. "With the days off, it's still going to be problematic to keep guys on regular work. At the end of the day, I think we did a good job of getting Niese and Locke involved. Locke hadn't touched the ball in five days."
Though it's not his goal to stay in the bullpen -- in fact, it's the opposite -- as Locke says, it's still baseball. He wants the opportunity to pitch, and he'll take it as it comes.
"And whenever that is, it is," Locke said.
Sarah K. Spencer is a reporter for MLB.com based in Pittsburgh. This story was not subject to the approval of Major League Baseball or its clubs.