Salty alters approach against knuckler
Tigers catcher ditches switch-hitting vs. Wright with Green Monster looming in LF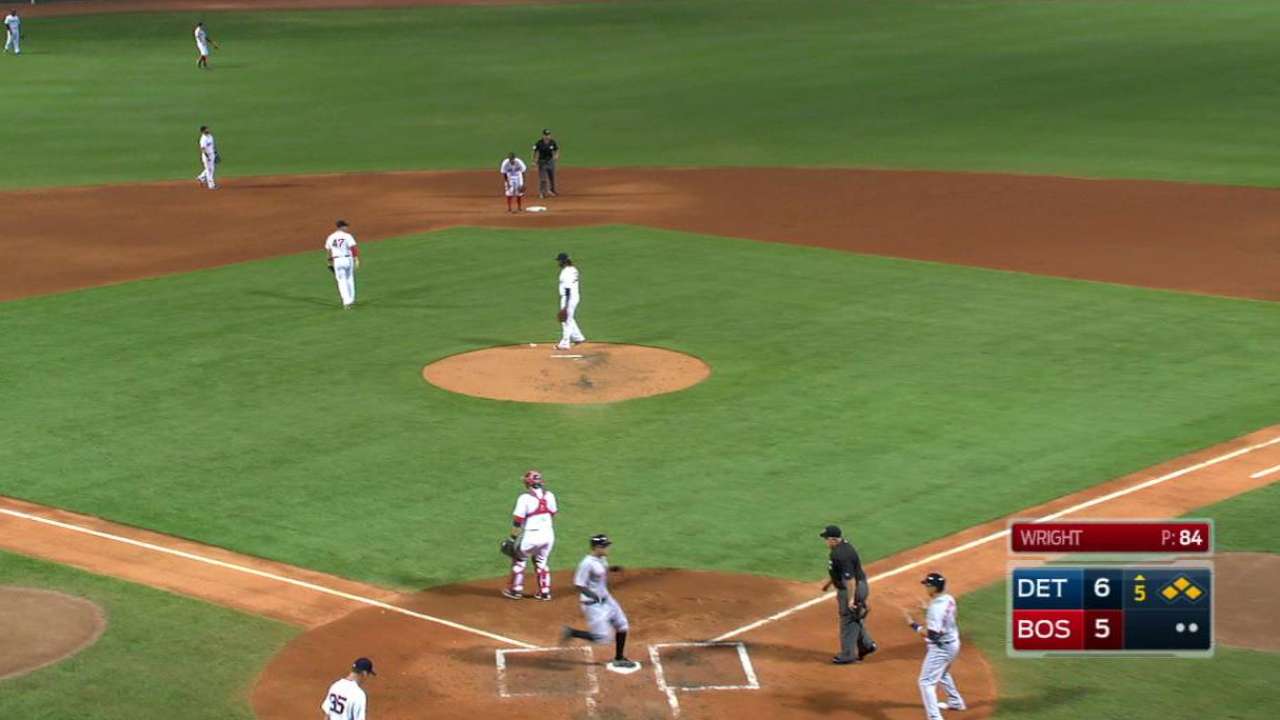 BOSTON -- Tigers catcher Jarrod Saltalamacchia came into the three-game series knowing the ins and outs of Fenway Park. During Tuesday night's 9-8 win over the Red Sox, he used that comfort in the buzzing atmosphere to lead his team to its second straight victory.
Saltalamacchia went 3-for-4 with a walk and two RBIs in his first game at Fenway Park since winning a championship with the Red Sox in 2013.
"It feels good to be here," he said. "I'm not going to say getting three hits here is a 'right back at you' type of thing. I loved my time here. I enjoyed every minute of it. It's more the win than anything."
A switch-hitter, Saltalamacchia batted right-handed against knuckleballer Steven Wright, a righty. R.A. Dickey was the only other knuckleballer Saltalamacchia has faced but said he remembers batting lefty against that right-hander. The catcher went 0-for-3 in his only game against Dickey.
Tigers manager Brad Ausmus talked to Saltalamacchia before the game about his approach.
"I just asked him if he'd ever hit right-handed against a knuckleballer. He said he never had but that he was thinking about doing it, considering the ballpark," Ausmus said.
It worked out well for Saltalamacchia, going 2-for-3 against Wright before he was chased after 4 2/3 innings. Saltalamacchia said the Fenway Park's Green Monster factored into his decision to bat right-handed.
"Feeling that if I could pop it up or something, got a pretty good chance of hitting off that wall. Historically I've seen a lot of switch-hitters bat right-handed against knuckleballers. Felt pretty comfortable, so I stuck with it," Saltalamacchia said.
The catcher's most notable at-bat of the night came in the fifth as the Tigers entered the inning trailing, 5-4. After Victor Martinez tied the game at 5 on an RBI single and Justin Upton grounded out with the bases loaded to score the go-ahead run, it was Saltalamacchia's turn to add to the mix.
He laced a single toward left-center to score two more runs for the Tigers, opening up an 8-5 lead.
Of Saltalamacchia's 30 RBIs this season, six have given Detroit the lead. He recorded his fourth multi-hit game of the season and 25th career multi-RBI game at Fenway.
"It's nice to know that we've won two out of three, but I'd like to get a little greedy and win three out of three. So come back here tomorrow and see if we can do that," Ausmus said.
Deesha Thosar is a reporter for MLB.com based in Boston. This story was not subject to the approval of Major League Baseball or its clubs.