Dusty on change at closer: 'Too early to say'
Papelbon confident despite not recording an out in second straight rough outing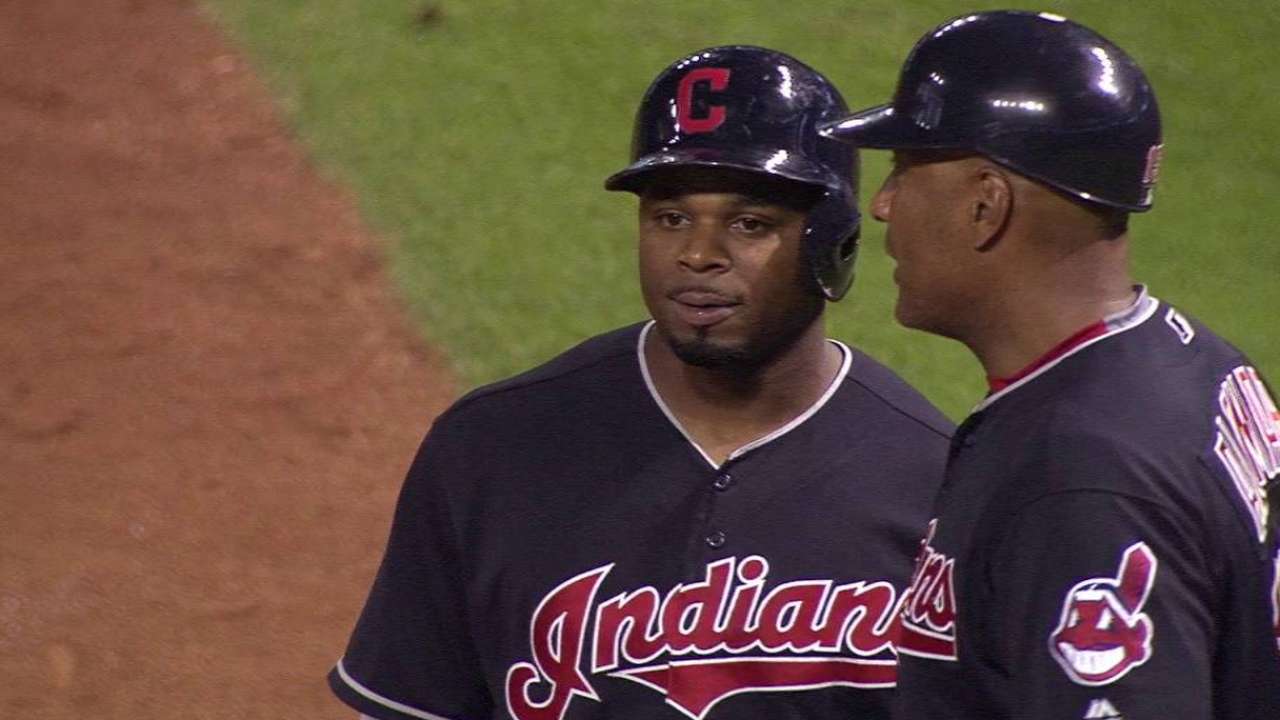 CLEVELAND -- Despite the fact that the Nationals began the day tied for the best bullpen ERA in the Majors, Tuesday night's game at Progressive Field underscored why they are aggressively searching for relief help before Monday's non-waiver Trade Deadline.
Nats closer Jonathan Papelbon could not protect a two-run lead in the ninth inning and was removed from the game without recording an out as the Indians pulled off a 7-6 comeback victory.
This ninth-inning meltdown came in Papelbon's fourth outing in the past five days, and it followed another rough appearance Sunday, when the veteran entered a tie game in the ninth inning and allowed four runs in two-thirds of an inning. His ERA has skyrocketed from 2.56 to 4.18 after those two outings.
"I wouldn't call it a stretch by any means," Papelbon said. "I'd call it a couple bad outings. I've had them before in my career. You keep going, you keep chugging. In this game, only the strong survive. You've got to keep going. That's how it works."
But just how long can the Nationals stick with Papelbon in the ninth inning?
His fastball velocity is averaging 91.75 mph on the year, the lowest of his career, and is causing opposing hitters to swing and miss only 9.55 percent of the time. His low strikeout total (30 in 32 1/3 innings) to go along with 12 walks is concerning. His 1.30 WHIP is the second-highest in his career.
When asked after the game about Papelbon's status as closer, Nationals manager Dusty Baker said it was too soon to make that determination.
"I mean, that's his job," Baker said. "That's what he's getting paid for. I don't know. We just have to go back to the drawing board. It's too early to say after the game."
The Nationals were one of the teams interested in acquiring left-hander Aroldis Chapman from the Yankees before he was traded to the Cubs on Monday. Baker, Chapman's former manager in Cincinnati, called it disappointing that Washington could not acquire him and said he "would have loved to have him."
The Nationals' targets must shift now that Chapman is off the board, although they almost certainly will not part with one of their most valued prospects in order to find relief help.
For now they must rely on Papelbon, who despite his recent struggles had no shortage of confidence in his ability to bounce back.
"My confidence in this game has never fluctuated, and it never will," Papelbon said. "I think that's something that's never really happened to me."
Jamal Collier covers the Nationals for MLB.com. Follow him on Twitter at @jamalcollier. This story was not subject to the approval of Major League Baseball or its clubs.