Dependable Colon delivers needed gem for Mets
Club plans to bring veteran righty back on three days' rest to pitch Saturday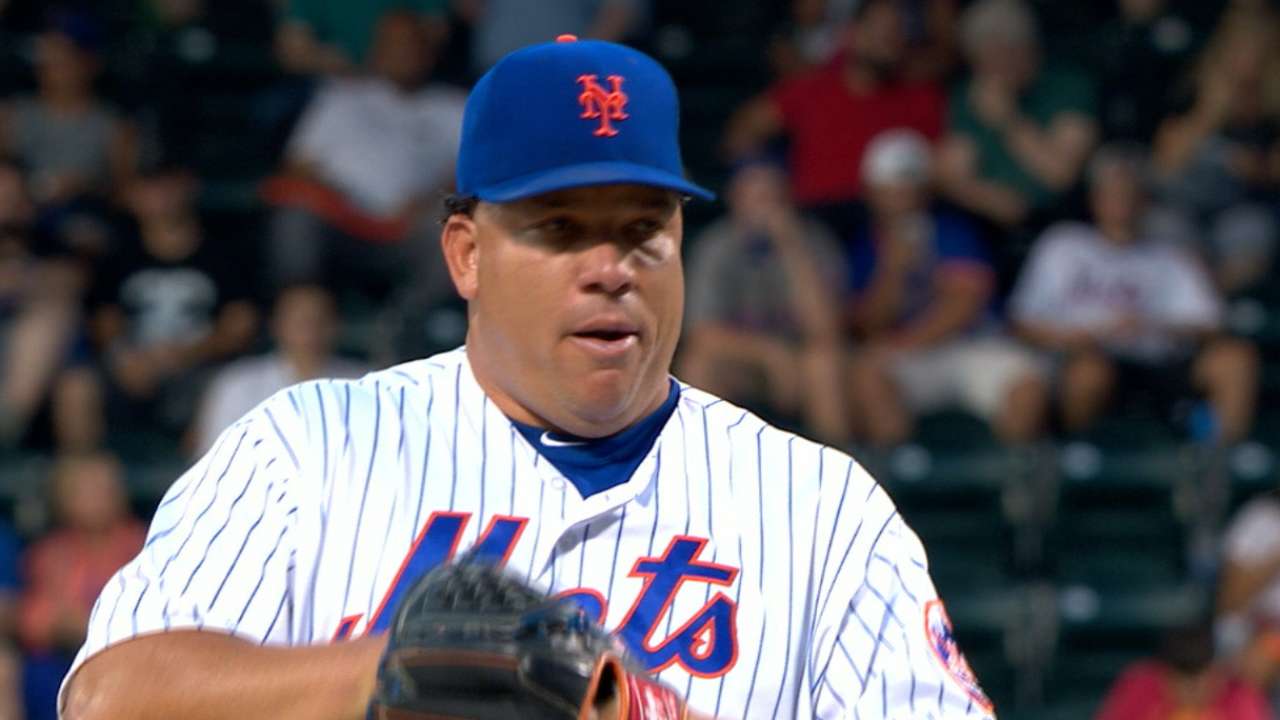 NEW YORK -- So disenchanting was Bartolo Colon's July 20 loss to the Cubs, the 43-year-old All-Star's second poor outing in three tries, that Mets manager Terry Collins entertained a question regarding the perils of sticking with Colon in the rotation.
"We can't go there right now," Collins said after that game. "We don't have the options. Bartolo's going to pitch. He's going to start every five days. We have no other options right now. If he was 53, he's going to be out there."
And so Colon lumbered back to the Citi Field mound five games later, giving the Mets seven strong innings Tuesday in a 3-1 win in Game 2 of a doubleheader. So efficient was Colon that manager Terry Collins removed him after seven innings and 87 pitches, with plans to bring him back Saturday on short rest. The Mets would have otherwise needed a spot starter to fill in that slot, with Monday's rainout forcing them to play six games in five days.
"He is a unique human being, no question about it," Collins said. "He's different. Where would you find -- maybe a knuckleballer, but I don't think any other place you would find a guy that's 43 years old who would come back on three days' [rest], especially at this point in his career. He's a special guy, and we are very, very lucky to have him in our rotation right now."
When the Mets re-signed Colon to a one-year deal this offseason, they knew consistent dominance was never going to be part of the package. Living and dying with well-located low-90s fastballs means sometimes sustaining some bad losses. But when Colon managed to avoid those blips for almost the entirety of the first half, making his fourth All-Star team in the process, it seemed as if this year, such defeats might never come.
Two rough outings against the Nationals and Cubs may have changed Colon's stat line, but not his value to the Mets. With Matt Harvey done for the year, Noah Syndergaard and Steven Matz pitching through bone spurs, Zack Wheeler muddling back from Tommy John surgery and quite possibly no non-waiver Trade Deadline help on the way, the Mets were never going to turn their backs on Colon.
Tuesday, he reminded them why that's not a bad thing. Throwing three-quarters of his pitches for strikes, Colon induced loads of early contact. He also generated plenty of swings and misses, matching his season high with eight strikeouts. The result was one of Colon's best outings of the year, a three-hit affair blemished only by Jedd Gyorko's leadoff homer in the second.
"I was just throwing it straight," Colon said through an interpreter. "It was going exactly where I wanted it to."
With the Cardinals, Pirates, Marlins and Dodgers all competing in a gummed-up National League Wild Card race, it was a win the Mets very much needed. But perhaps even more than that, they need Colon to continue providing the innings and flexibility for which he is known.
Bringing him back on three days' rest against the Rockies is merely the latest example of that.
"I feel like I'm used to this," Colon said. "I won't do anything different."
Anthony DiComo has covered the Mets for MLB.com since 2008. Follow him on Twitter @AnthonyDiComo and Facebook, and listen to his podcast. This story was not subject to the approval of Major League Baseball or its clubs.