After long trip, Tribe immediately throws house party
One of Majors' best home teams opens first post-break homestand with walk-off win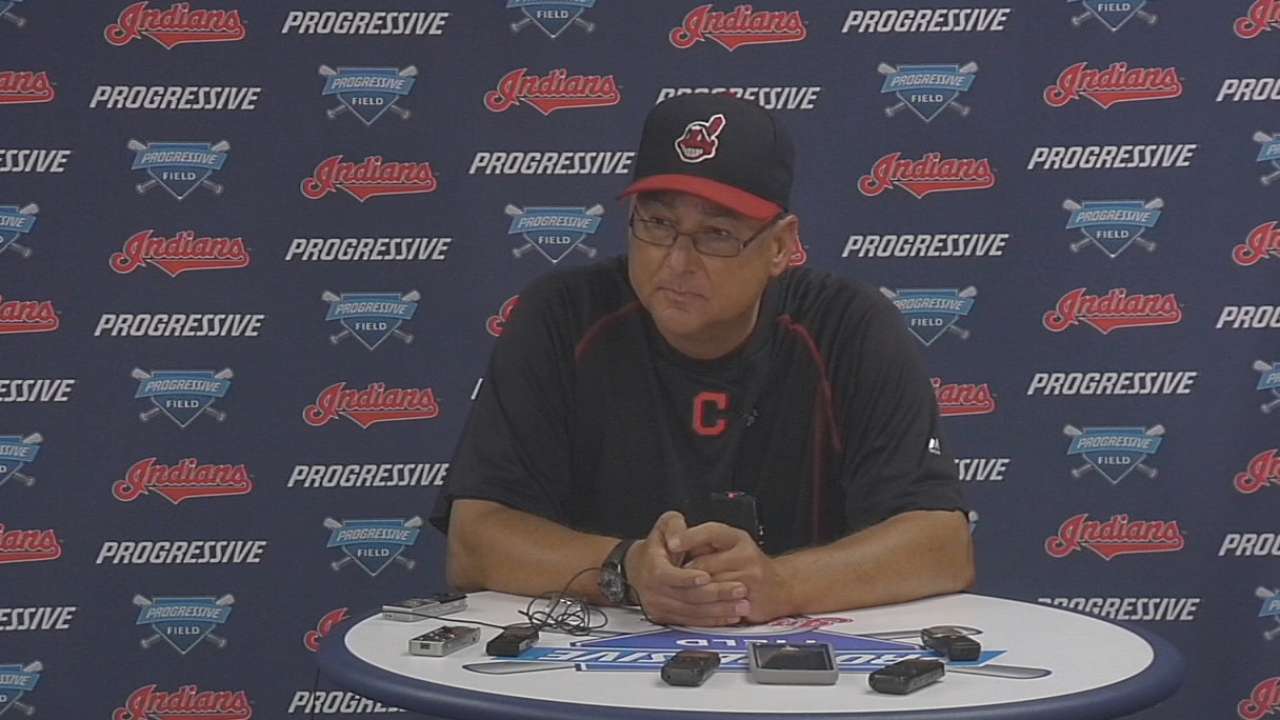 CLEVELAND -- Indians shortstop Francisco Lindor was so caught up in celebrating, he nearly forgot what to do next.
Lindor delivered his first career walk-off in the Tribe's 7-6 win over the Nationals on Tuesday night. With the bases loaded and one out, Lindor flared a 0-1 fastball off Washington lefty Oliver Perez into right.
As soon as Lindor saw the ball sneak into the right-field grass, he hoisted his hands up and turned to home to watch catcher Chris Gimenez score from third. About halfway down, Lindor busted down the first-base line to touch the bag and join the party in the infield.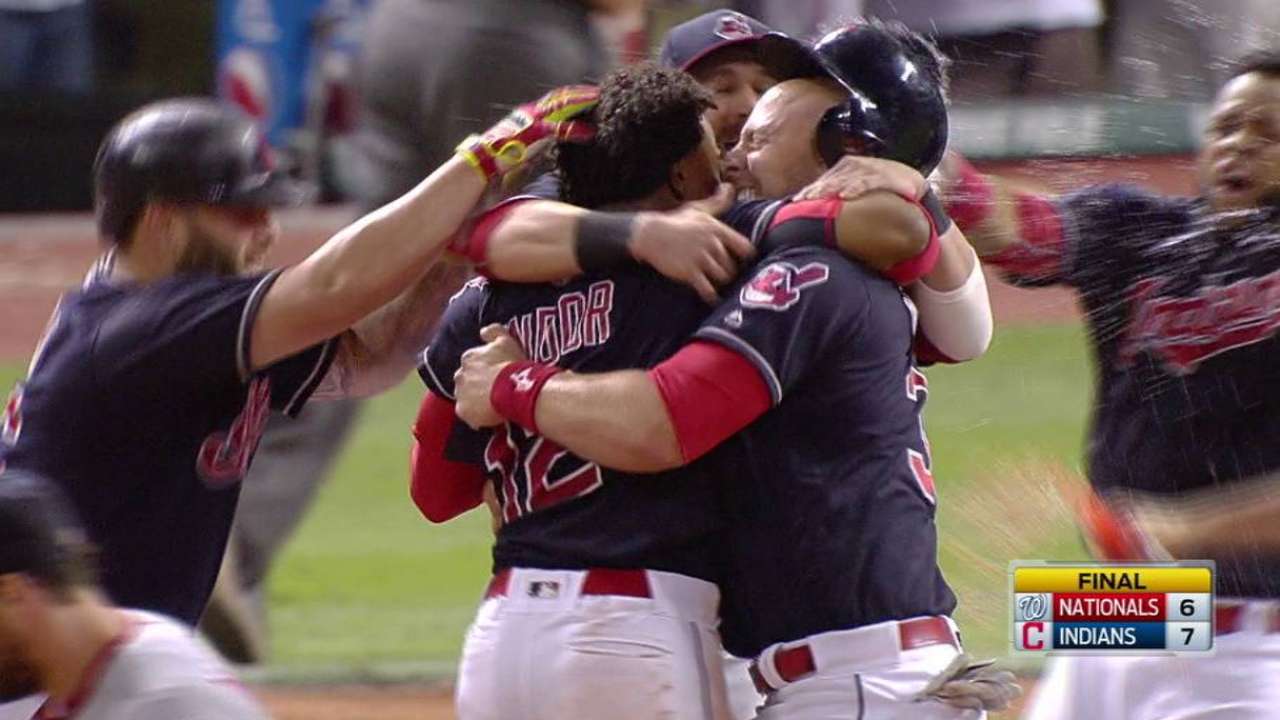 "I was just trying to put the ball in play," Lindor said. "Pick a zone where I wanted to hit it, what pitch I wanted to hit. I got it. I got the barrel to it and it went through. A lot of emotions running to first base."
But it took an unorthodox ninth inning to get the the infield celebration at Progressive Field. The Indians began the final half-inning trailing by two runs and facing a veteran closer in Jonathan Papelbon.
"I know this is going to be a shocking announcement: That's not how we drew it up," Indians manager Terry Francona said. "There were so many things that happened in that game that were kind of peculiar that, again, hitting last sure helps."
Following a leadoff walk, Francona called in Tyler Naquin to pinch-hit. After observing for eight frames, the rookie came through with an RBI double.
Gimenez followed with an attempted bunt down the first-base line. The ball dribbled slowly up the line and Ryan Zimmerman's throw sailed away, allowing Gimenez to reach and Naquin to score on the first and only Nationals error of the game.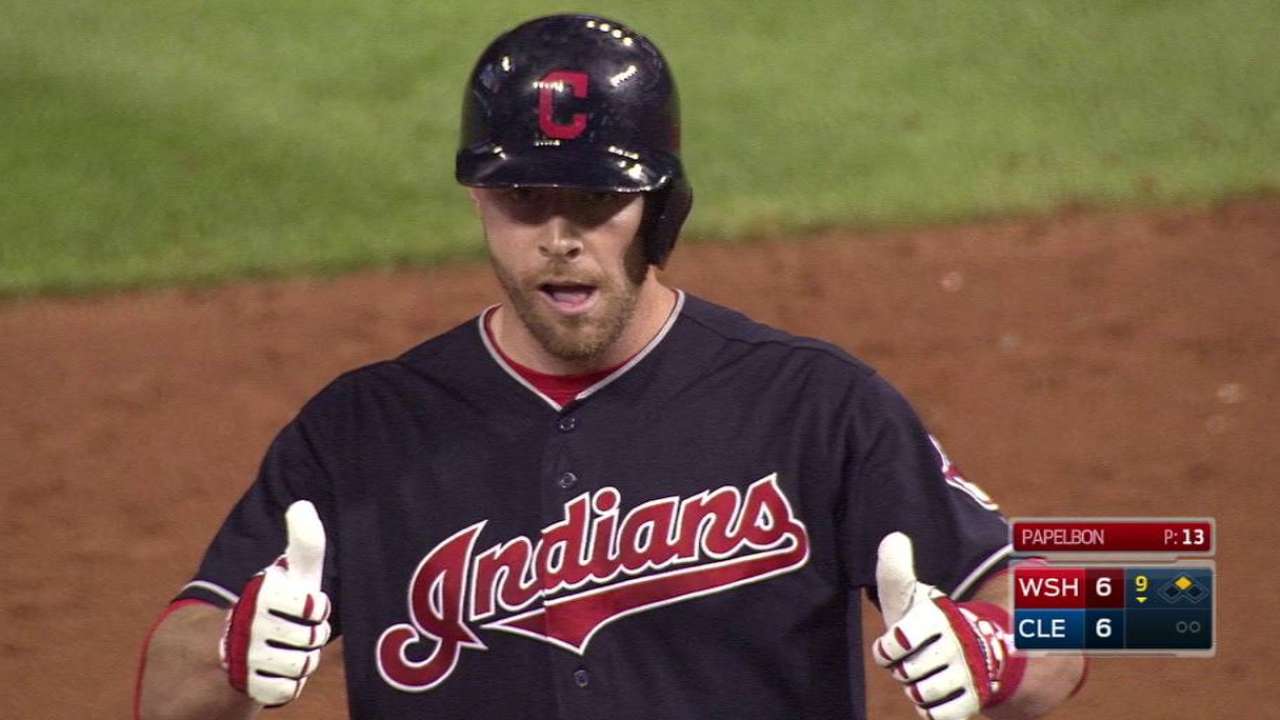 "It turns out that he's had some minor issues, I think in the past, with making a throw and stuff like that," Gimenez said. "Thankfully, for us today, it worked out. He made the throw wide and I was able to go to second base, and ended up being the winning run."
Two batters later, Rajai Davis went to bunt. With shortstop Danny Espinosa charging, Davis elected to pop the ball over his head instead of putting it on the ground -- something he said he's never done in the big leagues. That loaded the bases, setting up Lindor two batters later.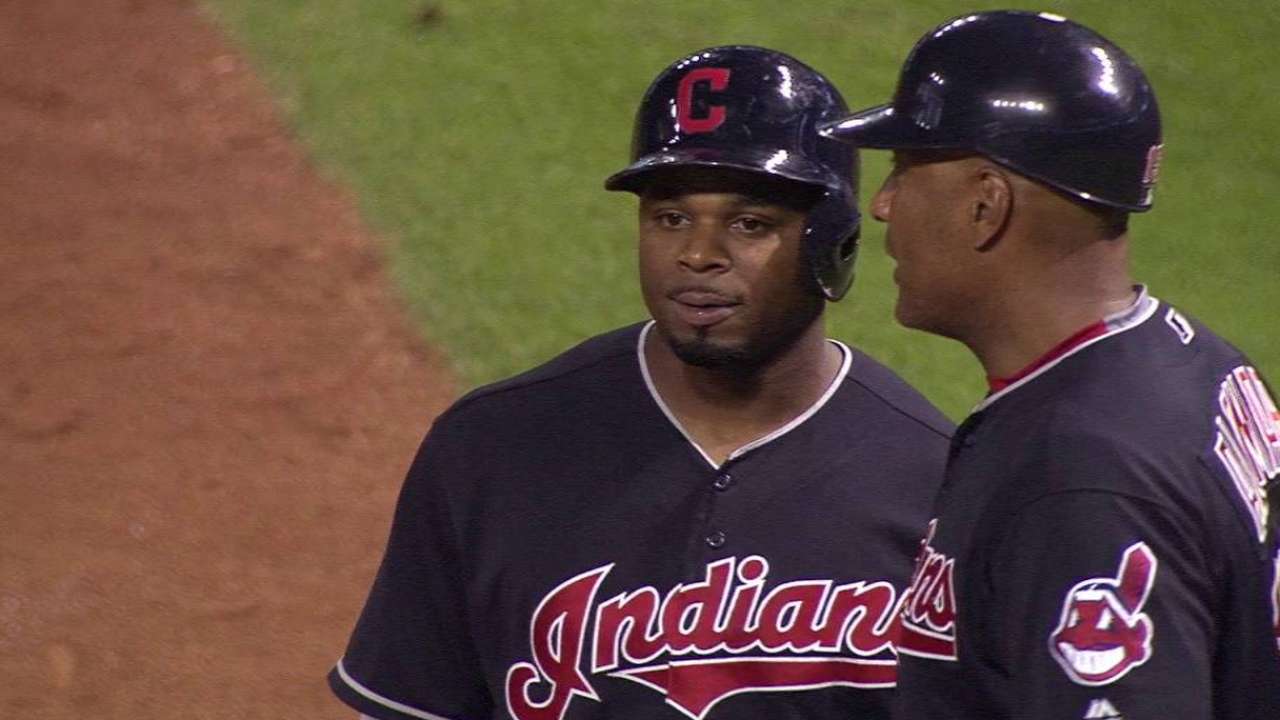 "I was taught to, when that happens, you slash," Davis said. "You try to keep it in the middle of the field. So, in the ninth, that was my first opportunity to actually do that in a game."
The rally illustrated the impact of playing at home for the Indians, who came into the series opener having played 29 of their last 42 games at the road.
On the heels of a 4-5 road trip -- including getting swept in Baltimore -- a return to Progressive Field was much needed.
"We've been on the road for a while," Lindor said. "It's nice to be home with our families, get that little off-day [on Monday] and be in this clubhouse. It changes everything a little bit. The fans today, they were a little quiet at first, but it got loud as the game went on."
The Tribe is now 27-16 at home, which is the third-best home winning percentage in the Majors despite playing fewer home games than any other team this season.
And to make things better for the Indians, they have 19 of their next 24 games at home.
"There's nothing better than being home, where everything is comfortable," Gimenez said. "You have your home fans, a huge support system here. You can kind of get on that schedule, I think is the most important."
Shane Jackson is a reporter for MLB.com based in Cleveland. This story was not subject to the approval of Major League Baseball or its clubs.