Royals focused on turnaround, not Deadline
Offense manages just 3 hits against Angels in fourth straight loss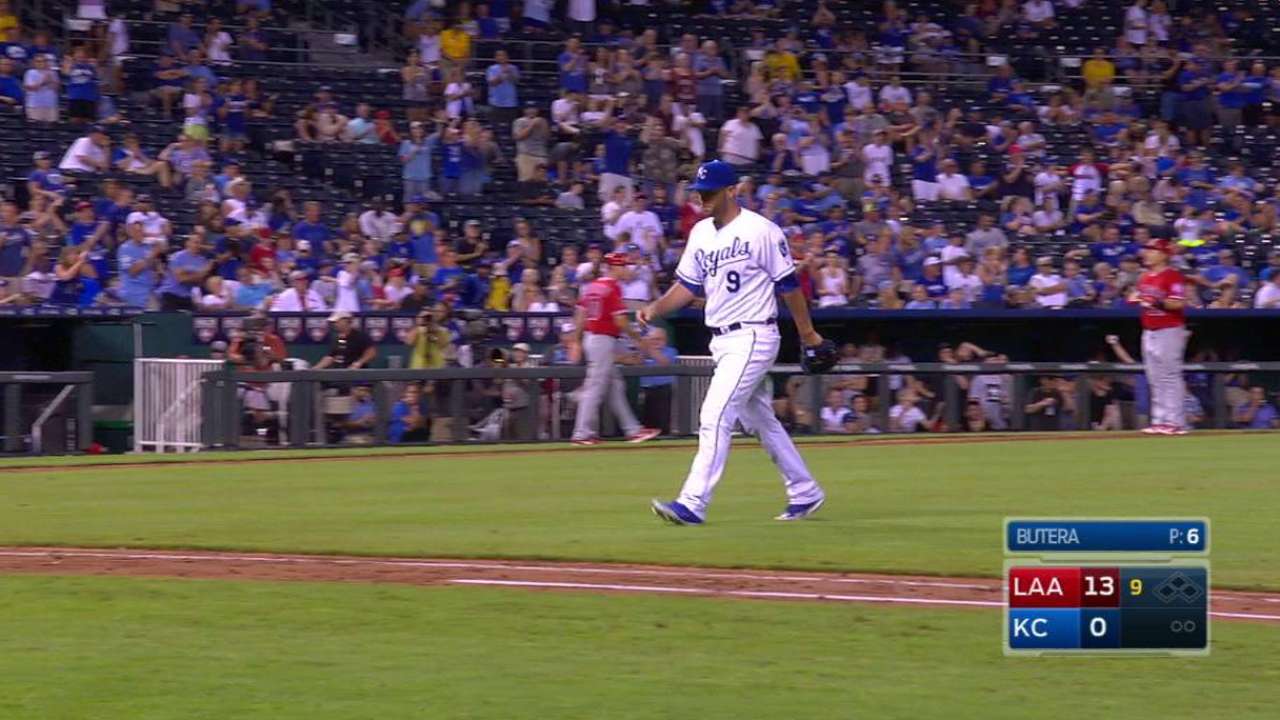 KANSAS CITY -- As the non-waiver Trade Deadline approaches on Monday, the Royals are moving in the wrong direction. They fell to 3-8 after the All-Star break after Tuesday night's 13-0 loss to the Angels.
Kansas City, which has dropped four straight, hasn't won consecutive games since June 29-30 and has gone more than a month since winning a series of three or more games. And while the losses pile up, there hasn't been just one thing to correct.
"It's extremely frustrating. We just can't really get anything going," first baseman Eric Hosmer said. "Offensively, can't really get off to a good start. Defensively, teams are coming out and doing a good job of putting up runs early on us."
Earlier in the week, Royals general manager Dayton Moore said he knows the club hasn't played its best baseball, but with losses piling up, it seems more likely it could be a seller at the Deadline.
Left fielder Alex Gordon acknowledged that anything can happen, but that it's not worth thinking about guys getting traded.
"Hope it doesn't [happen], but the game of baseball, there's a business side," Gordon said. "But until it happens there's no reason to discuss it."
That was echoed by catcher Drew Butera, who was called on to pitch in the ninth inning on Tuesday after the game spiraled out of control in a seven-run ninth.
Butera said he hopes to never have to pitch again, given that he only comes into games like the one on Tuesday, but said he feels the front office still has faith in the team. At the same time, Butera acknowledged the possibilities of what could happen in the upcoming days, although he said he hasn't focused on what may happen with the roster.
"I still think we have an attitude where we know we can get out of this," Butera said. "I wouldn't be surprised if we did [make a trade], I won't be surprised if we didn't."
But at the end of the day, the Royals have bigger problems on their minds than the Trade Deadline. They are focused on correcting the issues that have led to the current dismal stretch.
After managing just three hits against the Angels and falling to 7 1/2 games back of an American League Wild Card spot, the players know that things will have to change for them to scrap their way back into the race.
"We don't control that stuff," Hosmer said of the Trade Deadline. "We try and control whatever we can control and that's going out and playing baseball. And we're not doing a very good job of that right now."
Scott Chasen is a reporter for MLB.com based in Kansas City. This story was not subject to the approval of Major League Baseball or its clubs.