Iglesias shining as part of Reds' fluid bullpen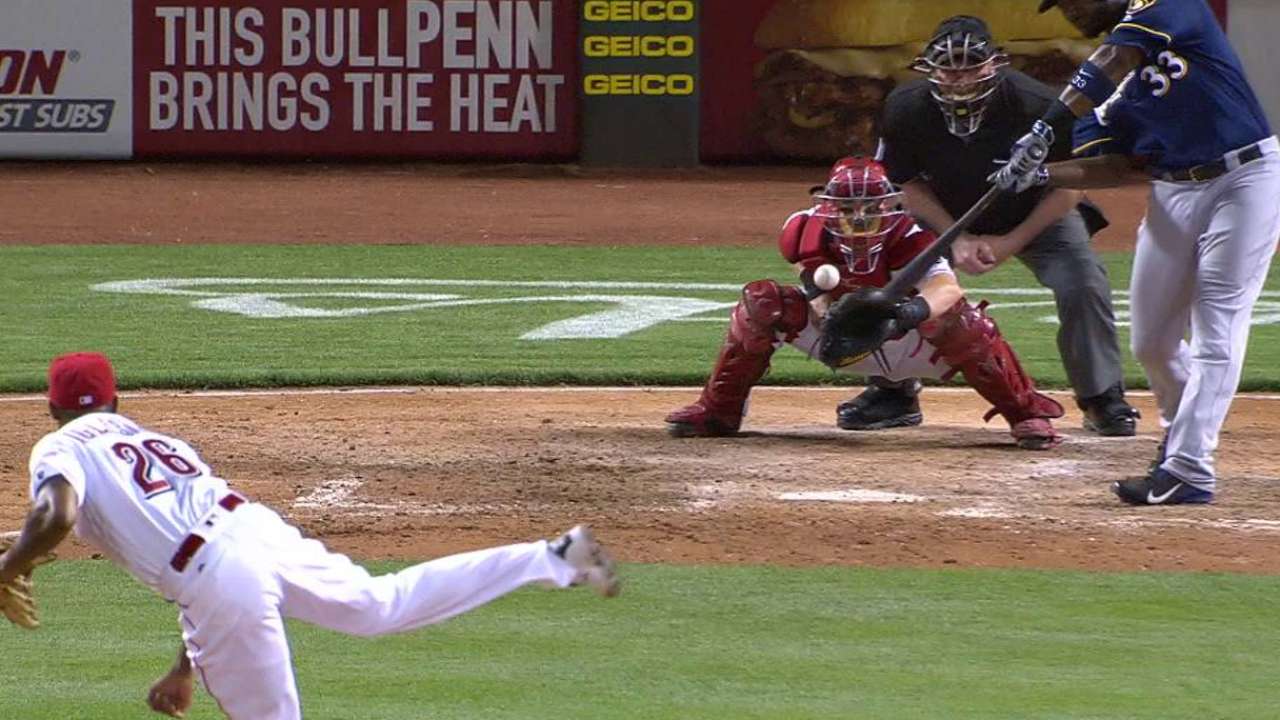 SAN FRANCISCO -- Reliever Raisel Iglesias has been posting zero after zero and helped give the Reds bullpen some much-needed stability after some dismal months.
Iglesias, who pitched two scoreless innings in Monday's 7-5 win over the Giants, entered Tuesday with a scoreless streak of 17 1/3 innings -- the third-longest active streak in the Major Leagues. In 10 games since his activation from the disabled list June 21, he has a 0.44 ERA.
What has yet to be defined for Iglesias, however, is a specific bullpen role. That's because of caution being exercised with his right shoulder. When he was in the rotation, he was on the DL nearly two months with an impingement after he also dealt with shoulder fatigue last season.
"We are still following certain post-injury protocols with Iglesias that we're not following with [Michael] Lorenzen," Reds manager Bryan Price said Tuesday. "I won't go into detail what those protocols are, but there are days where we simply know he's not available to pitch because the protocols don't allow him to pitch even if he's feeling good. At some point during this year, those will all fall by the wayside and he'll be 100 percent ready to be used in any way I feel like he should be used."
When Iglesias throws two innings, the odds are good he won't be available the following day. So Price has to try to find the sweet spot of a game to use him. That's when he can get a couple of innings before his spot to bat in the lineup comes up.
"He just broadens our pool of whom we can choose to secure a game late," Price said.
Even with Iglesias and Lorenzen added to the bullpen mix following their DL stints, Price has preferred to keep the roles ambiguous for all of the relievers. Even though Tony Cingrani has been given the majority of the save situations in the ninth, including Monday, Price has yet to name him a closer or anyone else the setup man.
"I think we're better served right now with this particular group to say, 'Hey, all hands on deck. Be ready to pitch. We'll try to call down and give you a heads up so you can get a little more mentally prepped.' I kind of like it," Price said. "It feels like old-school, turn-back-the-clock baseball. You don't have to tiptoe around guys who feel like they've carved out a niche and get their feathers ruffled when you pitch them outside of their particular role. It's refreshing to me. I enjoy it and I think the pitchers are enjoying it, too."
Mark Sheldon has covered the Reds for MLB.com since 2006, and previously covered the Twins from 2001-05. Follow him on Twitter @m_sheldon and Facebook and listen to his podcast. This story was not subject to the approval of Major League Baseball or its clubs.