MLB.com Columnist
Barry M. Bloom
Ichiro's perseverance paying off in chase for 3,000 hits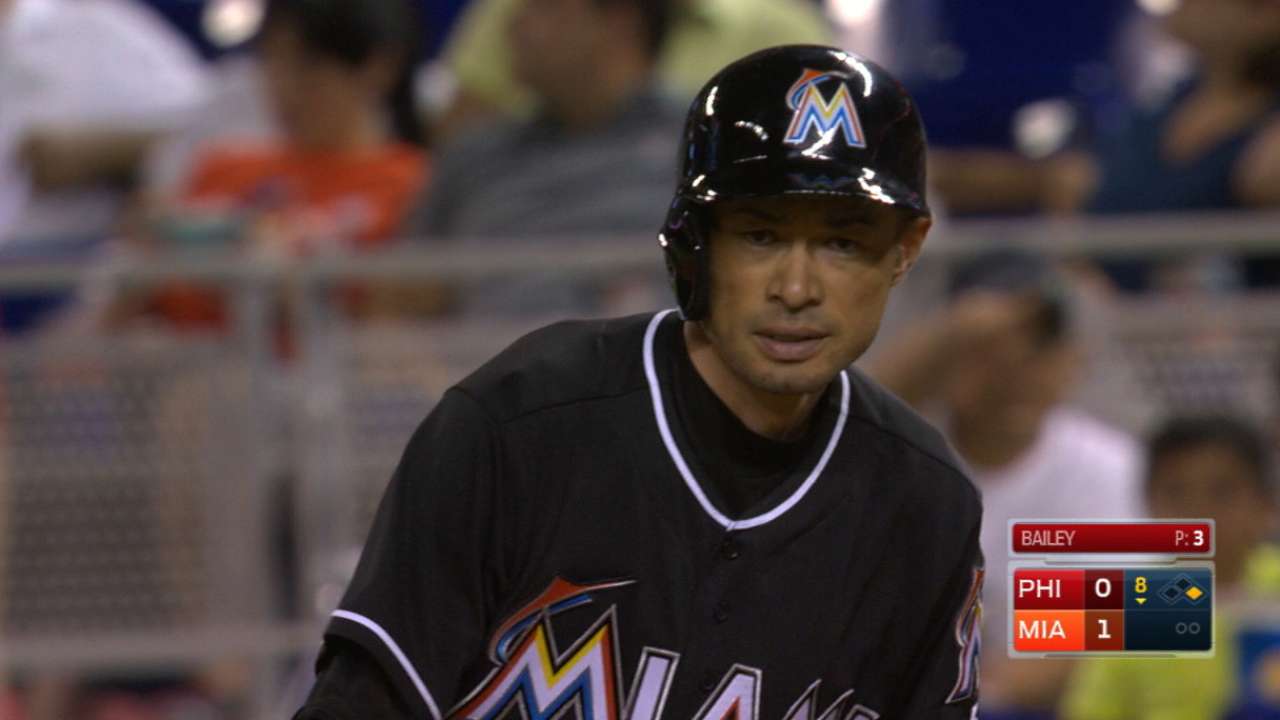 MIAMI -- With an eighth-inning single against the Phillies on Tuesday night at Marlins Park, Ichiro Suzuki crept three hits away from a place where only 29 Major Leaguers before him have gone: the 3,000-hit plateau.
No one knows better how rare and tough it is to get there than Marlins manager Don Mattingly. His playing career with the Yankees petered out at 34 because of a bad back and he finished with 2,153 hits.
Mattingly had three seasons with more than 200 hits and seven with no less than 184. But he couldn't sustain that pace to get to 3,000, and he retired after 14 seasons.
•
Ichiro triples to reach 3,000-hit milestone
•
From Japan to US, Ichiro born to be a star
•
DYK: Ichiro joins 3,000-hit club
•
To Ichiro, 3,000 hits bigger than 1 person
•
Ichiro congratulated by 3,000-hit club members
•
Ringo: Ichiro's road to 3,000 paved in Emerald City
•
Ichiro means everything to Ichi-meter lady
•
Like Ichiro, daily beat demands dedication
•
Celebrate Ichiro's 3,000th hit with 13 great photos
•
Griffey admires Ichiro's feat from afar
•
Old foes praise Ichiro's greatness
•
Ichi-Rose: Combo batter expands hit story
•
Ichiro's player page
•
Rare feats: 3,000 hits club
•
Shop for Ichiro merchandise
Sights & sounds
Ichiro's 3,000th MLB hit
Radio calls Ichiro's 3,000th hit
Ichiro discusses milestone
A look at the 3,000-hit club
Ichiro reaches milestone
Ichiro's historic hit No. 4,257
Ichiro highlights
"Woulda, coulda, shoulda," Mattingly said after his Marlins defeated the Phils, 5-0. "I'm never going to get there."
Ichiro will, eventually. He was in the starting lineup on Tuesday for the first time in five games and went 1-for-5. But Ichiro won't start on Wednesday in the finale of the three-game series against the Phillies, his manager said.
Ichiro could have had another hit, but Phils right fielder Peter Bourjos robbed him by banging into the right-field wall to grab a searing line drive in the first inning. Bourjos injured his right shoulder and had to leave the game for all his troubles.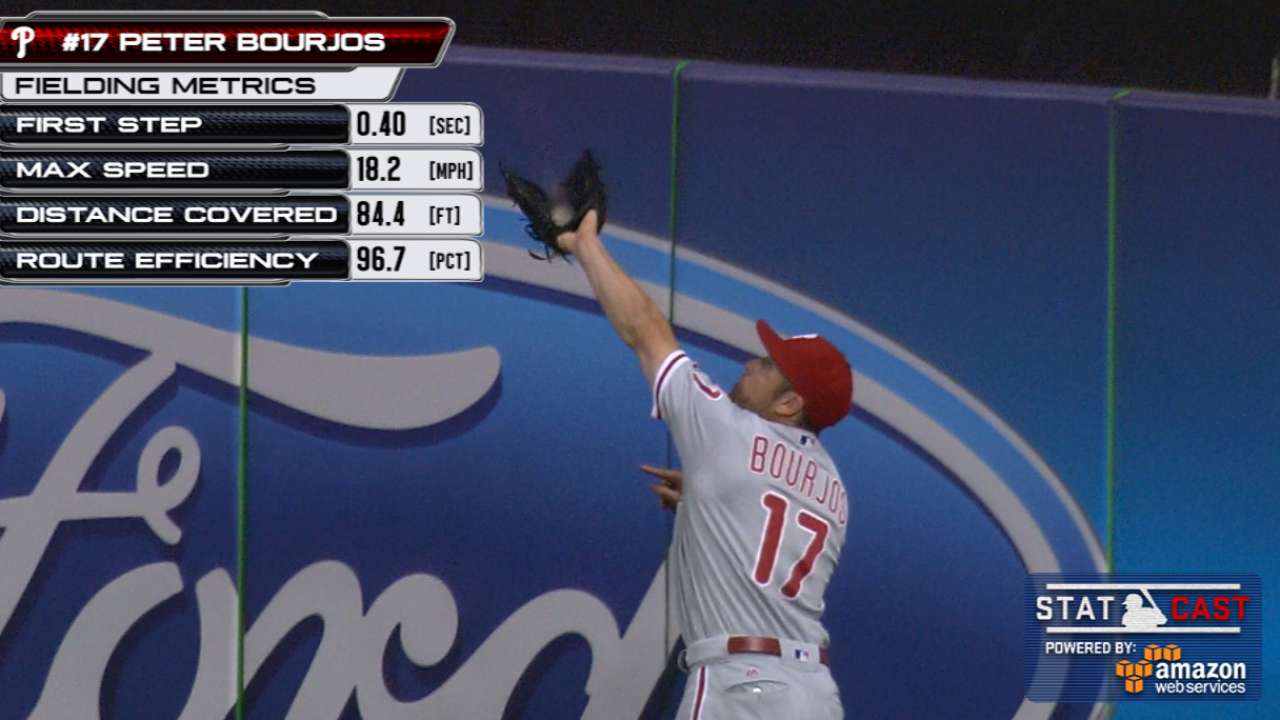 Mattingly thought center fielder Marcell Ozuna needed a day off, so he turned on the Ichiro switch, leading him off and putting him in center. Had Giancarlo Stanton needed a blow on Wednesday, Ichiro might have subbed for him in right.
Stanton went 2-for-4 with a booming ground-rule double and a pair of RBIs. Mattingly intends to play Ozuna and stay with the hot bat of Stanton on Wednesday, relegating Ichiro again to the bench.
The Cardinals come in for a four-game series on Thursday night, and Mattingly said he'll look at the matchups and give Ichiro at least another start, perhaps two, disappointing the scores of Japanese reporters here to follow Ichiro in his quest for the big hit.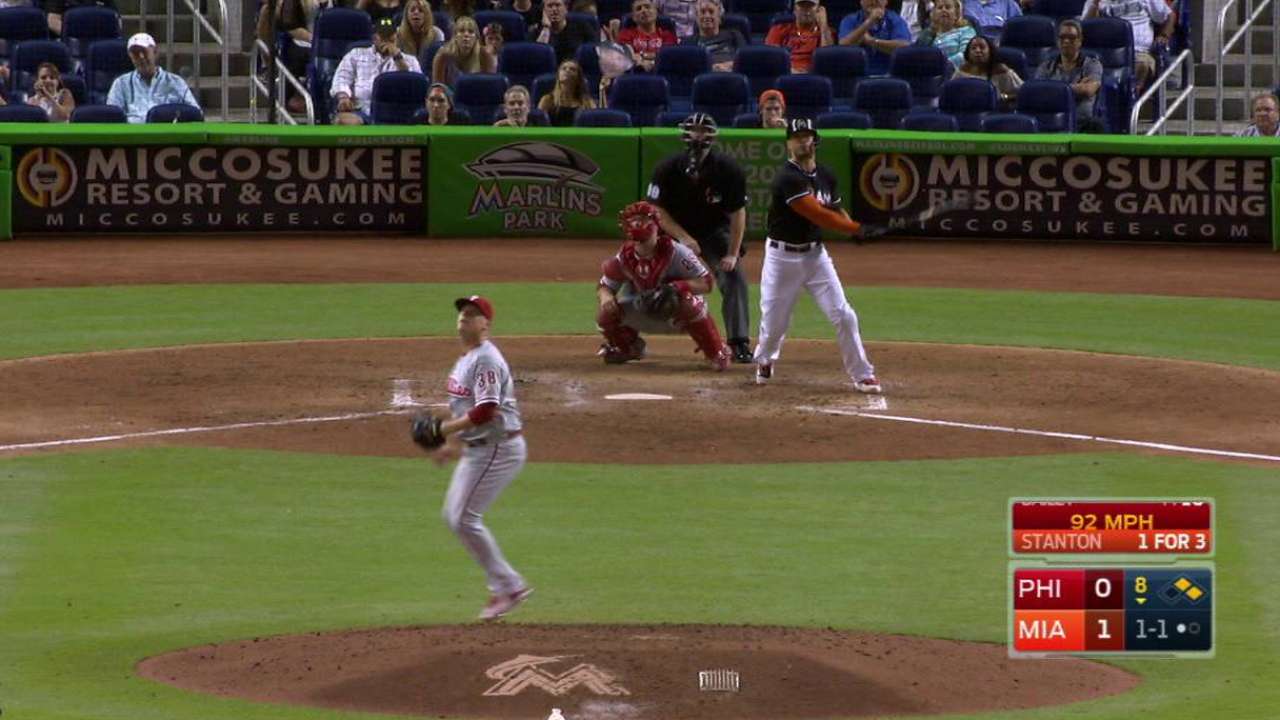 "That's what we've had to do with [Ichiro]," Mattingly said. "We have to make sure he continues to do his work and it's been easy to put him in there. That's been the toughest thing with this. Look at our outfield. It's been one of the best in the league."
It's an unorthodox way to go about getting to 3,000 and really, there's no blueprint for it.
The 3,000-hit mark has been reached just three times since 2007, and each time it was done by a fading star still playing almost every day.
Craig Biggio did it for the Astros with a single in 2007. Derek Jeter followed in 2011 and Alex Rodriguez last season. Both of them were with the Yankees, and both did it with a home run.
Consider, too, that all three guys collected their hits in careers of 20 years or longer. Ichiro didn't get to the Major Leagues from Japan until he was 27 and he has collected all these hits in just 16 big league seasons.
Ichiro had 10 seasons in a row of 200 hits or more from 2001-10, breaking the single-season record with 262 in '04.
"Plus he threw up something like 1,200 [1,278 in Japan] before he even got here," Mattingly said. "This is not a regular player. Ich is an incredible guy. I feel very fortunate to have him this year on this on this club. He's a great example for our players. You have to respect every way he goes about his business. He's been a real joy."
To underscore just how rare it is to collect 3,000 hits, there's not a big group coming behind Ichiro.
Rangers third baseman Adrian Beltre is next up at 2,868. He is only 37, in his 19th season and still has plenty of time.
Behind Beltre is Angels designated hitter Albert Pujols, who at 36, is at 2,760. Behind Puljos is Yankees right fielder Carlos Beltran at 2,558. At 39, the switch-hitter seems beyond reach at this juncture of his 19-year career.
The way it's going, the 3,000-hit player eventually may become as extinct as the 300-win pitcher. And with Bartolo Colon at 226, the closest active pitcher to that mark at 43, it's going to be a long time before we get one of those again.
"All the guys to me who get to 3,000 are guys who love playing and take care of themselves over a long period of time," Mattingly said. "It takes a long time to get there. So you have to play a long time. You have to have a little bit of luck with injuries, but usually that luck comes from those guys taking care of themselves."
Ichiro is the epitome of a guy who takes care of himself and has never had a serious injury. And now he's on the brink of the promised land, slowly counting the days, the at-bats and the hits until he gets there.
Barry M. Bloom is a national reporter for MLB.com and writes an MLBlog, Boomskie on Baseball. Follow @boomskie on Twitter. This story was not subject to the approval of Major League Baseball or its clubs.